Chris Jones is the game-wrecker that not enough people are talking about.
The third-year Kansas City Chiefs interior defensive lineman has now earned a 90.4 overall grade and 90.1 pass-rushing grade dating back to Week 1 of the 2017 season, ranking seventh and fifth, respectively, among the 100 at his position with 500-plus defensive snaps in the 29-week span. Jones' 14.5 pass-rush win rate and 11.4 pressure rate also rank seventh and eighth, respectively, among the same group of big men.
And recent performances all point to him getting even better.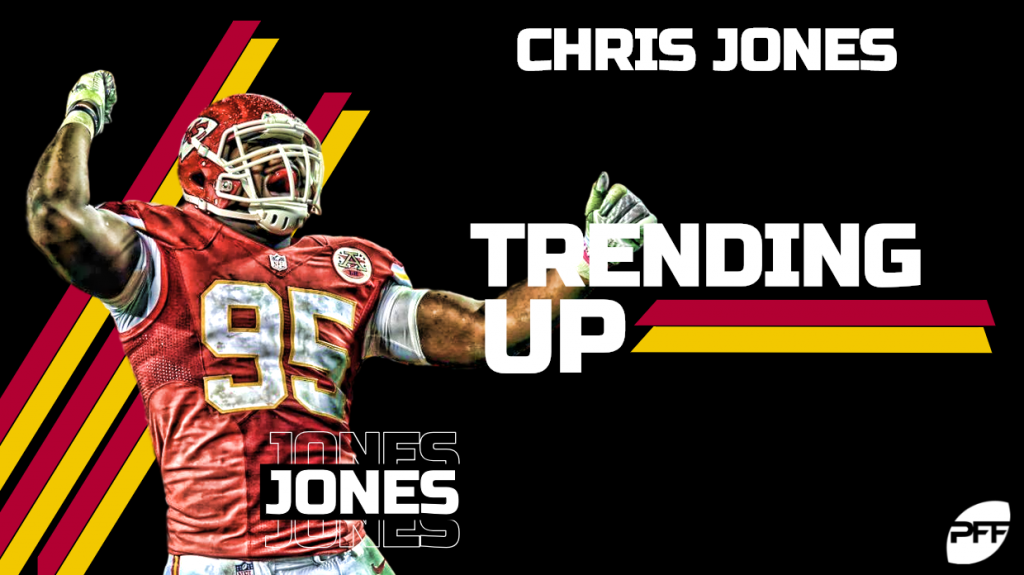 In Weeks 7-12 (five games), Jones has earned the fourth-highest overall grade (89.9) and second-highest pass-rush grade (90.5) among interior defensive linemen with 150-plus defensive snaps in the six-week span. Jones picked up a whopping 27 pressures, including seven sacks, in the process.
Jones' 21.1 pass-rush win rate over the past six weeks is second only to Los Angeles Rams phenom Aaron Donald, and his 17.3 pressure rate ranks third behind Donald and the Pittsburgh Steelers' Cameron Heyward. But what makes Jones even more special is how he's getting such a high volume of pressures.
Only 11.1% of Jones' 28 total pressures in Weeks 7-12 have been charted as unblocked or pursuit pressures, a testament to his ability to win blocks with consistently rather than merely take advantage of blown assignments, scheme, etc.
As evidenced by his 66.3 run-defense grade in Weeks 7-12, Jones doesn't impact the run game quite as significantly as he does the passing game. His run-stop percentage (6.1%) is tied for 59th among qualifiers in the six-week span. However, how he performs against the run isn't nearly as valuable as a pass-rusher and, therefore, why his overall grade still ranks among the league's best. In fact, other top-end talents (Kenny Clark, Grady Garrett, Geno Atkins) all have run-stop percentages below 6.2 in the same six-week stretch.
Jones' explosive burst off the snap and excellent athleticism put him in the same category Donald, Atkins, etc. reside in. His ability to win pass-rush snaps early and often is rare and, in turn, very much sought-after in this league.