When the Kansas City Chiefs selected Dee Ford out of Auburn in the first round of the 2014 NFL Draft, they hoped they were getting a player with great ability to rush the passer who could improve his weaknesses against the run over time. Ford progressed year-to-year, slowly realizing his potential in 2016 when he accumulated 12 sacks and 54 pressures and 28 run stops. There was a lot of hope that Ford could continue his upward trajectory last season before he had his year cut short after just six games due to back surgery. The league moved on and people forgot about Ford, but he's back and demanding everyone's attention.

Through six weeks, Ford has already recorded 34 total pressures and five sacks, putting him on a career-high pace for pressures (90), sacks (13), quarterback hits (26) and hurries (50). He has also improved his run-defense grade to a 71.0 while also improving his overall grade to an 83.2, which ranks eighth among edge defenders with at least 200 snaps.
Ford deserves to be talked about among the elite edge defenders this season for a myriad of reasons. Firstly, his 87.8 pass-rush grade ranks second among qualifying edge defenders. Also, he ranks first in total pressures, first in quarterback hits, fourth in hurries and is tied for ninth in sacks. He has been both devastating and efficient, as evidenced by his 10.2 pass-rush productivity, which is tied for second among edge defenders with at least 50 pass-rushing attempts. Not only has Ford been a force on defense, but he has also been the anchor on a relatively weak defensive unit for the Chiefs.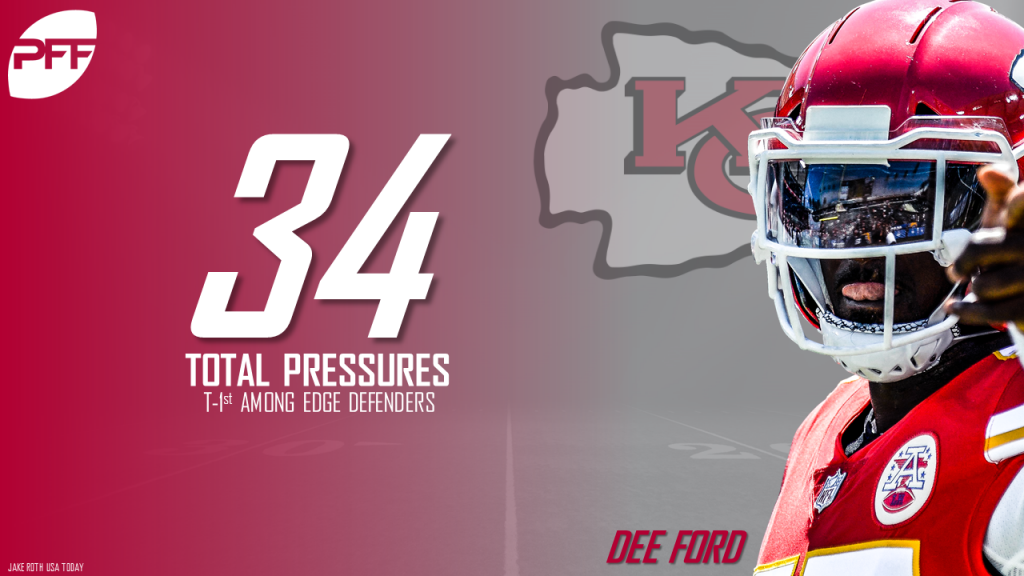 The same couldn't be said for the start of Ford's career.
Ford's rookie year got off to a rocky start, to say the least. The rookie played just 122 snaps and posted an overall grade of just 53.4, the lowest of his career, to go along with a putrid run-defense grade of 29.1.
The 6-foot-2, 252-pounder displayed some of the pass-rushing skills that made him such a tantalizing prospect, generating 10 total pressures and two sacks on just 91 pass-rush snaps, but it was clear he was far from reaching his potential.
Starting five games for the Chiefs in 2015, Ford saw his role expand to 559 defensive snaps. He showed improvement, generating 38 total pressures and turning four of them into sacks on his way to a 54.9 overall grade. The bright spot for Ford was improving his run-defense grade from 29.1 to a 59.2 and registering 17 defensive stops.
Ford's 2016 campaign was the first sign he was turning the corner, as he recorded 54 total pressures to go along with a career-high 28 defensive stops. He earned a 63.5 overall grade for his efforts, a career-high mark compared to his first four seasons in the league (2014-17).
Ford appeared to be peaking as a pass-rusher and coming along as a run-defender, which gave the Chiefs Kingdom hope for an explosion from the promising edge-rusher going into 2017.
That never happened.
His back injury forced Ford to finish his much-anticipated breakout season in 2017 just six games, 316 defensive snaps into the year. Ford wasn't the Ford we saw in 2016, and memories of his promising junior season began to fade as he spent the year on the Injured Reserve.
Flash forward to the present, and Ford has put it all together in a big way. The fifth-year veteran has not only regained his explosion but looks like one of the best pass-rushers in the NFL, as he has terrorized opposing offenses week in and week out.
Ford has always been a talented player with plenty of potential who just needed to figure out how to put it all together. One could see a breakout coming when looking at the incremental increase in overall grade, pressures and run-defense grades, but it would be hard to foresee a breakout like this. Surely, missing most of the 2017 season was a reason that people forgot about the ascension of Ford and that he should be included in the conversation for the best edge-rushers in the NFL. Don't worry: For those who forgot, Ford is here to help us remember.