No Washington Redskins center has topped a 70.0 run-blocking grade since 2013, and only once in the past four seasons has a Redskins center achieved higher than a 70.0 overall grade. In 2017 and 2018, Chase Roullier took over those duties in an attempt to stabilize a position that has been well, unstable, in recent years in Landover.
Roullier was nothing short of a stud in college at Wyoming, including a 94.3 overall grade at left guard in 2015 that placed him fifth among all guards in the nation. A switch to center in 2016 saw Roullier's grade drop a bit to 83.3, but it was clear: he had the tools to play at the NFL level.
In year one with the Redskins, Roullier was thrust into a starting role in Week 7, which became solidified after incumbent starter Spencer Long (now with the Buffalo Bills) was later placed on injured reserve. Pass-blocking was Roullier's clear strong suit, as he topped an 80.0 grade in the category three times in seven starts — including the fourth-best pass-blocking grade among centers in Week 11 (85.0) and the best in Week 15 (85.9).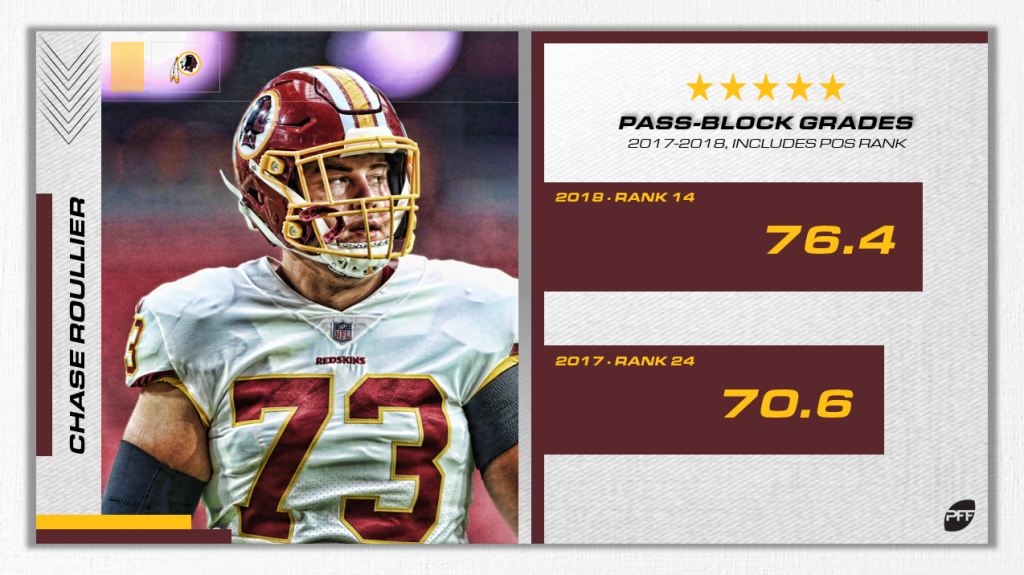 While Roullier's 59.1 run-blocking grade in 2017 certainly doesn't jump out, there were some promising signs. In his seven starts, Redskins running backs averaged 4.375 yards per carry when rushing directly to the right or left of Roullier, which ranked eighth among offenses during those weeks. And while that success can't be directly attributed to Roullier, he certainly has an impact on it. But in 2018, Roullier's run-blocking grade dropped nearly five percentage points, and Redskins backs averaged only 3.51 yards per carry when going to the left or right of him (27th).
In all, he finished the 2018 regular season with the 26th-ranked run-blocking grade (54.7). And again, it was his pass-blocking that shone through. In 16 games and on more than 600 pass-block snaps, he allowed only 19 pressures — one of which was a sack. In 2017, he surrendered six pressures on just under 300 pass-block snaps and didn't give up a sack.
And after a few shaky starts to begin the 2018 season, headlined by a five-game stretch where he failed to reach a 70.0 pass-block grade, Roullier appeared to find his footing as the year came to a close. In nine straight games to end the season, Roullier had a pass-blocking grade above 70.0 in each and allowed just six pressures combined over the stretch.
His 62.1 overall grade for the year slotted him firmly in the middle of the pack of centers, ranked 18th. But that's certainly not where any offensive lineman is aiming to be, and Roullier clearly has the tools to move up that list.
For a sixth-rounder, Roullier has been nothing short of impressive in two years at the NFL level. The only player to compare him to from his draft class is Pat Elflein, a Minnesota Vikings third-round selection who graded out as PFF's worst center in 2018. With that said, Roullier is far from polished. However, he has showcased his budding skillset as a pass-blocker. Now, he needs to right his wrongs in the run game to become a household name.