After spending the last five seasons away with the Washington Redskins and the Tampa Bay Buccaneers, wide receiver DeSean Jackson is heading back to the Philadelphia Eagles, where he spent the first six seasons of his career, to partner with quarterback Carson Wentz. In a trade with the Buccaneers, the Eagles dealt a 2019 sixth-round pick in exchange for a 2020 seventh-round pick and one of the greatest deep threats in the league.
Coming off a season where he tied for 10th among receivers in yards per route run at 2.27, Jackson is still as productive as he was when he left Philadelphia in 2013. Throughout his 11-year career, Jackson has averaged 2.00 yards per route run, which is the 18th-best mark among qualifying wide receivers in the PFF era (2006 – present).
Prior to suffering a gruesome ACL injury during the 2017 Week 14 matchup against the Los Angeles Rams, Wentz had the third-highest overall grade among quarterbacks at 84.9, and he was making a strong case to be named league MVP. However, Wentz wasn't able to come back to MVP form in 2018, though he did record a respectable 79.4 overall grade in 11 games.
Nonetheless, the addition of Jackson gives Wentz something he hasn't had before in Philly: a proven deep threat. Looking at how current Eagles wide receivers Alshon Jeffery and Nelson Agholor performed on their deep targets last year, neither of them really stood out. During games when Wentz was the starter, Agholor recorded an 83.0 receiving grade on targets of 20-plus yards, while Jeffery posted an underwhelming mark of 67.9.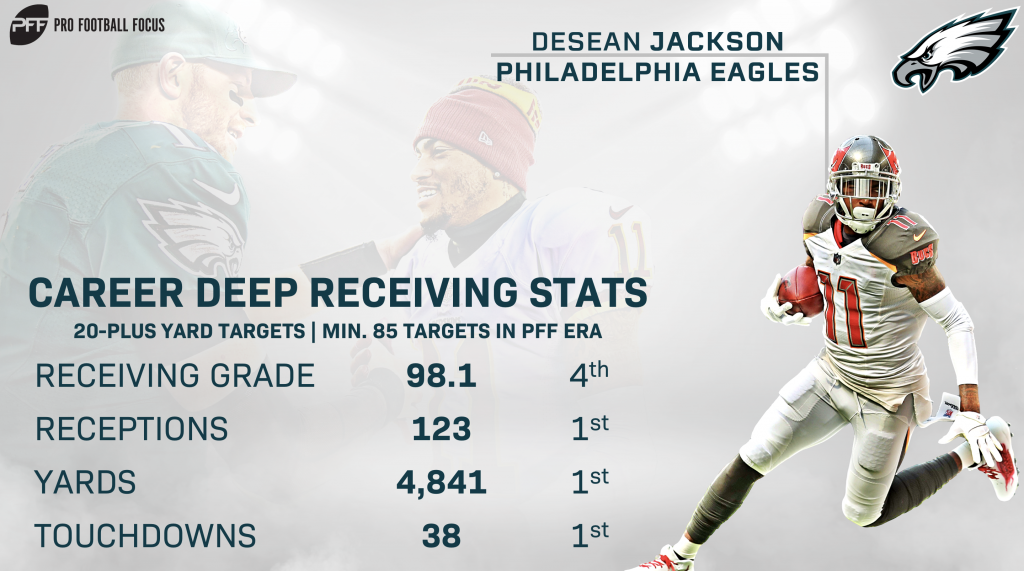 The addition of Jackson doesn't just give Wentz one of the league's premier deep threats, it gives him one of the greatest deep weapons we have ever graded. Among the 101 receivers with least 85 targets of 20-plus yards since 2006, Jackson's 98.1 receiving grade ranks fourth, his 123 receptions rank first, his 4,841 deep receiving yards is first by over 1,100 yards, and his 38 touchdowns also pace the group.
As a deep threat, Jackson's playmaking ability is unmatched, and it is undoubtedly something Wentz has been yearning for. However, as dominant as Jackson has been overall on his deep routes, perhaps his greatest skill is his ability to attack defenses deep in a variety of ways, not just on vertical streaks. On non-go routes of 20-plus yards, Jackson has netted a 98.9 receiving grade, trailing only Julio Jones in the PFF era.
In what will also be music to the Philadelphia faithful's ears, Carson Wentz just so happens to excel when throwing to the routes that DeSean Jackson runs best. More specifically, both have been much better off at their respective positions when targeting or running a hitch route, an out route, or a go route. When targeting these three routes throughout his career, Wentz has registered a 91.1 passing grade – on all other routes, Wentz's passing grade drops to 85.7. Moreover, Jackson has earned a receiving grade of 91.3 when targeted on a hitch, an out, or a go route throughout his career – on all other routes, Jackson's receiving grade falls to 82.9. And this is no great secret; Tampa Bay obviously recognized his comfortability on these routes, as nearly 60% of his targets in 2018 were either to a hitch, an out, or a go route.
In addition to his deep success, Jackson's ability to produce on long-developing plays is going to give Wentz an unmatched advantage in 2019. Since 2011, on plays where the time to throw surpassed 2.6 seconds, Jackson has achieved a 90.5 receiving grade; his 135 explosive plays on such plays during that timeframe are the sixth-most, and his 24.2 yards per reception is the highest mark among active wide receivers. Wentz has also been productive when his time to throw eclipses 2.6 seconds, as he has recorded 8.3 yards per attempt throughout his career on such throws, the 10th-best mark among quarterbacks in that span.
The addition of DeSean Jackson fills a need for Philadelphia after they lost elusive wide receiver Golden Tate to the division rival New York Giants. Jackson's best routes match up perfectly with his new quarterback, and he will be a new type of weapon for Wentz, one that he hasn't necessarily had before. Not only will Jackson give Philadelphia a boost on offense, but he could be the final piece Wentz needs to get back into the MVP conversation.