Baltimore Ravens 13, Buffalo Bills 7
Here are the highest-graded players and top storylines from the Baltimore Ravens' Week 1 win over the Buffalo Bills.

Quarterback grade: Joe Flacco, 70.2
Strong return from injury for Joe Flacco
After missing the second half of last year with a serious knee injury and playing a very limited amount of snaps this preseason, all eyes were on the former Super Bowl MVP in his return to action, and he certainly delivered. Joining a re-tooled offense, Flacco gladly spread the ball around, with 10 different players catching a pass. At his best throwing the ball downfield, Flacco completed three of the five passes he attempted traveling 20 yards or more through the air. It also helps to have good protection; that was especially obvious in this game when you compare his numbers on plays where the offensive line kept him clean versus when he was under pressure.
QB Joe Flacco under pressure versus Bills

Top offensive grades:
G Marshal Yanda, 83.5
QB Joe Flacco, 80.7
WR Mike Wallace, 80.5
HB Justin Forsett, 74.8
WR Breshad Perriman, 71.6
Baltimore's new weapons making big plays
One of the stories of the offseason for Baltimore has been the excitement surrounding finally getting 2015 first-round draft pick Breshad Perriman on the field as a healthy deep threat. He only saw two passes thrown his way in the game, but made a fantastic grab on a 35-yard reception down the left sideline. Adding to the offensive firepower was the signing of Mike Wallace, who—despite struggling in Miami and Minnesota—had earned a reputation as a great deep threat in his time in Pittsburgh. Back in the AFC North, he looks to be capable of proving that once again, with his long touchdown reception on third-and-one with 10:22 left in the second quarter, helping to boost his yards-per-route-run average to 3.03. There needs to be more consistency in the offense, but the early signs in terms of splash plays gave Ravens fans something to be excited about.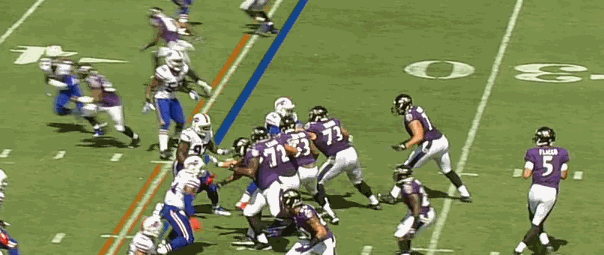 Top defensive grades:
S Eric Weddle, 84.2
CB Shareece Wright, 81.3
NT Brandon Williams, 80.6
DE Timmy Jernigan, 77.9
LB Albert McClellan, 77.8
Free-agent addition Eric Weddle impressive in Ravens' debut
While Baltimore tried to fill the offense with weapons for Flacco, the big signing defensively this offseason was Eric Weddle at safety. Coming off something of a down year in his final season in San Diego, Weddle has something to prove with the Ravens, and got it started on the right note against the Bills. Our run-stop percentage signature stat measures the number of tackles resulting in a defensive stop a player registers in relation to the amount of snaps they played against the run; Weddle made a tackle resulting in a defensive stop on 28.6 percent of the run-defense snaps where he was lined up within 8 yards of the line of scrimmage.

Quarterback grade: Tyrod Taylor, 57.2
Tyrod Taylor struggles under pressure in return to Baltimore
It wasn't a homecoming to remember for Taylor in his return to the franchise that selected him in the sixth round of the 2011 NFL draft. While he did connect on a 33-yard pass downfield, that was the only pass traveling at least 20 yards in the air that he completed. Taylor was efficient when the Bills' offensive line kept him clean, completing 92.9 percent of his passes. That number dropped significantly when that wasn't the case though, and he completed just 25.0 percent of the passes he attempted while under pressure.
Top offensive grades:
TE Charles Clay 78.8
RT Jordan Mills 76.1
WR Sammy Watkins 76.0
LT Cordy Glenn 72.3
QB Tyrod Taylor, 71.2
Bills running game slow to get going
In a game as close as this was, the Bills could have really used the ability to rely on their running game, but the Ravens' defense had other ideas. LeSean McCoy averaged 3.6 yards per carry, but didn't do much beyond the help of his offensive line, average just 1 yard after contact per carry. With the offense needing something of a spark, it was interesting that Taylor kept the ball on a designed quarterback run just once in the game, but ultimately, it was an area of the offense that failed to get going from the outset.
Top defensive grades:
LB Preston Brown 84.8
ED Lorenzo Alexander 81.3
CB Stephon Gilmore 79.7
DI Kyle Williams 79.3
S Corey Graham 78.3
Preston Brown beginning to turn it around?
We were very impressed with what we saw from linebacker Preston Brown as a rookie in 2014, but much less so with how he performed in his second season in the NFL. This game saw him back at the level we saw from him as a rookie, something which should please Bills fans. He graded well in coverage, against the run, and as a pass-rusher, earning the highest grade of any player on the field. As a pass-rusher, he picked up two hurries on just eight pass-rushing attempts, and finished the game with two tackles resulting in a defensive stop.
PFF Game Ball winner: Bills LB Preston Brown
Get access to grades for every player, complete with positional rankings, in our Player Grades tool.