Tampa Bay Buccaneers' faithful couldn't have liked the snapshot of the team's future put on display early in the season. Second-round running back Ronald Jones couldn't find the field and struggled when he was given the opportunity, and Vita Vea, the team's first-round pick, fell short of expectations early after injury kept him off the field through Week 3.
While Jones' current standing hasn't improved, Vea has started to find his stride in the NFL. The former Washington standout has earned 65.0 overall grades in each of the Bucs' last four games, including a season-high 91.2 overall grade against the Baltimore Ravens in Week 15.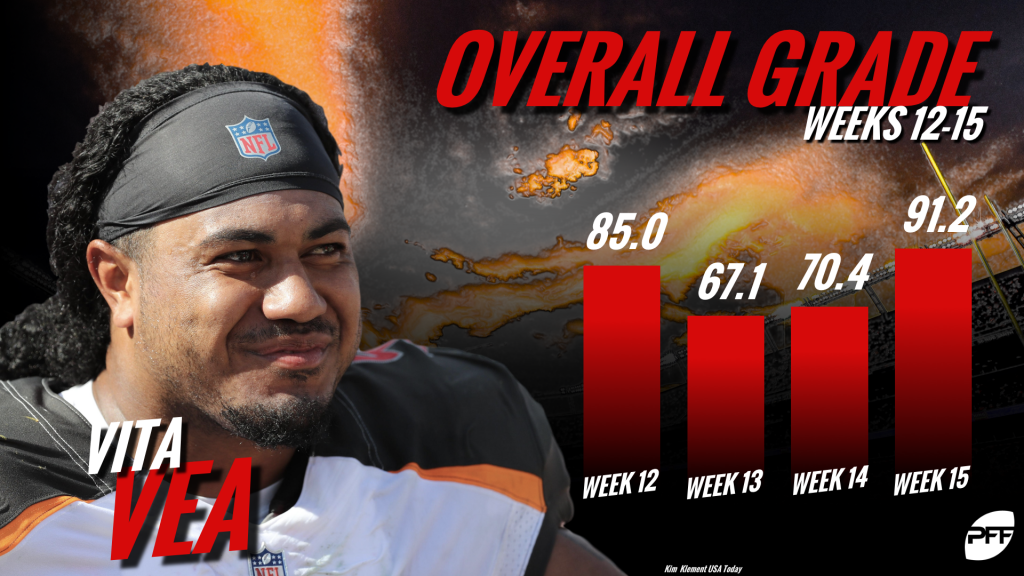 "[Vea] finally looked like the disruptor we saw at Washington," PFF Senior Analyst Mike Renner said after Vea's bludgeoning of Baltimore's offensive line. "He was recognizing runs and passes a lot quicker.
"If that's even close to the player they get weekly; he'll be in the convo for best NT in the NFL."
Vea won in the trenches constantly going against the Ravens' interior offensive line and the team's run-heavy offense. He totaled seven tackles in run defense, including four stops and one tackle for no gain. He was also the first to make contact with the ball carrier on 15.8% of his run-defense snaps, which was good for the ninth-highest percentage among qualifying interior defensive linemen in Week 15.
Stops and tackles don't tell the whole story when it comes to run defense, either. Affecting the point of attack for the ball carrier and forcing him to change direction can often be just as important as a tackle near the line of scrimmage. Here, Vea doesn't give up his outside shoulder on the stretch run, forcing Gus Edwards to turn upfield and into the pursuing arms of Gerald McCoy.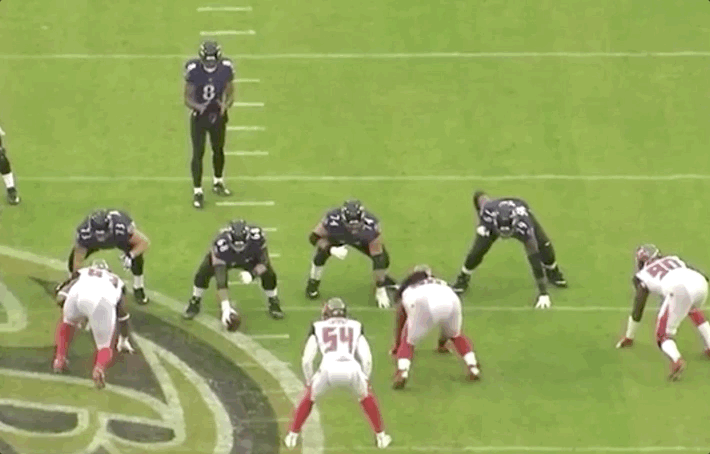 Rushing the passer, Vea recorded three pressures (all hurries) and added one win without pressure across his 21 pass-rush snaps. He's now recorded 10 total pressures across 91 pass-rush snaps in Weeks 12-15. His 11.0 pressure percentage and 13.2 win rate rank 19th and 17th, respectively, among the 49 at his position with 75 pass-rush snaps in that span.
As Mike Renner highlighted, Vea's improved play recognition has played a critical role in his improved ability to win blocks both against the run and in the passing game. The game is finally slowing down for him as he continues to gain experience, allowing him to utilize his natural strengths and get back to the game-breaking ability he brought to the Huskies' defense at the collegiate level.