Versatile safeties are all the rage in today's NFL. Guys like Derwin James and Jamal Adams can play all over the field and fulfill different roles, giving defenses much more flexibility in defending offensive football in 2019. One of those versatile safeties who may have flown under the radar in 2018 was Will Parks of the Denver Broncos, who is coming off a career-high single-season grade of 74.0 last season, ranking 28th out of 95 safeties who played at least 250 total snaps.
Out of his 572 snaps last season, Parks logged 224 snaps in the box (including linebacker and strong safety), 198 snaps at free safety, 88 snaps at slot corner, 42 snaps at outside linebacker and even 20 snaps at outside cornerback. As Denver's Swiss Army knife and new-age dime linebacker, Parks played his part in helping the Broncos earn the 11th-best team defense grade (84.2) last season.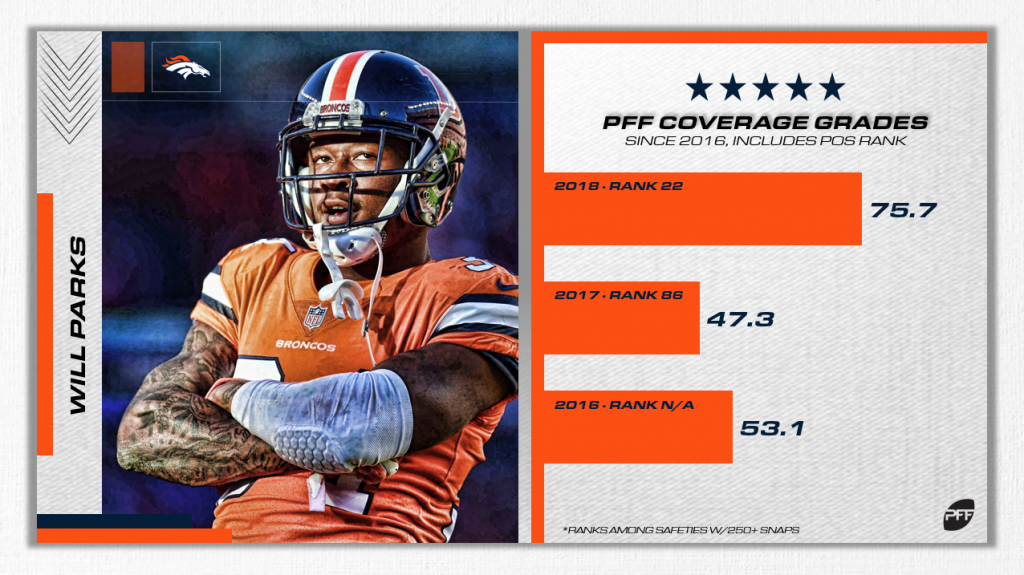 What made the third-year safety even more impressive last season was the fact that his three best games came against three stellar offenses. Parks' best game was against the Los Angeles Chargers in Week 17, when he earned an elite grade of 93.3, and his second-best game was against the Pittsburgh Steelers in Week 12, when he earned an overall grade of 87.3. His third-best game was against the mighty Los Angeles Rams in Week 6, when he earned an overall grade of 86.6.
The strongest facet of Parks' game last year was his coverage. In fact, his coverage grade of 75.7 ranked 22nd out of 95 qualifying safeties, and his passer rating allowed of 66.7 ranked 16th. In total, Parks was targeted 26 times last season and allowed 16 receptions for 183 yards and no touchdowns, making him one of only six safeties who had at least 250 coverage snaps and didn't allow a single touchdown.
When looking only at his slot coverage snaps, Parks performed even better. On his 73 coverage snaps in the slot, Parks was targeted 10 times and allowed five receptions for 87 yards, no touchdowns and grabbed one interception. His passer rating allowed of 40.4 in the slot ranks fourth out of 51 safeties who had at least 50 slot coverage snaps last season. Furthermore, Parks allowed a reception just once every 14.6 coverage snaps in the slot, ranking ninth.
One role of a versatile safety like Parks is to rush the passer, and he did plenty of that last year. Parks' 37 pass-rush snaps were the ninth-most among safeties in 2018, and he had four total pressures (two hits, two hurries) on those snaps. If there's one thing that Will Parks can improve on, it's his tackling. He missed six tackles last year (four against the pass, two against the run) and recorded a tackling grade of 54.8 that ranked 78th among safeties.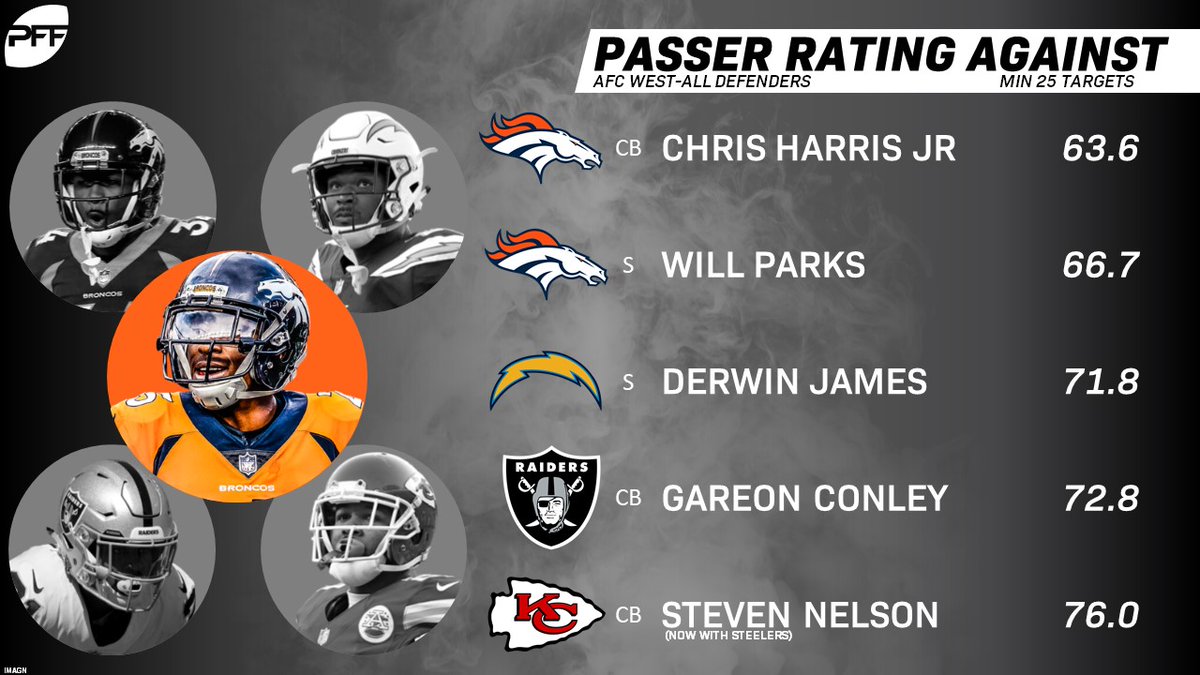 Going into 2019, it will be interesting to see how Parks is used by the Broncos' new head coach, Vic Fangio. As the Chicago Bears' former defensive coordinator, Fangio led the NFL's best defense last year and produced two of 2018's top-10 highest-graded safeties in Eddie Jackson (93.2) and Adrian Amos (82.9). Like Parks last year, both Jackson and Amos were used in a variety of positions, although they both played a much higher percentage of their snaps at free safety than Parks did, and neither Jackson nor Amos rushed the passer much.
Luckily for Parks, Fangio's most-used cover scheme last season was Cover-3, as it was employed on 28% of the Bears' defensive snaps against the pass. Parks is very familiar with the Cover-3 scheme too, as it was the Broncos' second-most used coverage scheme last year, right behind Cover-1. Parks had a coverage grade of 73.0 when playing in Cover-3 last season, versus a 62.2 coverage grade when playing in Cover-1. Evidently, it would be great news for Parks if the Broncos use Cover-3 most of the time, just like Fangio did with the Bears last year.
With the departure of safety Darian Stewart this offseason, the door has opened for Will Parks to become a full-time starter in the Broncos' secondary. Parks' versatility and zone coverage skills should be a good fit in Fangio's defense, and alongside new Broncos' cornerbacks Kareem Jackson and Bryce Callahan (and of course incumbent Chris Harris Jr.), Parks has a great opportunity to help Fangio resurrect the no-fly zone in Denver this upcoming season.