Brock Osweiler has an offseason to save his NFL career.
Just months after the Houston Texans handed him a $72 million contract ($37 million of which is guaranteed) in the single worst move of the offseason, the Texans saw their supposed franchise QB play yet another disastrous game to see them crash out of the playoffs.
It's hard not to feel sorry for the Houston defense, as the unit played extremely well, forcing turnovers in a rare bad game from Tom Brady, and still saw 34 points go on the board because their offense was so inept.
Osweiler was poor against the Patriots — though it's worth noting that on the odd occasions he did put an impressive pass in the air his receivers dropped the ball — and finished the season showing nothing of the promise Houston was so keen to highlight in the offseason.
He ended the season with a PFF grade of 40.5. (Even factoring in last night's relatively poor performance, Brady sits at 98.2.) The only QBs Osweiler ranked ahead of were Jared Goff and Blaine Gabbert. His regular-season performance was so bad that Saturday night's 40.3 wasn't even out of the ordinary – it was his baseline.
Osweiler's numbers vs. New England Saturday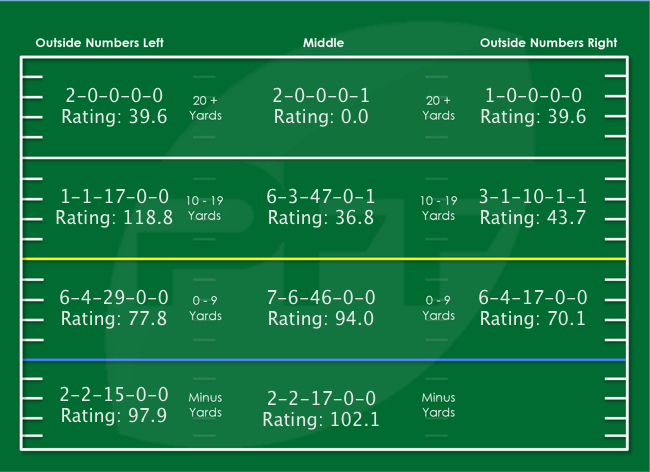 The really damning aspect of his play, though, is that it hasn't been high-variance or inconsistent – it has been a steady procession of ineptitude. If the Texans had at least seen flashes of the ability they saw in highlight form on his tape from Denver they might at least feel a glimmer of hope for his future, but there has been nothing. Osweiler has been consistently bad, shown almost no upside, and ultimately gave the Texans no choice but to bench him late in the season for backup Tom Savage, only to see Savage get hurt and restore Osweiler to the job.
Think about that for a second though — Osweiler was so bad this season that the Texans sat down a man they had just given 37 million guaranteed dollars to before he had even completed a full season, and replaced him with Tom Savage, a man whose NFL career was 61 snaps old at the time.
The defining aspect of Osweiler's first season in Houston has been that there has just been no upside. No matter what numbers or tape you look at, there is only bad. Even when kept clean in the pocket this season, his passer rating was just 83.1. There are five QBs who had a higher passer rating just when they were under pressure, and that is more than 45 passer rating points off the league's best mark when passing from a clean pocket. In the regular season, Tom Brady threw 21 touchdown passes and no interceptions from a clean pocket. Osweiler's ratio was 13:9.
When he was pressured, Osweiler's passer rating plummeted to 47.3 and he completed under 50 percent of his passes, throwing four times as many interceptions as touchdowns.
There are simply no redeeming features from Osweiler's season this year, and when you consider that the tape in Denver showed him to be average at best, we are simply lacking the potential upside for him to create a remarkable turnaround to this misadventure.
The only reason Osweiler even has the offseason to save his career is that it will cost the Texans so much money to cut bait right now. If they released him tomorrow, they would have all $37 million of his guaranteed money in dead salary cap space. If they do it as a post-June 1 cut, they still see $25m in dead cap space for 2017. If they're stuck with Osweiler chewing up a huge percentage of their salary cap either way, they might as well keep him on the roster and try to salvage something from him.
What separates badly run teams from those that excel in the NFL, though, is how quickly they are prepared to acknowledge their mistakes and rectify them. Houston may be stuck with Osweiler on the roster for another season, but that doesn't mean they are bound to the notion that he is the only potential option for the future.
The Texans — if they weren't already — should be looking at draft-eligible QBs and aiming at a rookie that can come in and potentially learn for a year while Savage and Osweiler compete to start in 2017. They can still look to develop Osweiler over the offseason on the off chance some inspired coaching can make the planets align within his head and transform him into the player they believed he could be, but it would be folly to put all of their eggs in that particular patchwork, moth-eaten basket.
Sadly, for Osweiler, right now his defining characteristic is the one thing that was always said about him within 15 seconds of appearing on a TV screen during games: "He's 6-foot-8, you know." Osweiler is indeed a very tall man, but he appears to be pretty bad quarterback, and while the Houston Texans may be stuck with him on their roster for another season, they need to plan for the likely scenario that it won't be for any longer than that.
Houston took a big gamble on a player that had shown little to no potential to become the player that they needed him to be, but many things will look appetising to a starving man, and the Texans have been a QB-starved franchise for a long-time now. You can't fault them too much for seeing the mirage in front of them, but they need to recognize the old boot they're chewing on won't satisfy their hunger, and go looking for a new QB once again.