In case it hasn't already been clear, NFL fans should know this: Last season was no fluke, and Rams defensive tackle Aaron Donald is once again the best player in all of football.
Winner of 2015's PFF Dwight Stephenson award, for the best overall player in the NFL, Donald has the highest PFF grade of any player in 2016 with a score of 95.3, comfortably clear of the next-best and one of only six players to currently sit above 90 in the ratings.
Coming into the week he led the entire league with 17 total pressures, but had curiously yet to notch a sack. That changed in the Rams' upset win over the Cardinals, as Donald got home twice in addition to the four hits and two hurries he recorded. For the season he now stands at 25 total pressures across only four games.
I'm admittedly not great at math, but that projects to an even 100 over the entire season, up from the 79 he managed in 2015 — which was enough to rank him as the best player in the league.
The pressure numbers don't necessarily equate to a better grade – not all pressures are created equal – and they only represent one area of the game, but they do nicely present Donald's case as a truly dominant player.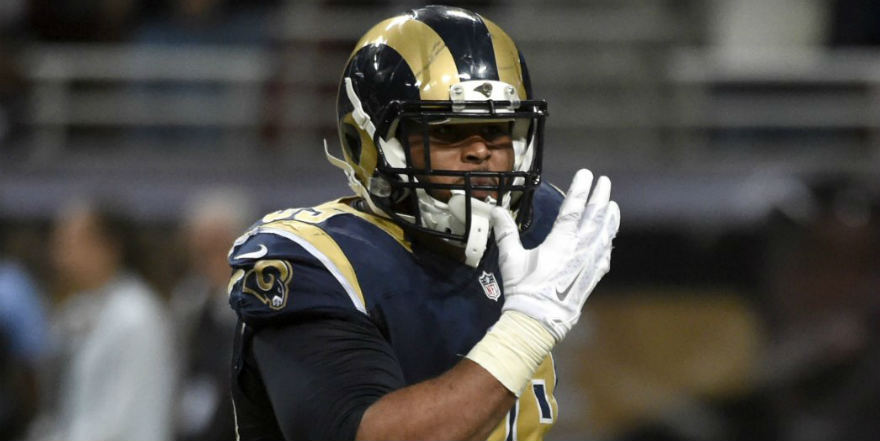 Through four weeks (with Monday Night Football still to be played) there is nobody within three total pressures of Donald league-wide, and he is an interior pass-rusher. Interior rushers typically record less pressure than their edge-rushing counterparts, and even Texans star J.J. Watt needed to spend significant time outside on the edge to record his ridiculous numbers over the past few seasons. There is no interior player within seven total pressures of Donald right now, and he has spent just 20 of 232 snaps lined up outside of the offensive tackle.
Donald's pass-rush grade isn't even in the same stratosphere as any other interior player this season. His 96.1 rating towers above the next-best mark – Jacksonville's Malik Jackson, with an 82.5 – and his run defense has also been excellent. While definitely the weaker area of his game so far in 2016, he still has the league's second-highest run-defense grade of 86.0 among defensive tackles, trailing only Miami's Ndamukong Suh.
The knock on Donald as a draft prospect was that he was undersized, but it simply hasn't mattered in the NFL because he sheds blocks better than any defensive tackle in the game. In a pure test of strength he may come off second-best, but he doesn't resign himself to the block and allow that to happen, instead using his hands to rid himself of the lineman tasked with blocking him and going after the ball-carrier.
With that ability, his speed and quickness that come from being a smaller player turn into an asset. Take a look at the speed at which he beats his man to start closing on Arizona QB Carson Palmer this week to sack him and force a fumble: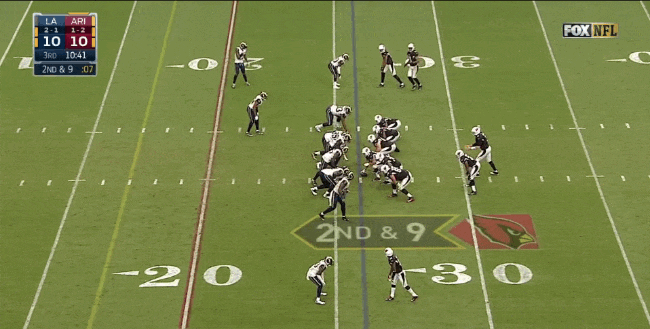 Donald sheds the block almost instantly at the line, and from that point it's a test of quickness to see how fast he can get to the quarterback.
It's definitely fair to say that Donald has yet to face the toughest test in terms of opposing offensive linemen so far in 2016, but looking at the rest of his schedule this season, there aren't that many on the horizon, either. He has a second opportunity against three of the sides he has already laid waste to, and while the rest of his schedule gives him some tougher tests, maybe the best interior he faces will be Carolina, and they have had their issues pass blocking this season.
Last season injuries to Watt caused his performance to dip and opened the door for Donald to at least be in the conversation with him as the best defensive player in the game. PFF graded Donald higher last season, and it was not without controversy. This season Watt was well short of 100 percent for what time he has been on the field, and has now been shut down for the season, so Donald gets a clear path to the limelight his play rightly deserves.
It's time to stop comparing him to Watt, and just appreciate Donald for what he is: the most dominant player in the game right now.