Week 9 of the 2016 NFL season is complete, and PFF's grades for every player to take a snap are in the books. Here are the top performances over the week at every position:
Week 9 offense
Quarterback: Russell Wilson, Seattle Seahawks, 94.9
On Monday night, Russell Wilson was nothing short of spectacular, giving a masterclass on how to pass—and pass deep—despite virtually no protection in front of him. His QB rating under pressure was 155.8, just 2.5 points short of perfect, and two of his six incompletions on the day were intentionally thrown away. This was the kind of performance that thrusts players into MVP consideration, and the work Wilson has been doing on an injured ankle—without any of the support many other players have to work with—has been remarkable.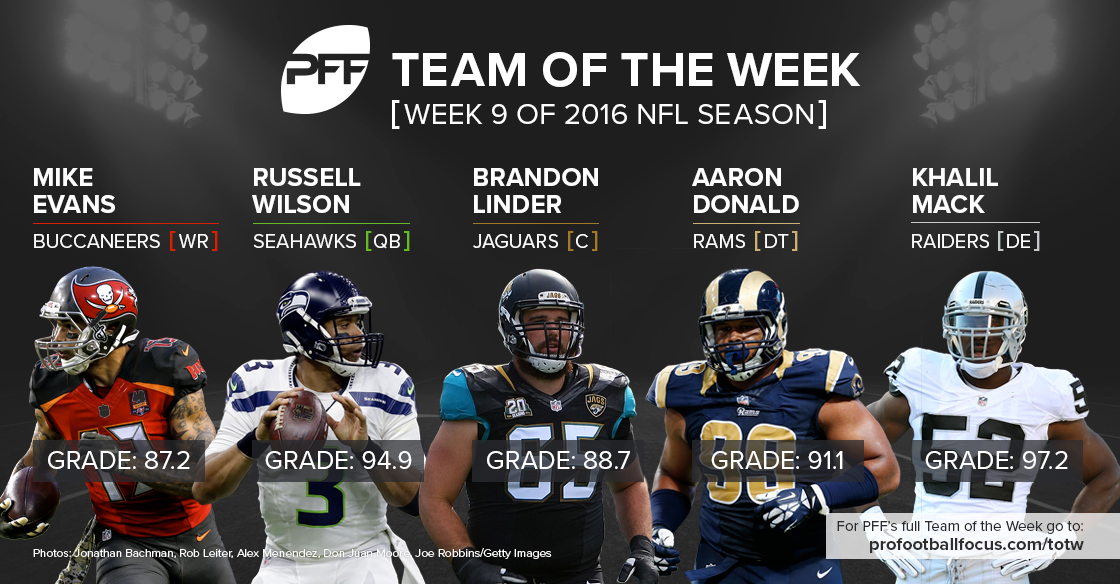 Running back: Latavius Murray, Oakland Raiders, 88.2
Latavius Murray carried the ball 20 times for 114 yards and three scores in Oakland's win over the Broncos on Sunday night, breaking three tackles and notching 91 of those yards after contact. He was only thrown at once, but that reception netted him another 13 yards in the game, and while Oakland's passing attack gets much of the ink, Murray is a huge part of one of the best offenses in the league.
Wide receiver: Julio Jones, Atlanta Falcons, 86.7
All the way back on Thursday night, Julio Jones had another big week in a season of dominance. He caught eight of the 10 passes thrown his way for 111 yards and a score. He beat rookie Vernon Hargreaves III for six of those catches, racking up 79 yards against the first-year player and proving just too big and strong for him to match up with in the red-zone.
Wide receiver: Mike Evans, Tampa Bay Buccaneers, 87.2
Jones wasn't alone in dominating back on Thursday night, and he didn't even have the best catch of the night. That distinction belonged to Tampa Bay's Mike Evans, who snared a beautiful one-handed grab near the sideline and ended the game with 11 receptions for 150 yards and two scores overall. Only a pair of drops held him back from what would have been a spectacular grade otherwise.
Slot receiver: Robert Woods, Buffalo Bills, 88.3
Tyrod Taylor had a pretty good day himself, and his receiver Robert Woods was a big reason for it. Woods caught 10 passes for 162 yards on 13 targets and beat five different Seattle defenders for receptions. He showed a great feel for adjusting to his QB when the play broke down, and the ability to find open areas and make tough sideline grabs when Taylor eventually got the ball out.
Tight end: Jimmy Graham, Seattle Seahawks, 94.8
One spectacular one-handed catch, despite huge contact from the defender, is a pretty good day, but Graham did it twice—both for touchdowns—and ended the game catching all eight targets sent his way for 103 yards and those two scores. Russell Wilson's passer rating when throwing in Graham's direction was a perfect 158.3.
Left tackle: Tyron Smith, Dallas Cowboys, 83.4
Tyron Smith will have tougher tests this season than the Cleveland Browns, but nevertheless, he responded on Sunday with complete domination. Smith didn't allow a single pressure over the course of 30 pass-blocking snaps, wasn't penalized, and run blocked well against a defense that was too young and inexperienced to live with his quality.
Left guard: Alex Lewis, Baltimore Ravens, 85.4
Rookie fourth-round pick out of Nebraska, Alex Lewis, has had a lot asked of him this season. He has started games at both left guard and left tackle, and up until this week, has struggled. This week, though, he was excellent, allowing no pressure at all against the Steelers and earning positive run-blocking grades over 70 snaps. It represents easily Lewis' best game of the season, and may be a sign of things to come now that he is back at guard.
Center: Brandon Linder, Jacksonville Jaguars, 88.7
2016 hasn't been a season to get excited about if you're a Jacksonville Jaguars fan, but C Brandon Linder is having an excellent year, and was at his best in Week 9 against the Chiefs. He played 77 snaps and was perfect in pass protection, didn't surrender a penalty, and was particularly strong getting to the second level against Kansas City's linebackers in the run game.
Right guard: David DeCastro, Pittsburgh Steelers, 82.4
Not to be outdone by the Ravens' rookie on the other side, David DeCastro was also excellent in this game. He pass blocked 51 times in Ben Roethlisberger's first game back from injury, and didn't allow a single pressure. He was flagged once for a false start penalty, but offset that with some key blocks, including a pancake on Baltimore DT Timmy Jernigan.
Right tackle: Ja'Wuan James, Miami Dolphins, 85.0
Few players have benefited from Miami's new focus on the power running game more than offensive tackle Ja'Wuan James. James allowed one QB hit and nothing else from 32 pass-blocking snaps in Week 9, but with the Dolphins pounding the ball, he got to suit up his road-grading boots and earn his second strong run-blocking grade in a row.
Week 9 defense
Edge defender: Khalil Mack, Oakland Raiders, 97.2
You'd think if any team would be prepared for the kind of havoc Khalil Mack can wreak, it would be the Denver Broncos, and yet they left RT Donald Stephenson one-on-one against him for most of Sunday Night Football. That resulted in Mack picking up a pair of sacks and eight additional QB hurries over the course of the game, not to mention three more plays in which he had Stephenson badly beat, but the ball came out before it could generate pressure.
Defensive interior: Aaron Donald, Los Angeles Rams, 91.1
Aaron Donald and the Rams were on bye last week, but he reclaimed is spot here again in Week 9. Against the Panthers, Donald had a pair of sacks and seven additional hurries, racking up three defensive stops and an impressive grade against a pair of good NFL guards. Donald is the league's most dominant defender right now, and figures to maintain a place on this team as long as he continues at this level.
Defensive interior: Leonard Williams, New York Jets, 88.3
Three QB hits and five QB hurries was the tally that Leonard Williams managed against the Dolphins on just 22 pass-rushing snaps, giving him pressure on more than a third of his rushes; Williams' best work was arguably done in the run game, however, where he was constantly disruptive all across the line, even when lining up at nose tackle.
Edge defender: Cameron Wake, Miami Dolphins, 89.0
Cameron Wake has reclaimed his starting spot after returning from injury, beginning the season as a situational rusher. In Week 9 he played 39 snaps, rushed the passer 24 times, and recorded two sacks and three QB hurries on those rushes against the Jets, showing the kind of burst and acceleration that made him one of the league's best pass-rushers for so long. There is still plenty of that juice still there.
Linebacker: Paul Posluszny, Jacksonville Jaguars, 92.5
Paul Posluszny led the Jaguars' defense with seven solo tackles and four defensive stops. In coverage, he was thrown at three times as the primary coverage defender, surrendering catches on two of them, but making stops on those plays for a total of 3 yards. Posluszny also generated a pair of QB pressures on the blitz, though one was nullified by a penalty.
Linebacker: Ramik Wilson, Kansas City Chiefs, 88.1
Picking off Blake Bortles was the highlight of the game for Chiefs LB Ramik Wilson, but he had a fine outing overall in addition to that play. Against the run, Wilson recorded three defensive stops and forced a key fumble on the goal line by RB Chris Ivory.
Cornerback: Dominique Rodgers-Cromartie, New York Giants, 87.8
Thrown at seven times by the Eagles, Dominique Rodgers-Cromartie allowed only three receptions and forced a fumble from Nelson Agholor after the catch. Rodgers-Cromartie forced multiple incompletions by being all over the receiver at the catch point, allowing very little to get through.
Cornerback: Ross Cockrell, Pittsburgh Steelers, 85.9
While Artie Burns was struggling on one side for the Steelers, Ross Cockrell was nearly shutdown on the other side. On 70 snaps, 41 of which were in coverage, Cockrell allowed just one catch that went for only 3 yards. That was the only time he was thrown at in the game, and he added to that solid coverage performance with some positive grades in run defense.
Slot cornerback: Steven Nelson, Kansas City Chiefs, 86.8
Steven Nelson was thrown at seven times against Jacksonville and allowed just two catches for 36 yards. He broke up three of the incompletions, including one each intended for Allen Robinson, Allen Hurns, and Bryan Walters. Blake Bortles' passer rating when throwing the ball into Nelson's coverage was just 48.5.
Safety: Andrew Adams, New York Giants, 91.1
Andrew Adams had played a few games already, and acquitted himself well, but this was a breakout performance from the rookie undrafted free agent. Against the Eagles, Adams led the team in tackles from his safety spot, recorded an interception and a pass breakup in coverage, and barely made a misstep over the course of the entire game.
Safety: Ladarius Webb, Baltimore Ravens, 84.7
The transition to safety has not been altogether smooth for Ladarius Webb, but this week was his best at the position in 2016. Against the Steelers he broke up a pair of passes in coverage, made a nice defensive stop in the run game, and beat RB Le'Veon Bell for a pressure on the blitz to display a complete skill-set from his safety spot.
Week 9 special teams
Punter: Sam Koch, Baltimore Ravens
Nobody punted more than the nine times Sam Koch was called upon this week against Pittsburgh, and those punts were returned for a total of 5 yards. Four of them resulted in the Steelers starting drives inside their own 20-yard line.
Kicker: Matt Prater, Detroit Lions
Matt Prater was three-for-three against the Vikings this week, with two of his kicks coming from 50+ yards, including the 58-yard one as time expired to send the game into overtime.
Special teamer: D.J. Alexander, Kansas City Chiefs
D.J. Alexander managed a pair of solo special-teams tackles and one assist, making plays on both kick-offs and punts as a core special-teams player for Kansas City.
Return specialist: Kenyan Drake, Miami Dolphins
Kenyan Drake only returned two kicks this week for the Dolphins, but one of them went 96-yards for a touchdown and was a key play for the team in that game.