Week 6 of the 2016 NFL season is complete, and PFF's grades for every player to take a snap are in the books. Here are the top performances over the week at every position:
Week 6 offense
Quarterback: Drew Brees, New Orleans Saints, 89.6
Tom Brady had another excellent week, but Drew Brees just edges him for this spot on the team. Brees threw for 465 yards against the Panthers, completing 69.4 percent of his passes. What's more, his passer rating even when pressured was 88.9—right around the league average for all passes.
Running back: Ezekiel Elliott, Dallas Cowboys, 84.2
The Packers' run defense was perhaps a little overrated heading into Sunday's game, but it's still a good unit, and Cowboys RB Ezekiel Elliott was able to rack up 157 yards on them—101 of which came after contact, as he broke five tackles. Elliott was the foundation for this offense, continually moving the chains all day.
Wide Receiver: Kenny Britt, Los Angeles Rams, 88.7
Kenny Britt is a big receiver, and his touchdown catches were an impressive example of physicality and power, bouncing off would-be tacklers to score on plays well short of the end zone. His one-handed grab on a corner route where he was being interfered with was perhaps even more impressive.
Wide receiver: Amari Cooper, Oakland Raiders, 87.9
Amari Cooper made life tough for rookie Chiefs CB D.J. White, catching passes for 63 yards against White alone, and adding another 66 against other defenders. In total he caught 10 of the 13 targets thrown his way.
Slot receiver: Kendall Wright, Tennessee Titans, 88.8
The Titans have been missing Kendall Wright this season, and if there was any doubt about it, his performance against the Browns dispelled it. Wright caught eight of the nine passes thrown his way, including laying out for a deep bomb and then having the presence of mind to get to his feet before being touched down, turning the reception into points.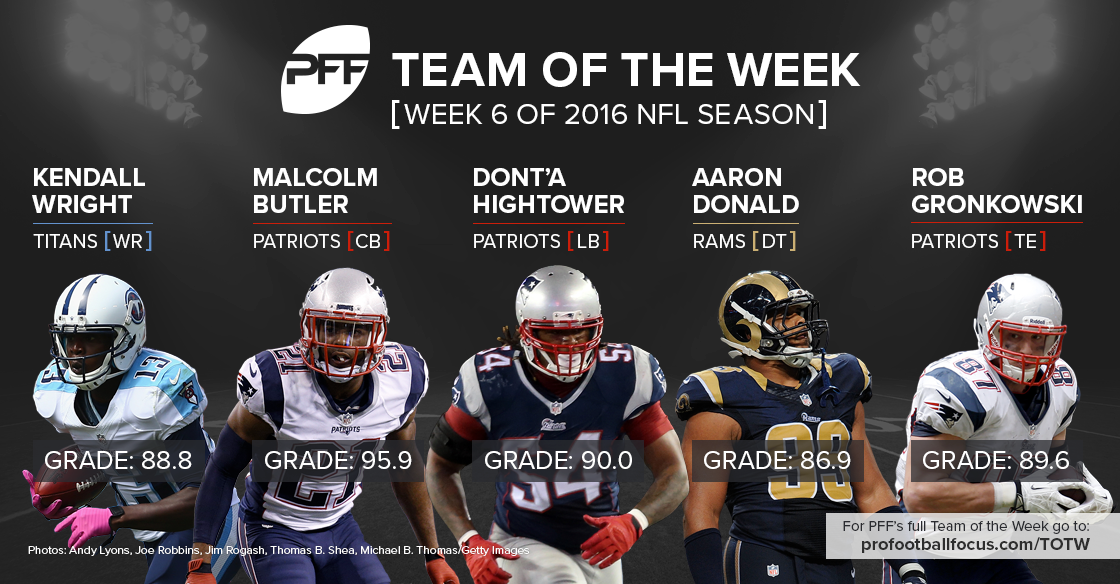 Tight End: Rob Gronkowski, New England Patriots, 89.6
The Cincinnati Bengals simply didn't have anybody that could stop Rob Gronkowski. From dominating the middle of the field to making quick and smart adjustments to get open when he saw Tom Brady in trouble, Gronk showed on Sunday why he is the league's best TE. Only getting drawn into jawing and penalties marked an otherwise excellent day.
Left tackle: Taylor Lewan, Tennessee Titans, 87.6
Another week on this roster, and another atop the PFF tackle grades for Taylor Lewan; it's hard to believe that he was a question mark on Tennessee's O-line heading into the season. Against Cleveland he didn't give up any pressure on 31 pass-blocking snaps, and wasn't penalized all game—something that has been an issue.
Left guard: James Carpenter, New York Jets, 84.5
It's probably fair at this point to call James Carpenter a successful reclamation project by the Jets. In a different blocking scheme he has been a far better player, and has even improved on his pass protection this year. Against the Cardinals, he surrendered just a single QB pressure.
Center: Ryan Kelly, Indianapolis Colts, 86.2
This was the best game of rookie center Ryan Kelly's young career. Against the Texans, he recorded his first clean sheet in pass protection, allowing no QB pressure on 44 pass-blocking snaps—the only member of the Colts' O-line to hold up all game.
Right guard: Kevin Zeitler, Cincinnati Bengals, 85.0
The Bengals' offensive line has been having some issues this season, and experienced the same again against the Patriots, but Kevin Zeitler was excellent as things around him broke down. He allowed one pressure on 37 pass-blocking snaps, and made strong plays in the run game.
Right tackle: Marcus Cannon, New England Patriots, 83.8
With Carlos Dunlap on the other side of the line of scrimmage, Marcus Cannon deserves special mention for not just playing well, but doing so against excellent opposition. He consigned Dunlap to the worst day of the DE's season, allowing just two total pressures on 41 pass-blocking snaps and run blocking well against a tough defender.
Week 6 defense
Edge defender: Cameron Jordan, New Orleans Saints, 87.5
It's been awhile since we have seen Cameron Jordan at his best, but he showed up to play against the Panthers and proved what a one-man wrecking crew he can be. He notched four hits and four hurries, batting down a pass and leading the team with three defensive stops in the run game.
Defensive interior: Aaron Donald, Los Angeles Rams, 86.9
Aaron Donald continues to make this roster week after week. A routine six total pressures against the Lions and four defensive stops adds to his ludicrous tally for the season, and only a pair of penalties blighted his afternoon. Well, that and the final score.
Defensive interior: Kyle Williams, Buffalo Bills, 86.1
Much like the Bills, Kyle Williams has had a little revival this season. Williams looked firmly in the twilight of his career last year, but has showed recently that, at least against weaker opposition, he can still be very effective. He beat the 49ers for two QB hits and four hurries, though he couldn't finish any with a sack.
Edge defender: Chandler Jones, Arizona Cardinals, 85.5
Chandler Jones proven to be a top acquisition of the offseason thus far, and made a big impact in primetime this week on Monday Night Football. In 53 snaps of action, he totaled eight QB pressures and was a dominant force as a pass-rusher, giving Ryan Fitzpatrick and the Jets all kinds of problems.
Linebacker: Dont'a Hightower, New England Patriots, 90.0
There is no better player on the blitz than Patriots linebacker Dont'a Hightower, who has an ability to hide his approach behind linemen before exploding into the gap and bursting through it before the blockers can react and slow his approach. Against the Bengals, he tallied five total QB pressures on only 10 blitzes.
Linebacker: Brandon Marshall, Denver Broncos, 89.5
Denver's defense was surprised by San Diego's attack overall, but Brandon Marshall had an excellent game, notching four defensive stops and a pair of QB hurries from five blitzes. He was also consistently beating his man in the run game and forcing adjustments to the Chargers' rushing attempts.
Cornerback: Malcolm Butler, New England Patriots, 95.9
He has a tendency to run hot or cold, but when he is on form, Malcolm Butler is excellent. Against the Bengals, he broke up four passes and allowed a total of three catches for 17 yards on the seven targets sent into his coverage.
Cornerback: Byron Maxwell, Miami Dolphins, 91.9
Just a short time after being benched, Byron Maxwell turned into Richard Sherman for a stretch in the fourth quarter of this game. He broke up four passes on the day, including two in quick succession intended for Steelers WR Antonio Brown. Covering him much of the day, Maxwell surrendered just three catches to Brown for 23 yards against him.
Slot cornerback: Aaron Colvin, Jacksonville Jaguars, 84.2
Against the Bears, Aaron Colvin actually allowed a catch every time he was targeted—six for six—but four of those receptions constituted defensive stops, as he made the quick tackle. He also notched a quick QB pressure on the blitz and made a couple of positive plays against the run.
Safety: Landon Collins, New York Giants, 84.4
Landon Collins has been reborn for the Giants this season, having been moved closer to the line in his second year as a pro. Against the Ravens, he led New York in solo tackles (nine), total tackles (11), and defensive stops (five), not to mention chipping in with a sack and two QB hurries on the blitz.
Safety: D.J. Swearinger, Arizona Cardinals, 86.7
Swearinger's best play came by cutting in front of Jets WR Brandon Marshall in the end zone and turning an improvised touchdown into an interception going back the other way; he also leveled a big hit during the game and was a real menace in coverage for the Cardinals.
Week 6 special teams
Punter: Sam Koch, Baltimore Ravens
Sam Koch kicked five times against the Giants, with those attempts returned for a total of 11 yards— two of them being fair caught. Three of the five started the Giants inside their own 20-yard line.
Kicker: Phil Dawson, San Francisco 49ers
This wasn't a vintage week for kicking, with only one kicker (San Diego's Josh Lambo) hitting more than three field goals, and none of his kicks were from beyond 40 yards. Phil Dawson, though, was three for three, with two scores from beyond 40 yards.
Special teamer: Deion Jones, Atlanta Falcons
A pair of special-teams tackles gives Deion Jones this spot on the team of the week. The rookie is proving to be a useful contributor on special teams, as well as in his role on defense for the Falcons.
Return specialist: Wendell Smallwood, Philadelphia Eagles
The Eagles couldn't get much going against Washington this week, but they had a spark come from Wendell Smallwood, who took a kick back 86-yards for a touchdown.