Week 3 of the 2016 NFL season is complete, and PFF's grades for every player to take a snap are in the books. Here are the top performances over the week at every position:
Week 3 offense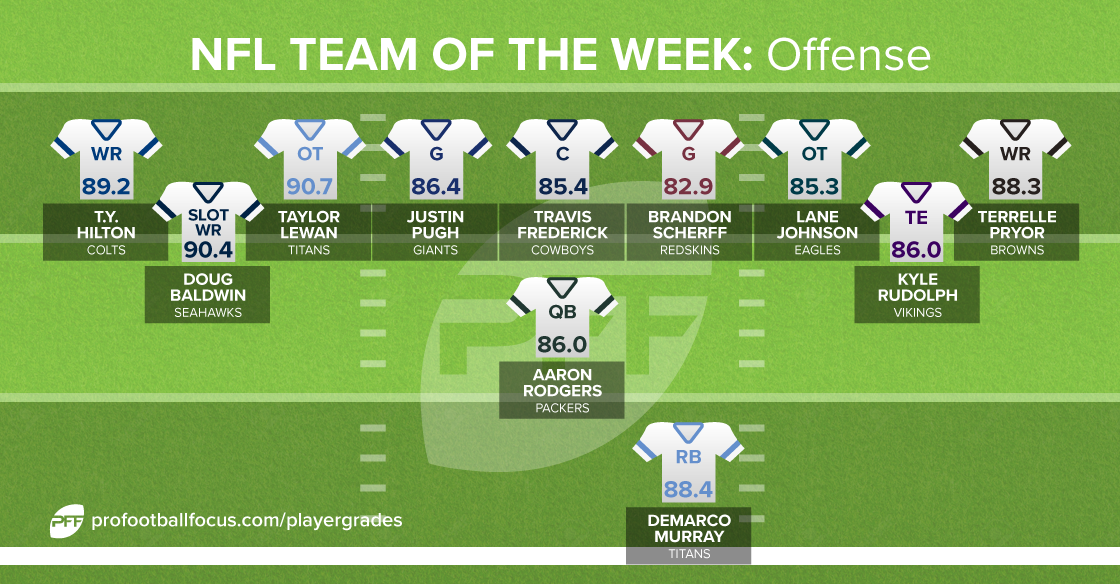 Quarterback: Aaron Rodgers, Green Bay Packers, 86.0 overall grade
Aaron Rodgers was back to his best against the Lions, completing some spectacular passes and racking up a passer rating of 146.1 when not under pressure—which was the case for most of the game. He may have only thrown for 205 yards, but he recorded four touchdown passes.
Running back: DeMarco Murray, Tennessee Titans, 88.4
DeMarco Murray had his best game since his dominant 2014 season in Dallas, notching 114 rushing yards on only 16 carries, adding 41 receiving yards, and scoring a touchdown. He gained 69 of his yards after contact, and really didn't have a misstep versus the Raiders.
Wide receiver: T.Y. Hilton, Indianapolis Colts, 89.2
On paper, this looked like an ugly week to be a T.Y Hilton fantasy owner, but he destroyed one of the league's best cornerbacks in Jason Verrett. Against Verrett alone, Hilton caught five passes for 135 yards and a touchdown; the Colts' wideout added another 39 yards on three catches against other Chargers' defenders, too.
Wide receiver: Terrelle Pryor, Cleveland Browns, 88.3
If you count one lone snap as a deep free safety at the end of the first half to prevent a Hail Mary attempt, Pryor played three positions in this game: QB, WR and S. He had four rushes for 22 yards, threw for 35 more, and racked up 144 as a receiver with a rookie third-round quarterback throwing him the ball.
Slot receiver: Doug Baldwin, Seattle Seahawks, 90.4
You won't see a filthier catch than the diving, one-handed grab that Baldwin hauled in against the 49ers, but he also caught seven other passes and totaled 164 yards and a touchdown. When throwing his way, Russell Wilson had a passer rating of 152.1 and completed 80 percent of his targets.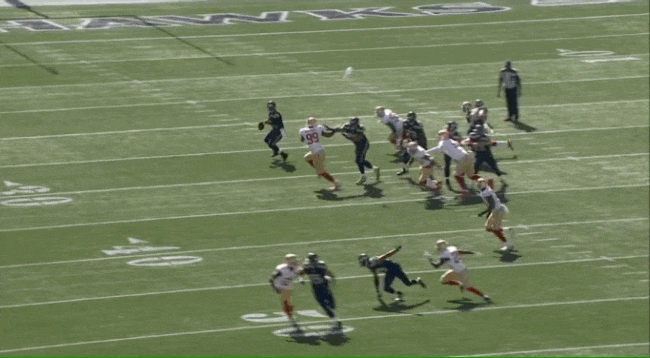 Tight end: Kyle Rudolph, Minnesota Vikings, 86.0
While Kyle Rudolph has always possessed immense physical talent, this year he is starting to consistently make use of it on the field. Rudolph caught seven of the eight passes thrown his way for 70 yards and a touchdown, snaring the score from over the head of Panthers LB Shaq Thompson.
Left tackle: Taylor Lewan, Tennessee Titans, 90.7
The late penalty could have been so costly for the Titans, but Taylor Lewan was a monster otherwise in this game, failing to allow a single pressure and moving bodies in the run game all day. The penalty really was the only black mark in an otherwise excellent outing.
Left guard: Justin Pugh, New York Giants, 86.4
Justin Pugh was a pretty good guard in 2015, but has already blown that performance out of the water so far this year, and his game against Washington was his best yet. He didn't allow any pressure, and had a good run-blocking grade, also.
Center: Travis Frederick, Dallas Cowboys, 85.4
The Dallas offensive line looked a little more like the Dallas offensive line this week against the Bears. Frederick allowed just one pressure from 29 pass-blocking snaps and was exceptional in the run game, opening holes for Ezekiel Elliott to gain 140 yards on 30 carries.
Right guard: Brandon Scherff, Washington Redskins, 82.9
Washington LT Trent Williams rightly earned plenty of praise for moving inside to LG due to injury in the game—as he played well—but the best performance on the line came from RG Brandon Scherff. Scherff didn't allow any pressure on 41 pass-blocking snaps, and only a holding penalty kept him from an even higher grade.
Right tackle: Lane Johnson, Philadelphia Eagles, 85.3
The Eagles are making the most out of the time they have with RT Lane Johnson before his suspension appeal works itself through the system. He was once again excellent against Pittsburgh, keeping a clean sheet in pass protection and run blocking well.
Week 3 defense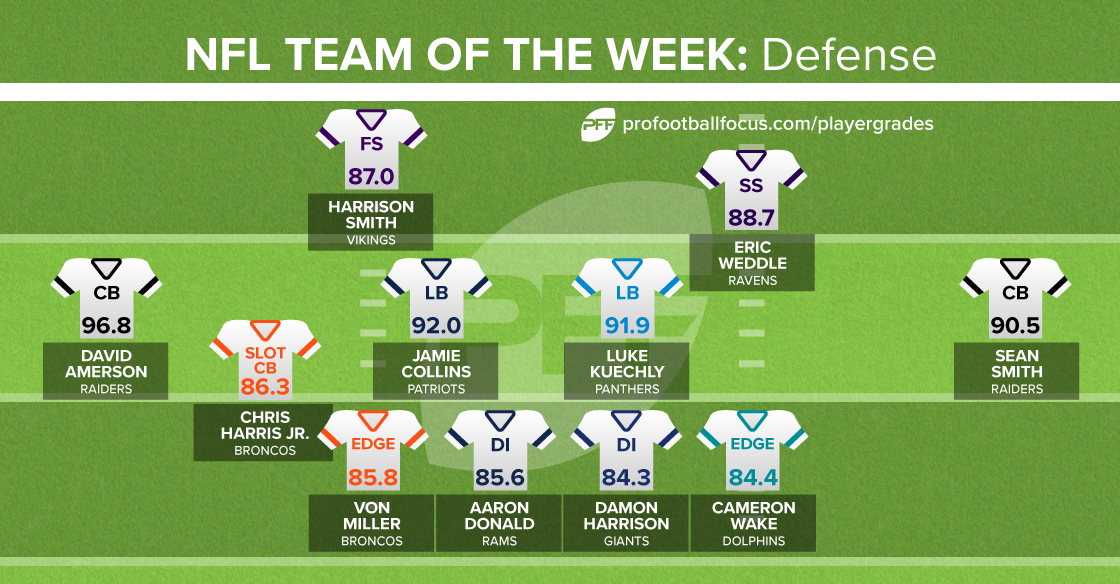 Edge defender: Von Miller, Denver Broncos, 85.8
It's a testament to his dominance that a one-sack, five-total-pressure day for Von Miller feels somehow underwhelming, and represents essentially his career-average game. What is average for Miller, though, is good enough to lead the league most weeks. That was the case in Week 3, with Miller's grade getting him on the team of the week as the highest-graded edge rusher.
Interior defender: Aaron Donald, Los Angeles Rams, 85.6
Aaron Donald now leads the league with 17 total QB pressures, yet has somehow failed to register a sack through three games. Against the Buccaneers, he added another two QB hits and three hurries to his tally sheet, and also batted down a pair of passes at the line.
Interior defender: Damon Harrison, New York Giants, 84.3
Washington averaged just 3.0 yards per carry as a team against the Giants, and a large reason for that (literally and figuratively) was Damon Harrison. The new interior defender import led the team in solo tackles (eight) and defensive stops (five), and even recorded his first two hurries of the season as a pass rusher.
Edge defender: Cameron Wake, Miami Dolphins, 84.4
Cameron Wake has been used as something of a situational pass rusher since returning from injury, and just like the beginning of his career, he's making the most of those snaps. Against Cleveland, Wake racked up a sack and six hurries on 26 pass-rushing snaps.
Linebacker: Jamie Collins, New England Patriots, 92.0
Against Houston on Thursday, Jamie Collins was a force for the Patriots, racking up eight defensive stops to lead the league in Week 3. He also recorded an interception and was repeatedly making tackles short of the markers in coverage.
Linebacker: Luke Kuechly, Carolina Panthers, 91.9
The Panthers may have been upset by the Vikings this week, but Luke Kuechly was a big part of the reason it needed a special-teams touchdown to happen. Kuechly racked up 12 solo tackles, an assist, and seven defensive stops, second-most in the league this week. He also notched a hit on QB Sam Bradford from his three blitzes.
Cornerback: David Amerson, Oakland Raiders, 96.8
David Amerson was targeted 11 times by the Titans and allowed just four catches for 38 yards. That alone would be impressive, meaning Tennessee averaged just 3.5 yards for every target into his coverage, but he broke up five of the incompletions—three more than any other corner this week.
Cornerback: Sean Smith, Oakland Raiders, 90.5
Joining Amerson on the team of the week is Raiders CB Sean Smith. Smith was targeted seven times and allowed just one catch for 19 yards, picking off a pass and generally dominating in coverage. Only a poor performance in the run game separated him from his teammate in grading.
Slot cornerback: Chris Harris Jr., Denver Broncos, 86.3
Harris lined up in the slot on 29 of his 67 snaps against Cincinnati, and was in coverage for 22 of those plays. He was thrown at just twice, allowing one catch for 4 yards to Bengals WR A.J. Green. Harris' 0.14 yards per coverage snap in the slot was the third-best mark in the league among corners with 20 or more slot-coverage snaps in Week 3.
Safety: Eric Weddle, Baltimore Ravens, 88.7
Eric Weddle is beginning to look like the kind of field general in Baltimore that he was for the Chargers for so many years. Equally adept in deep coverage as he is coming down to the line of scrimmage and attacking the run, Weddle graded well across the board this week.
Safety: Harrison Smith, Minnesota Vikings, 87.0
Harrison Smith is the best player on the dominant Vikings' defense right now. He recorded five tackles this week against the Panthers, each one a defensive stop. He also notched a sack and allowed just one catch for 2 yards when in primary coverage.
Week 3 special teams
Punter: Bryan Anger, Tampa Bay Buccaneers
He only punted four times, but Bryan Anger's average kick travelled 47.8 yards against the Rams. He managed a hang time of 5.27 seconds on one of them, and they were returned for a total of 12 yards.
Kicker: Justin Tucker, Baltimore Ravens
It was close between Justin Tucker and Washington's Dustin Hopkins, who made all five of his attempts this week, but Tucker had one from over 50 yards, and that was the go-ahead score late in the game.
Special teamer: Margus Hunt, Cincinnati Bengals
Blocking a field goal and notching a special-teams tackle is enough for Margus Hunt to earn the special-teams player of the week spot, but the Bengal is actually starting to make some plays on defense now, too.
Return specialist: Marcus Sherels, Minnesota Vikings
Seattle's Tyler Lockett deserves a mention for the 62-yard punt return he had this week, but Sherels gets the spot for getting into the end zone and sparking the Vikings' victory against the Panthers.
Miss our team of the week for NFL Week 2? See the roster here, headlined by Vikings WR Stefon Diggs.