Week 15 of the 2016 NFL season is complete, and Pro Football Focus' grades for every player to take a snap are in the books. Here are the top performances over the week at every position:
Week 15 offense
Quarterback: Carson Palmer, Arizona Cardinals, 90.3
In what has been a run of redemption stories at quarterback, Carson Palmer put together the kind of performance that wouldn't have been out of place in his 2015 tape—before his playoff implosion and disappointing 2016. He passed for 320 yards, but lost at least another 67 thanks to three drops from his receivers, with J.J. Nelson dropping the most critical pass of the game. Palmer was dominant, but ultimately came out on the losing end of a shootout against the Saints.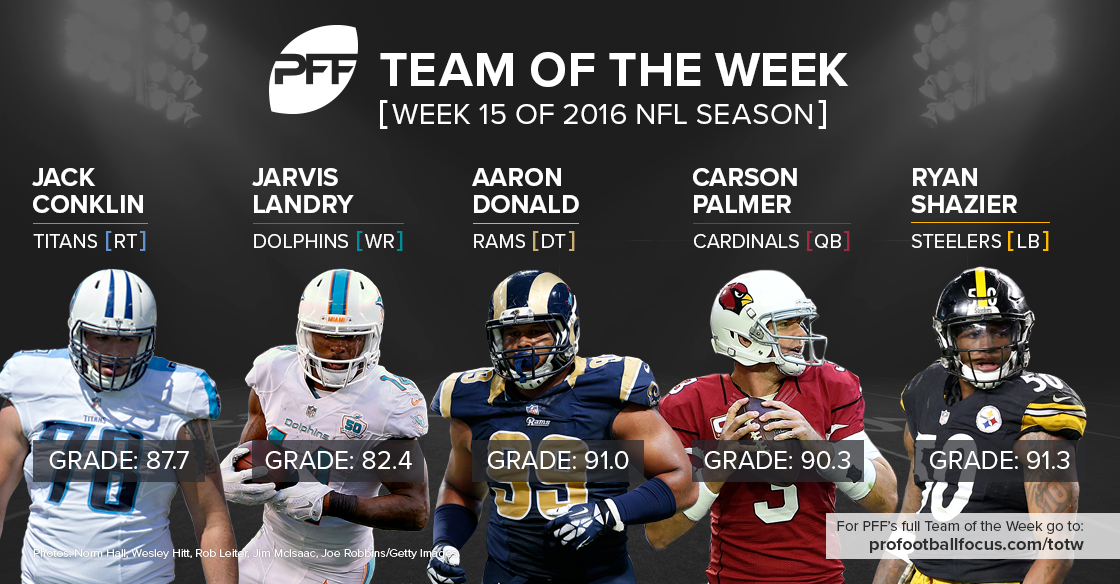 Running back: Ty Montgomery, Green Bay Packers, 83.6
Ty Montgomery saw the highest workload of his brief running back career, and made the Chicago Bears look like a high school team. He carried the ball 16 times and racked up 162 yards, 160 of which came after contact as he broke seven tackles on his way to a pair of touchdown scores. What position Montgomery plays is no longer in question, just how heavy a workload the Packers give him.
Wide receiver: Brandin Cooks, New Orleans Saints, 81.4
Brandin Cooks is prone to the occasional huge game, and this was his third of the season. He caught seven passes from eight targets, putting up 186 receiving yards in total and a pair of scores, with 86 of those yards coming after the catch. He averaged 26.6 yards per catch and 12.3 after the catch.
Wide receiver: Tyler Lockett, Seattle Seahawks, 81.4
Way back on Thursday night, Tyler Lockett tore through the Rams secondary to the tune of 130 receiving yards from seven catches on only eight targets. He scored once, beat four different L.A. defenders for receptions, and Russell Wilson had a perfect passer rating of 158.3 when aiming Lockett's way over the course of the game.
Slot receiver: Jarvis Landry, Miami Dolphins, 82.4
Jarvis Landry only caught three passes against the Jets, but those passes went for 108 yards and a touchdown, with 81 of them coming after the catch as he took short passes and turned them into big gains for the Miami offense. Landry has his detractors, but this was an excellent display of production from the slot.
Tight end: Charles Clay, Buffalo Bills, 89.1
Catching all seven of the passes thrown his way, Charles Clay ended the game against Cleveland with 72 receiving yards and a score. His touchdown required an impressive adjustment to a badly underthrown pass from QB Tyrod Taylor, despite a coverage bust on the play, and for the game, Clay beat five different Browns defenders for catches.
Left tackle: Alejandro Villanueva, Pittsburgh Steelers, 88.9
Alejandro Villanueva has been playing pretty well over the past month or so, and this week marked the best game of his season—and probably his career. He allowed just two hurries across 75 snaps, marking the third time in four games Villanueva hasn't surrendered either a hit or a sack; his run blocking was also excellent.
Left guard: Josh Sitton, Chicago Bears, 86.7
Josh Sitton had another one of those games that reminds you why exactly he has been considered the best pass-blocking guard in the game for a few years now. He didn't surrender any pressure over 46 pass-blocking snaps, and his run blocking matched his pass protection output, which doesn't always happen these days. This was an excellent all-around performance against his former team.
Center: Alex Mack, Atlanta Falcons, 88.3
Facing the San Francisco 49ers' defense will assist anybody in playing well, but even with that considered, Alex Mack had a particularly fine game. He didn't allow a single pressure across 25 pass-blocking snaps, and was also excellent in the run game. The Falcons averaged 6.2 yards per carry on the ground; on runs going either side of Mack, however, they averaged 7.8.
Right guard: Jahri Evans, New Orleans Saints, 83.1
Jahri Evans was once an All-Pro caliber guard, and while that level is mostly behind him, he is still capable of dialing up the odd performance of vintage awesome. This week was one such game, as he rolled back the years against the Cardinals. Evans allowed just one hurry over 54 snaps of pass protection and run blocked well, paving the way for the Saints to rack up 132 yards on the ground and average 6.1 yards either side of his blocks.
Right tackle: Jack Conklin, Tennessee Titans, 87.7
Jack Conklin allowed just two hurries in 37 pass-blocking snaps, which in and of itself isn't bad, but when you consider they came against the Chiefs—and the combination of Justin Houston and Dee Ford, who lined up on the left side a combined 52 snaps—it becomes an even more impressive achievement. As is typically the case with Conklin, his run blocking was even better, as was a road-grading force against the Chiefs' defensive front.
Week 15 defense
Edge defender: Melvin Ingram, San Diego Chargers, 88.0
Joey Bosa, for once, was only moderately-good in this game, but Melvin Ingram picked up the slack, notching a sack, hit, and three hurries against the Raiders, while making a team-high five defensive stops. Ingram graded well in every facet of the game PFF measures, including breaking up the only pass thrown his way when in coverage.
Defensive interior: Aaron Donald, Los Angeles Rams, 91.0
Aaron Donald wasn't able to record a sack on Thursday against the Seahawks, but he did knock QB Russell Wilson down twice, recorded two more hurries, and had a batted pass. Two penalties were definite negatives in his game, but he was effectively beating the Seahawks' line at will.
Defensive interior: Ndamukong Suh, Miami Dolphins, 84.7
This wasn't the best week for interior defenders, but Ndamukong Suh had a strong game against the Jets, with a QB hit and two hurries, including combining with Cameron Wake to crush QB Bryce Petty on a hit. Suh tied for the team lead with three defensive stops in the game, and graded well against both the run and pass.
Edge defender: David Irving, Dallas Cowboys, 88.1
David Irving may be a defensive tackle, but he spent the majority of his time against Tampa Bay deployed on the edge (26 of 40 snaps, including those nullified by penalty) and seemed to be beating up Buccaneers RT Godser Cherilus on every snap. Irving tallied two sacks, a QB hit, and five QB hurries for the game—as well as a batted pass—in only 31 pass-rushing snaps.
Linebacker: Ryan Shazier, Pittsburgh Steelers, 91.3
In only seven snaps on the blitz, Ryan Shazier managed a sack and a hit on the QB, but he also led the Steelers with four defensive stops. In coverage, he broke up a pass and allowed just one reception for 8 yards on the day, and beat Cincinnati guard Kevin Zeitler a few times in the run game, including for a tackle for loss.
Linebacker: Kevin Minter, Arizona Cardinals, 90.7
It seems odd that someone on a defense that surrendered 48 points would make the team of the week, but it wasn't a complete team failing, and certain Arizona defenders played pretty well. Kevin Minter made 10 tackles and five defensive stops, breaking up a pair of passes and surrendering a total of 34 of the 388 receiving yards the team gave up as a whole into his coverage.
Cornerback: Terrance Mitchell, Kansas City Chiefs, 90.9
There was a bad penalty in there at a crucial time, but overall against the Titans, Terrance Mitchell allowed just one catch for 4 yards on the seven passes thrown into his coverage, and he broke up two of the incompletions. Marcus Mariota had a passer rating of 39.6 when throwing the ball in his direction, or the exact same passer rating as he would have recorded by just throwing the ball at random people in the crowd.
Jalen Ramsey, Jacksonville Jaguars, 86.6
As anybody that watched this game Sunday will tell you, Ramsey was all over the field making plays for the Jaguars. He capitalized on a high pass that Texans WR Will Fuller couldn't handle to record an interception, and he broke up four passes on the day, including three intended for DeAndre Hopkins. On 14 targets, Houston QBs had a passer rating of just 31.3 when throwing into the rookie's coverage.
Slot cornerback: Logan Ryan, New England Patriots, 88.8
Logan Ryan gave up a catch on five of the six passes that came his way, but he intercepted the sixth, and the five that were caught went for a total of 35 yards, as he made three defensive stops on those plays, forcing the Broncos into negative situations on offense and even bringing up a fourth down on one occasion.
Safety: Tony Jefferson, Arizona Cardinals, 89.1
Tony Jefferson is the second player from a defense that gave up 48 points to make the Team of the Week, but his house was personally very much in order against the Saints, and the breakdowns occurred elsewhere. Jefferson broke up two of the passes thrown into his coverage, and surrendered only one catch for 6 yards in the game. He also beat Saints lineman Landon Turner for a pressure on one of his three snaps on the blitz.
Safety: Mike Adams, Indianapolis Colts, 88.4
Mike Adams had an excellent performance against the Vikings' offense, playing well in both the run game and in coverage. He had an interception of QB Sam Bradford, and allowed a total of 14 yards from four targets into his coverage, while also racking up six tackles and an assist.
Week 15 special teams
Punter: Drew Kaser, San Diego Chargers
Five punts over the course of the day for Drew Kaser averaged 48.6 net yards, and were returned for a total of just 11 yards, thanks to an impressive display of hang time and direction paired with the distance.
Kicker: Chris Boswell, Pittsburgh Steelers
Six field goals from six attempts was the tally for Chris Boswell in Week 15, with five of the six coming between 40 and 50 yards. His most critical contribution to the game, though, may have come on a kick-off, where he saved a touchdown from Bengals return man Alex Erickson with a diving tap tackle.
Special teamer: Spencer Paysinger, Miami Dolphins
Miami special teams linebacker Spencer Paysinger managed to tally an impressive three tackles and an assist on special teams this week, working largely on kickoffs. To put that in perspective, the typical tally of players that land on this team is just two stops.
Return specialist: Marqise Lee, Jacksonville Jaguars
Marquise Lee returned two kicks against Houston; one went for 33 yards, and the other he took back to the house for a 100-yard touchdown. That's certainly a good day's work.