The 15th week of the 2016 NFL season is already underway, with the Seahawks' win over the Rams on Thursday. As the action continues, be sure to watch these key one-on-one matchups in every remaining NFL game.
Miami Dolphins at New York Jets
While 2016 first-rounder Laremy Tunsil has moved between guard and tackle for the Dolphins this season, his last two games on the interior have been his lowest-graded outings of the year (versus Baltimore and Arizona). In Week 15, things won't get much easier for the rookie, as Jets DE Leonard Williams is grading among the 10-best interior defenders in the league this season.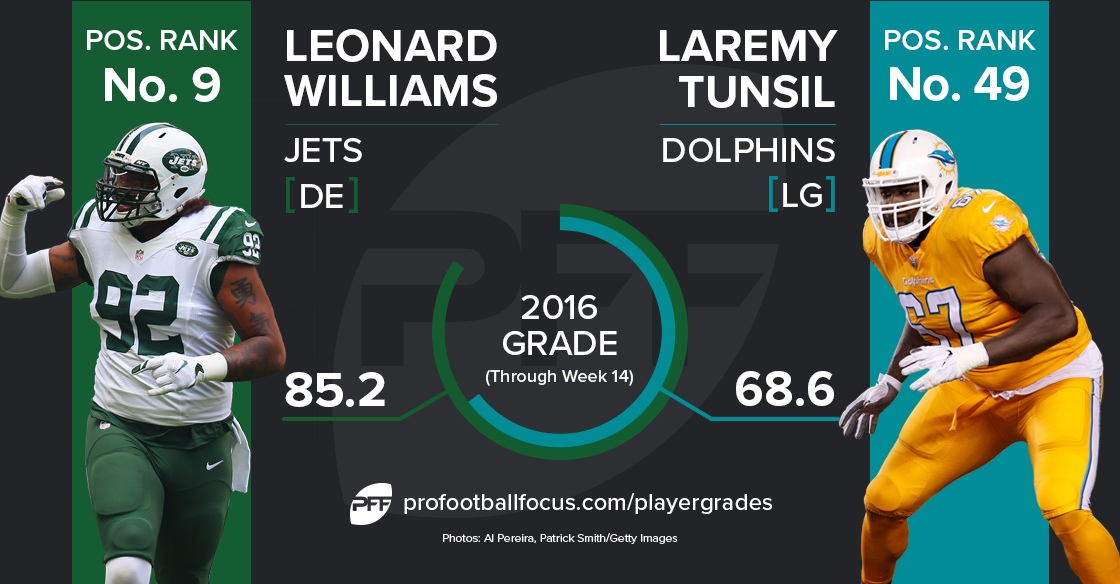 Jacksonville Jaguars at Houston Texans
The addition of Kelvin Beachum in Jacksonville hasn't gone quite as expected this season, with the tackle earning just the 63rd-best grade (43.9) at his position — far from his 85.6 mark in 2014. He'll be tested by Houston's Jadeveon Clowney on Sunday; Clowney has recorded 32 total QB pressures this season, and owns the fifth-highest run-defense grade among edge defenders.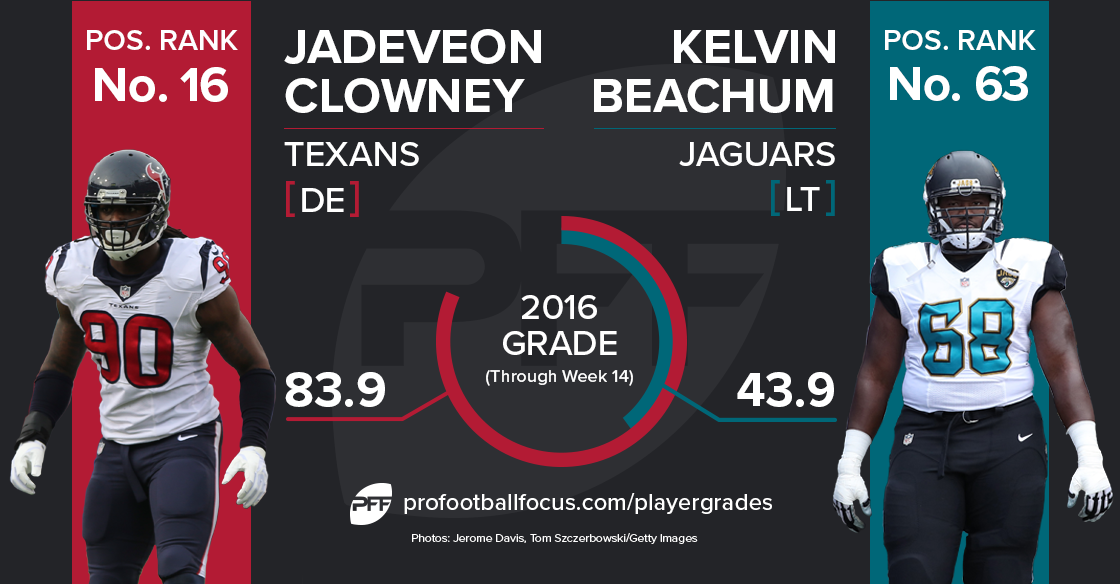 Philadelphia Eagles at Baltimore Ravens
Before the 2016 season began, it's unlikely anyone predicted that fourth-round selection Tavon Young would be the highest-graded rookie cornerback entering Week 15, but here we are. Quarterbacks throwing into Young's coverage this season have recorded a 93.8 passer rating. Challenging him on Sunday will be fellow rookie Carson Wentz, who owns a 80.7 passer rating for the season.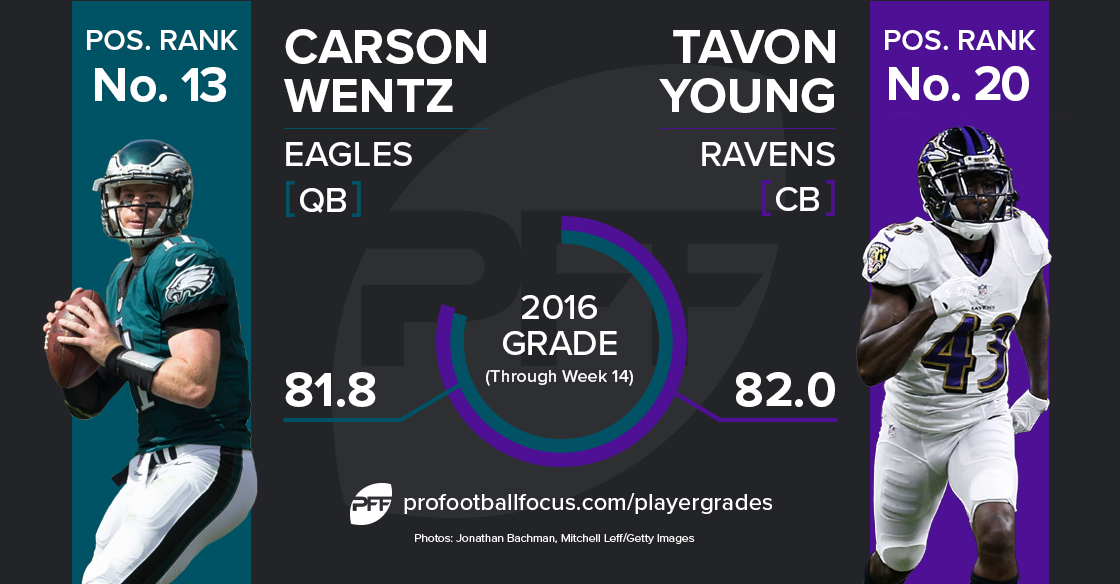 Indianapolis Colts at Minnesota Vikings
While the Colts' defense currently sits as the 31st-ranked unit in our NFL Power Rankings, the offense has been respectable, largely due to the work of QB Andrew Luck and WR T.Y. Hilton. Luck has recorded a 111.4 passer rating when targeting Hilton; the fifth-year receiver has six touchdowns this season, nearing his career-high of seven.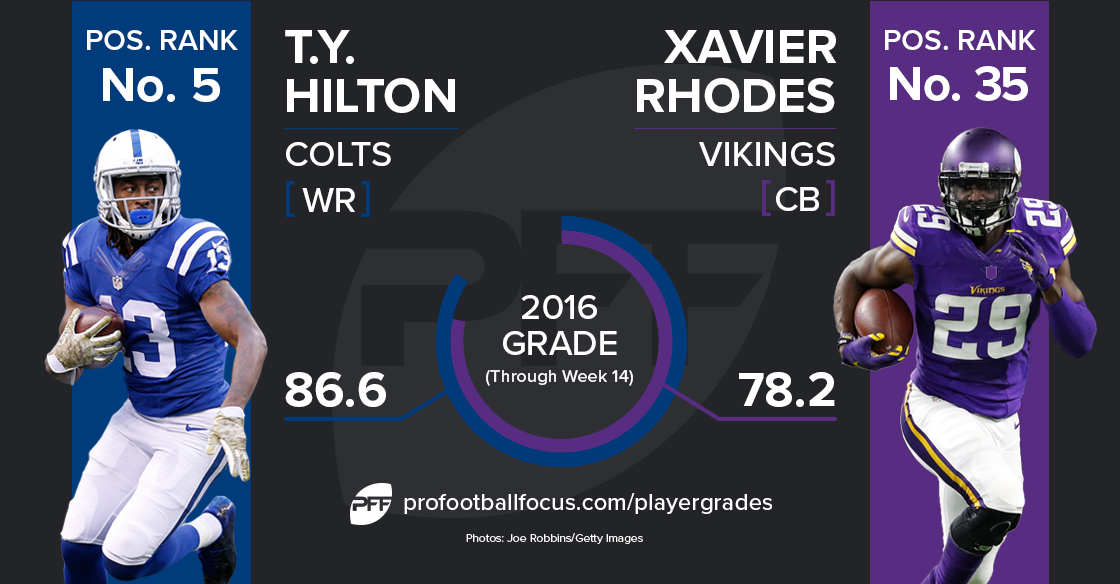 Cleveland Browns at Buffalo Bills
Is this the Browns' last real chance to grab that elusive first win? If so, defensive tackle Danny Shelton will need to win often against LG Richie Incognito in order to limit the Bills' run game. Shelton owns the seventh-highest run-defense grade among interior defenders entering Week 15, as well as the sixth-highest run-stop percentage among defensive tackles.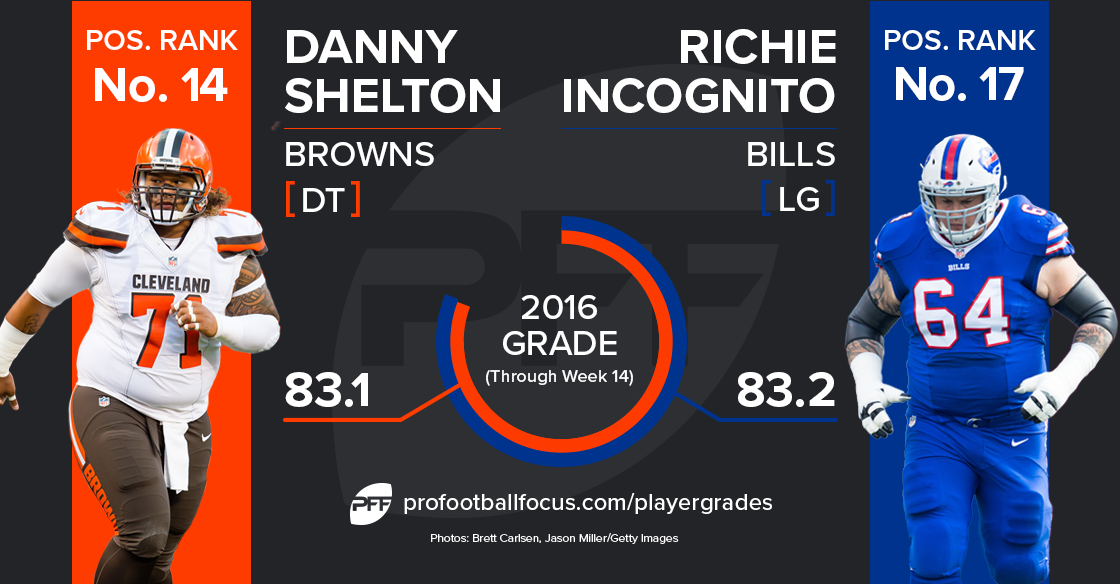 Detroit Lions at New York Giants
In one of the best WR-CB matchups of the week, Odell Beckham Jr. will likely face off against Detroit's Darius Slay on Sunday. On the season, Slay has recorded two interceptions and eight pass breakups, with just a 53.6 completion percentage into his coverage — tied for the 17th-best rate among NFL cornerbacks.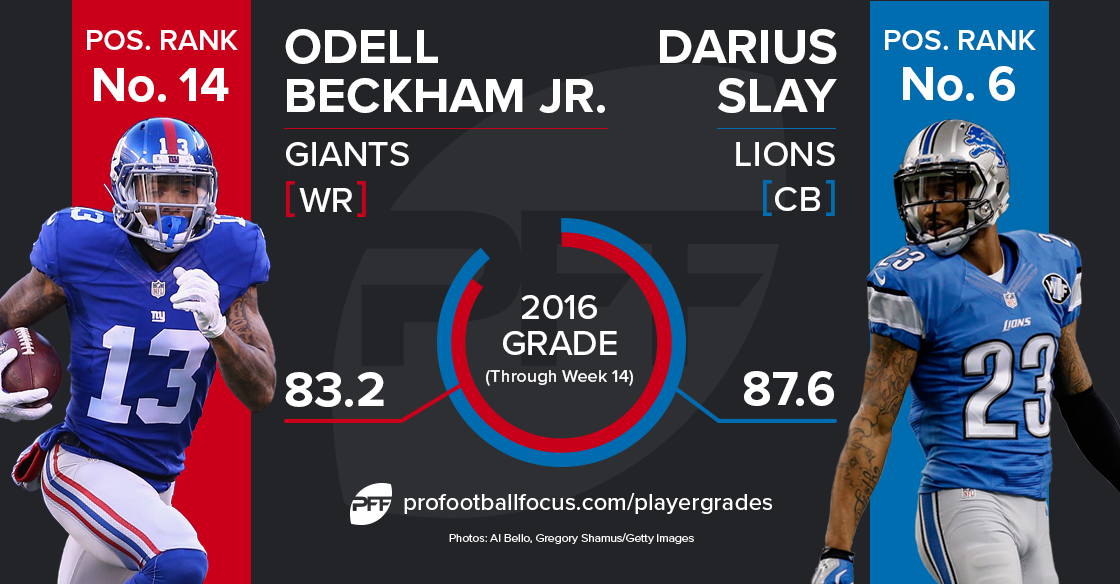 Tennessee Titans at Kansas City Chiefs
After returning from injury in Week 11, OLB Justin Houston exploded in Week 12 against the Broncos, recording nine QB pressures (three sacks, six hurries), 10 defensive stops, and a batted pass. While he's since cooled off, the veteran edge defender will likely test rookie Jack Conklin, the league's highest-graded right tackle, on Sunday.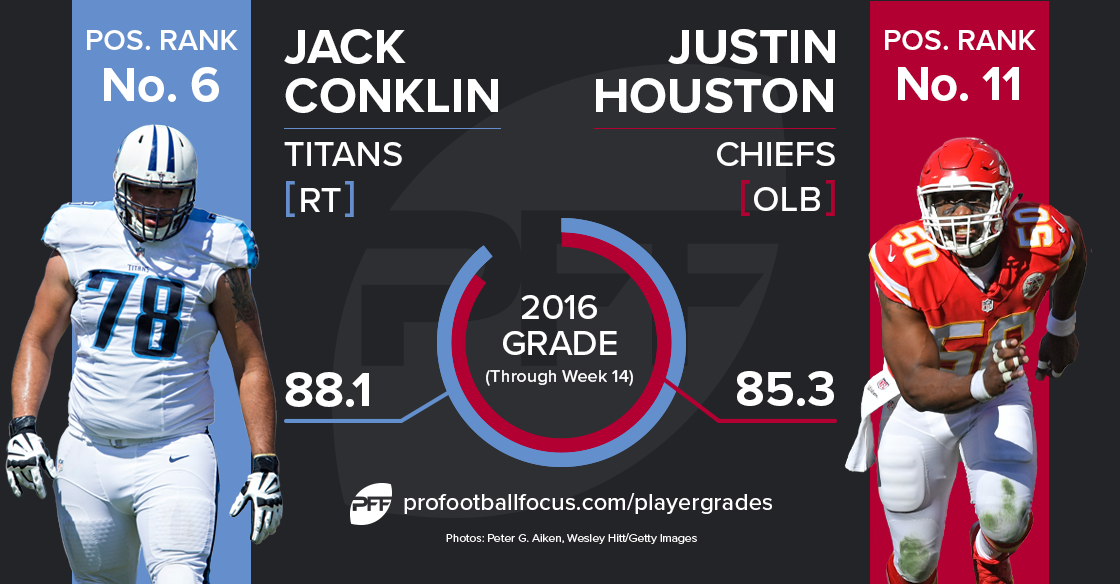 Green Bay Packers at Chicago Bears
2016 first-round pick Leonard Floyd will face one of his tougher battles of the season on Sunday as he squares off against Green Bay's David Bakhtiari. Bakhtiari owns the third-best pass-blocking efficiency mark among offensive tackles this season, only behind Redskins LT Trent Williams and Bengals LT Andrew Whitworth.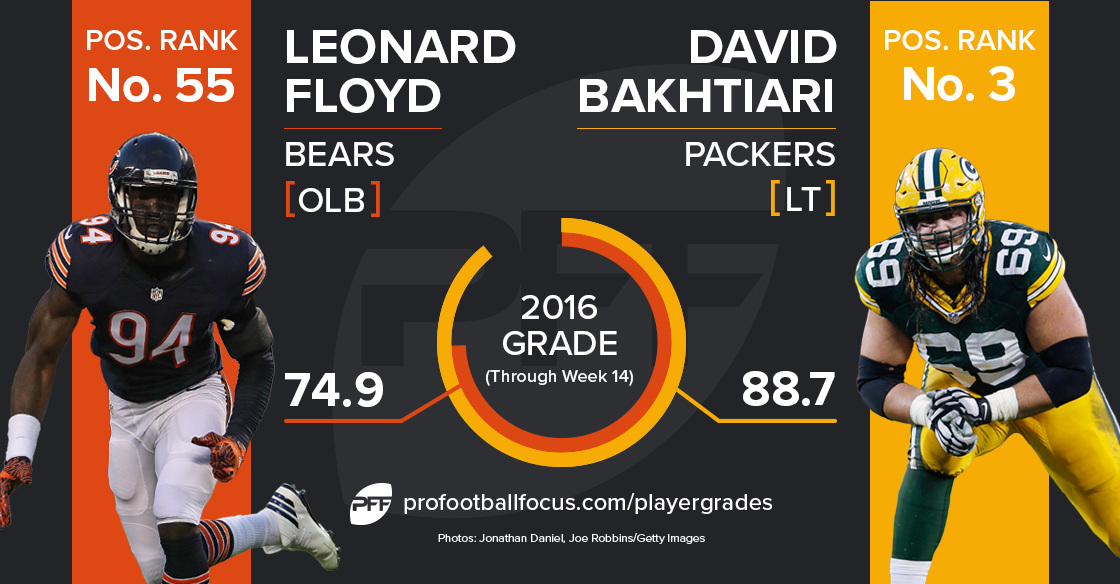 San Francisco 49ers at Atlanta Falcons
49ers rookie DeForest Buckner has played more snaps (823) than any other NFL interior defender this season, and is the highest-graded member of the San Francisco D-line. On Sunday, he'll face Falcons LG Andy Levitre. Through Week 14 of last season, Levitre surrendered 37 QB pressures (on 559 pass-blocking snaps); in 2016, he's dropped that number to 17 (albeit on 66 fewer pass-blocking snaps).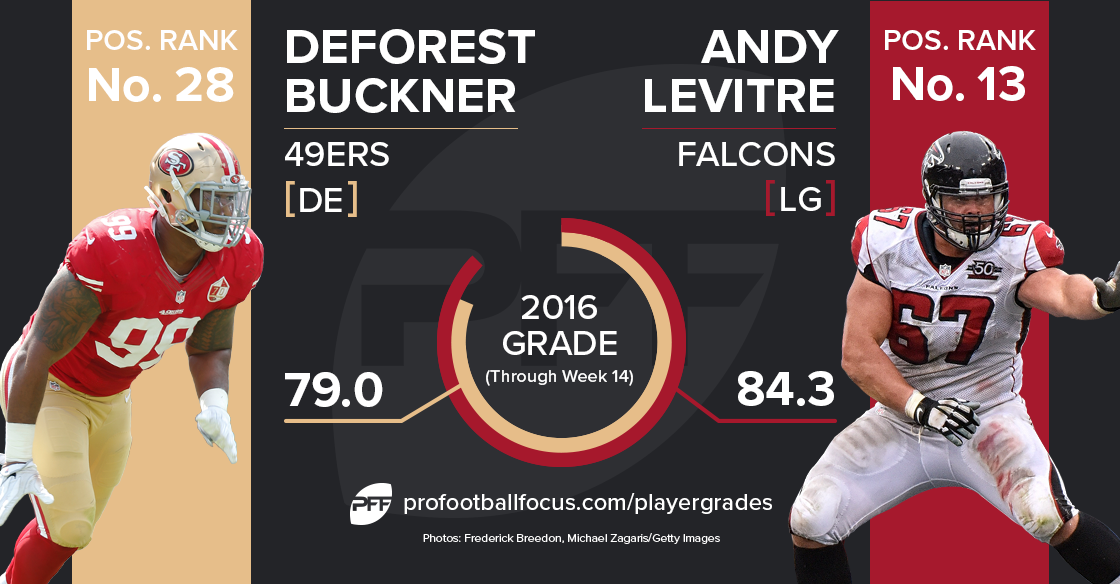 New Orleans Saints at Arizona Cardinals
Drew Brees had his first truly poor performance of the year in Week 14, earning just a 39.5 grade against the Buccaneers. He'll look to bounce back in Week 15, but faces one of the league's toughest pass defenses in Arizona, led by cornerback Patrick Peterson. Peterson hasn't surrendered over 18 yards into his coverage since Week 12, and has allowed just two touchdown into his coverage all season, compared to three picks and three pass breakups.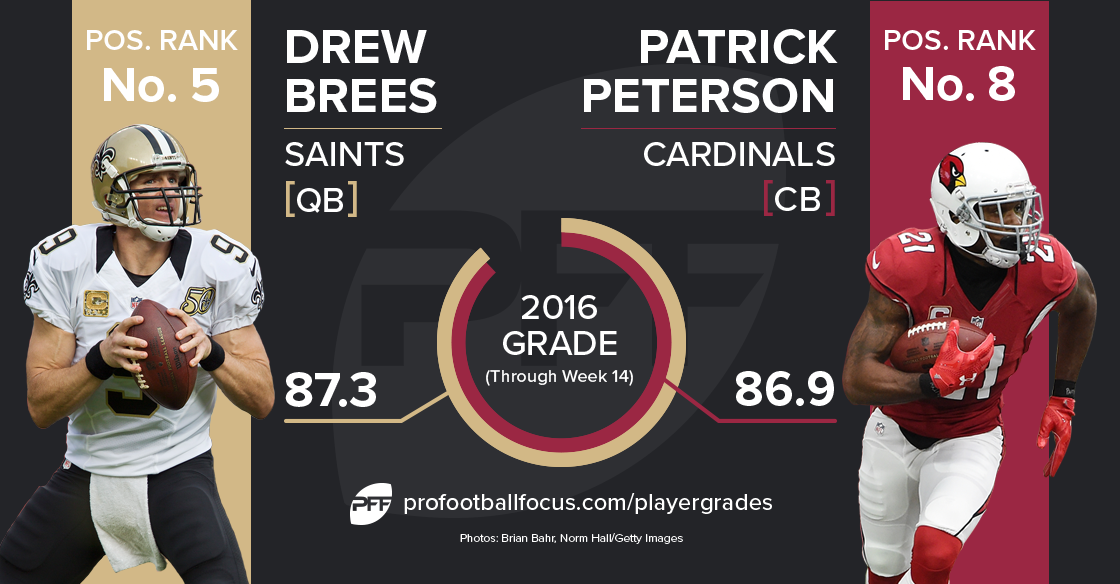 New England Patriots at Denver Broncos
After dropping three of their last five games, the Denver Broncos are no longer vying for a division title, but rather just to remain relevant come playoff time. Meanwhile, the Patriots are fighting to maintain their No. 1 seed in the AFC. As is always the case when he's on the field, Von Miller's matchup will be worth keeping an eye on in this one.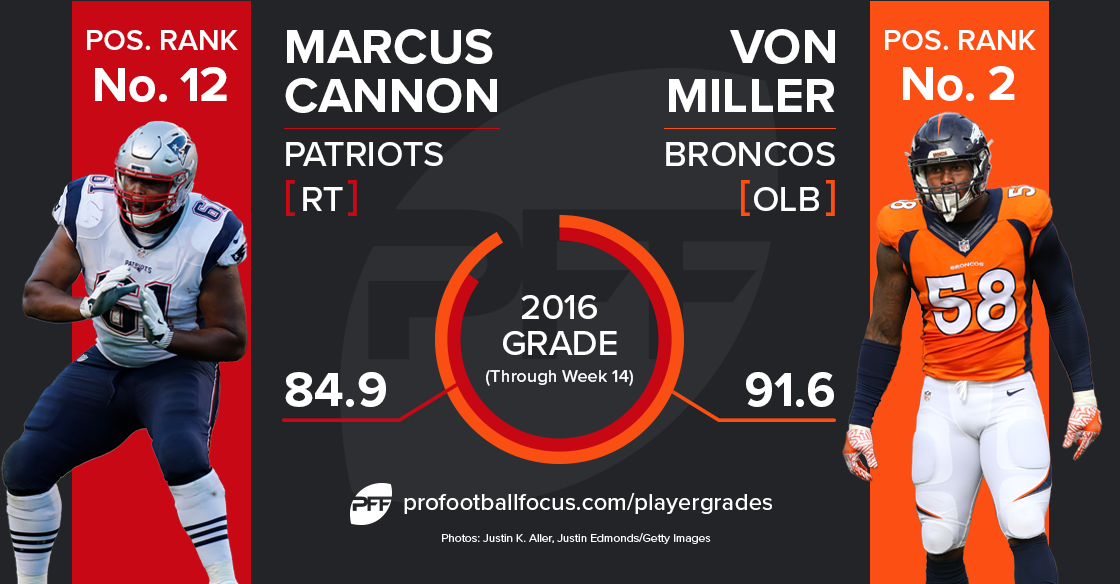 Pittsburgh Steelers at Cincinnati Bengals
Although not to the level of his 2015 season (91.0 grade), Geno Atkins remains one of the league's top defensive tackles. Through Week 14, his 57 QB pressures are second only to Rams DT Aaron Donald at the position. Against the Steelers in Week 2, Atkins recorded four QB hurries, as well two defensive stops.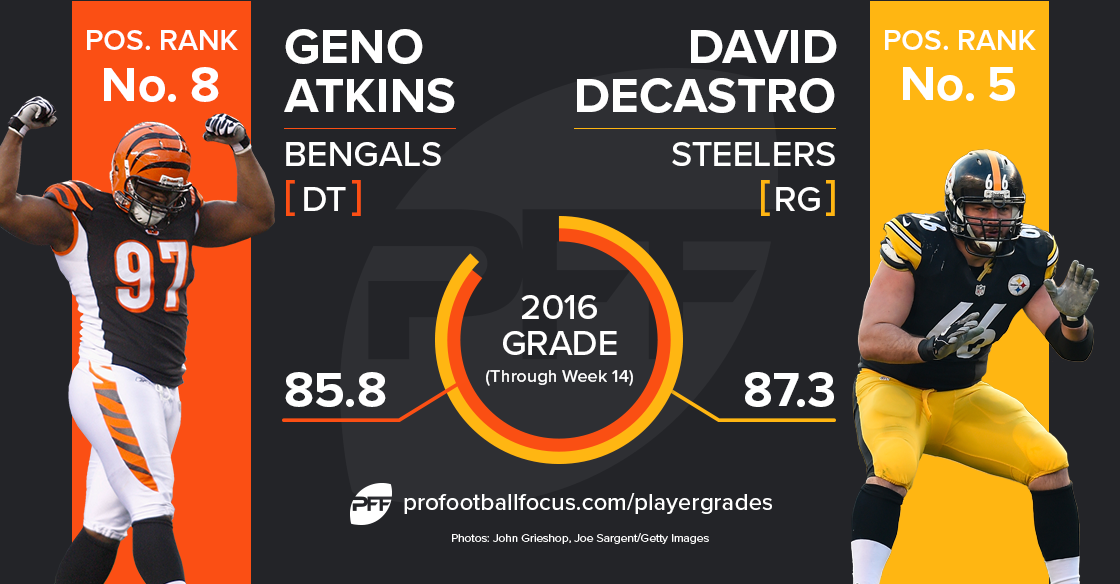 Tampa Bay Buccaneers at Dallas Cowboys
Can the better-than-expected Dallas secondary slow PFF's highest-graded receiver on Sunday? Mike Evans has slowed a bit since his impressive Week 9-12 stretch, but remains one of the NFL's most dangerous targets. Evans' 10 touchdowns are third-most in the league this year, while his 1,100 receiving yards are fifth-most.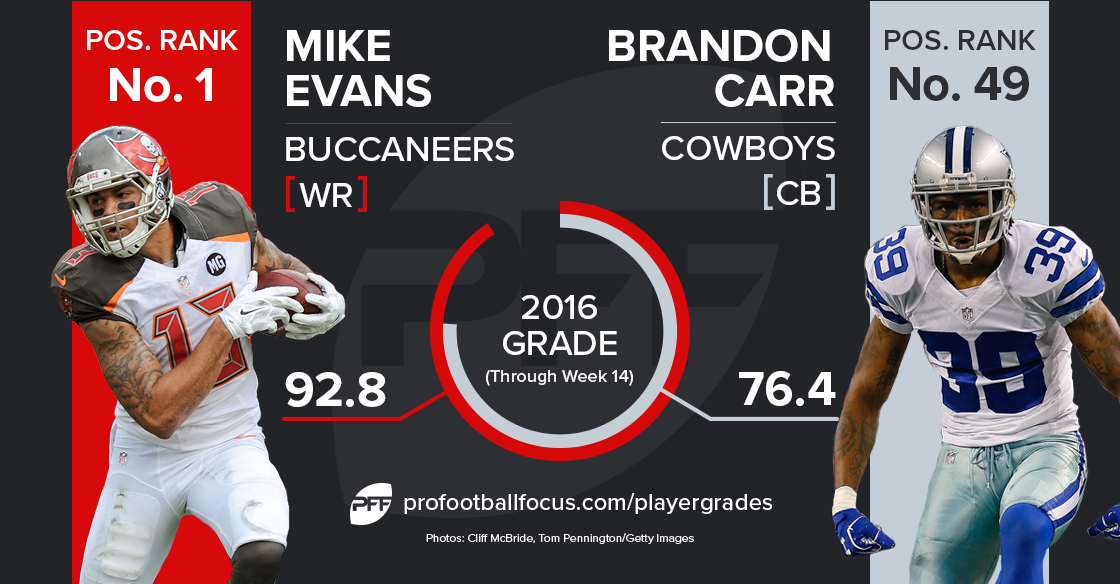 Carolina Panthers at Washington Redskins
Despite serving a four-game suspension this season, Trent Williams has remained PFF's highest-graded offensive tackle, picking up right where he left in Week 14 with no pressures surrendered against the Eagles. Williams' pass-blocking efficiency of 97.8 is the top mark among NFL OTs, as he's surrendered just 10 total QB pressures (two sacks, eight hurries) in 359 pass-blocking snaps.