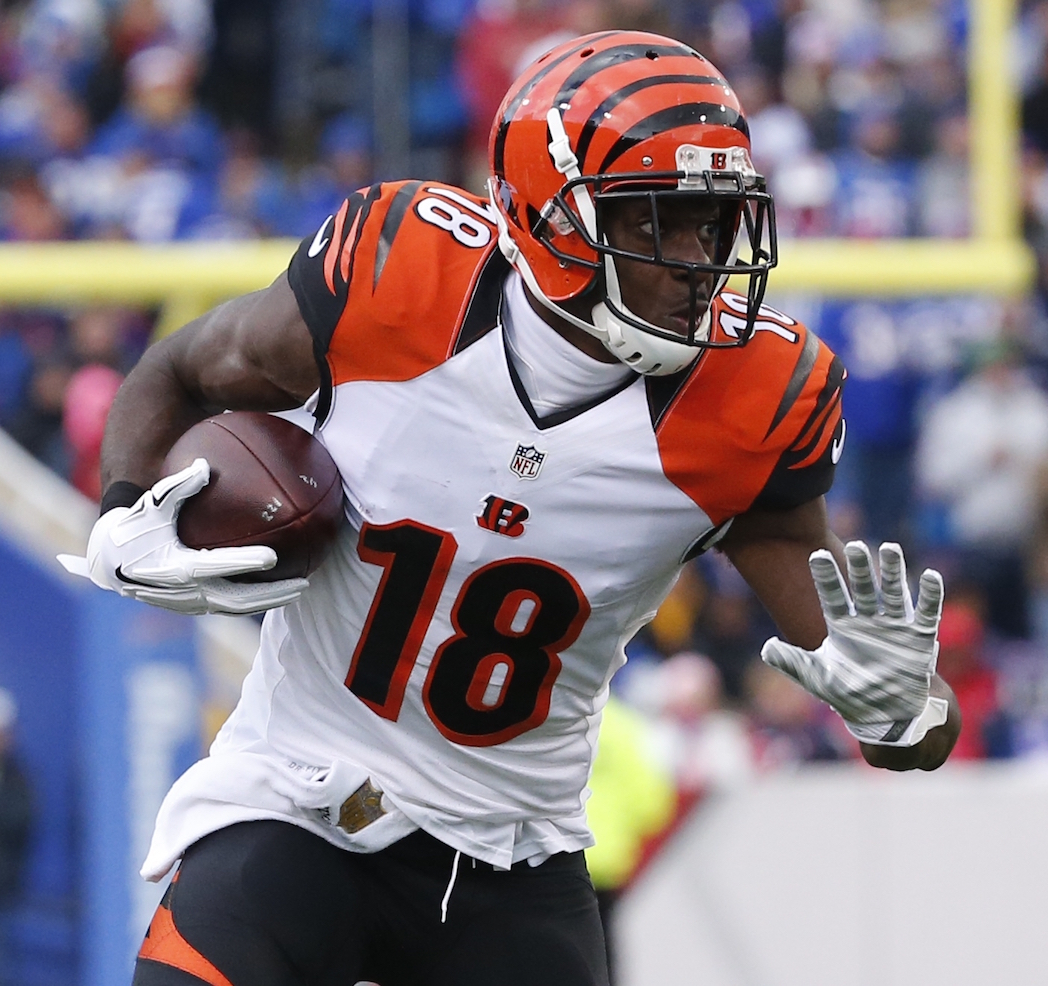 Cincinnati Bengals wide receiver A.J. Green (18) runs after a catch against the Buffalo Bills during the second half of an NFL football game on Sunday, Oct. 18, 2015, in Orchard Park, N.Y. (AP Photo/Bill Wippert)
"It's a passing league."
Two weeks ago, we examined this phrase and trend from the defensive perspective and ranked the NFL's top 10 secondaries at that time. This week, let's look at the other side of the ball, and the wide receiver groups tasked with beating those secondaries.
First, though, some numbers to give perspective on the analysis. Three wide receivers, or more commonly known as 11 personnel (one RB, one TE, and three WRs), is by far the most common personnel grouping in the NFL today. In terms of the number of receivers on the field from a personnel standpoint (i.e. three listed WRs on the field—not formation based), here is the current 2015 league wide percentage breakdown (percentage of plays):
| | |
| --- | --- |
| 0 WRs | 1.3% |
| 1 WR | 9.1% |
| 2 WRs | 30.1% |
| 3 WRs | 56.5% |
| 4 WRs | 3.0% |
In fact, only four teams currently use a two-WR set more frequently than a three-WR set—Buffalo, Carolina, San Francisco, and Tennessee. Given the overwhelming majority of teams featuring three-WR sets as their primary personnel grouping, we examined each team's top three wide receivers and their respective player ratings. An important note to remember when reading through the rankings, this is not a talent evaluation, but an examination of the group as a whole.
For these rankings, keep in mind that:
– We considered a team's top three WRs based on snap count numbers, unless otherwise noted.
– Yards per route run (YPRR) is a PFF statistic that takes into account the number of snaps a player went into a pattern, providing a better indicator of production than yards per reception or yard per target.
– QB rating when targeted rankings are based on those with at least 25 targets. 
1. Arizona Cardinals (Average WR grade: 84.9)
Larry Fitzgerald (91.4), John Brown (84.5), and Michael Floyd (78.8)
Plays with three WRs: 44.2 percent
Average age: 27.3
Already in his 12th NFL season, Fitzgerald is on pace for career-bests in catches and TDs, and is currently our sixth-ranked WR. In addition, he is second among all WRs in QB rating when targeted (136.1) and sixth in YPRR (2.63), with 61.9 percent of his routes now run from the slot. While former first-round pick Michael Floyd is also on pace for his personal-best season grade from PFF, what has made this group that much more dangerous this season though is the true emergence of 2014 third-round pick John Brown. After showing flashes in his rookie year, through eight games Brown is already close to eclipsing his 2014 receiving totals.
Standout stats:
– The trio has combined for only two drops over 114 catchable targets.
– The Cardinals are one of only two teams with their trio all ranked among the top 30 WRs.
2. Jacksonville Jaguars (Average WR grade: 84.0)
Allen Robinson (86.1), Allen Hurns (85.4), and Bryan Walters (80.5)
Plays with three WRs: 54.3 percent
Average age: 24.3
Maybe a bit surprising at No. 2, the Jaguars receiving group has impressed in 2015 and looks set up for the future, with the youthful Robinson and Hurns leading the way. Even the journeyman, but still relatively young, Walters has played well in the slot, catching 24 of his 28 targets (85.7 percent, tied No. 1 in the NFL) with zero drops. Through eight games, Robinson and Hurns have combined for 76 catches and 1,342 yards, with 12 TDs. Neither is afraid of going deep, either, as they are ninth and 16th, respectively, in the percentage of their targets being over 20 yards, with Hurns tied for the league lead with three touchdowns on those deep targets.
Standout stats:
– Outside Arizona, Jacksonville is the only other team with all three ranked among the top 30 WRs.
– Hurns is seventh, Walters is eighth in QB rating when targeted.
3. Cincinnati Bengals (Average WR grade: 78.7)
A.J. Green (90.0), Marvin Jones (76.9), and Mohamed Sanu (69.2)
Plays with three WRs: 55.0 percent
Average age: 26
Another youthful group, the Bengals are led by our No. 7 overall WR, A.J. Green. The consistently-great Green is currently 11th in receiving yards and ninth in YPRR (2.55). After missing 2014, Jones has come back to give No. 4 ranked QB Andy Dalton his full arsenal of receiving targets, and, along with Sanu, bring versatility and big play ability with their size and speed combination. Jones is 11th in QB rating when targeted, and he and Green have combined for 11 catches and three TDs on deep ball targets of 20 yards or more.
Standout stat:
– The trio has only three drops in 105 catchable targets.
4. New York Jets (Average WR grade: 77.9)
Brandon Marshall (83.4), Eric Decker (80.6), and Jeremy Kerley (69.6)
Plays with three WRs: 41.2 percent
Average age: 28.7
With the addition this past offseason of Marshall, a No. 1 type receiver who is currently 11th in YPRR, the Jets finally have given themselves a group with defined roles. As he proved in Denver before signing with New York, Decker is a great No. 2, and Kerley complements both in the slot (82 percent of Kerley's routes are from the slot). Interestingly, outside of the four teams mentioned above who use two WRs more than three, and are the bottom four in terms of percentage of plays with three WRs, the Jets are the next lowest team, and thus, 28th in terms of three-WR personnel usage. This is actually due to their usage of four-WR personnel—a league-leading 30.5 percent of the time.
Standout stat:
– Eric Decker is No. 1 in QB rating when targeted (138.7). 
5. Miami Dolphins (Average WR grade: 77.3)
Jarvis Landry (84.0), Rishard Mathews (78.6), and Kenny Stills (69.4)
Plays with three WRs: 74.3 percent
Average age: 23.7
Our youngest group does not even include 22-year-old first-round pick Devante Parker, as he has dealt with injury issues and has not seen extensive snaps. Landry continues to excel in the all-around game—receiving, rushing, and kick/punt returning. On Wednesday, PFF's Eric Eager put him on top of our kick returner rankings. Mathews, drafted in the seventh round in 2012, is now a staple of the Dolphins receiving corps, and is on pace to have his highest graded season; he is currently fourth is QB rating when targeted (128.3). Stills was acquired in the offseason to be a deep threat, and his targets have been just that, as 48.1 percent have been on throws of 20 yards or more.
Standout stat:
– Jarvis Landry has the highest rushing grade on the team.
6. Houston Texans (Average WR grade: 77.1)
DeAndre Hopkins (92.2), Nate Washington (72.1), and Cecil Shorts (66.9)
Plays with three WRs: 60.2 percent
Average age: 27.3
Currently our fourth-overall WR, third-year standout DeAndre Hopkins emerged last season with 1,210 receiving yards and six TDs, but has taken it to another level this season. He is currently third in the NFL in receiving yards (870) and already matched his 2014 total of six touchdowns. Hopkins is also doing all of this while playing alongside average to below-average veterans in Washington and Shorts, as well as with struggling QBs in Ryan Mallett early, and now Brian Hoyer.
Standout stat:
– DeAndre Hopkins is the second-most targeted receiver (111) in the NFL, behind only Julio Jones.
7. San Diego Chargers (Average WR grade: 76.5)
Keenan Allen (83.9), Malcom Floyd (74.1), and Steve Johnson (71.5) 
Plays with three WRs: 77.7 percent
Average age: 28.7
As stated in the beginning of this piece, these ratings are based on performance up to this point in the 2015 season. Unfortunately, the Chargers' unit is likely to suffer in the second half of the season, as Keenan Allen recently suffered a season-ending kidney injury amidst what was becoming the third-year WR's best season. In addition, Malcom Floyd suffered a shoulder injury against the Bears on Monday night, and his status moving forward is in question. These are major blows to the Chargers, who use three-WR sets on 77.7 percent of their plays—second-most in the NFL.
Standout stats:
– Malcom Floyd being out would rob Philip Rivers of his primary deep threat, as 41.5 percent of Floyd's targets came on those of 20 yards or more—third highest in the league.
8. Pittsburgh Steelers (Average WR grade: 76.2)
Antonio Brown (98.1), Martavis Bryant (76.8), and Markus Wheaton (53.6)
Plays with three WRs: 62.8 percent
Average age: 24.7
Time to read all about Antonio Brown, though there isn't much that can be said that hasn't been already about our No. 1 overall WR. On Wednesday, he highlighted the receiver list on our midseason All-Pro team and garnered PFF's midseason Offensive Player of the Year vote. The return of Martavis Bryant from his four-game suspension has strengthened the group, and taken some of the attention away from Brown, as well as compensating for the replacement-level Wheaton. In addition to his catching ability and speed, Brown has forced the fourth-most missed tackles, with 12.
(Note: Martavis Bryant was included over Darrius Heyward-Bey, as Bryant is clearly in the top three now that he's back from suspension, even though he has seen slightly fewer snaps for the season.)
Standout stats:
– Antonio Brown is second in both YPRR (3.11) and yards after the catch (347).
9. Green Bay Packers (Average WR grade: 74.5)
James Jones (81.8), Randall Cobb (81.0), and Davante Adams (60.8)
Plays with three WRs: 83.1 percent
Average age: 26.0
The three-WR set is a staple of Green Bay's offense, as they use the set a league-leading 83.1 percent of the time. In fact, the Packers use the set at least 25 percent more often than 19 other teams. This ranking would have certainly been higher in 2014, but without Jordy Nelson this year, the receiving corps has not produced to previous levels. Given Nelson's season-ending injury, the veteran Jones has become indispensable this season after struggling in Oakland in 2014 and being released. Adams has yet to produce at the level of his talent, and Cobb also has not produced at his 2014 levels, when he was PFF's ninth-highest graded receiver. It will be interesting to see how their offense and receivers progress in the season's second half, as Adams is finally healthy and had his best game of the season this past week against Carolina.
Standout stats:
– James Jones is third in QB rating when targeted (129.1), and has caught 62.5 percent of his deep targets (fourth-highest) of 20 yards or more, with two touchdowns.
10. Seattle Seahawks (Average WR grade: 73.6)
Doug Baldwin (80.2), Tyler Lockett (70.3), and Jermaine Kearse (70.2)
Plays with three WRs: 54.8 percent
Average age: 25.0
Another possible surprise in the top 10, the addition of third-round pick Tyler Lockett has given a boost to the mainstays Baldwin and Kearse. Lockett has been everything the Seahawks thought they were getting with Percy Harvin—a versatile receiving threat and return specialist. While you won't see these three among the leaders in receptions or yards, we all know that is not Seattle's style. Consistent play has been their calling card, as neither Baldwin nor Kearse has dropped a catchable target.
Standout stats:
– Doug Baldwin has caught 55.6 percent of his deep targets (seventh-highest) with two TDs on those receptions.
Four to watch:
Denver Broncos: Emmanuel Sanders (84.9); Demaryius Thomas (82.5); Jordan Norwood (53.0)
Oakland Raiders: Michael Crabtree (86.8); Amari Cooper (78.1); Seth Roberts (43.8)
New England Patriots: Julian Edelman (86.0); Danny Amendola (80.8); Brandon LaFell (44.4)
Atlanta Falcons: Julio Jones (96.9); Roddy White (52.7); Leonard Hankerson (49.9)
You might have been wondering where these teams were as you scanned down the list. Denver was 11th, just missing the top 10. Obviously, though, there is a theme among these four teams. In each case, a replacement-performance level anchor is weighing down what could be a great receiver group.
For the Raiders, Seth Roberts was highlighted (or maybe lowlighted) on Wednesday as the lowest-graded receiver in football.
In the Falcons' case, they have two nearing the bottom of our receiver rankings, showing what a one-man show our No. 2 graded receiver, Julio Jones, has become—evident by him being the top targeted receiver in all of football, with 113 targets.