If you just looked at Baker Mayfield's numbers prior to the firing of Cleveland Browns' head coach Hue Jackson and offensive coordinator Todd Haley in late October, they left much to be desired. Through Week 8 of this season, Mayfield had a completion percentage of 58.3 percent, a passer rating of 78.9 and he was averaging just 6.6 passing yards per attempt; those all ranked in the bottom-six at the position.
Those numbers don't tell the whole story, though. Mayfield actually had an overall grade of 78.2 over that span, which ranked 15th out of 32 qualifying quarterbacks. In other words, he was playing much better than his underlying stats would suggest. That had a lot to do with his supporting cast and a lot to do with poor luck.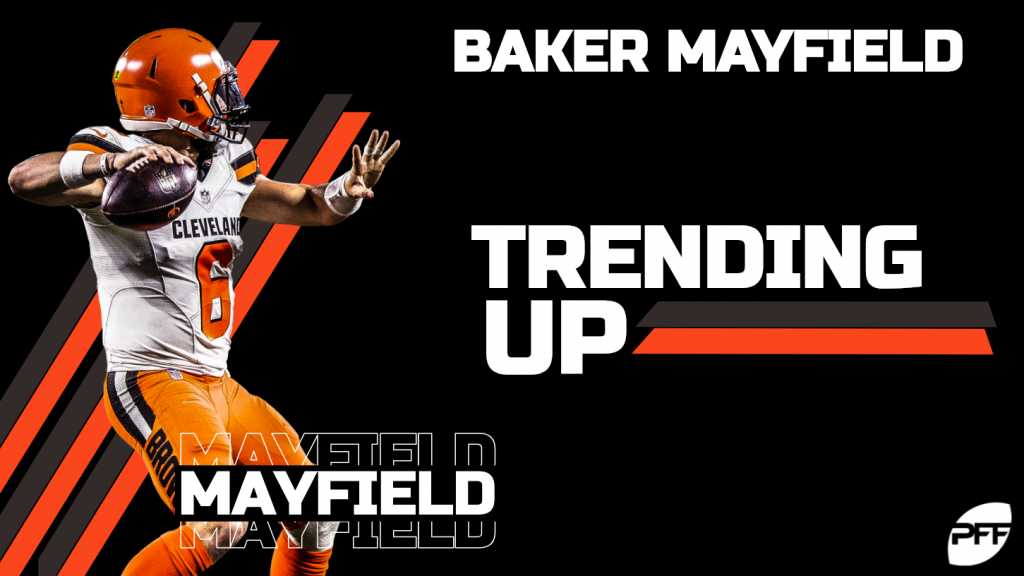 One of the biggest thorns in Mayfield's side prior to Week 8 was his receivers' inability to hold on to the football. From Weeks 1-8, only Blake Bortles had a higher percentage of his catchable passes dropped than Mayfield's 11.8%. In addition, no quarterback had more air yards dropped than the 213 that Mayfield had slip through his receivers' hands.
It's not as if drops were coming on run-of-the-mill throws from Mayfield, either. Some of his best efforts were nullified by receiver drops. Out of all quarterbacks with at least 10 passes dropped in Weeks 1-8, Mayfield's overall grade of 96.5 on such passes led the NFL and included three big-time throws. The Browns were taking Mayfield's best throws and letting them slip through their hands.
With that being said, the fact that only 4.4 percent of his catchable passes have been dropped over his last three games has been part of the turnaround in his surface statistics. Since Week 9 and the firing of Jackson and Haley, Mayfield has upped his completion percentage to 73.9 percent, his passer rating to 129.5 and his yards per attempt to 8.9. By all accounts, Mayfield has been much better in recent weeks. The fact is that his play hasn't changed all that much.
Mayfield's overall grade over his last three games of 74.4 ranks 14th out of 32 qualifying quarterbacks, so he essentially stacks up at just about the same ranking as he did from when he took over in Week 3 through the post-Week 8 firings. The improvement in metrics such as completion percentage and passer rating comes from two things – positive regression on things out of his control and the fact that he is being put in better situations.
As for the first point, he has gotten better play out of his teammates and has taken a turn on the plus side of positive regression. A deep pass that may have been dropped early on has instead been caught for a touchdown in recent weeks. A tipped pass that may have been intercepted early on has instead fallen safely to the ground in recent weeks. Along with that, Mayfield has been put in better positions to succeed, and that can likely be attributed to the change in coaching.
One clear-cut area where there has been a change post-Hue has been in Mayfield's time to throw. Prior to Week 8, Mayfield had a time to throw average of 2.72 seconds. Over the last three games, that has dropped all the way down to 2.51 seconds, which would rank sixth-lowest in the NFL this season. With that quick release has come reduced pressure, something that troubled Mayfield early on this season.
In Weeks 1-8, Mayfield was pressured on 32.5 percent of his dropbacks. However, that has dropped to just 24.2 percent since, which is fifth-lowest in the league over that stretch. With a passer rating of 133.9 from a clean pocket over the last three games, the emphasis on a quick release before the pressure can get home has been critical to the success of Mayfield and the Browns' offense.
Another revolutionary idea instituted by the new coaching staff was to get Mayfield some easy passes via the talented running backs that they employ out of the backfield in Duke Johnson Jr. and Nick Chubb. Across six games from his debut in Week 3 to their Week 8 loss to the Pittsburgh Steelers, Mayfield attempted just 27 passes to players lined up in the backfield. In the three games since the firings, Mayfield has attempted 21 passes to players lined up in the backfield. His passer rating on those passes is 145.3.
It's schematic changes such as the quick passing game and an emphasis on easy passes to running backs that have taken the pressure off Mayfield figuratively and literally. Despite what the numbers tell you, he hasn't turned some sort of corner; Mayfield has been this guy all along. The Browns are simply putting him in better positions to succeed. His receivers aren't hanging him out to dry anymore, and neither is the coaching. For that, Browns' fans have something to be thankful for this holiday season.