A seasoned veteran and young emerging stud are producing magic down in New Orleans. Future Hall of Famer Drew Brees, now in the twilight of his career, and receiving phenom Michael Thomas, a young bull tapping into his true potential, are combining for one of the most exceptional quarterback-wide receiver pairings ever. At the opposite ends of their careers, Drew Brees and Michael Thomas' partnership is paving the way to a Super Bowl run for the Saints.
Thanks to a standout performance against the Rams on Sunday, Brees' season grade has elevated to a 94.2, which is on pace for a career-high for the veteran quarterback. He is also posting career-highs in passer rating (120.6), completion percentage (76.3%) and his 8.4 yards per attempt tie his previous career-high. Brees has also thrown a remarkable 18 touchdowns to just one interception on the season, demonstrating how accurate and precise he has been on his throws this season.
In the above play from the Rams game, Michael Thomas catches Marcus Peters off-guard and gains some separation after the snap. Peters isn't too far behind, but Brees places the ball perfectly into Thomas' arms for a footrace to the end zone.
As always, the veteran signal-caller has been exceptionally accurate this season and pairing that precision with Thomas' elite ability has put the pair on pace for career years. Sometimes, when two players rely heavily on each other for production, the question of which party is "more responsible" for the production arises. In this instance, that question is irrelevant as both are doing more than their fair share and we should all just enjoy the show.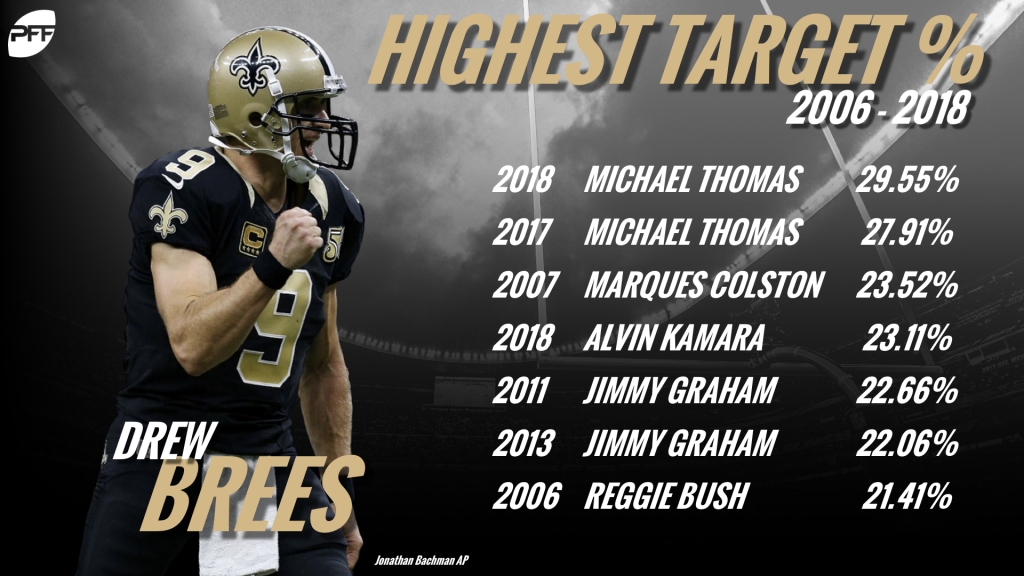 Brees has targeted Thomas on 29.55% of his attempts this season, the highest target percentage of any receiver Brees has ever thrown to in the PFF era (2006-2018). Not only is he giving Thomas plenty of opportunity, but he's also making sure they are high-quality opportunities. 94.9% of Thomas' targets have been deemed catchable, which is also the highest mark of any receiver that Brees has ever thrown to.
Thomas has done his part as well, reeling in an impressive 88.6% of his targets, which ranks first among receivers with at least 15 targets this season, and he's produced a passer rating of 127.4 when Brees is targeting him. Despite his high target volume, Thomas has maintained elite efficiency as evidenced by his average of 3.09 yards per route run (2nd) and 4.33 yards per route run from the slot (2nd).
He also ranks first among receivers with 338 yards after the catch and his 91.1 receiving grade is the highest receiving grade of any wideout. The pairing of Drew Brees' pinpoint accuracy with Thomas' ability at the catch point and thereafter has led to many plays like the one below.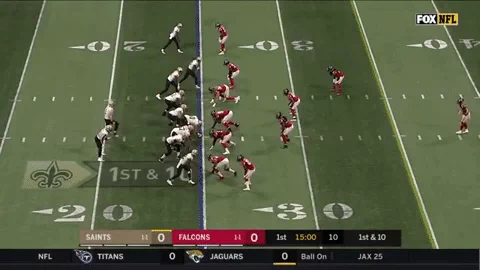 The Saints quarterback has played with a lot of special athletes like Marques Colston, Reggie Bush, Brandin Cooks and Jimmy Graham – and he has seen great success when throwing to them. When comparing the numbers though, it is clear that Thomas has been the best all-around weapon that Brees has ever thrown to.
Jimmy Graham was an excellent red zone option, hauling in 14 touchdowns and 1,459 yards in 2011, his highest-graded season of his career. His efficiency, however, was less than stellar, as he was only able to reel in 98 of his 145 targets to go along with a 6.1% drop rate. He also averaged 2.42 yards per route run, which is impressive, but it pales in comparison to Thomas' 2018 mark of 3.09. Graham produced a passer rating of 106.5 when targeted and forced just nine missed tackles that season. His 90.1 overall grade and 90.6 receiving grade are slightly below Thomas' marks for the 2018 season.
Marques Colston also had his highest-graded season in 2011, where he produced an 87.3 overall grade and an 86.2 receiving grade. In that season, he was able to corral 76.2% of his 105 targets for eight touchdowns and 1,143 yards. While Colston was a reliable target, generating a 133.6 passer rating when targeted, he only forced one missed tackle all season and averaged 2.42 yards per route run. He tallied 265 yards after the catch and 56 first downs that season that season, compared to Thomas' 46 first downs gained through eight weeks of this season.
Some may say that Thomas is being given more opportunity with his large number of targets, but Colston saw 143 targets in 2007 and Graham saw 143 in 2011. The difference is that Brees has increased the quality of those targets and Thomas has been more efficient on a per route basis than his predecessors. As a result, Brees is setting career-highs and Thomas is on pace to shatter Joe Horns' receiving yards record with the Saints.
The pairing of two players at the opposite ends of their careers has been a winning combination for the Saints. The expertise and savvy of the seasoned Drew Brees combined with the efficiency and explosiveness of the young Michael Thomas has the Saints thinking about more than just records – they're thinking Super Bowl.