Many factors contribute towards a young quarterback's success, but the offensive line talent that surrounds Baker Mayfield may be one of the most prominent. Only five offensive linemen throughout the NFL have allowed two or fewer pressures in all 15 games this season. Three of these players are Cleveland Browns' offensive linemen; left guard Joel Bitonio, center J.C. Tretter and right guard Kevin Zeitler. The Browns' third-ranked pass-blocking unit is due in large part to these three players.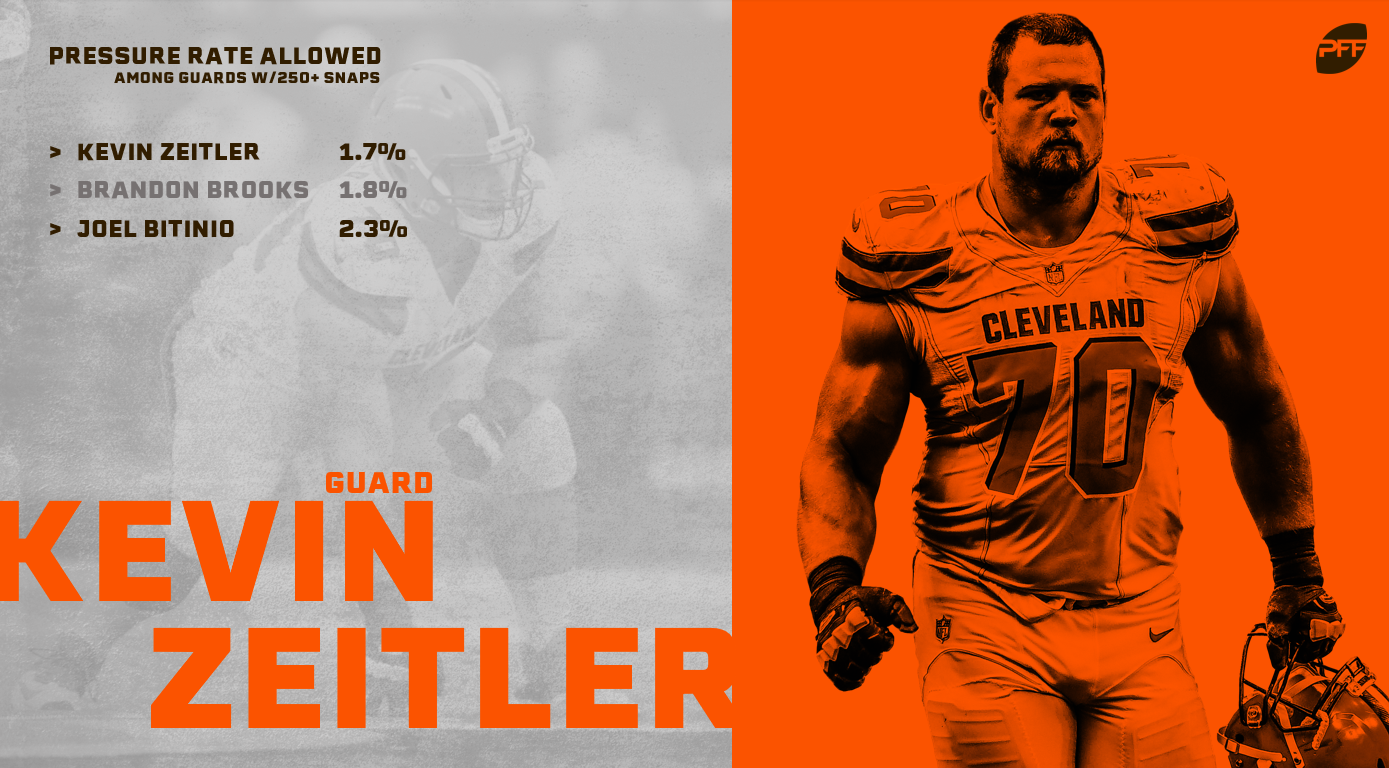 Cleveland's pass-blocking unit is solidified from the interior of the offensive line, as Zeitler ranks first among all guards with 250 snaps in pressure percentage (1.7%). The guard opposite Zeitler, Bitonio, has allowed pressure on just 2.3% of passing snaps, which ranks third in the NFL. The duo also both rank inside the top-three in pass blocking grade as Zeitler (1st) and Bitonio (3rd) have earned pass-blocking grades of 91.8 and 86.8, respectively. 
The AFC North is crowded with talented pass rushers that can put stress on young offensive linemen. Desmond Harrison, undrafted-rookie, and Greg Robinson, a former first-round pick, were tasked with replacing sure-fire Hall of Famer Joe Thomas following his deserved retirement. Although those were massive shoes to fill, the duo has managed to surrender just three sacks this season from the left tackle position.
The Cleveland offensive line has allowed Mayfield to maintain the fifth-highest clean dropback rate in the NFL (71.2%), and this mark has translated well to Mayfield having success on the field, as his completion percentage drops from 67.8% on throws from a clean pocket to 54.3% on throws under pressure.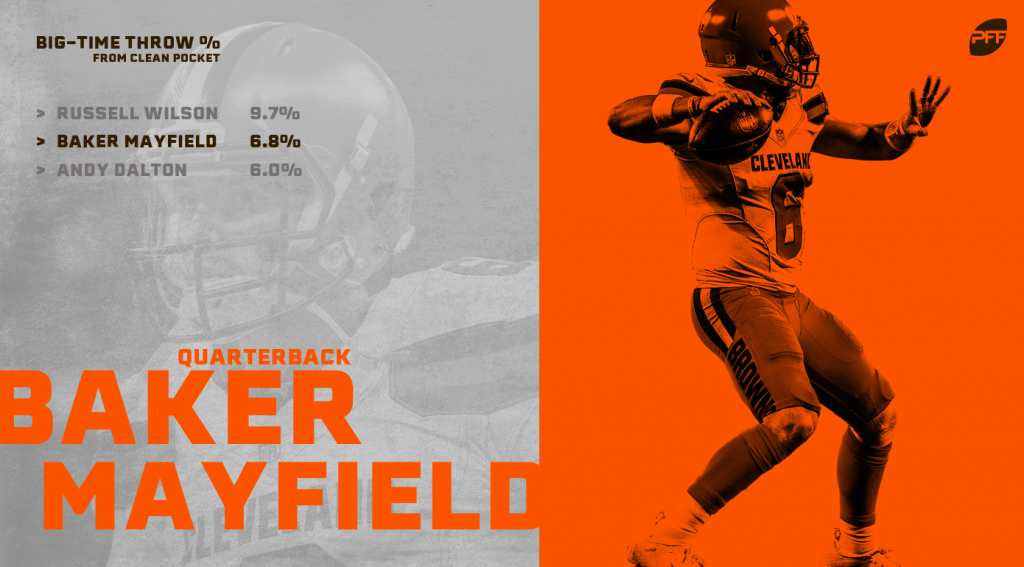 Mayfield's success as a deep passer is one of the many attributes that make him Pro Football Focus' ninth-ranked quarterback in the NFL (84.1), but pressure can restrict this explosiveness. Mayfield ranks fourth in the NFL in total big-time throws (23) when operating from a clean pocket, but he performs them at the league's second-highest rate (6.8%) just behind Russell Wilson.
Mayfield is a very promising player whose success can't entirely be attributed to his offensive line, but they do deserve some credit. He is currently ranked number one in PFF's rookie rankings and is in a class of his own in his rookie quarterback class. Mayfield has proved he can be a top-ten quarterback in the NFL while operating with a formidable Browns' offensive pass-blocking unit.