PFF's Signature Stats are unique metrics tailored to each position group that go far beyond the traditional box score statistics. In the case of the quarterback position, signature stats determine things like which quarterback was the best throwing the deep ball, who performed at a high level when under pressure, and a number of other situational statistics you can't find anywhere else.
With that data at our disposal, we take a look back at the 2016 season and highlight which quarterback excelled in each area, according to PFF's Signature Stats.
(Sign up to view all the exclusive PFF Signature Stats at every position)
Adjusted Completion Percentage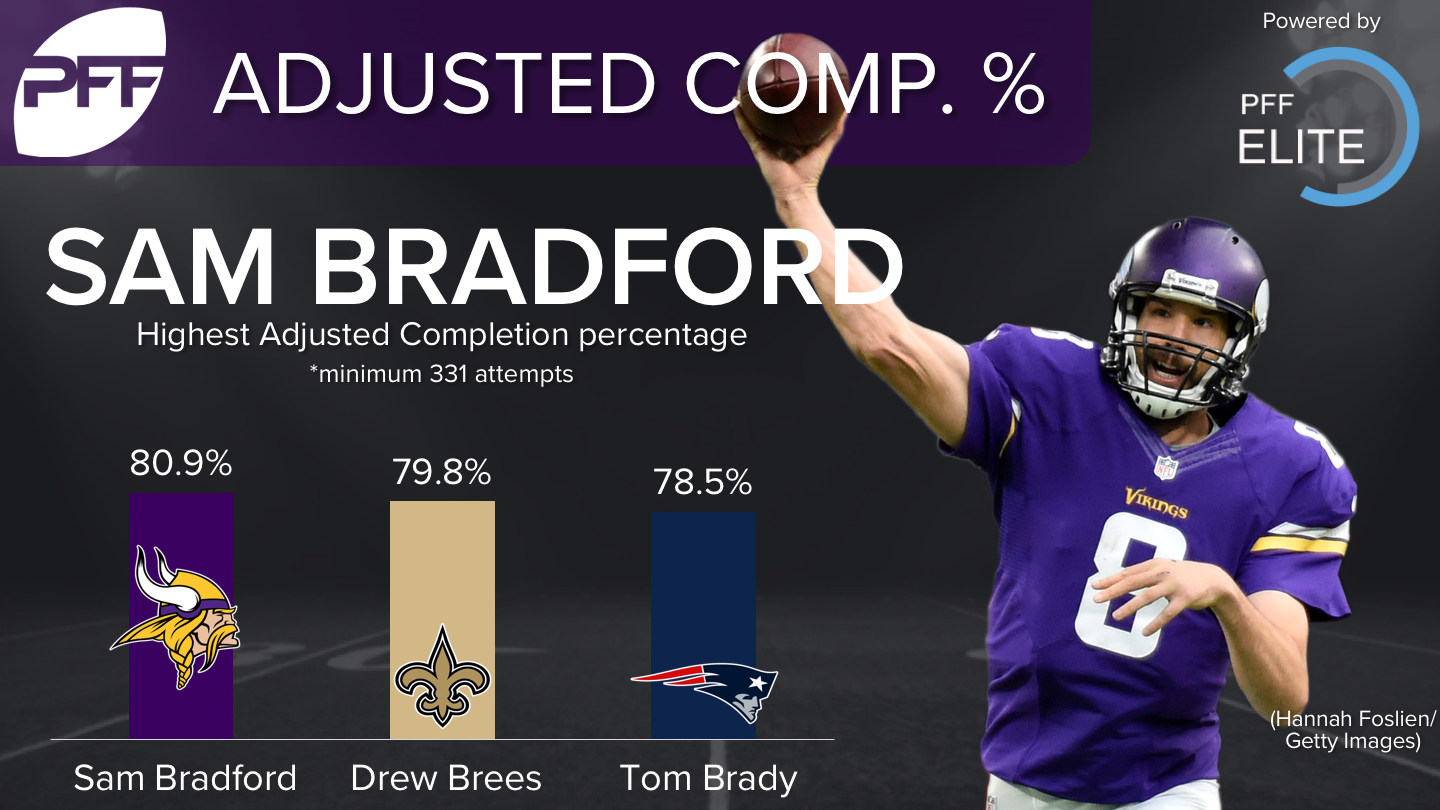 Sam Bradford, Minnesota Vikings
A quarterback's completion percentage rarely tells the whole story, and that's why PFF has developed a method that gives a true representation of how accurate a QB's passes are. The PFF Adjusted Completion Percentage accounts for dropped passes, throw aways, spiked balls, batted passes and passes where the quarterback was hit while they threw the ball – factors that hurt the quarterback's completion percentage but don't help show how truly accurate they are.
With that in mind, who was the NFL's most accurate passer last season? That title belongs to Minnesota's Sam Bradford at an 80.9 percent adjusted completion rate. Bradford was the only quarterback in the league to break the 80 percent threshold, narrowly edging out the likes of Drew Brees (79.8), Tom Brady (78.5) and Matt Ryan (78.4).
Deep Passing

Matt Ryan, Atlanta Falcons
No quarterback in the NFL was better at throwing the ball deep last season than Atlanta's Matt Ryan. On passes traveling 20 or more yards downfield, the Falcons QB led the league in both adjusted completion percentage (60 percent) and passer rating (138.2). Still not impressed? Ryan also ranked second with 13 deep touchdowns and was the only qualifying quarterback to not throw a single interception on a deep attempt last season.
Under Pressure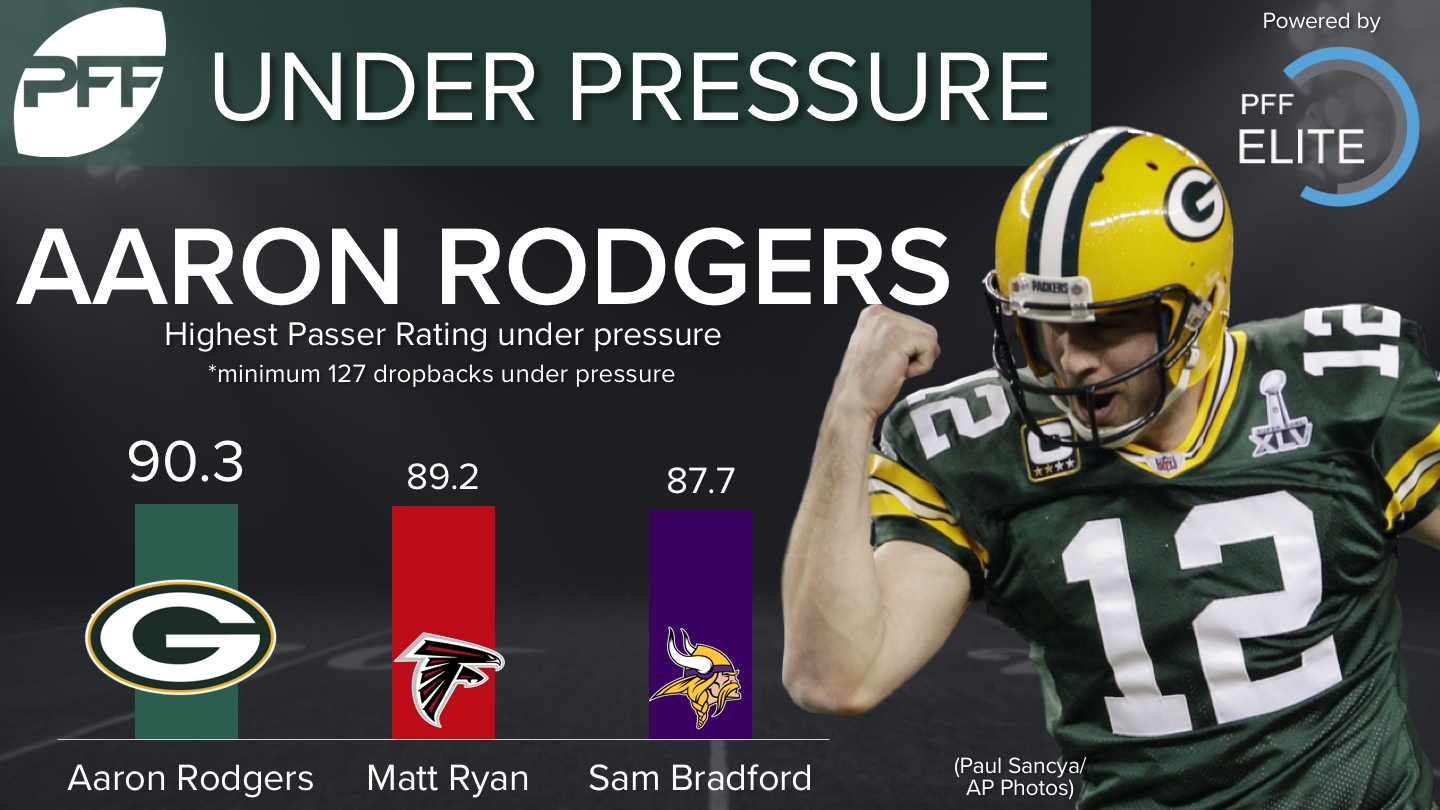 Aaron Rodgers, Green Bay Packers
If you brought pressure in hopes of slowing down Aaron Rodgers last season, odds are you didn't get the results you were looking for. Only two quarterbacks faced pressure on more dropbacks in 2016, but no QB fared better than Rodgers when the pocket collapsed around him. On plays where the defense generated pressure, Rodgers earned a 90.3 passer rating and tossed 13 touchdowns – both tops among quarterbacks last season.
His 14 Big Time Throws (PFF's highest-graded passes) when under pressure only further highlight Rodgers' uncanny ability to make plays when the pressure's on as those ranked fourth among all quarterbacks last year.
Kept Clean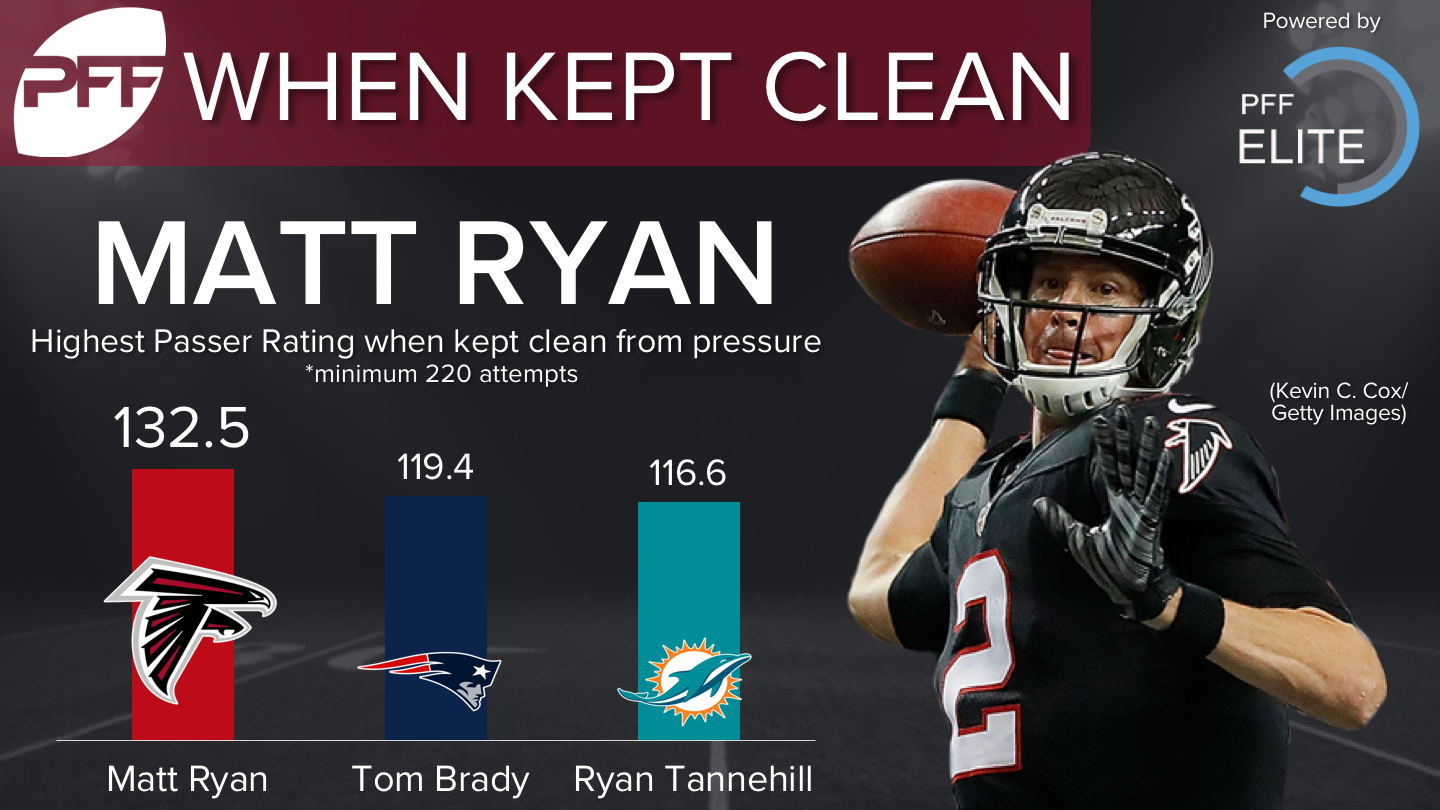 Matt Ryan, Atlanta Falcons
Making his second appearance on our list of superlatives, Ryan was the NFL's best quarterback last season when throwing from a clean pocket. The Falcons offensive line kept Ryan clean on 66.3 percent of his dropbacks, which was slightly above the league average of 65.8 percent. He led all quarterbacks with an 84.2 accuracy rate and his 132.5 passer rating was nearly 30 points higher than that of his closest peer. Ryan's production was unmatched, as his 4,530 passing yards and 41 touchdowns from a clean pocket were also tops among quarterbacks last season.
Play Action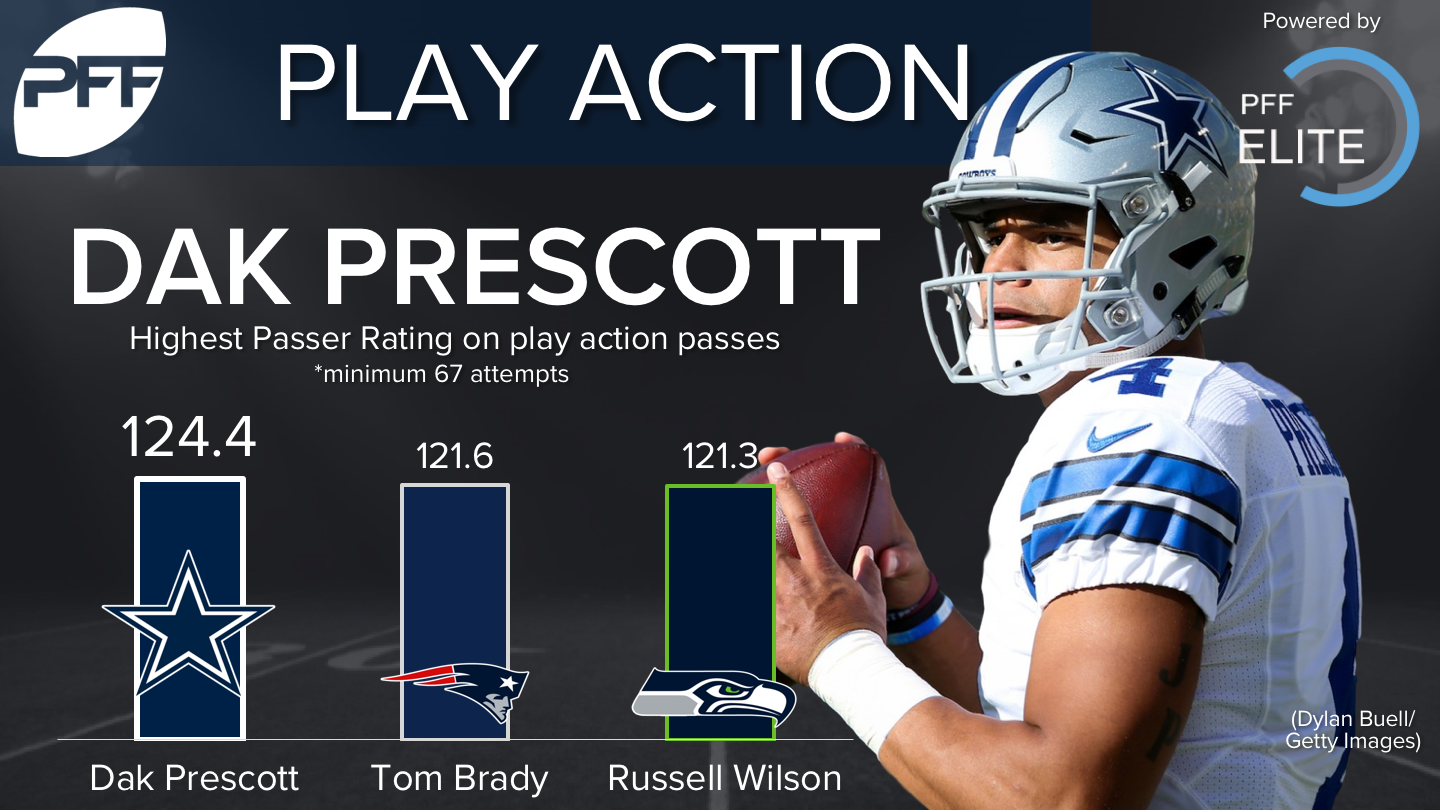 Dak Prescott, Dallas Cowboys
Dak Prescott ran play action on 23.6 percent of his dropbacks last season, fourth most of any quarterback in the league. No QB was more effective at utilizing the play action fake though, as Prescott led all quarterbacks with a 124.4 passer rating and 76.1 percent completion rate. The rookie QB also ranked top five in both passing yards (1,176) and yards per attempt (10.1) on play action passes, and tossed six touchdowns to go with an impressive zero interceptions.
Quick Passes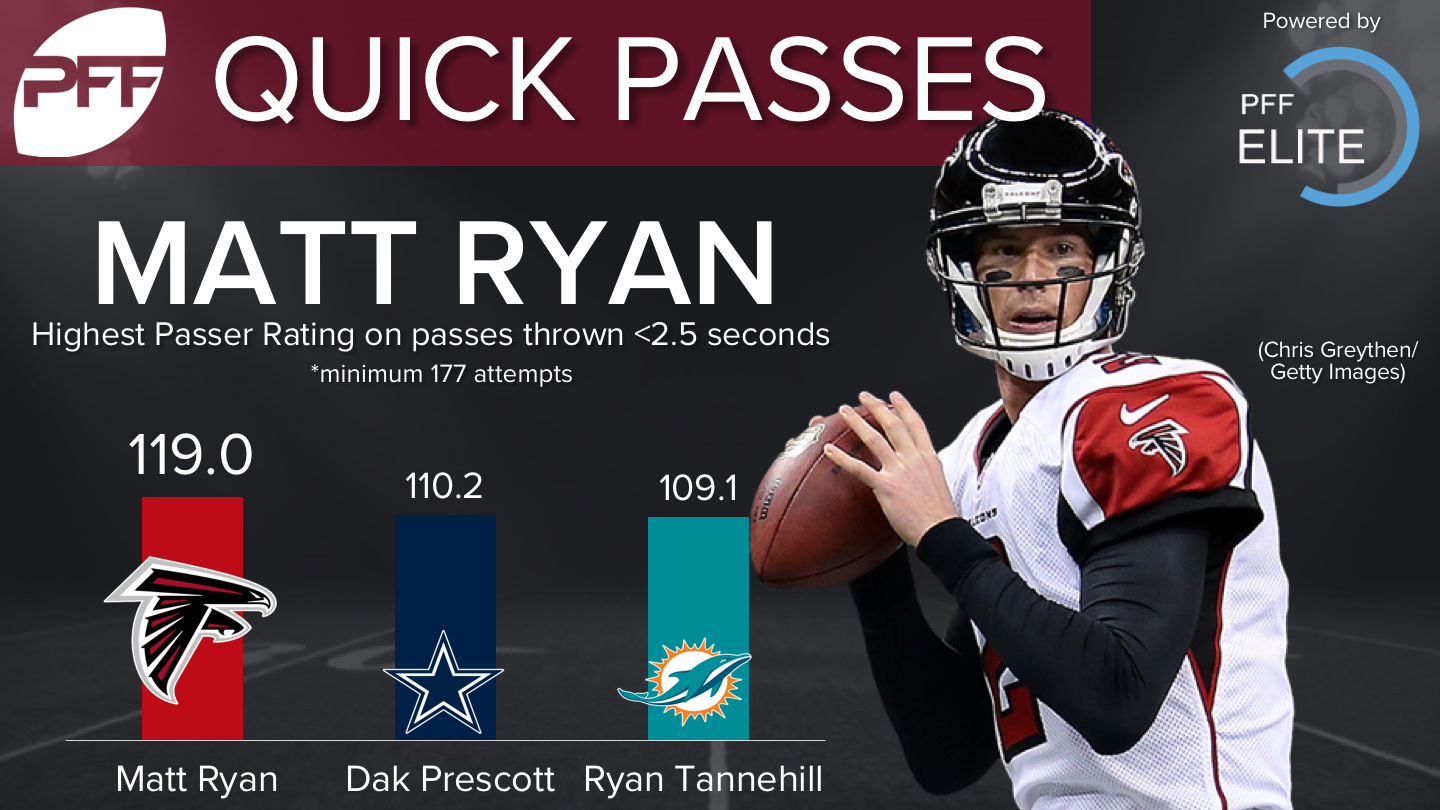 Matt Ryan, Atlanta Falcons
If you haven't figured it out by now, Ryan played pretty well last year. His numbers when getting the ball out quickly (2.5 seconds or less) are yet another example of how Ryan excelled during his 2016 campaign. The majority of Ryan's passes (57.7 percent) came out of his hands in 2.5 seconds or less, and that usually meant trouble for opposing defenses. Ryan tossed 29 of his 47 total touchdowns when getting the ball out quick, completed 74.7 percent of his passes and led all quarterbacks with a 119.0 passer rating.
Long Passes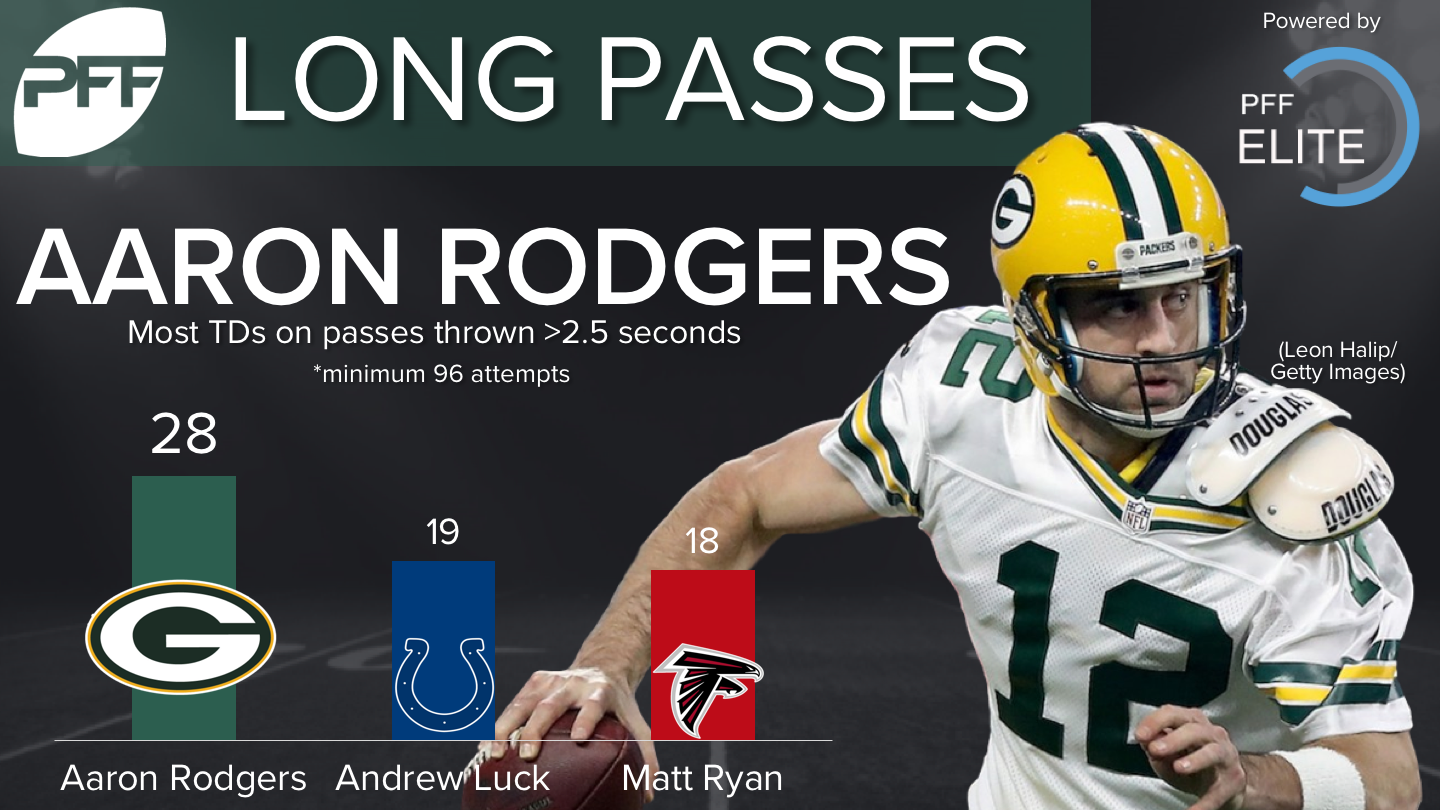 Aaron Rodgers, Green Bay Packers
As evidenced by his performance under pressure, Aaron Rodgers remains one of the best in the league at extending plays. When you combine that with his production when holding onto the ball longer than average (2.6 seconds or more), it only furthers that sentiment. Two quarterbacks had a slightly higher passer rating than Rodgers (104.6) in this scenario, but no one came close to his ridiculous 28 touchdown passes. Rodgers also totaled an impressive 30 Big Time Throws on dropbacks lasting 2.6 seconds or longer, most of any QB in the league last season.