For years, the Aaron Rodgers to Jordy Nelson connection stood out as one of the NFL's best. Among quarterback and pass-catcher combinations with at least 300 targets from 2006 to 2017, Rodgers to Nelson had the second-highest passer rating at 126.0 behind only Tom Brady and Rob Gronkowski. In the red zone, Rodgers threw 43 touchdowns to Nelson without throwing a single interception. In any key situation, Rodgers was looking Nelson's way, and he was successful when doing so.
Nelson was Rodgers' safety blanket, not that he needed one, and they formed one of the premier combinations in the league. Last year, though, the torch of the top wide receiver in Green Bay was passed to someone else – Davante Adams.

This is now Adams' fifth season with the Green Bay Packers after being selected in the second round, but it has taken him a while to settle in and be a reliable weapon for their offense. Over his first two regular seasons, Adams dropped 13.5% of the catchable passes thrown his way. Among 84 players with 100 or more targets over that span, Adams' drop rate was fifth worst.
In recent seasons, Adams has not eliminated those drop concerns, but he has reduced them. Since the start of the 2016 season, he has dropped 8.0% of catchable passes thrown to him. That decrease in drops comes with an increase in overall grade. After grading below 65.0 in each of his first two seasons, he was a top-20 graded wide receiver last season and is once again this year. Adams has evolved into a more reliable weapon, and with that, he has become the top dog in Green Bay.
Since the start of last season, Rodgers has connected on 74 of 106 throws for 888 yards with 11 touchdowns and only one interception when targeting Adams. That is good for a passer rating of 125.8 which ranks second in the NFL among combinations with 75 or more targets behind only Alex Smith and Tyreek Hill. Rodgers has been looking to Adams more than anyone else on the Packers, and he is doing so for good reason.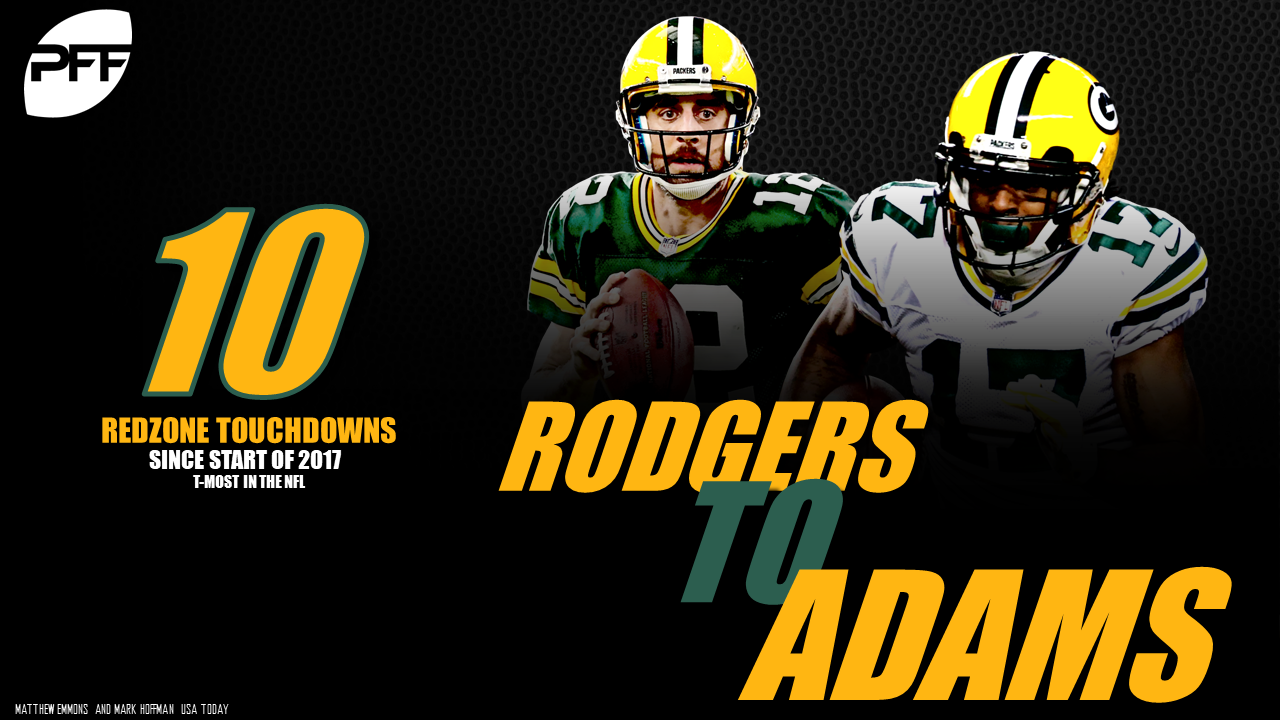 One area in which Adams has come up particularly large for Rodgers has been in the red zone. Over that same stretch since the start of 2017, Rodgers has targeted Adams 22 times in the red zone, leading to 14 receptions, 10 touchdowns and no interceptions. That TD mark is tied for the league lead of any combination inside the opponent's 20-yard line.
Two such scores came on Monday night, including the game-tying touchdown late in the fourth quarter in which Adams got behind the corner with a hitch-and-go route before rising up for the touchdown reception. Who was Aaron Rodgers looking to with the game on the line late in the fourth quarter on third down in the red zone? Davante Adams. That has been the case for a few years in Green Bay now, and it won't be stopping any time soon. The connection between Rodgers and Adams has been one of the best in the NFL in recent years, and it is only getting better.