Those who follow Pro Football Focus closely know we have a profound admiration of Los Angeles Rams star defensive interior lineman Aaron Donald, and nothing's changing in 2018. A year removed from rightfully taking home the Defensive Player of the Year award, Donald has found a way to outperform himself through Week 9 of the 2018 season.

Prior to this year, Donald ranked first and second among defensive interiors in pressure percentage through Week 9 of any NFL season in the PFF era (2006-Present). His 19.6% mark a year ago ranked first, and his 18.2 pressure percentage in 2016 ranked second. Now, Donald leads all at his position in pressure percentage (20.1%) through Week 9 and has, in turn, ranked first, second and third in pressure percentage through the first nine weeks of a season in the PFF era.
In addition to pressure percentage, Donald shares the PFF-era lead in total pressures through Week 9 by a defensive interior with the 2014 version of Houston Texans' J.J. Watt at 61. His 26.3% pressure percentage on third and fourth down this season also ranks ahead of his 2017 mark of 25.0% and now leads all defensive interiors with 50-plus pass-rush snaps on such downs through the first nine weeks of a season in the PFF era.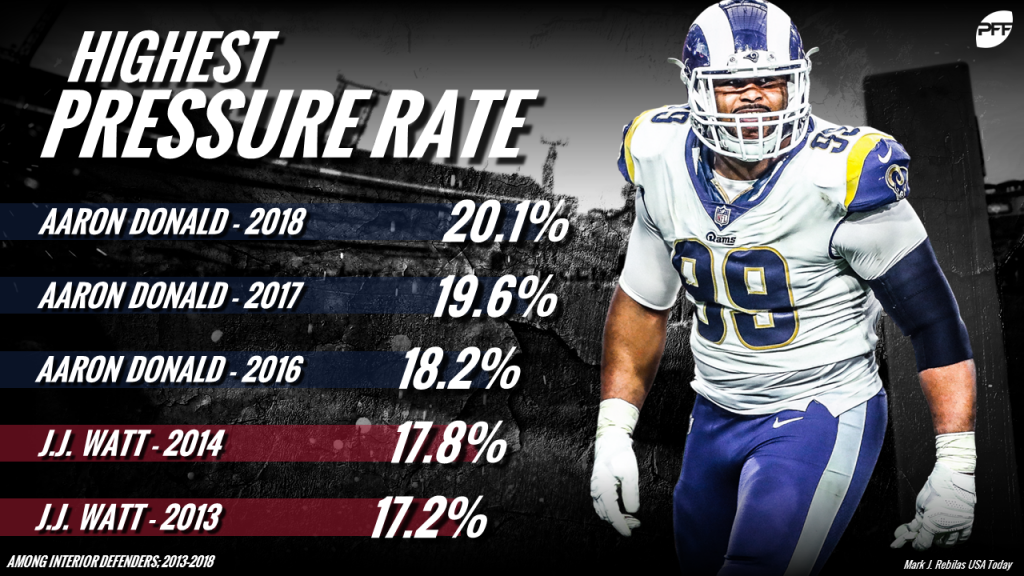 Praise for Donald's pass-rushing prowess is boundless, as his 27 pressures on passes of 2.5 seconds or less through Week 9 leads all NFL defenders with at least one pass-rush snap in the PFF era (2006-Present). In fact, his 27 quick pressures are six more than the second-ranked defender on the list (Von Miller; 2015). And that only includes the times the quarterback has held onto the ball long enough for Donald to record a pressure; he has beaten his opposition an additional 15 times on the quicker dropbacks – the most ever by a defensive interior in Weeks 1-9.
Par for the course, Donald's run defense is also among the best in the league. His 93.3 run-defense grade ranks first among all defensive interiors with 100-plus run-defense snaps this season and second in the PFF era through the first nine weeks behind Albert Haynesworth's 95.9 run-defense grade in 2007.
On early downs (first and second), Donald has earned a 93.1 run-defense grade – again falling second behind Haynesworth. His average depth of tackle on such downs is -0.36 yards, as well, ranking second in the PFF era among defensive interiors with 10-plus tackles in run defense in Weeks 1-9.
Donald is breaking records he previously owned, dominating both primary phases of the game and no one player is coming close to his high-level impact and production. We might as well give him the DPOY award now to end any unwarranted speculation.