When it comes to the rushing the passer, Aaron Donald treats opposing offensive lines like the Kool-Aid man treats walls. Yeah, they're there, but it really doesn't matter, one way or the other, Donald is likely going to bust through and wreak havoc. Donald has been the gold standard since 2015 – just his second season in the league – when it comes to rushing the passer from the defensive interior, and 2017 may have been his most impressive campaign yet.
Donald nearly broke our grading scale this season with a 99.7 pass-rush grade and to put that dominance into perspective, there were 124 qualified interior defenders this season (based on snap count) and among that group, Fletcher Cox ranked second behind Donald with a 90.3 pass-rush grade – and he was the only other interior defender with a pass-rush grade of at least 90.0.
When looking at Donald's raw numbers, they immediately jump off the screen. They aren't just video game numbers, they're the type of numbers you put up in Madden when you play on the easiest difficulty setting.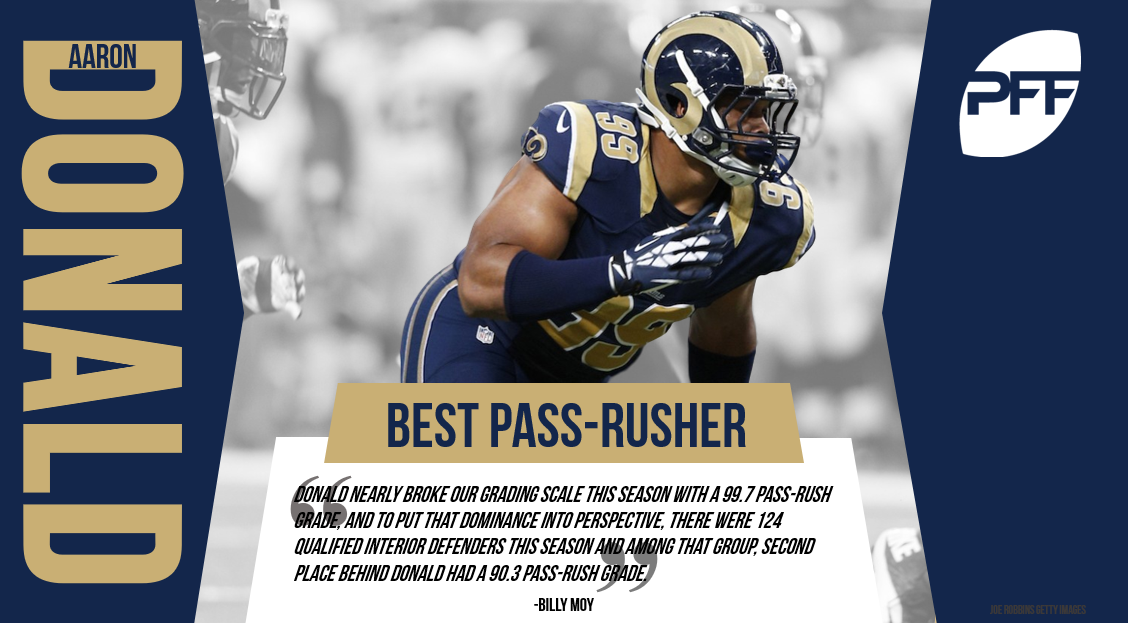 We classify pressure into three different categories: sacks, hits (taking the quarterback to the ground after he releases the ball) and hurries (all other pressure that doesn't result with the passer on the ground). Donald had 66 hurries this season to go with 13 hits and 12 sacks, giving him 91 total pressures. Geno Atkins was second among interior defenders with 70 total pressures. As dominant as you could imagine, Donald was just five hurries away from having more hurries than any other interior defender had total pressures… and those 25 hits and sacks he earned also led his position. He had those raw numbers while not playing a snap in both Week 1 and Week 17.
Donald earned multiple pressures in every game he played this season, and he racked up at least 10 pressures on two separate occasions in the regular season (he also had 11 against the Falcons on Wild Card weekend but we're only taking account regular season accomplishments here). You really don't need to look past the raw data to conclude that Donald was the most dominant pass-rusher in 2017, but we at PFF can even dive a little bit deeper.
On average, an NFL interior defender created pressure on 6.8 percent of the plays in which they rushed the passer in 2017. Donald nearly tripled that average with a pressure percentage of 18.8 percent.
On average, 41.7 percent of pressure created by interior defenders this season were either unblocked, pursuit or cleanup pressures – meaning only 58.3 percent of pressures earned by interior defenders this season were a result of them beating an offensive lineman. Donald beat an offensive lineman on 86.8 percent of his pressures, the third-highest rate among interior defenders. Donald's absurd pressure total isn't a result of the Rams scheming their pass-rush to free him up; he earned that number by whooping offensive linemen week after week, game after game.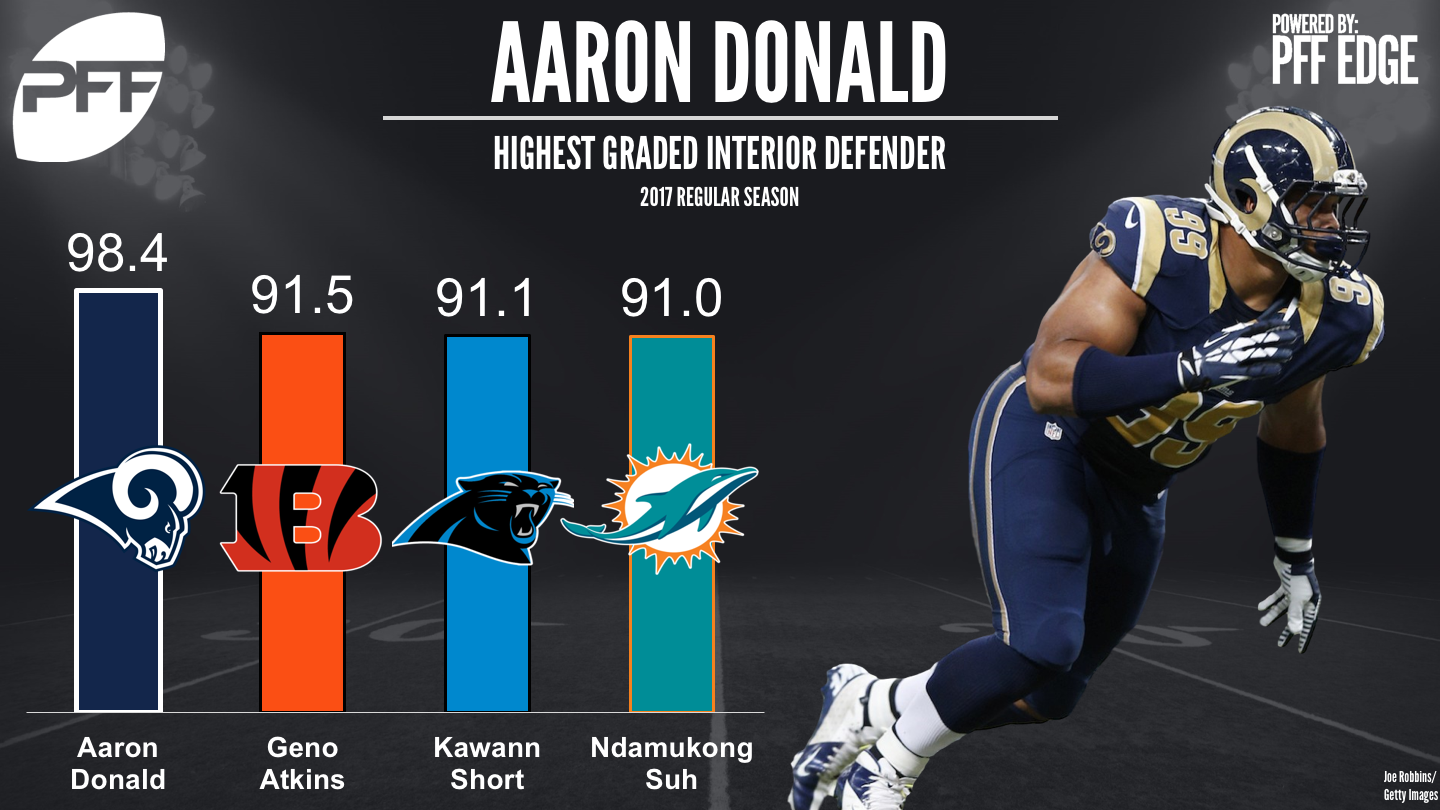 In games that Donald played this year, the Rams got pressure on 39.2 percent of their opponents dropbacks, the fourth-best rate in the league, and they also ranked fourth among defensive units with a 7.5 sack percentage. In the two games that Donald missed this season, the Rams pressure percentage dropped all the way down to 32.2 percent while their sack percentage dipped to 6.8 percent. The Rams also had to work harder to get the pressure when Donald was absent, blitzing on 40.7 percent of their opponents passing plays without Donald in the lineup compared to just 36.2 percent of the time when he was in there. When Donald played, they were able to drop more defenders in coverage all while creating more pressure, the impact of which can't be overstated. He elevates his entire defense in a way that few other defenders even come close to.
The production that Donald creates as a pass-rusher would be elite from the edge. The fact that he does it from the interior is frankly unbelievable, and that is why for the third consecutive season he is taking home PFF's top pass-rusher award.