The Cleveland Browns and New York Giants have agreed to a blockbuster deal that will send superstar wide receiver Odell Beckham Jr. to the Cleveland Browns. The New York Giants just signed Beckham Jr. to a five-year contract worth up to $95 million in August, but with Eli Manning nearing the end of his career, the Giants appear to be closer to rebuilding than contending.
Beckham Jr. will immediately provide the Browns with an elite threat at the receiving position. This season, Odell Beckham Jr. earned a 90.0 overall grade — fifth among qualifying receivers — and was worth an impressive 1.98 Wins Above Replacement, which ranked 27th among all players and ninth among all non-quarterbacks. Aside from the 2017 season when OBJ's season was cut short by a fractured ankle, the LSU alumnus has earned grades of 84.0 or higher and posted over 1,000 yards receiving every season since being drafted.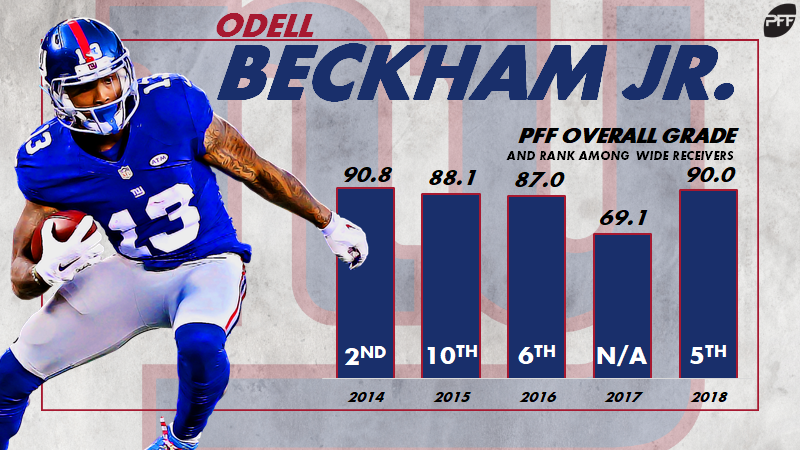 Despite playing in just 12 games and the Giants' struggles on offense this past season, the star receiver was able to put together an impressive campaign in which he produced 77 catches on 80 catchable targets for 1,052 yards and six touchdowns. He was able to maintain remarkable efficiency, as evidenced by his 2.26 yards per route run (eighth-best among qualifying receivers), and was lethal when stretching the field, catching all nine of his catchable deep-pass targets for 303 yards and two touchdowns.
OBJ was on pace to set career-highs in receptions and yards before he succumbed to a bruised quad, which ended his season prematurely, and yet, his impact still could have been more significant. Father time is still undefeated, and if this past season is any indicator, he may be creeping up on Eli Manning.
Manning ranked 31st among qualifying quarterbacks this past season, producing an overall grade of 64.3 while throwing 21 touchdowns to 11 interceptions. Even though Manning was tied for fourth in deep attempts (74), he was ninth in deep yards (922) and tied for 25th in touchdowns on the deep ball, throwing just four touchdowns and three interceptions. He was able to generate a modest passer rating of 86.7 on his deep attempts, which ranked 20th among qualifying quarterbacks.
Odell Beckham Jr. will now pair with the Browns' standout quarterback Baker Mayfield, who was named PFF's Offensive Rookie of the Year, to form a dangerous tandem that could vault the Browns into contention for one of the top teams in the AFC. Mayfield earned a grade of 84.5 as a rookie, which ranked ninth among all quarterbacks, and he threw for 27 touchdowns and 14 interceptions in 14 games.
If Mayfield's rookie season was any indication of what lies ahead, he will be able to better complement the vertical element of Odell Beckham Jr.'s game. The rookie quarterback produced a 107.6 passer rating on deep attempts (seventh among qualifying quarterbacks) to go along with 1,008 deep passing yards and 11 touchdowns, both of which rank sixth at the quarterback position.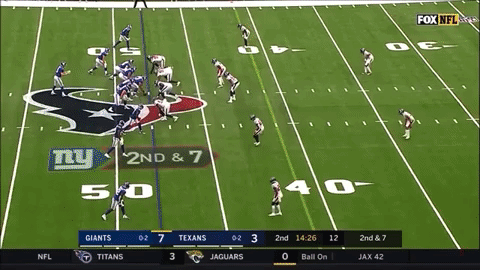 Beckham Jr. will also be able to provide Mayfield with some much-need help, as the Browns pass-catchers collectively earned a 72.5 receiving grade in 2018, a mark that ranked 23rd among NFL teams. They also combined for 32 dropped passes and were faulted with 16 interceptions, leading to Mayfield having 5.8% of his on-target passes dropped (tied for ninth-highest drop rate among QBs).
Jarvis Landry was the Browns' highest-graded receiver this past season, earning a 74.7 overall grade, which is actually a career-low for Landry. Landry also accounted for seven of the 15 total avoided tackles by Browns receivers last season. Odell Beckham Jr. was able to generate 20 avoided tackles by himself, a mark that ranks first among all receivers, in only 12 games, demonstrating the tremendous impact he can have on the Browns' offense.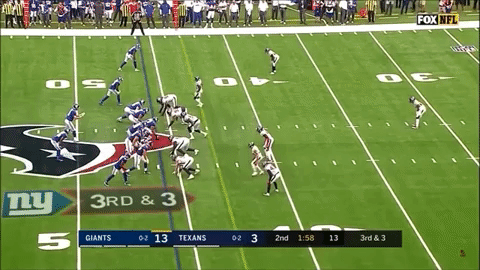 Odell Beckham Jr. and Baker Mayfield both had exceptional seasons that could have been even more brilliant, given elevated play from their teammates at the quarterback and receiving positions, respectively. By pairing super-star receiver Odell Beckham Jr. with a burgeoning star quarterback in Baker Mayfield, the Browns have assembled a deadly offense and firmly entrenched themselves as contenders in the AFC for the foreseeable future.