It's time the rest of the NFC started to get a little frightened by the Seattle Seahawks.
The Dallas Cowboys have the best record in football at 9-1 and currently own the No. 1 seed in the NFC, but at 7-2-1 the Seahawks are now in the No. 2 spot and riding a three-game win streak. One of those wins was against the New England Patriots on the road, a team that most thought was the best in the NFL at the time.
The Seahawks are getting hot, and this is a team that has extensive playoff experience and is not relying on a pair of rookies (as Dallas is with QB Dak Prescott and RB Ezekiel Elliott) to lead them to where they want to go.
The Eagles provided another stern test this week, and while the score tightened up a little towards the end of the game, the Seahawks effectively trampled them at home and made Eagles quarterback Carson Wentz look very much like the rookie he is.
Here are five reasons the rest of the NFC needs to fear the Seahawks:
1. Russell Wilson is making a strong case to be league MVP
I named Russell Wilson as my midseason MVP and that was far from a popular decision, but now that his ankle is back under him he only looks better. He has climbed to No. 3 in PFF grades at 89.6 (on our 0-100 scale), narrowly behind the player most wanted as the midseason MVP – Matt Ryan (90.0). He is still working with a disaster of an offensive line in front of him, and this may be the best season of Wilson's career — and previous seasons have brought him to the Super Bowl.
Right now, Wilson's ability to play in the face of unrelenting pressure and mitigate those effects has never been more impressive. We know the damage he can do with his legs, both in terms of scrambles and moving outside of the pocket to buy time and create a big play in the passing game, but he has also hugely sped up his average time to throw and has been putting the ball in the air early, completing big plays down the field despite quick pressure coming.
2. They have several matchup weapons on offense
Tight end Jimmy Graham has been back to his best this season, and at his best he is a player whom defenses can't match up with. Graham is 6-foot-6 and 260 pounds, and can run and use the full extent of his catch radius to bring in passes. Hardly anybody has an athlete on defense who can compare to those measurables, and if they do, they are rushing the passer. This season he has three 100-yard games, and against the Eagles he was able to turn an improvised Wilson pass into a touchdown by making an adjustment to the ball and then breaking two tackles on his way to the end zone.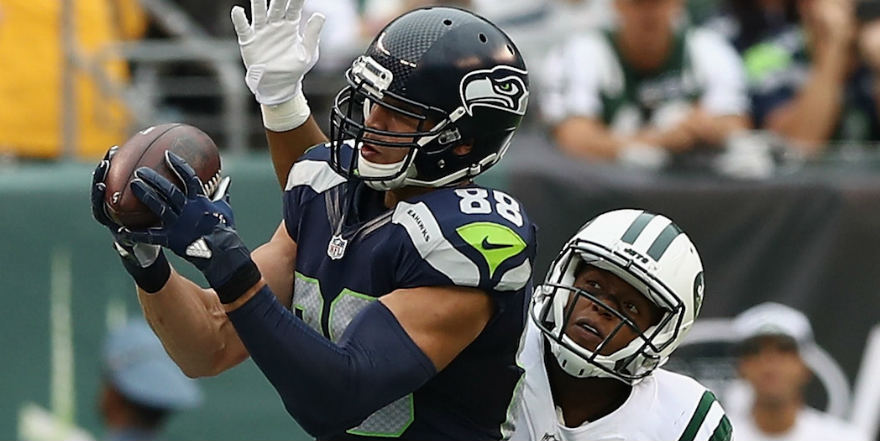 Graham is a real weapon to the offense, but they also have wide receiver Doug Baldwin, whose ability to work the slot and outside causes a defense problems, and have seen the recent emergence of C.J. Prosise, who can both run the ball and work as a receiver to cause further stress to defenses. This Seahawks offense may not have the same platform as others given their offensive line, but they are one of the league's tougher offenses to match up with from a personnel standpoint.
3. The defense is really, really good (again)
At the risk of breaking some pretty major news, the Seattle defense is pretty damn good. This has been the engine room of the franchise's success in recent years, and it's still good enough to do much of the heavy lifting. They have been without arguably their best player in DE Michael Bennett, and it hasn't slowed their roll even a little bit. All of the important players from the last few years are still playing their best football, with Cliff Avril, Bobby Wagner, K.J. Wright, Kam Chancellor, Earl Thomas and Richard Sherman all earning strong grades this week — and if anything, they are better as a unit than the sum of their parts.
4. The offensive line has been awful
This might seem like a strange reason to point to, but this Seahawks' O-line has been horrendous all season, and even with an injury-limited Wilson, they have won seven of their 10 games, including knocking off the Patriots on a cross-country road trip.
The line has been utterly awful – with the notable exception of center Justin Britt, who has had poor games but been good overall – and yet it hasn't prohibited them from winning the way many (including me) expected it to, finally, this season. Seattle has four of the worst starting linemen in the league, and yet Wilson is playing the best football of his career, doing so with an injured ankle for much of the year, and has never looked more comfortable in the face of sustained pressure.
If the line doesn't improve at all over the season, Wilson has proven that he can still produce at a high level, especially when healthy. But if the line can develop even just a little bit, then that becomes a huge boost for the team. Either way, what would be an Achilles' heel for any other team (just look at what Minnesota's O-line issues have done to the Vikings' record) seems like merely a deliberate decision to save resources by the Seahawks, and something they have continually shown they can live with in the past.
5. Tyler Lockett is a difference-maker on special teams
He hasn't been the same force as a receiver as he was a year ago, but Lockett remains a dangerous return man, even if he hasn't taken one to the house this season. He has strong grades as both a kick and punt returner this season, and does have a 62-yard punt return to his name. In big games late in the season a key return can become a huge play, and the Seahawks are better placed than most to get one of those from a return-man as good as Lockett.