With Week 8 of the 2016 NFL season upon us, Director of Analytics Nathan Jahnke digs through the Pro Football Focus database to bring you 30 unique pieces off PFF data you need to know for the upcoming matchups.
Jacksonville Jaguars @ Tennessee Titans
1. LG Patrick Omameh is one of just three NFL guards with 100 or more pass blocks, no sacks or hits allowed, and only three hurries surrendered.
After Luke Joeckel went down for the season in Week 4, Omameh took over as the starting left guard. So far his stint at LG has been a successful one. He's allowed just three QB pressures in three games, and has performed well as a run blocker. Omameh will have his hands full Thursday night against the Titans, as most of Tennessee's best defensive players are linemen. DaQuan Jones and Karl Klug have both graded well against the run, while Klug and Casey have been successful pass-rushers. This will be Omameh's toughest test yet.
2. HB DeMarco Murray has forced 29 missed tackles on his carries this season, tied for the most among running backs.
Murray has been a complete back since joining the Titans, grading out well in running, receiving, and pass blocking. This week he faces a Jaguars defense that has graded out well against the run, missing only 23 total tackles as a team. If Murray can't make the Jaguars' defenders miss, he may have a rough outing on Thursday Night Football.
Washington @ Cincinnati Bengals
3. Seven 3-4 OLBs have recorded seven or more sacks this season; two of them are Washington's Ryan Kerrigan and Trent Murphy.
One of Washington's strengths this season has been it's edge rush, with both Kerrigan and Murphy often finding success. Both players have been more successful attacking the offense's right side, which for the Bengals, means facing second-year right tackle Cedric Ogbuehi. So far Ogbuehi has allowed four sacks, one hit, and 22 hurries. His pass-blocking efficiency has been among the lowest for right tackles, so there is a decent chance one or both of these great pass-rushers could get another sack on Sunday.
4. DE Carlos Dunlap has recorded 30 QB pressures, tied for second-most among 3-4 defensive ends.
Since being drafted in 2010, Dunlap has been one of the better pass-rushers on the Bengals' defense. Right now he is on pace for arguably his best year yet. Over his past five games, Dunlap has five sacks, eight hits, and 11 hurries. This week he will often face Washington RT Morgan Moses. While Trent Williams gets most of the attention on Washington's offensive line, Moses has had a very strong season as well. Over the past four games, he has not allowed a sack or hit, and has surrendered just two hurries. Something will have to give between these two good players that have played especially well recently.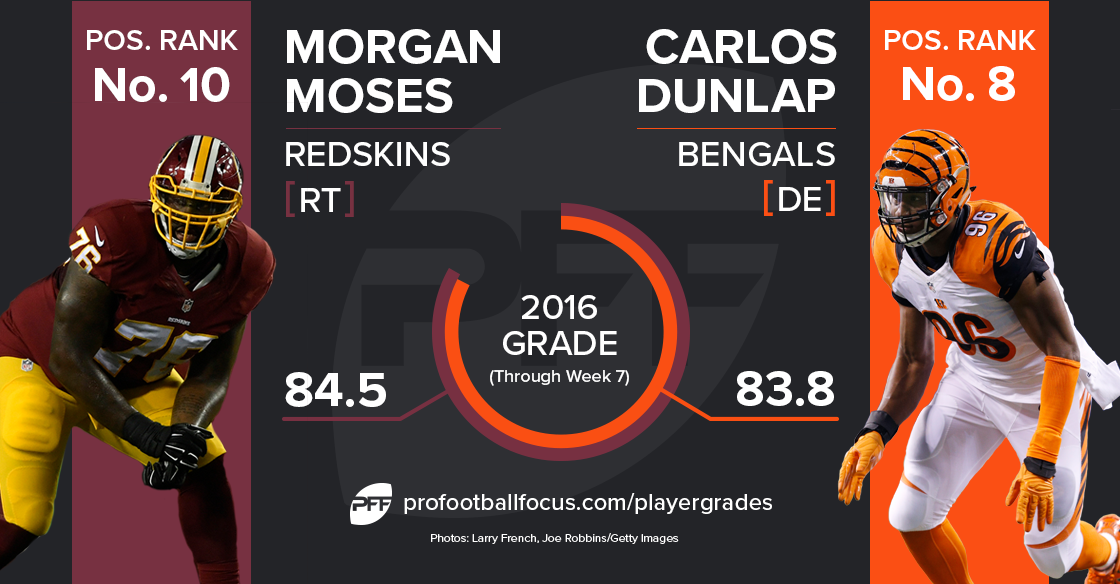 New England Patriots @ Buffalo Bills
5. RB James White is averaging 1.95 yards per route run this season, the second-best mark among running backs.
The Patriots have plenty of receiving options, but James White continues to be a reliable target. He's forced nine missed tackles this season, tied for second-most among running backs. His highest-graded receiving game of the season came in Week 4 against the Bills, where he caught all five passes thrown his way for 50 yards. It would help New England out if White can have a repeat performance against a division rival.
6. LT Cordy Glenn is one of just two offensive tackles with 150+ pass blocks and no sacks or hits allowed.
This past offseason, Glenn received a new contract with the Bills, and so far it's paying off. Over five games, Glenn has only surrendered six hurries. Two of those hurries came against the Patriots and Bills in their Week 4 matchup. He will often face Chris Long, who had a strong start to the season, but has since slowed down. It will help the Bills' passing attack if Glenn can continue his strong performance and extend Long's slump.
New York Jets @ Cleveland Browns
7. NT Steve McLendon has an 11.0 run-stop percentage, seventh-best among defensive/nose tackles.
While McLendon hasn't found the same success stopping the run as former Jets nose tackle Damon Harrison, he has still been a helpful addition to the Jets' front-seven. One of the best parts of the Browns' offense this season has been the running of Isaiah Crowell. McLendon should be able to get the best of center Cameron Erving, and from there it will be his job to improve on his run-stop percentage by bringing down Crowell.
8. HB Isaiah Crowell owns a breakaway percentage of 51.1, the highest rate for running backs.
So far this season, Crowell has 10 carries for 15 or more yards (253 total yards on those carries). 51.1 percent of his yards came on those 10 carries. While McLendon and the rest of the Jets' defense might get the best of Crowell on the majority of plays, what New York needs to watch out for most is long runs. If Crowell can break a long run or two, that will help the Browns' offense get into scoring position.
Detroit Lions @ Houston Texans
9. When Marvin Jones is targeted, the Lions have an NFL passer rating of 133.0, second-best among wide receivers.
Teammate Anquan Boldin isn't far behind, at 129.9, which is third-best. The Lions are on a three-game winning streak, and a big reason why is the efficient play out of their offense. They face a Texans secondary that is led by the highest-graded cornerback in the league, A.J. Bouye.
10. In games where Jadeveon Clowney has primarily played at 3-4 defensive end, he has a run-stop percentage of 11.1, tied for fourth-best among 3-4 DEs.
Clowney has been a bright spot for the Texans' defense this season. This week, he will often be facing third-round rookie Graham Glasgow, who has taken over as the Lions' left guard. While he looked fine last week against Washington, the week before he had one of the worst games for linemen going up against Rams' defensive players. Clowney also has the potential to make Glasgow look bad, similar to what Los Angeles' defenders did.
Kansas City Chiefs @ Indianapolis Colts
11. QB Alex Smith has an adjusted completion percentage of 78.2, fifth-best for quarterbacks.
Alex Smith has gained a reputation for throwing short passes, and rightfully so. This year, his 7.3-yard average depth of target is tied for the league's lowest mark. On the bright side, he has been throwing those short passes very accurately. This week he faces a Colts team who has the lowest coverage rating by PFF standards, so Smith may have an opportunity to extend that accuracy to the intermediate and deep levels.
12. When Darius Butler has lined up in the slot, opposing quarterbacks have a passer rating of 34.5.; that's second-lowest for slot cornerbacks.
Butler missed most of the first month of the season, but since then, has only allowed eight of 14 passes thrown his way to be caught for 49 yards (he also had an interception). The Chiefs don't have a particular receiver they always use in the slot, but the receiver with the most snaps out of the slot is Jeremy Maclin. If Butler can shut down Maclin in the slot—or any other receiver Kansas City puts there—it will leave fewer options for Alex Smith.
Seattle Seahawks @ New Orleans Saints
13. TE Jimmy Graham is averaging 2.47 yards per route run, fourth-best for tight ends.
After an unimpressive first year with Seattle, Graham is starting to be the difference-maker the Seahawks were hoping for. He had a slow start to the season, but since then, has seen between eight to nine targets per game, which has led to 355 receiving yards in his last four games. This week for the first-time, Graham will face his former team. The Saints' secondary is unlikely to have an answer for Graham, so this could be his best game in Seattle yet.
14. DT Nick Fairley has a combined eight sacks and hits, tied for second-most among defensive tackles.
All eight of those have come in his last four games. Last year when Fairley was with the Rams—and in the same division as the Seahawks—he managed just one hurry on 17 pass-rushes. He should get more playing time this time around, and plenty of opportunities to get to Russell Wilson. The Seahawks have allowed a pass-blocking efficiency of 74.2, which is fifth-worst for teams. Fairly should have a chance at a big game.
Oakland Raiders @ Tampa Bay Buccaneers
15. The Raiders are one of seven teams with two cornerbacks with two or more interceptions.
While both David Amerson and Sean Smith have allowed their fair share of yards, they also have both made their fair share of big plays, including interceptions. This week, they face Jameis Winson, whose nine interceptions are tied for third-most among QBs. If the Raiders can get some turnovers on defense, it would help them get a road victory.
16. RB Jacquizz Rodgers owns an elusive rating of 73.6, third-best among running backs.
Since both Doug Martin and Charles Sims went down with injury, Jacquizz Rodgers has been more than adequate as a replacement. He has 255 rushing yards and has forced 14 missed tackles over his past two games alone. The Jaguars' runners averaged 6.5 yards per carry against Oakland last week, and Spencer Ware had a 131-yard performance against them the week before. Rodgers could have yet another strong performance against Oakland.
Arizona Cardinals @ Carolina Panthers
17. S D.J. Swearinger is one of three safeties with two or more interceptions and two or more passes defended.
The move of Tyrann Mathieu back to slot cornerback allowed Swearinger to have a much larger role in Arizona's defense. It has worked out well due to Swearinger's strong play at safety. This week he faces a Carolina team that hasn't had much success on deep passes (throws 20+ yards downfield). Cam Newton has only completed nine of 27 deep passes for 301 yards. Even if Swearinger doesn't get an interception, he could still have a big game.
18. Panthers TE Greg Olsen leads all NFL tight ends in receptions this season, with 39.
In fact, Olsen hasn't dropped a catchable pass this season. While the Panthers as a team have been struggling, Olsen is not one of the reasons why. He's had a minimum of 64 receiving yards each game. The last time the Cardinals and Panthers faced off was in the conference championship game where Olsen recorded 113 receiving yards. If Olsen can have a repeat performance, that will help get Carolina's season back on track.
San Diego Chargers @ Denver Broncos
19. OLB Joey Bosa has recorded a 17.0 pass-rushing productivity mark, best among 3-4 outside linebackers.
Bosa has had an excellent start of his career with four sacks, four hits and 12 hurries. His 20 pressures over three games are the most to start a career in the PFF era. In his first game against the Broncos he didn't have a sack, but has two hits and five hurries. If Bosa can get one or more sacks in this game, it will go a long way to helping the Chargers sweep the Broncos.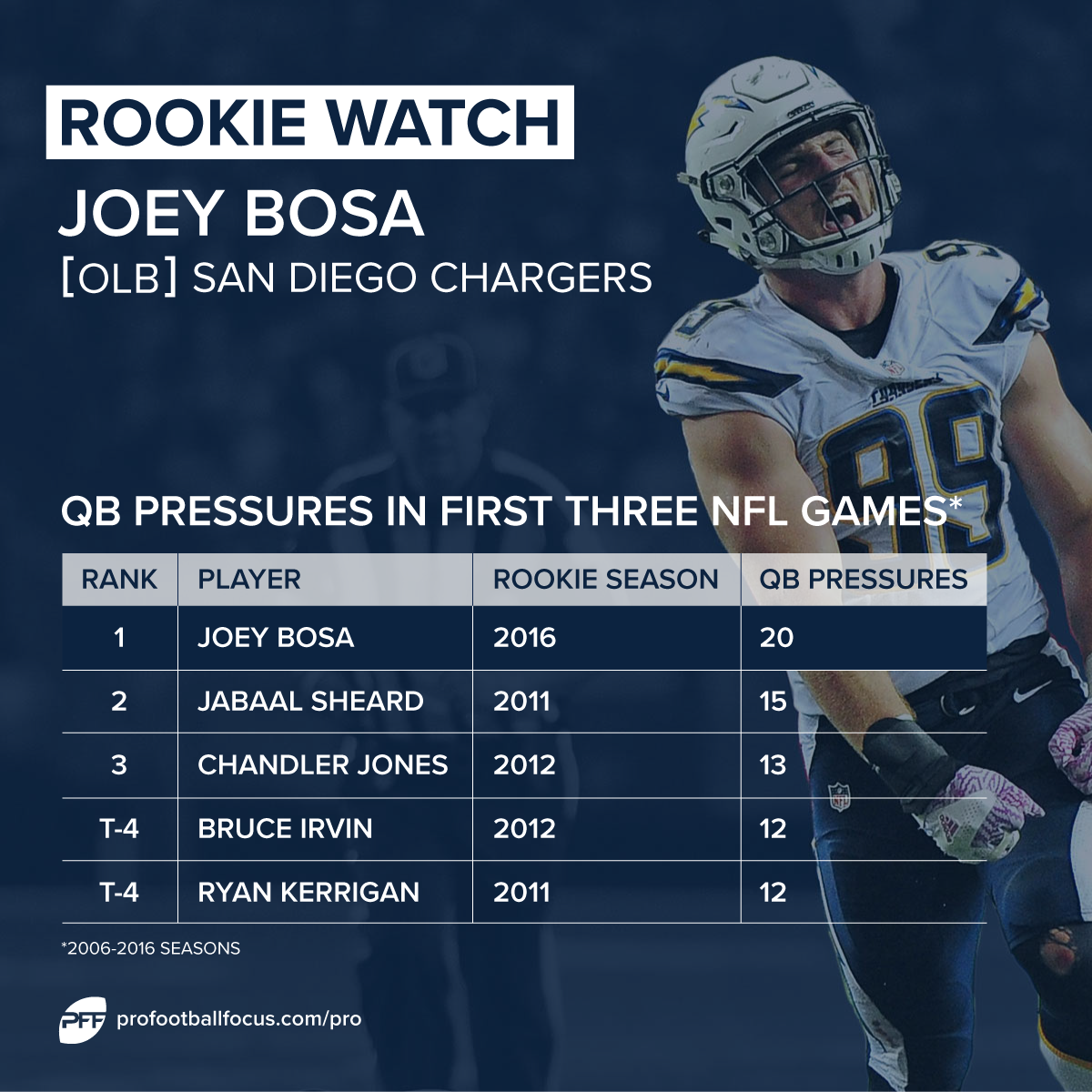 20. OLB Von Miller owns a 16.0 pass-rushing productivity mark, second-best for 3-4 outside linebackers.
Von Miller had a strong start to the season, with an 18.0 pass-rushing productivity mark over his first three games, but in the four games since, it dropped to 14.7. Two weeks ago in the Broncos' loss to the Chargers, Miller only had one sack, one hit, and two hurries. While that is good for a lot of pass rushers, Denver could use more out of Miller this time around to ensure a home victory.
Green Bay Packers @ Atlanta Falcons
21. WR Randall Cobb has 39 catches this year, and has yet to drop a pass. That is the second-most catches for a wide receiver without a drop.
Over the last three weeks, we've seen Randall Cobb play similarly to how he did in the peak of his career. He's seen double-digit targets in each of those games, 256 receiving yards, and two touchdowns. Cobb is the Packers' slot receiver, so he will often face Falcons slot cornerback Brian Poole. Poole has allowed 0.58 yards per coverage snap, which is third-lowest for slot cornerbacks.
22. CB Desmond Trufant has allowed a 53.7 percent catch rate this season, tied for fifth-lowest among cornerbacks who have been targeted at least 40 times.
Year after year, Trufant has been among the league's better cornerbacks, and this season has been no different. In this game, he will likely be asked to stop Jordy Nelson. While Nelson had a strong start to the season, he hasn't played as well recently. Last week he had just one catch for 9 yards. If Trufant is on Nelson again, chances are he won't be targeted often.
Philadelphia Eagles @ Dallas Cowboys
23. MLB Jordan Hicks has surrendered 0.22 yards per coverage snap, which is the lowest for middle/inside linebackers.
Despite playing in 90 percent of snaps so far this season, Hicks has yet to allow more than 17 yards in a game. He's surrendered just 53.8 percent of passes thrown his way for 6.1 yards per catch. Dak Prescott hasn't found as much success on short passes in the middle of the field compared to other areas. Hicks should be able to make sure that trend continues.
24. LT Tyron Smith has recorded a pass-blocking efficiency of 98.7, best among all tackles.
While Smith missed some time early in the season, in four games he's allowed just two pressures. While Smith is usually very consistent, his last game against Philadelphia in 2015 was one of his worst of that season, with two sacks and two QB hits surrendered. It's unlikely that Smith will allow that much pressure against the Eagles this week, because he will mostly be facing Connor Barwin rather than Brandon Graham. Dallas will need Smith to single-handedly stop Barwin so the rest of the line can focus on Fletcher Cox and Graham.
Minnesota Vikings @ Chicago Bears
25. CB Terence Newman has surrendered 0.53 yards per coverage snap this season, the lowest for all cornerbacks.
Despite being the oldest cornerback in the NFL, Newman has been a shutdown player. While he's been targeted 33 times, he's only allowed 14 catches. When he has allowed a catch, it's never been for more than 12 yards. This week his toughest test will be facing Alshon Jeffery. Jeffery has yet to score a touchdown this year, but is well on pace for a 1,000-yard season. It will be difficult for Jay Cutler to have a strong return when the Vikings have players like Newman on defense.
26. LB Jerrell Freeman has 13 stops in the passing game this season, tied for third-most among inside/middle linebackers.
Freeman has consistently graded well in the passing game for the Bears. While he's allowed a high 82.4 percent catch rate, he's constantly stopping the receivers before they gain many yards. One player that he will have a difficult time with is Kyle Rudolph. Rudolph had a good start to the season, but over the last two weeks, has just a 50 percent catch rate and 70 total yards. If Freeman can hold down the middle of the field, that will limit the Vikings' receiving options.
More stats to know
27. Through seven weeks, the Green Bay Packers own the best team run-blocking grade.
Across the Green Bay offensive line, not one starter has earned a grade under 79.6 for the season (Lane Taylor is the only player below 80.3). Next on the list are the Titans, Steelers, and Raiders, respectively. The Seahawks sit at No. 32, while the Vikings are just ahead of them at No. 31.
28. Three NFL QBs have recorded adjusted completion percentages over 80.0 this season; no one achieved that mark for the 2015 season.
Entering Week 8, Tom Brady (89.0), Russell Wilson (80.3), and Drew Brees (80.1) are the only QBs to have surpassed that mark. While no QBs hit 80.0 for the entire 2015 regular season, Tom Brady and Ben Roethlisberger did own marks of 82.7 and 82.6 through Week 7.
29. Panthers LB Luke Kuechly is on track to earn an overall grade above 91.7 for the third straight season.
Through Week 7, Kuechly sits at 91.8—the highest mark among all NFL linebackers. Incredibly, that's a step back from his 98.1 overall grade in 2015, and 93.7 in 2014.
30. Rams DT Aaron Donald is the NFL's highest-graded player.
Last year, Aaron Donald finished the regular season as the NFL's best player. He's on that same pace again, currently owning a league-high 94.7 mark. Donald has recorded 38 total quarterback pressures this season; the next closest defensive tackle to that mark is Malik Jackson, with 23.