With Week 5 of the 2016 NFL season upon us, Director of Analytics Nathan Jahnke digs through the Pro Football Focus database to bring you 28 unique pieces off PFF data you need to know for the upcoming matchups.
Arizona Cardinals @ San Francisco 49ers
1. Cardinals OLB Chandler Jones has recorded 21 QB pressures this season, second-most among 3-4 outside linebackers.
So far this season, the Cardinals' trade for Jones has been paying off. The former Patriot has four sacks, four hits, and 13 hurries, and is on pace for 84 on the year—the most for an Arizona edge rusher in the PFF era (since 2006). On most snaps, he will face 49ers LT Joe Staley, who is typically one of the better pass protectors in the league, but over the last three games, has allowed one QB hit and eight hurries. Jones is bound to get a few pressures, and could force Staley to surrender his first sack of the season.
2. Among NFL CBs with three or more pass defenses, 49ers rookie Rashard Robinson has allowed the fewest receptions, at three; the next-fewest is nine.
Robinson was mentioned in this article two weeks ago, but has since been even more impressive. He had his first start in Week 4, and did a great job of limiting the Cowboys. On the season, he has allowed just three of seven passes thrown his way to be caught for 20 yards. The Cardinals have a number of receiving options, and Robinson might be the cornerback to avoid in this one. That's not often said about a fourth-round rookie.
Houston Texans @ Minnesota Vikings
3. Texans DT Vince Wilfork has nine run stops, tied for fifth-most among defensive tackles.
Despite being one of the oldest defensive tackles in the NFL, Wilfork continues to be a very good run defender. He's on pace to have as many stops as he recorded during his best years in the league. The Vikings have been one of the worst teams this season on the ground, and Houston is not an opponent where they can easily turn that trend around. Wilfork, among others, will likely get the best of the Minnesota offensive line and force the Vikings to pass.
4. Vikings QB Sam Bradford has an adjusted completion percentage of 70.8 under pressure, fourth-best among quarterbacks.
The Vikings have had one of the worst pass-blocking offensive lines this season, but it hasn't had much of an impact on their success because Bradford has been so good despite the pressure. Even without DE J.J. Watt, the Texans have had one of the best pass-rushing units this season, thanks to Whitney Mercilus and John Simon. Even if Houston is able to get the best of Minnesota's offensive line, it may not matter if Bradford can keep his strong play up.
Chicago Bears @ Indianapolis Colts
5. Bears LG Josh Sitton owns the best pass-blocking efficiency among all NFL guards.
Sitton led all guards in pass-blocking efficiency in the 2013, 2014, and 2015 seasons, and is well on his way to making it four straight years. In four games this season, he has just allowed one hurry. One player Sitton will see a lot of on Sunday is Colts DE Henry Anderson. Anderson missed the first two games of the season with injury, but he is back for Indianapolis, and his playing time is on the rise. In just 36 pass rushes, Anderson has two hits and three hurries this season; if he continues to get healthier, he and Sitton will produce one of the more fun one-on-one matchups to watch this week.
6. Colts WR T.Y. Hilton is one of just three receivers with 25 or more catches but no drops.
Hilton looks to continue his season-long hot streak in Week 5 against Chicago. With all of the Bears' injuries, the pass rush hasn't been as strong as it could be, but their coverage has remained impressive. As QB Andrew Luck owns a 116.1 passer rating without pressure, the Bears' secondary will like be under attack again by Hilton if their front-seven can't develop some sort of pass-rush on Sunday.
New York Jets @ Pittsburgh Steelers
7. Jets DT Leonard Williams has five sacks this season, tied for the most among all defensive lineman.
Williams has done a great job getting to the quarterback and applying pressure in general. Getting pressure on Ben Roethlisberger has been the key to shutting him down this season. So far when Roethlisberger had a clean pocket, he's recorded an NFL passer rating of 123.2; that drops all the way to 35.5 when the heat is on. If Williams and the rest of the Jets' pass rushers can apply pressure on Big Ben, New York will have a chance for the road victory.
8. Steelers WR Sammie Coates has 227 receiving yards on deep passes (throws traveling 20+ yards), the most for any receiver.
With Martavis Bryant out this year, Coates has emerged as the Steelers' deep threat opposite Antonio Brown. In every game so far this season, Coates has recorded a catch of at least 40 yards. As a team, the Jets have the lowest-graded pass-coverage unit this season, so look for Coates to have another big day.
Tennessee Titans @ Miami Dolphins
9. Titans OLB Brian Orakpo owns the fourth-best pass-rushing productivity mark among 3-4 outside linebackers.
In his second season with Tennessee, Orakpo is starting to look as good as he did in his early years with Washington. He has four sacks, one hit, and 13 hurries already. With Branden Albert not practicing, chances are rookie Laremy Tunsil will have the task of blocking Orakpo. Last week was Tunsil's first game at left tackle with the Dolphins, and in that time he allowed one sack, two hits, and one hurry. It could be an opportunity for Orakpo to have a big game.
10. Dolphins DT Ndamukong Suh has 14 run stops this season, second-most among defensive tackles.
No team has been run against more than the Dolphins, but on a per-play basis, Miami has performed well, largely thanks to Suh. He will need to make some big plays against the Titans, who currently have the best offensive line in football. They have helped lead DeMarco Murray to a solid 5.2 yards per carry. If there is anyone who can single-handedly stop Murray this season, Suh would be that guy. If he can't, then Tennessee might be running all day long.
Philadelphia Eagles @ Detroit Lions
11. Eagles QB Carson Wentz has a league-high adjusted completion percentage of 80.4.
While Carson Wentz has an average 65.0 completion percentage, he's had seven passes dropped and five passes batted. Wentz should have the opportunity to have several more accurate passes against the Lions. The Lions have the fifth-lowest graded coverage unit this year due to poor coverage play from their linebackers, as well as a lack of depth among their defensive backs. If Wentz can keep his play up, this should be a good opportunity for him to put up big numbers.
12. Lions RB Theo Riddick has forced seven missed tackles on receptions this season, tied for second-most among running backs.
After Ameer Abdullah went down with an injury, Riddick became not just a receiving back, but an every-down RB. While he has yet to make a game-changing play in the pass game, he's been making the most of his opportunities and making a guy miss on every other one of his catches. The Eagles have yet to surrender more than 30 receiving yards to a RB this season, but that very well could change against Riddick.
New England Patriots @ Cleveland Browns
13. Patriots TE Martellus Bennett averages 2.98 yards per route run, the most for tight ends.
With Rob Gronkowski ailing, the Patriots' new tight end has been thriving with a new team. While a healthy Gronkowski might take some of his opportunities, having Tom Brady back will help everyone in the offense. Last week, the Browns allowed Washington TE Jordan Reed to have nine catches for 73 yards and two touchdowns. While Gronkowski isn't 100 percent yet, this could be an opportunity for Bennett to have a big game.
14. Browns RB Duke Johnson owns a position-high elusive rating of 116.1. Isaiah Crowell is second at 100.9.
The Browns are the only team without a win so far this season, and once they get their first victory, it will likely in part be because of a strong game from their running backs. Both players have been making defenders miss, but the Patriots have had one of the best run defenses this year. Despite their big plays, though, New England defenders have been missing seven tackles a game. If the Browns are going to upset Tom Brady's return, they'll need Crowell and Johnson to make the Pats miss even more.
Washington @ Baltimore Ravens
15. Matt Jones is averaging 3.2 yards after contact per carry, the fifth-best mark among running backs.
After having a down rookie season, Jones has been much more impressive in 2016. Four of his best seven rushing games of his career have come in the last four weeks, including his best game coming against the Browns in Week 4. His toughest test for the entire season will come on Sunday, though, when he faces Baltimore. The Ravens have only allowed 80 rushing yards per game, third-fewest for teams who haven't had their bye week yet.
16. Ravens S Eric Weddle is the only safety with two pass defenses and fewer than two catches allowed.
While Eric Weddle has been the primary man in coverage five times this season, he's only allowed a 6-yard catch. He also has an interception and two pass defenses. On Sunday, he'll face Washington QB Kirk Cousins, who hasn't been great throwing into the middle of the field. In fact, three of Cousins' four interceptions have come in the middle. On short passes, he's completed only 80.9 percent of throws between the numbers, compared to 84.1 percent to the outside (typically QBs are more accurate on short passes to the middle).
Atlanta Falcons @ Denver Broncos
17. When Falcons WR Julio Jones has been targeted, Matt Ryan has a passer rating of 140.0; second-best for an NFL receiver this season.
Last week, Jones had one of the best games we've seen from a wide receiver, but it's unlikely he will see anywhere close to the same numbers this week when he faces the Broncos. Denver has yet to surrender over 100 yards to a receiver, despite facing Kelvin Benjamin, T.Y. Hilton, A.J. Green, and Mike Evans. If the Broncos can shut down Atlanta's best weapon, it will certainly help Denver remain undefeated.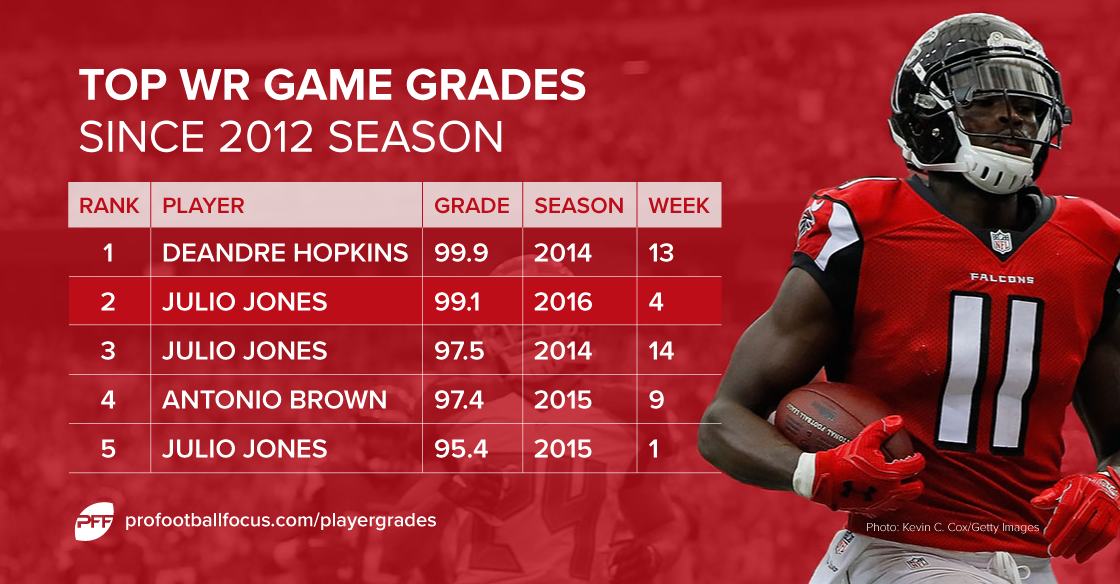 18. Broncos DE Derek Wolfe owns the best run-stop percentage among 3-4 defensive ends this season.
The Broncos have remained very good against the run, and part of that reason is because Wolfe has been making plays. He is also getting blocked more than usual, but no 3-4 defensive end has been stopping runs as frequently as Wolfe. This week it will be Wolfe's job to stop Falcons RB Devonta Freeman. So far, Freeman is averaging 5.9 yards per carry, the second-best rate for backs with at least 25 carries. This game features one of the best offenses and one of the best defenses in football.
Cincinnati Bengals @ Dallas Cowboys
19. Bengals WR A.J. Green is averaging 2.96 yards per route run, the second-best rate for receivers this season.
Green is coming off of a great game where he caught 10 of 11 passes for 173 yards and a touchdown. He is currently on pace for his best season yet, but he might run into problems against the Cowboys. While Dallas has had more than its fair share of problems on the defensive line, the Cowboys' coverage unit has been among the best in the league. If the Cowboys can slow down Green like they've slowed down other receivers, it will go a long way to giving Dallas another home victory.
20. Cowboys RG Zack Martin owns the fourth-best pass-blocking efficiency among right guards.
Martin is coming off of one of the best games you'll see from a guard, mostly due to his run blocking, but he was also perfect in pass protection. So far this season, he has yet to allow a sack or hit, and just two hurries. One of his toughest matchups of the season will come this Sunday against Bengals DT Geno Atkins. While he won't face Atkins every snap, when he does, he will be at risk of giving up even more pressure. Atkins has a pass-rushing productivity of 10.7 this season, third-best among defensive tackles.
San Diego Chargers @ Oakland Raiders
21. Chargers CB Casey Hayward is one of just two cornerbacks with a combined five interceptions and passes defended compared to no touchdowns allowed.
Hayward has been one of the best free-agent pickups of the offseason. Now that Jason Verrett has landed on injured reserve, Hayward is now the Chargers' top cornerback. He will have his hands full facing Amari Cooper and Michael Crabtree, as well as Derek Carr who is on his way becoming an elite quarterback. The Chargers need Hayward to continue being one of the best cornerbacks in the NFL to help slow down Oakland's offense.
22. Raiders LB Cory James has the most tackles for a linebacker without having a missed tackle this season, at 21.
In Week 3, James took over the starting middle linebacker role, and the sixth-round rookie had an eight-stop performance against the Ravens. While he has been blocked by offensive linemen too often, when he gets his hand on a runner, he has been bringing them down. This week he will be responsible for stopping Melvin Gordon, who is having a strong sophomore season. The Chargers don't have as strong of run blockers as other teams James has faced, so James could have his best game yet.
Buffalo Bills @ Los Angeles Rams
23. Bills CB Ronald Darby has recorded four pass defenses this season, tied for fourth-most among cornerbacks.
Early in the season, Darby was heavily targeted, but after missing Week 3, he broke up one of the two passes thrown his way. His most difficult job against Los Angeles will be stopping Kenny Britt. Britt has only been seeing a few catches each game, but he's coming off of an 82-yard performance. If Darby can shut down the Rams' best receiving threat, that would help Buffalo get a road victory.
24. The Rams are one of two teams where both starting safeties have allowed a catch rate of 50 percent or lower.
This offseason, Los Angeles lost Rodney McLeod to the Eagles, so Maurice Alexander joined T.J. McDonald at safety. The position then projected to be a weak spot in the defense, but so far both safeties have played well in coverage. They have allowed fewer than 100 yards between them when they are the primary men in coverage, and have yet to allow a touchdown. This week they face the Bills, where Tyrod Taylor has been one of the least-accurate quarterbacks on deep passes, with an adjusted completion percentage of 31.3 on deep attempts. Despite the low accuracy, Taylor remains among the top 10 QBs in deep-passing yards (throws traveling 20+ yards in the air). If the Rams' safeties can help prevent any big plays out of Buffalo, that will help keep this a low-scoring game.
New York Giants @ Green Bay Packers
25. Giants WR Sterling Shepard has 257 receiving yards when lined up in the slot, third-most among receivers this season.
As a rookie, Shepard has been a big part of the Giants' offense, seeing six to eight targets per game over the last three weeks and catching most everything thrown his way. All game long he should be up against Quinten Rollins. Rollins has allowed 0.51 yards per coverage snap when lined up in the slot this season, which is second-best for cornerbacks with 60 or more slot snaps. If Rollins can get the best of Shepard one-on-one, then the rest of the Packers' defense can focus on Odell Beckham Jr.
26. Packers LT David Bakhtiari has a pass-blocking efficiency of 97.7 this season, fourth-best among left tackles.
Bakhtiari has allowed just one pressure in each of the last three games, and has been doing a great job of keeping Aaron Rodgers' blindside safe. On Sunday, he'll be trying to stop Giants DE Olivier Vernon. After two average games to start his time with the New York, Vernon is coming off of two games with five pressures and six pressures, respectively. This will be one of the best one-on-one matchups during Sunday Night Football.
Tampa Bay Buccaneers @ Carolina Panthers
27. Buccaneers DE William Gholston has a 10.0 run-stop percentage this season, second-best among 4-3 defensive ends.
For the last few seasons, Gholston has carved himself a role in the Buccaneers' defensive-line rotation as a good run defender. His playing time has increased each year, and he's now playing 65.3 percent of Tampa Bay's of snaps. The Panthers, as a team, have been good running up the middle, but not as well to the outsides. If Gholston continues to play as well as he has been, that trend for the Panthers will hold true Monday night.
28. Panthers LB Shaq Thompson has allowed just 18 yards after the catch, fewest for linebackers who have been targeted more than seven times this season.
Typically, when a linebacker is just a two-down player, it's because they aren't very good in coverage. In this case, it's because the Panthers have Luke Kuechly and Thomas Davis. Thompson has done a good job making plays in the pass game, even though he's been allowing catches. This week, the Panthers face Tampa Bay with Charles Sims. Last year, Sims was one of the best receiving backs in the league, but this season, he hasn't been used as much in the passing game. Thompson can help take away the middle of the field on passing plays, forcing Jameis Winston to throw to the outside.