Prior to breaking his leg and landing the Injured Reserve, Denver Broncos center Matt Paradis was playing at extremely high level. He anchored one of the best run-blocking offensive lines in the NFL and was far from a liability in pass protection. If healthy, the 29-year-old Paradis can fill in for any offensive line as a key contributing starter in 2019 and beyond.

Pro Football Focus will be running through 50-plus pending/soon-to-be free agents between January 7, 2019 and March 8, 2019 to offer a detailed analysis of the top players bound for new contracts and (possibly) new teams in 2019. We want to house all of the important grades, advanced stats and key analysis for each player, so you know exactly what your team is getting in free agency.
To review all of our free agent profiles in one place, please visit this page.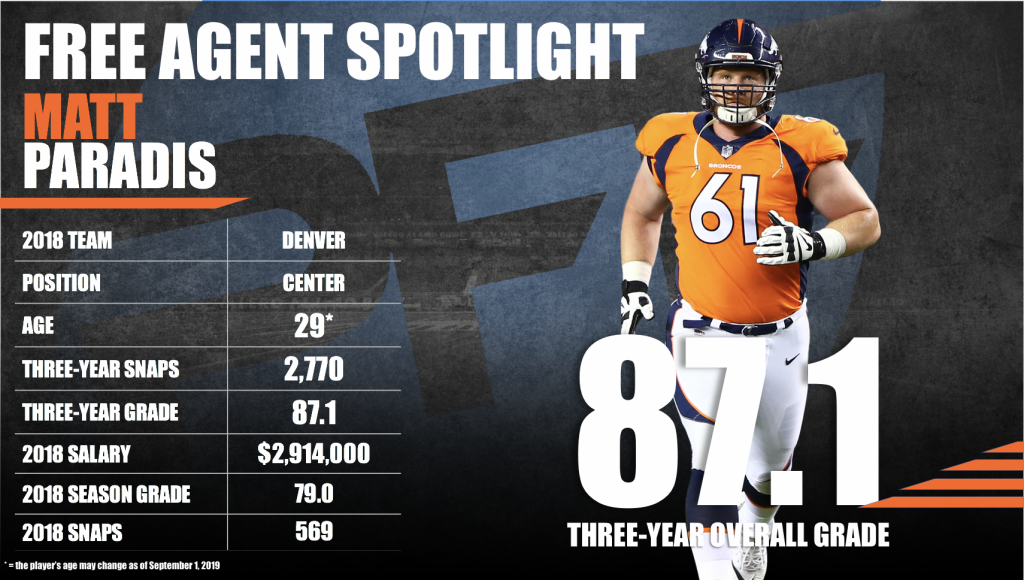 Paradis isn't the long-term, blockbuster free agent addition many teams seek out in free agency, but he offers value to an already competitive NFL team in need of an upgrade at center.
Subscribe to Pro Football Focus' ELITE subscription to research Matt Paradis' grades, advanced stats, snaps and more in Premium Stats 2.0.