Grady Jarrett landed inside the top-five of our list of the most underrated prospects selected in the 2015 NFL Draft, and that's more than rung true with his play through the first four years in the league. The former Clemson product earned above average overall grades in each of his first three years in the NFL (2015-17) and most recently, recorded a career-high overall grade (91.0) in his contract year in 2018.

Pro Football Focus will be running through 50-plus pending/soon-to-be free agents between January 7, 2019 and March 8, 2019 to offer a detailed analysis of the top players bound for new contracts and (possibly) new teams in 2019. We want to house all of the important grades, advanced stats and key analysis for each player, so you know exactly what your team is getting in free agency.
To review all of our free agent profiles in one place, please visit this page.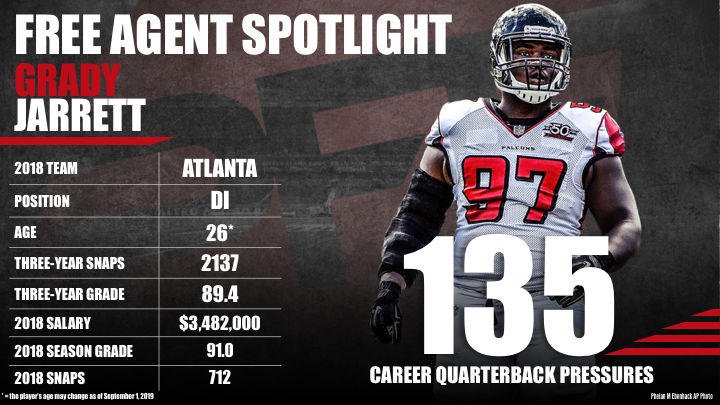 Jarrett finished the 2018 season ranked fourth in pass-rush win percentage (16.6) and sixth in pressure percentage (12.3), recording 71 pass-rush wins and 53 total pressures in the process. His pass-rush ability on third down was particularly impressive, as he recorded the third-ranked win percentage (21.8) and second-ranked pass-rush grade (90.1) on third downs throughout the regular season. Any team that is in need of a dominant pass-rusher on the interior would be wise to dial Garrett's number this offseason.
Subscribe to Pro Football Focus' ELITE subscription to research Earl Thomas' grades, advanced stats, snaps and more in Premium Stats 2.0.