The Kansas City Chiefs held on to Chris Conley in the fourth and final year of his contract, where he was earning a little over $2 million of his $4 million deal. Conley played third fiddle to Tyreek Hill and Sammy Watkins as he saw the third-most targets (47) among Kansas City wide receivers and fourth-most on the whole team. The 2015 third-round pick out of Georgia earned a 55.8 2018 season grade which was hurt by his ball-security and drop issues.

Pro Football Focus will be running through 50-plus pending/soon-to-be free agents between January 7, 2019 and March 8, 2019 to offer a detailed analysis of the top players bound for new contracts and (possibly) new teams in 2019. We want to house all of the important grades, advanced stats and key analysis for each player, so you know exactly what your team is getting in free agency.
To review all of our free agent profiles in one place, please visit this page.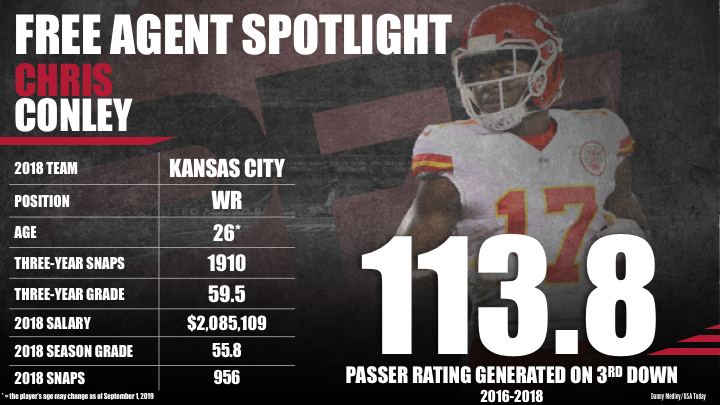 Chris Conley has amassed 112 catches throughout his four-year stint with Kansas City and had career-high totals in snaps and touchdowns in 2018. Even with these career-high totals, Conley had a relatively poor 2018 campaign as he posted above-average grades (60.0) in just six of the 16 regular season games this season. A team that is in need of a veteran presence or depth at the wide receiver position will most likely be the team to sign Conley to a low-risk deal.
Subscribe to Pro Football Focus' ELITE subscription to research Chris Conley's grades, advanced stats, snaps and more in Premium Stats 2.0.