Brandon Graham is in the final year of his four-year contract, as his nine-year stint with the Philadelphia Eagles may be coming to an end. Graham's opportunity as a pass rusher increased each year from 2013-2017, and he has thrived with this heightened workload, earning a top-15 pass-rush grade among qualifying edge defenders each of the last four seasons. Premier pass-rushers are difficult to find, which could make Graham a hot commodity come March.

Pro Football Focus will be running through 50-plus pending/soon-to-be free agents between January 7, 2019 and March 8, 2019 to offer detailed analysis of the top players bound for new contracts and (possibly) new teams in 2019. We want to house all of the important grades, advanced stats and key analysis for each player so you know exactly what your team is getting in free agency.
To review all of our free agent profiles in one place, please visit this page.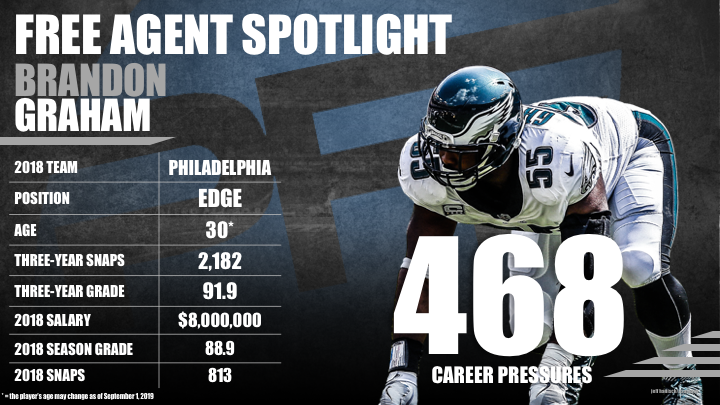 Overview
Although Graham thrives as a pass-rusher, he isn't a one-trick pony. He has earned 80.0-plus run-defense grades each of the last three seasons and has reduced his missed-tackles mark in those same seasons. Even at age 30, Graham remains a versatile player that has the ability to be a prominent factor in any team's defense that can extend him an offer.
Subscribe to Pro Football Focus' ELITE subscription to research Earl Thomas' grades, advanced stats, snaps and more in Premium Stats 2.0.