Albert McClellan logged only 33 defensive snaps in 2018 and hasn't had a defense grade above 70.0 since 2012. The 32-year-old linebacker played for the Ravens for years until he joined the Patriots late this season. At this stage of his career, McClellan isn't likely to fly across the field and help shut down the high-flying offenses of the times, but his special teams' expertise should be highly valuable to teams with Super Bowl aspirations.

Pro Football Focus will be running through 50-plus pending/soon-to-be free agents between January 7, 2019 and March 8, 2019 to offer detailed analysis of the top players bound for new contracts and (possibly) new teams in 2019. We want to house all of the important grades, advanced stats and key analysis for each player so you know exactly what your team is getting in free agency.
To review all of our free agent profiles in one place, please visit this page.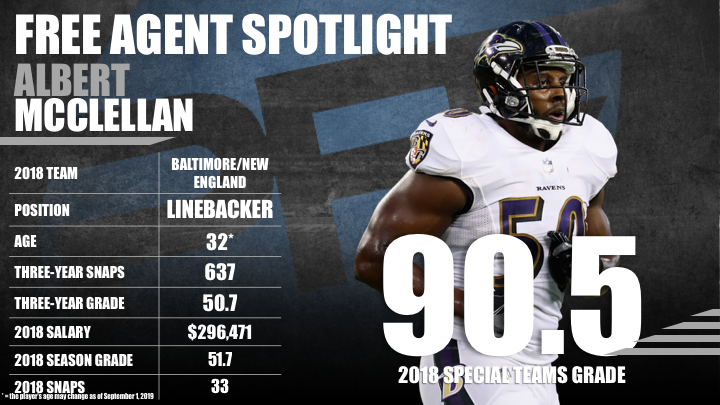 McClellan was cut by the Ravens late in the 2018 season, but he was quickly picked up by the Patriots because Bill Belichick loves himself some special teamers. And if you love special teams, you should love McClellan's second-best special teams' grade (90.6) in 2018, which makes him one of only three players with a grade above 90.0 in special teams. With a career total of 1,525 special teams snaps under his belt, McClellan is a seasoned veteran who can fill a need in one facet of the game which is often overlooked.