After finishing his second straight season on a one-year deal with the Jets, the former top-10 pick finds himself as a free agent yet again. While Claiborne did not grade out particularly well in his two seasons with the Jets (62.9 in 2017 and 62.7 in 2018), he was very dependable. He started 30 of 32 possible games and logged 1,921 snaps over the two seasons.

Pro Football Focus will be running through 50-plus pending/soon-to-be free agents between January 7, 2019 and March 8, 2019 to offer a detailed analysis of the top players bound for new contracts and (possibly) new teams in 2019. We want to house all of the important grades, advanced stats and key analysis for each player, so you know exactly what your team is getting in free agency.
To review all of our free agent profiles in one place, please visit this page.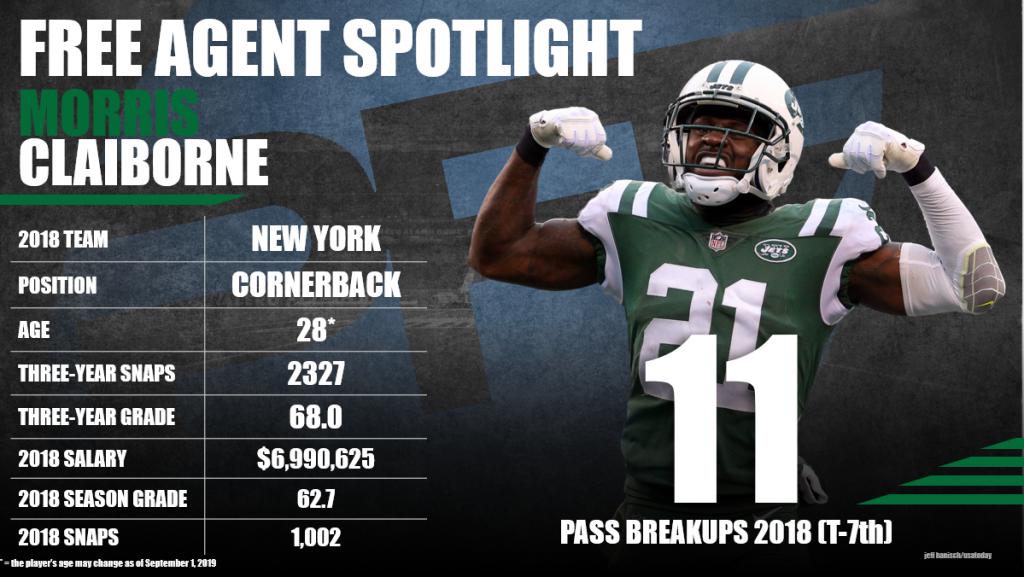 A team knows what it's getting from Claiborne at this point in his career. Even though he recorded a career-high 11 pass breakups in 2018, he's been a corner who is going to give up 55-60 percent completions into his coverage while also being one of the most penalized in the game. He has been penalized nine times each of the past two seasons, good for the 12th-most in 2018 and seventh-most in 2017.
Subscribe to Pro Football Focus' ELITE subscription to research Morris Claiborne's grades, advanced stats, snaps and more in Premium Stats 2.0.