Marshawn Lynch has seen his snap counts decline since he came over the hill of age 30. He hit a peak in his career as he earned elite season grades of 90.8 and 90.7 in 2013 and 2014, respectively. Since then, the 32-year old veteran has seen his season grade decline each of the last two years as he competes for his hometown team, the Oakland Raiders.

Pro Football Focus will be running through 50-plus pending/soon-to-be free agents between January 7, 2019 and March 8, 2019 to offer a detailed analysis of the top players bound for new contracts and (possibly) new teams in 2019. We want to house all of the important grades, advanced stats and key analysis for each player, so you know exactly what your team is getting in free agency.
To review all of our free agent profiles in one place, please visit this page.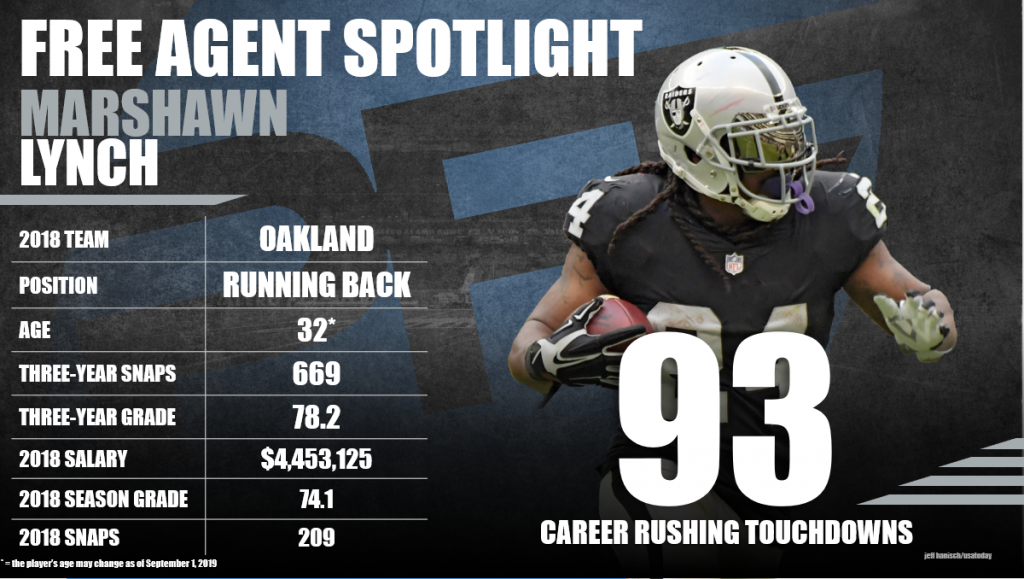 Lynch used to be known as the toughest running back to bring down, as he avoided an astounding 117 tackles in 2014 and still flashes that ability at some points in the season. The California alumnus has amassed 1,267 yards in the last two seasons but has missed 11 games in the process. It will take a sweet deal if a team wants to take Lynch away from his beloved Raiders as coach Jon Gruden has expressed that he would "love to have him." Lynch can still be a valuable asset for a team if he is utilized in the right situation.
Subscribe to Pro Football Focus' ELITE subscription to research Marshawn Lynch's grades, advanced stats, snaps and more in Premium Stats 2.0.