After earning grades above 80.0 in his 2016 and 2017 seasons, New York Giants safety Landon Collins fell to a uncharacteristic 70.4 overall grade in 2018. He earned single-game grades above 80.0 just once in 12 games before heading to the Injured Reserve with a shoulder injury for the final four weeks of the season.

Pro Football Focus will be running through 50-plus pending/soon-to-be free agents between January 7, 2019 and March 8, 2019 to offer a detailed analysis of the top players bound for new contracts and (possibly) new teams in 2019. We want to house all of the important grades, advanced stats and key analysis for each player, so you know exactly what your team is getting in free agency.
To review all of our free agent profiles in one place, please visit this page.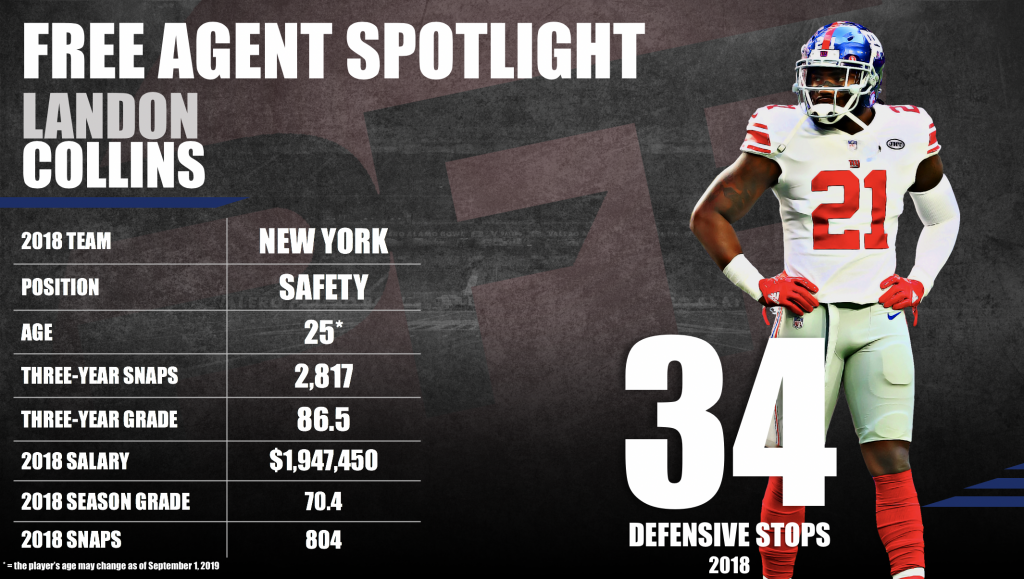 Collins has more than proved his worth in the NFL and can be an impactful contributor for any defense if healthy. His positional versatility and ranging talents all create for a true difference-maker at the safety position.
Subscribe to Pro Football Focus' ELITE subscription to research Landon Collins' grades, advanced stats, snaps and more in Premium Stats 2.0.