Kwon Alexander finished 2018 with an overall grade of 59.1, the second-lowest grade out of his four professional seasons. The fourth-year linebacker out of LSU played only six games due to tearing his ACL early in the year. His pass-rush grade of 78.8 ranked ninth out of 96 linebackers last season.

Pro Football Focus will be running through 50-plus pending/soon-to-be free agents between January 7, 2019 and March 8, 2019 to offer a detailed analysis of the top players bound for new contracts and (possibly) new teams in 2019. We want to house all of the important grades, advanced stats and key analysis for each player, so you know exactly what your team is getting in free agency.
To review all of our free agent profiles in one place, please visit this page.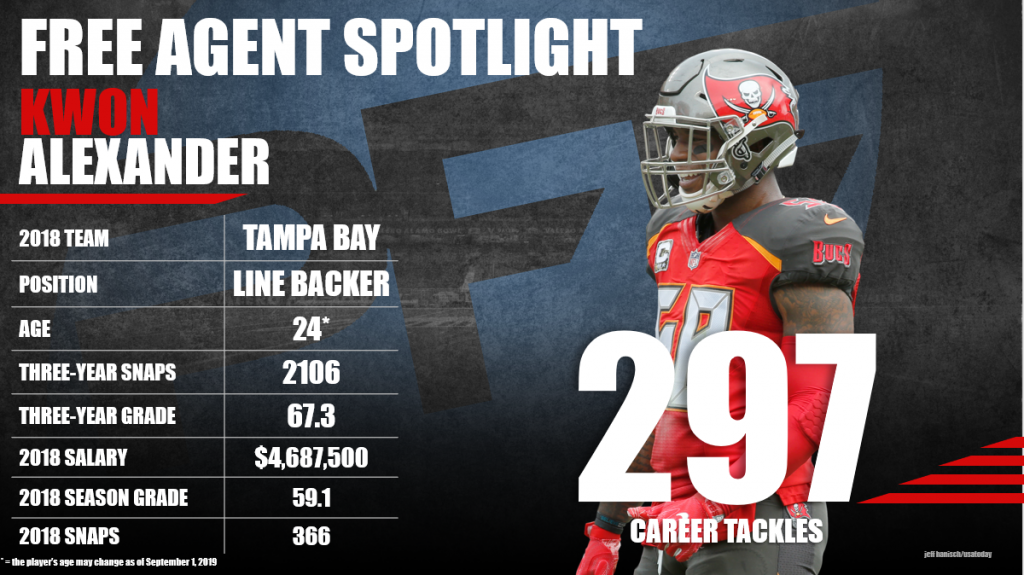 Alexander's overall grade of 59.1 ranked 66th among linebackers last season. Although he had below average grades in run defense (53.3) and coverage (57.1), he did excel as a pass-rusher. On only 32 pass-rush snaps in six games, Alexander recorded six pressures. His ability as a pass-rusher will be valuable to any takers this offseason.
Subscribe to Pro Football Focus' ELITE subscription to research Kwon Alexander's grades, advanced stats, snaps and more in Premium Stats 2.0.