Only a year after leading the Baltimore Ravens' in total snaps played by a running back (466), Javorius "Buck" Allen was phased out of the offense almost completely in 2018 as of Week 11. Thanks to the emergence of Gus Edwards in combination with Lamar Jackson taking over at quarterback, Allen only played 10 offensive snaps after Week 9. And he lost his role as primary passing-down back after allowing three pressures in Joe Flacco's final start.

Pro Football Focus will be running through 50-plus pending/soon-to-be free agents between January 7, 2019 and March 8, 2019 to offer a detailed analysis of the top players bound for new contracts and (possibly) new teams in 2019. We want to house all of the important grades, advanced stats and key analysis for each player, so you know exactly what your team is getting in free agency.
To review all of our free agent profiles in one place, please visit this page.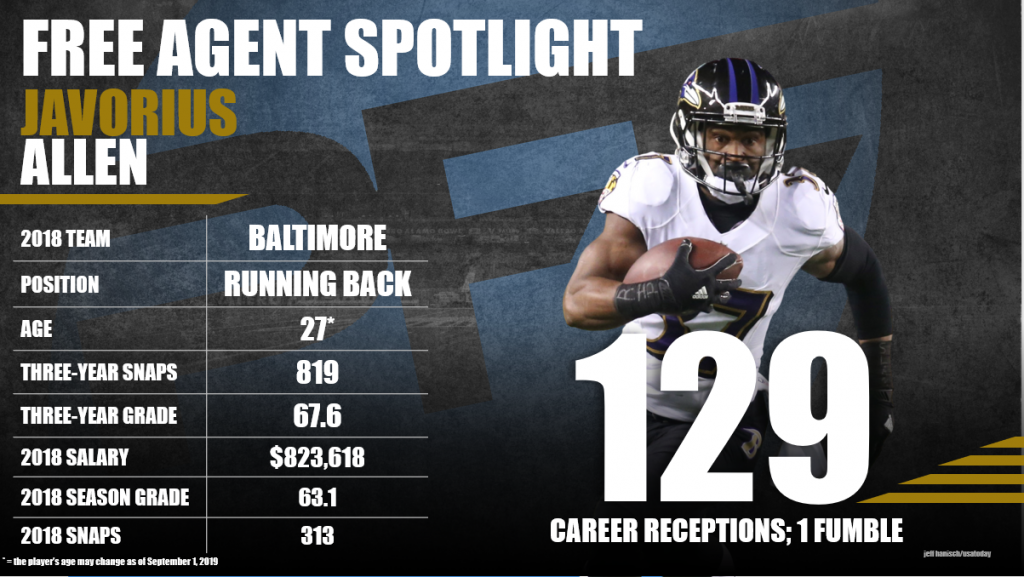 With Kenneth Dixon stepping in as the passing-down back and Edwards leading the backfield in rushing, there were simply no more snaps left for Allen. The entire backfield from 2017 was replaced this season based on performance. Allen's production was mostly driven by volume over anything throughout his career. After a career-year in 2017, "Buck" dropped off from 68.7 to 63.1 this past season. When Allen did rush the ball, though, it was most likely inside the five-yard line. With 15% of his rushes coming inside the five-yard line, Allen led the league with at least 30 carries. He has proven that he can be a reliable, albeit lacking in explosiveness, backup running back for a team next season.
Subscribe to Pro Football Focus' ELITE subscription to research Javorius Allen's grades, advanced stats, snaps and more in Premium Stats 2.0.