Jason McCourty finally earned a trip to the Super Bowl in the 10th year of his career and first with the New England Patriots. McCourty was not gifted a trip to the game's biggest stage but rather was a valuable piece of the defense, seeing 933 total snaps and earning his highest overall grade (79.4) since 2012. New England is getting as much as they can out of the 10-year vet, as his 933 snaps are the most he's played since 2014.

Pro Football Focus will be running through 50-plus pending/soon-to-be free agents between January 7, 2019 and March 8, 2019 to offer a detailed analysis of the top players bound for new contracts and (possibly) new teams in 2019. We want to house all of the important grades, advanced stats and key analysis for each player, so you know exactly what your team is getting in free agency.
To review all of our free agent profiles in one place, please visit this page.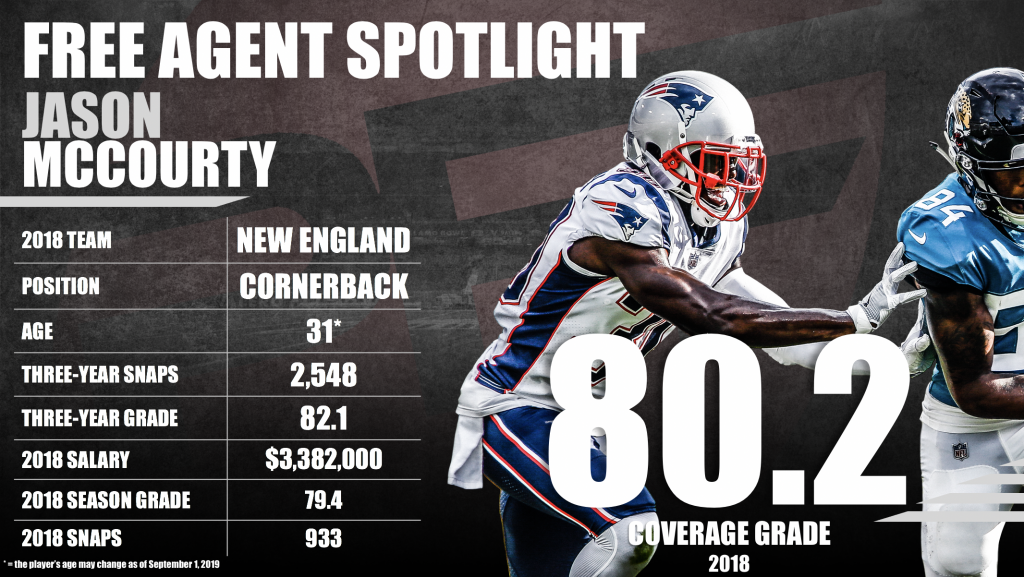 McCourty is on his third team in three years but may have secured another contract following this nearly high-quality (80.0-plus) season. McCourty earned the 11th-highest coverage grade (80.0) and the seventh-highest tackle grade (81.6) at his position. The Rutgers alumnus ranked 11th among qualifying cornerbacks in defense grade (79.1) just ahead of star-rookie Denzel Ward. The team that gives McCourty another opportunity in free agency will not only be getting a veteran presence in their secondary but a player that has proved he can still play at a high level in this league.
Subscribe to Pro Football Focus' ELITE subscription to research Jason McCourty's grades, advanced stats, snaps and more in Premium Stats 2.0.