Jadeveon Clowney had a tough start to his career with injury limiting him to just 144 snaps in his rookie year and 559 the following season, but he has played over 800 snaps in each of the last three years and has improved his pass-rushing grade every season he has been in the league. He generated his highest-graded season of his career this year (88.0) and posted career highs in run-defense grade (91.2), pass-rushing grade (78.8) and sacks (9).

Pro Football Focus will be running through 50-plus pending/soon-to-be free agents between January 7, 2019 and March 8, 2019 to offer a detailed analysis of the top players bound for new contracts and (possibly) new teams in 2019. We want to house all of the important grades, advanced stats and key analysis for each player, so you know exactly what your team is getting in free agency.
To review all of our free agent profiles in one place, please visit this page.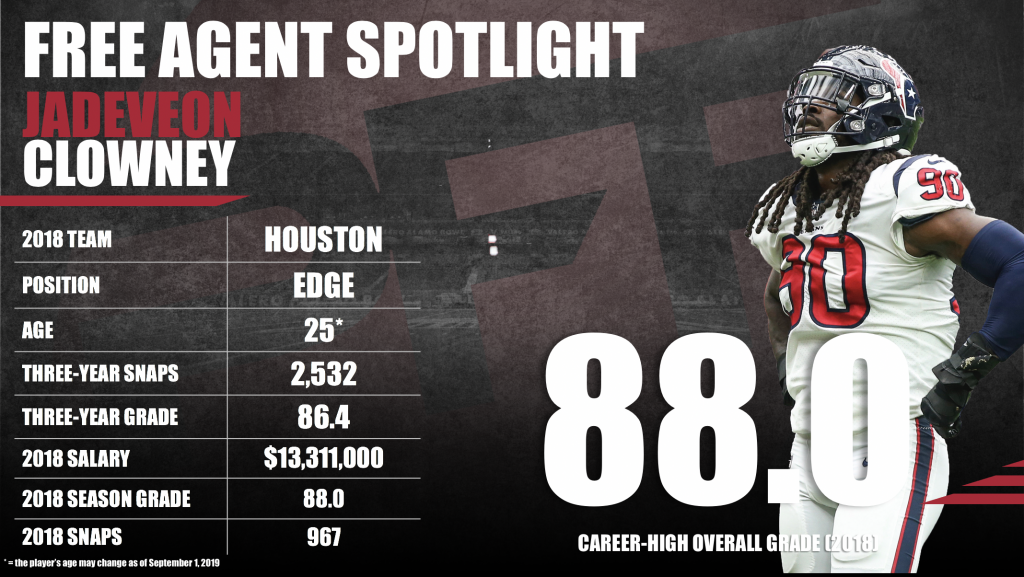 Clowney enters free agency coming off the best season of his career thus far. He was excellent against the run, earning a run-defense grade of 91.2 this season (second among edge defenders) and a run-stop percentage of 9.9 (tied 10th). While the former first overall pick just posted his best season to date, there is still room for him to improve, as Clowney's aggression can get him into penalty trouble. The standout edge defender was flagged 14 times this season, which is the most among all defenders this season. Despite his penalty issues, Clowney is hitting his stride at just the right time and will command top-dollar in free agency, should the Texans allow him to hit the open market.
Subscribe to Pro Football Focus' ELITE subscription to research Jadeveon Clowney's grades, advanced stats, snaps and more in Premium Stats 2.0.