After back-to-back seasons that began with a suspension and a high-ankle sprain in 2018, David Irving played just 56 total snaps this past season after his career-year in 2017. But in the two seasons (2016-2017) that Irving did play enough snaps to qualify, he was able to record a grade above 70.0.

Pro Football Focus will be running through 50-plus pending/soon-to-be free agents between January 7, 2019 and March 8, 2019 to offer a detailed analysis of the top players bound for new contracts and (possibly) new teams in 2019. We want to house all of the important grades, advanced stats and key analysis for each player, so you know exactly what your team is getting in free agency.
To review all of our free agent profiles in one place, please visit this page.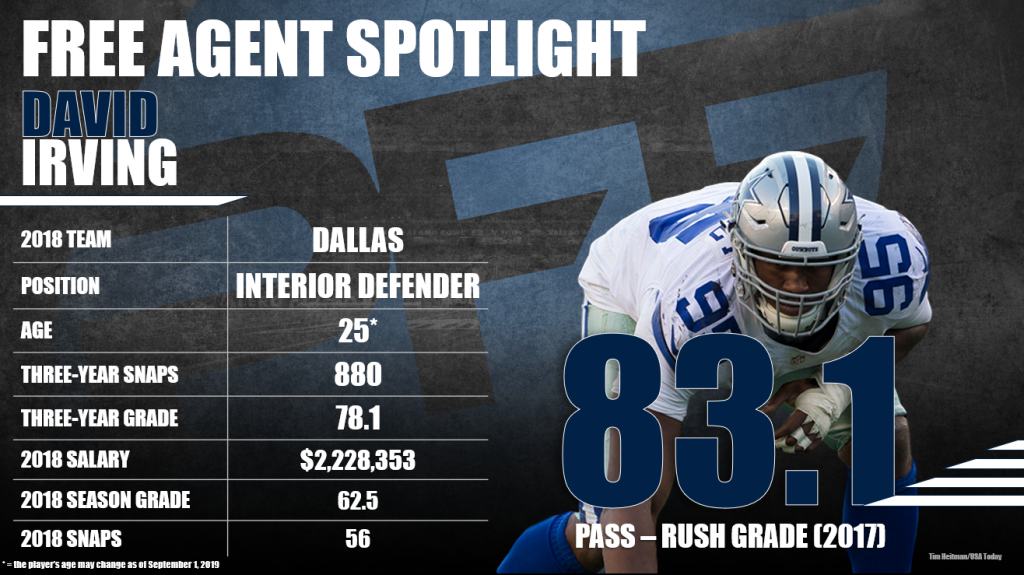 Irving showed in 2017 that he can rush the passer when on the field His 83.1 pass-rush grade was the seventh-highest by an interior defender. His 8.6 pass-rush productivity that season was tied for the second-highest behind only Aaron Donald, three-time PFF Defensive Player of the Year. Irving has also recorded pressure in 22 consecutive games, but between suspensions and injuries, it is a question if he will be available.
Subscribe to Pro Football Focus' ELITE subscription to research David Irving's grades, advanced stats, snaps and more in Premium Stats 2.0.