Baltimore Ravens' C.J. Mosley has yet to earn a grade above 76.3 in his five-year NFL career, but he also hasn't earned a season grade below 66.3 in said span. He's a high-floor, low-ceiling veteran linebacker that can instantly contribute as a good, not great piece in any NFL defense in 2019. 

Pro Football Focus will be running through 50-plus pending/soon-to-be free agents between January 7, 2019 and March 8, 2019 to offer a detailed analysis of the top players bound for new contracts and (possibly) new teams in 2019. We want to house all of the important grades, advanced stats and key analysis for each player, so you know exactly what your team is getting in free agency.
To review all of our free agent profiles in one place, please visit this page.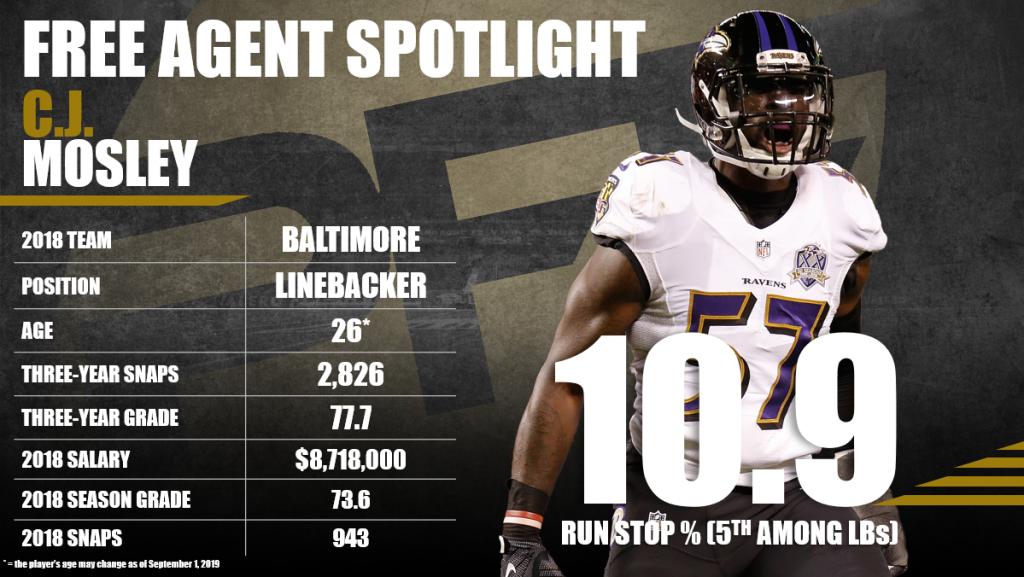 If Mosley can improve his coverage and keep that area of his game in a good place for an extended period of time, he'll see his overall grade improve significantly. Whether it's with the Ravens or another NFL team, Mosley will need to prioritize such improvements to become a household name in this league. 
Subscribe to Pro Football Focus' ELITE subscription to research C.J. Mosley's grades, advanced stats, snaps and more in Premium Stats 2.0.