Bryce Callahan was playing at a career-high level before his season was cut short when he sustained a broken foot in Week 14 against the Rams. The slot cornerback produced an overall grade of 81.4 (11th among CBs), emerging as an essential part of the Bears' secondary and one of the best slot cornerbacks in the league.


Pro Football Focus will be running through 50-plus pending/soon-to-be free agents between January 7, 2019 and March 8, 2019 to offer a detailed analysis of the top players bound for new contracts and (possibly) new teams in 2019. We want to house all of the important grades, advanced stats and key analysis for each player, so you know exactly what your team is getting in free agency.
To review all of our free agent profiles in one place, please visit this page.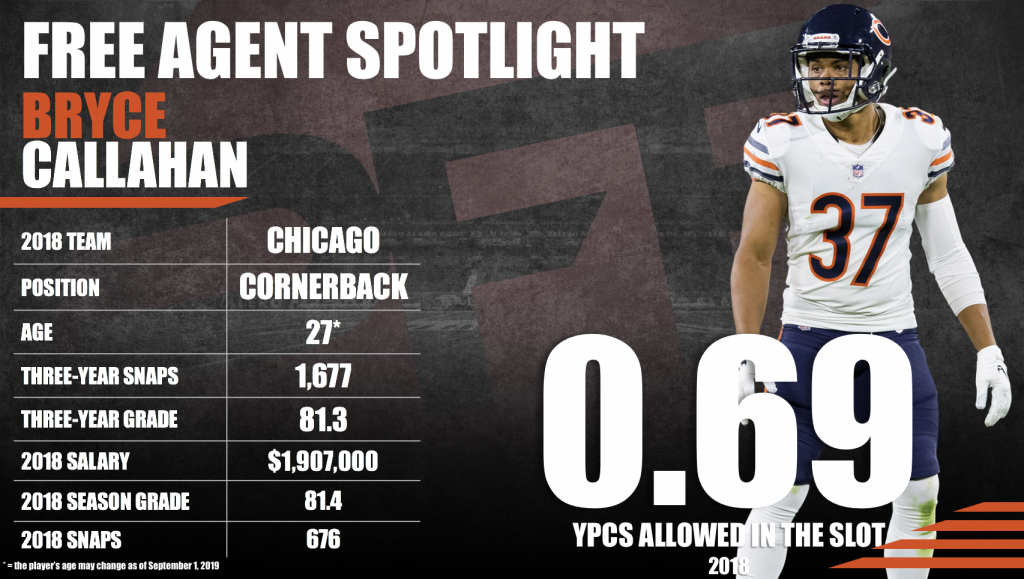 Callahan may have had his season cut short due to injury, but before then, he displayed exceptional ability at covering the slot, which has become a focal point for some of the best offenses in the league. When covering the slot, he allowed just 0.69 yards per coverage snap and a passer rating of 78.9, which rank second and eighth among cornerbacks, respectively. The four-year-veteran demonstrated the ability to effectively rush the passer, as well, generating 13 total pressures (including two sacks), despite never logging more than two pressures in a season prior to this year. The prolific usage of slot receivers combined with Callahan displaying exceptional prowess covering the slot should equate to a big payday for the Rice alumnus.
Subscribe to Pro Football Focus' ELITE subscription to research Bryce Callahan's grades, advanced stats, snaps and more in Premium Stats 2.0.