A third-round pick in 2015, AJ Cann enters unrestricted free agency coming off the lowest-graded season of his career (60.6 grade). He gave up 42 total QB pressures, including eight sacks in 2018. While Cann has not provided consistent above average play (career high 72.6 grade in 2016), he has provided a consistent presence on the field. Cann has started 59 of a possible 64 games over the past four seasons while playing over 4,000 snaps.

Pro Football Focus will be running through 50-plus pending/soon-to-be free agents between January 7, 2019 and March 8, 2019 to offer a detailed analysis of the top players bound for new contracts and (possibly) new teams in 2019. We want to house all of the important grades, advanced stats and key analysis for each player, so you know exactly what your team is getting in free agency.
To review all of our free agent profiles in one place, please visit this page.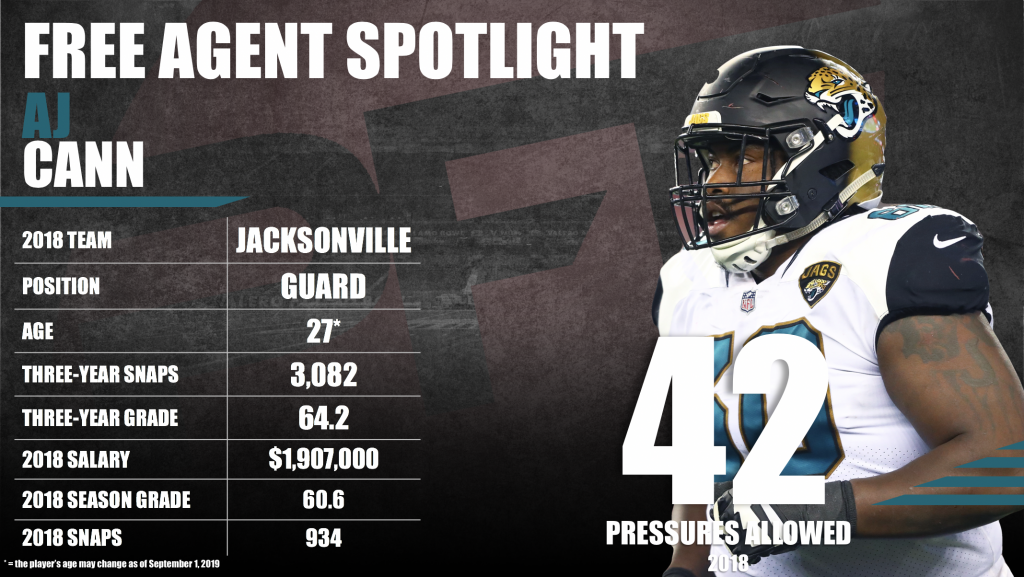 While he will likely not see one of the large contracts doled out to guards over the past few years, expect the durable Cann to find a team looking for a capable and dependable starter in the later stages of free agency.
Subscribe to Pro Football Focus' ELITE subscription to research AJ Cann's grades, advanced stats, snaps and more in Premium Stats 2.0.