Free agency has largely petered out, and the draft looms on the horizon, giving teams one last chance to prepare their rosters for another football season.
It's never too early though to look at the one overarching storyline that each team must navigate going forward. For every side there will be one question that needs answering for that team to succeed in 2018.
Let's start looking at the questions facing each NFL team, starting with the NFC North:

How good can Mitchell Trubisky become with improved supporting cast?
Almost regardless of how Trubisky's rookie season went, the Bears were pot-committed when it came to his position as the team's franchise quarterback given the trade that they made to secure his services. As it happened, he graded reasonably in his first year, and showed a significant improvement as the season wore on and the training wheels were taken off schematically, allowing him to actually play quarterback not simply manage the handoffs.
Trubisky's receiving corps was woeful a year ago, and between improvements there and a new coaching staff and offense, he should be markedly improved in 2018.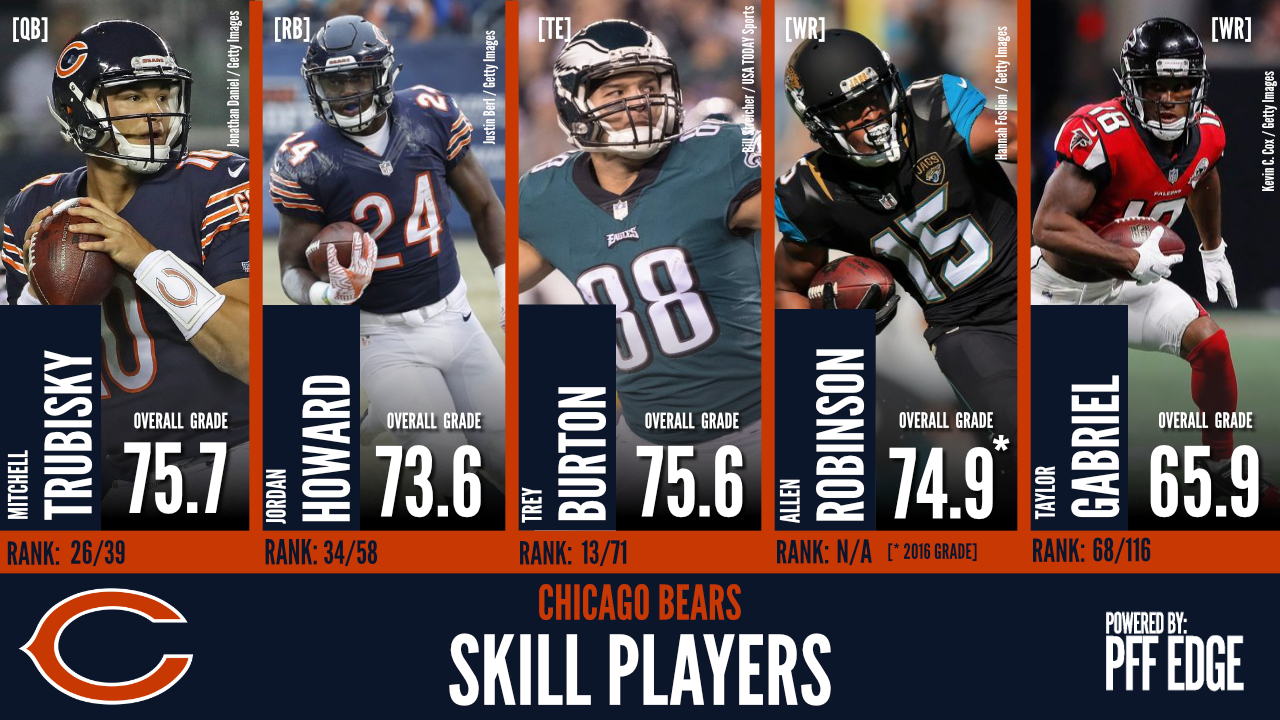 Matt Nagy comes over from Kansas City having just presided over a career year for Alex Smith in which he led the NFL in deep passer rating (131.4), deep passing yards (1,344) and deep touchdowns (12). Smith also had the league's highest passer rating when kept clean in the pocket (115.3). To help Trubisky replicate some of that play, the team acquired Allen Robinson from the Jaguars in free agency. Robinson is coming off a knee injury and a poor 2016 season before that, but go back to 2015 and he led the league in receiving yards on deep shots (672), catching 19 of 46 passes that traveled 20-plus yards in the air with Blake Bortles as his quarterback.
Trey Burton came over from the Philadelphia Eagles, where he has good familiarity with the system and has flashed exceptional receiving skills as a TE, and along with Robinson and WR Taylor Gabriel, gives Trubisky a new collection of playmakers that he didn't have a season ago. All signs are good that Trubisky should be vastly improved given how much better the situation is around him, and what he flashed towards the end of 2017 as a rookie.

Can the Lions establish a ground game, and do they even want to?
This has been a question for the Lions for years, and it's always been put down to consistently failing to acquire the right running back talent, but there's a pretty good chance that Detroit simply doesn't want to establish the kind of power ground attack most teams want in their arsenal.
The Lions passed 63 percent of the time in 2017, the second-most in the league, having passed 64.7 percent of the time the season before that, and with Matthew Stafford one of the game's best-paid players, the Lions seem to be perfectly happy with the ball in his hands as often as possible. Their backs have all been of a receiving style over the past few seasons because this is a pass-first team.
Why we may at least answer the question in 2018 is because the team not only re-signed Zach Zenner, but then brought in LeGarrette Blount in free agency. Blount is nothing if not a smashmouth ball carrier, a player whose work as a receiver is little more than window dressing to his main selling point – brute force up the middle. In 2017, running for the Eagles, Blount averaged 3.6 yards per carry after contact, the most among player with at least 150 carries. He broke 35 tackles on 173 attempts and gained 616 of his 766 rushing yards after he was hit by defenders.
The Lions still have Ameer Abdullah and Theo Riddick, both of whom are quality receiving backs who can carry the ball to keep defenses off balance, but for the first time in years they also have a player they can hand the ball to and send up the gut time after time without fear of wearing down.

Graham wasn't a good fit in the Seattle offense, and it took them years to even find the one thing that did work well for them within that offense. Last season, he scored 10 touchdowns, which led all TEs, but he was almost entirely a red-zone matchup weapon and little else. For a player that was once such a dynamic receiving weapon that he tried to be classified as a wide out for contract purposes, Graham caught just two of those touchdowns split into the slot.
He gained just 1.02 yards per route run from a slot alignment, 21st among TEs and behind another 45 wide receivers, and the tape shows a player who simply doesn't have the athleticism he once had.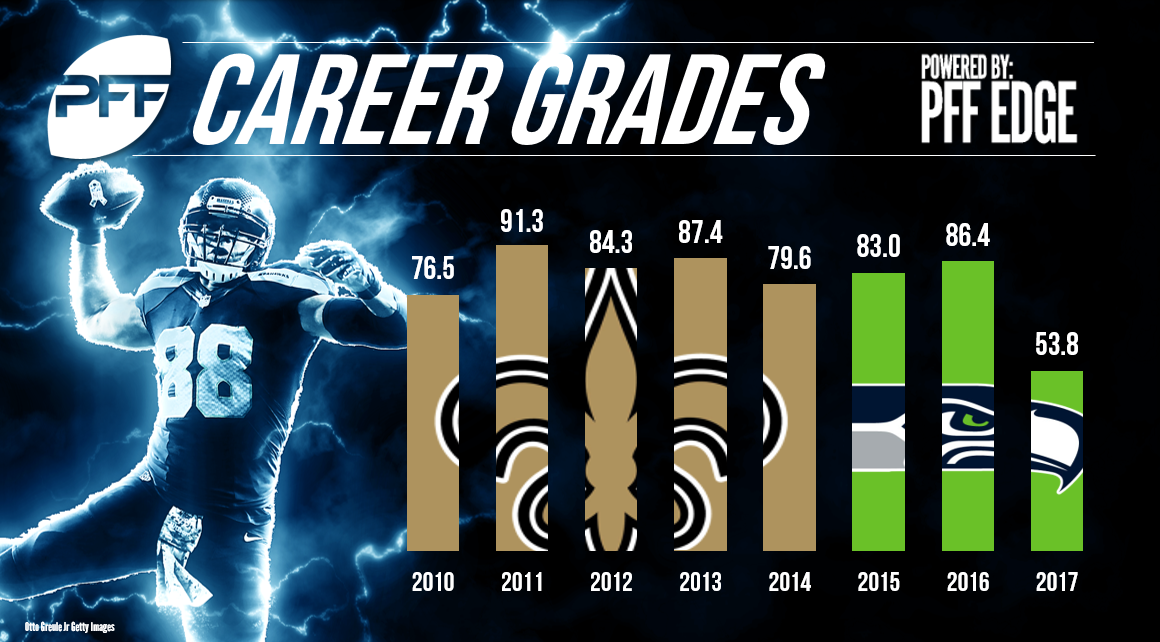 Rodgers though is capable of using him in more ways than Russell Wilson was in Seattle. Wilson's game is so much about broken plays and the scramble drill that finding Graham in tight coverage and giving him the chance to win a contested catch just didn't come up that often.
Rodgers though excels at back-shoulder throws – putting the ball behind his receiver intentionally and allowing him to adjust to make the catch before the defender can. Graham's biggest asset in Seattle was his catch radius and the ability to adjust to and reach passes that coverage defenders couldn't. For Seattle this was isolated largely to the red zone, but Rodgers and the Packers could make use of it vertically down the seam to try and resurrect that aspect of his game. Since 2011, Rodgers has a passer rating of 94.4 on back-shoulder throws, and one of over 100 in three of his past four healthy seasons. Wilson attempted just nine back-shoulder throws in all of 2017, so it will be interesting to see if that wrinkle can offset the loss of pace that seems to have struck Graham over the years.

Is the Vikings' O-line going to continue to be the reason this team falls short?
In 2016, the Vikings had one of the worst offensive lines in the NFL. The unit was dramatically better in 2017, ranking 13th in PFF's pass-blocking efficiency metric compared to 23rd, and cutting 44 total pressures off their season total. They were still far from good but took important steps in the right direction – they had at least ceased to be the reason the team was losing games – at least until the playoffs.
Once injuries struck and the team was forced to go to the bench, the poor play returned, and in the NFC Championship, Case Keenum was under pressure on an unmanageable 48 percent of his dropbacks.
Joe Berger has retired, removing the team's best lineman over the past few seasons, and leaving this unit in need of another injection of talent to prevent it slipping back in the wrong direction. Currently, no slated starter on this line had a PFF grade higher than 70 in 2017, and with little proven quality in free agency, this is a draft the Vikings need to navigate well to shore up the one unit on this roster that looks concerning on paper.