It's that time of the week again. If you've been following the series, you know we highlighted the top performers on each offensive line a week ago. Now, it's time to flip to the other side of the coin and discuss the weak links on each line so far this season. Let's get to the rankings.
[Editor's Note: Now that we are through Week 6 of the 2018 regular season, we've adjusted the rankings to factor in ALL snaps played along each team's offensive line so far this season. Therefore, the rankings below reflect how every offensive lineman on each team has contributed in Weeks 1-6.]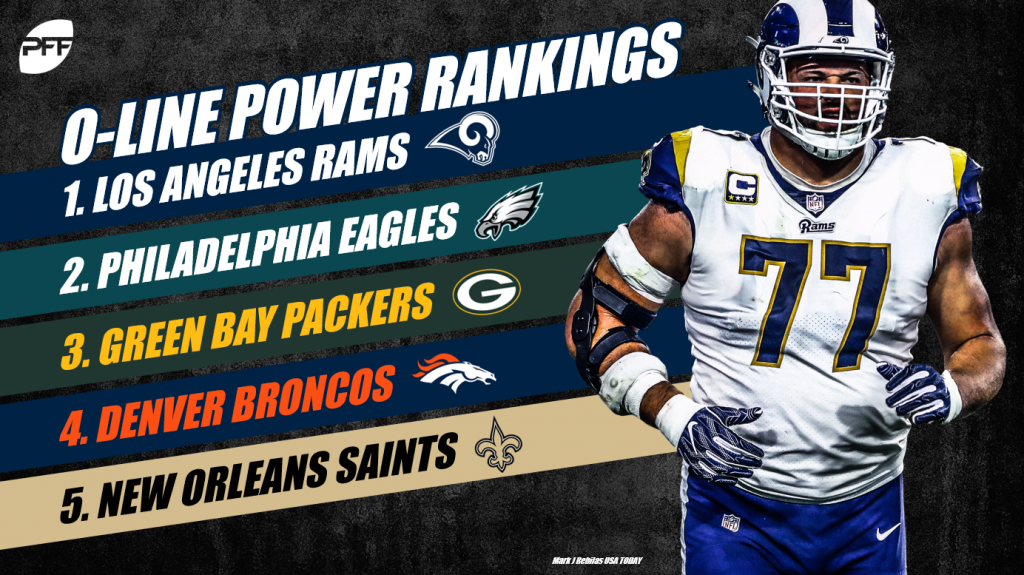 1.

There are two big reasons why the Rams reside at the top of these rankings. Fitting with the theme of the article, center John Sullivan is their lowest-graded player at 62.5 overall. He's also the highest- graded, lowest-graded player on any team in the NFL – meaning the weakest link on the Rams line has been better than every other team's weakest link. The other reason: The Rams' backup linemen have played a grand total of 32 snaps on the entire season (right guard Austin Blythe started the season as a backup filling in for Jamon Brown, but he won the job with his play).
2.

Stefen Wisniewski wasn't exactly lighting the world on fire with his play before being benched, but his 60.3 overall grade didn't leave him much room to argue. Isaac Seumalo hasn't been any better, though, as he's struggled with more powerful defensive tackles. He's already allowed more pressures (eight) than Wisniewski did before his benching (six).
3.

Right guard was always going to be the weak spot on the Packers' offensive line. Every other position has been extremely solid. Justin McCray was holding up admirably with a 69.2 overall grade before injury. His backup, Byron Bell, hasn't fared nearly as well, though, with a 54.9 overall grade and nine pressures allowed in 168 pass-blocking snaps.
4.

It's a testament to how good the Broncos offensive line has been – especially in the run game – that left guard Ron Leary and his 62.1 overall grade is the lowest on the line. Leary had been playing fine too until he got the Aaron Donald treatment this past weekend. He earned a 23.4 pass-block grade before leaving with a foot injury.
5.

The Saints are sure glad to have Andrus Peat back after missing the first three games. In his stead, Josh LeRibeus was a nightmare in pass protection at left guard. No stat sums that up better than the fact that he allowed more pressures in 107 pass-block snaps this season (eight) than Ryan Ramczyk  (four) and Terron Armstead (seven) have in 215.
6.

If you watched Monday Night Football this past week, you'd know this ranking is more than justified. The 49ers are another team where the weak link isn't all that weak. Free agent addition, Weston Richburg has the lowest grade, but only because Kenny Clark handed him his lunch to the tune of six pressures this past week.
7.

The Steelers are fresh off by far their most impressive offensive line performance of the season. Going up against a talented Cincinnati front, they allowed all of 10 pressures on 46 dropbacks. Center Maurkice Pouncey has been their lowest-graded starter so far at 61.5 overall, and that's in large part due to one rough game against Cleveland Week 1.
8.

It's difficult to really be too hard on Bears left guard Eric Kush for being the team's lowest-graded player. He's more than held his own in pass protection with only two pressures allowed in 174 pass-block snaps this year. It's a 50.6 run grade that's holding him back at the moment.
9.

Right tackle LaAdrian Waddle has Tom Brady's quick release to thank for not drawing the scorn of Patriots fans everywhere. He has three pass-block snaps graded at -1.5 or lower, the fourth-most among all tackles despite having only 78 snaps in pass protection.
10.

With a hodgepodge of backups rolling through up front in Indianapolis, the results have been surprisingly good. Joe Haeg gets the dubious distinction of lowest-graded qualifying offensive lineman, though, as he held up alright flip-flopping from left to right tackle in Weeks 1 and 2 before getting destroyed by Brandon Graham on the right side for six pressures in Week 3.
11.

All things considered, rookie left guard Connor Williams has been solid at left guard despite being the Cowboys' lowest-graded lineman. He's held up well with a 74.3 pass-block grade, but his play strength has been an issue along the line of scrimmage in the run game.
12.

Pouring over the grades of all the lowest graded linemen, it's telling how thin the NFL is talent-wise up front. Nearly everyone on this list was forced into the lineup due to injury and that's no different for Atlanta. Wes Schweitzer has not been close to Andy Levitre, and that's really shown in the run game, where he isn't near as consistent as Levitre was when healthy.
13.

It's a testament to the coaching in Carolina how well the Panthers' front has held up despite a myriad of injuries. That being said, when Tyler Larsen was forced into action in Weeks 2 and 3, the results were still fairly ugly. The journeyman guard allowed six pressures in two games for a 52.0 overall grade.
14.

Center is traditionally the easiest position to pass protect for a couple of reasons. The guy you're going up against is usually the least athletic of anyone on the defensive line, and you are almost never on an island one-on-one. That being said, the fact that Tony Bergstrom has allowed eight pressures in his three games as a starter is concerning.
15.

Throwing in undrafted free agent Desmond Harrison to protect the blindside since Week 1 could have gone far more disastrously than it has so far. He's their lowest-graded lineman,  but at only 59.1 overall and much of that is because Harrison is second among offensive linemen with seven penalties so far.
16.

Frank Ragnow has been the Lions' lowest-graded offensive lineman so far at 60.6, but even that is due to a sloppy start to his season. He allowed 13 pressures in his first two games as a pro, but he has only allowed two in the three games since.
17.

With a handful of unproven commodities going into this season, the Ravens have so far exceeded expectations. Left guard Alex Lewis has been their lowest-graded player with a 54.1 overall grade this season, but he probably won't be losing his starting spot anytime soon. When Bradley Bozeman was forced into action this past weekend after Lewis suffered a neck injury that thankfully looks to be minor going forward, the backup guard earned only a 54.8 overall grade.
18.

The Titans have been forced to deal with injuries, but at the same time, some of their stalwarts haven't been playing up to their standards. Right guard Josh Kline has a 49.0 run blocking grade so far this season – far and away the lowest of his career.
19.

The Chiefs' extension of Cam Erving earlier this year was head-scratching and even more so now. He's been easily their lowest-graded offensive lineman so far this season and hasn't even really flashed high-level play with his highest single-game overall grade so far being only 70.7.
20.

After being drafted in the third round a season ago, the proverbial light switch just hasn't flipped for Dan Feeney. His game-by-game splits this season are almost too dichotomous to believe. Against the Chiefs, Rams and 49ers, he allowed a total of 18 pressures. Against the Bills, Raiders and Browns, he didn't allow any.
21.

The Jets signed Spencer Long from the Redskins in hopes of bolstering a lackluster line. The center has unfortunately only made their line more lackluster with a 46.7 overall grade for the season – the second-worst among starting centers.
22.

Yet another team with a backup forced into a critical role that hasn't delivered. Cam Robinson struggled last year as a rookie, but even he wasn't as bad as Josh Walker has been at left tackle for Jacksonville. Walker's 45.7 overall grade is the third-worst among all tackles this season.
23.

The guard position in Miami is officially one of the cursed positions in the NFL, so it's no surprise that Jesse Davis and his 53.0 overall grade is the team's lowest-graded starter. The former undrafted free agent has simply done nothing in the run game with an individual game run-blocking high of 64.6.
24.

There were a handful of players on the Vikings' offensive line all grouped together in the low 50's in terms of overall grade that we could have chosen from, but Rashod Hill's 52.0 takes the cake. He's allowed four sacks so far this season, the sixth-most of any tackle in the league.
25.

While we have no issues with the decision to release Ereck Flowers, it's also clear that Chad Wheeler isn't the answer at right tackle, either. His 43.7 overall grade is the lowest among all tackles this season, as he's already allowed 17 pressures in four games.
26.

I'm almost disappointed we won't get to see a full season's worth of play from right guard Caleb Benenoch after he was benched midway through Sunday's game. Benenoch was on pace to allow 16 sacks this season. The most we've ever seen in a single season from any guard in a single season is 11.
27.

I feel bad even putting Donald Penn on this list after how he was screwed over in Oakland. The Raiders forced the 35-year-old to take a pay cut and also forced him to switch to right tackle, a position he'd played all of 25 snaps at in his career. His 47.0 overall grade shouldn't be too much of a surprise given the circumstances.
28.

Seattle has been playing better up front at a number of positions this season, but unfortunately center has not been one of them. Justin Britt had been their most consistent offensive lineman ever since switching to center, but he has struggled to a 52.2 overall grade this year.
29.

The Bengals complete reluctance to play former fifth-round pick Christian Westerman baffles me more and more by the day. The current starter at right guard, Alex Redmond, has limped out to a 52.6 overall grade so far this season while Westerman – the second highest-graded guard in the NFL this preseason – remains on the bench.
30.

When you get benched for Russell Bodine, you know things have gone south. Ryan Groy was manhandled to 40.0 and 51.6 overall grades the first two weeks of the season at center before being replaced.
31.

One of former Michigan offensive lineman Mason Cole's selling points coming out this year was his versatility, having played multiple positions for the Wolverines. So far though, he hasn't even been able to handle one adequately in the NFL with a 45.1 at center for the Cardinals. His 13 pressures allowed are the second-most among centers.
32.

Texans tackle Julie'n Davenport is on pace for some rarified air through the first six weeks of the season. He already has given up 17 combined sacks and hits, which leads all offensive linemen by six. Maybe more impressively, though, is that he's combined that with a ridiculous nine penalties, which also leads all linemen.