With five weeks of the season in the books, the sample size has begun to be large enough to dive into the PFF database, beginning with some NFL defensive blitz rankings.
We now have enough data to begin to build a picture of what each team has become in 2017 from a schematic point of view, so we're going to start with looking at how often each team blitzes on defense.
Every new coach claims his defense will be aggressive when hired, but how many actually are, and who is sending the extra rushers the most?
First, the league-wide cliffnotes: So far this season there has been 1,824 blitzes across the 32 teams, with teams blitzing on average 29 percent of their defensive snaps.
Now here is how much each team has blitzed, ranked by most aggressive to least in terms of blitz percentage: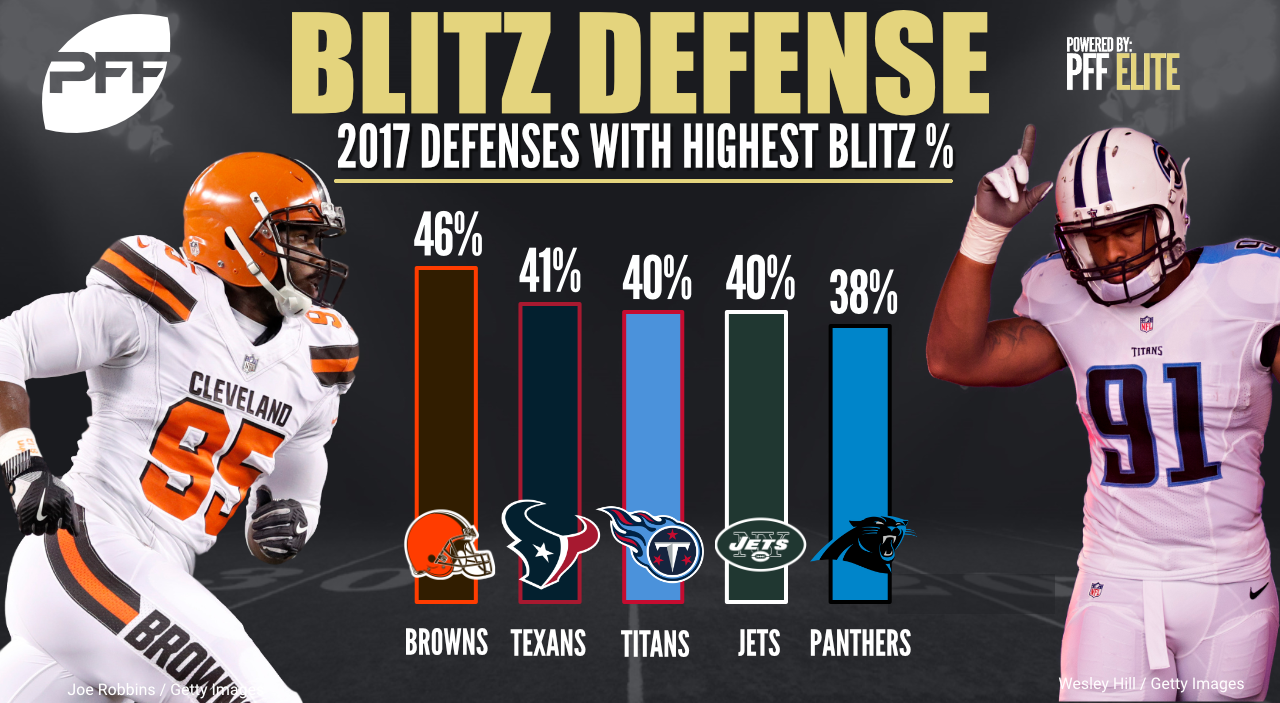 Blitz percentage: 46 percent
The Browns have been the league's most aggressive blitzing team through the first five weeks of the season, dialing it up on almost half of their passing snaps. It will be interesting to see how much of that was making up for a lack of pass-rush up front and whether the return of a healthy Myles Garrett will see that number back off over the coming weeks.
Blitz percentage: 41 percent
While the Browns struggle to generate pressure up front without the blitz, the Texans wouldn't fall under that same category with the defensive pass-rushers they can deploy, or at least could until this week before injury robbed them of two of them. Houston has still called blitz on 41 percent of their pass-rushes and may crank that even higher now they don't have J.J. Watt and Whitney Mercilus.
Blitz percentage: 40 percent
Only two teams have blitzed on more plays than the Jets this season, both in total blitzes and blitz percentage. Safety Jamal Adams has already blitzed 27 times this season, while the Jets have eight linebackers that have rushed the passer ten or more times.
Blitz percentage: 40 percent
The Titans are another team that can get pressure with their defensive front, and don't send very many rushers from non-pass rushing positions, but the way they bring the blitz is by just sending five guys up front. They have rushed five on 66 occasions this season, two-thirds as much as they have rushed just four.
Blitz percentage: 38 percent
The Panthers use zone blitz plays on occasions, with six separate defensive linemen this season having dropped into coverage at least once already. All three of their linebackers have at least 16 snaps of pass-rushing through five weeks of the season.
Subscribe to PFF Edge to continue reading
Already have a subscription? Sign In