With the 2016 regular season now in the books, it's time to reflect on the season that was before we dive into playoff football.
The Pro Football Focus All-Pro team recognizes the best players at each position, with some new wrinkles this season to reflect changes in the official AP All-Pro team.
The AP has come around to PFF's way of doing things—eliminating the archaic positions of defensive tackle, defensive end, and outside linebacker that threw wildly different players together from different schemes—and instead grouped them as edge defenders, interior defenders, and off-the-ball linebackers.
They have also added a "flex" position on offense and defense, essentially to reflect the changing personnel tendencies in the NFL. That extra offensive player can be another running back, wideout, slot receiver, fullback, or tight end, depending on who was the most deserving player that particular year; the defensive back can be a perimeter corner, slot defender, or safety.
To select this team, our analysts have drawn on all of PFF's data, including—but not exclusively limited to—the grades, before adding the subjective expertise of our analysis team to individual players. Certain players may have made the team with a lower overall grade than others, but were outstanding in one particular area which we felt warranted the move, or their scheme asked more of them than somebody else.
With those qualifiers in mind, it's time to reveal Pro Football Focus' 2016 All-Pro team.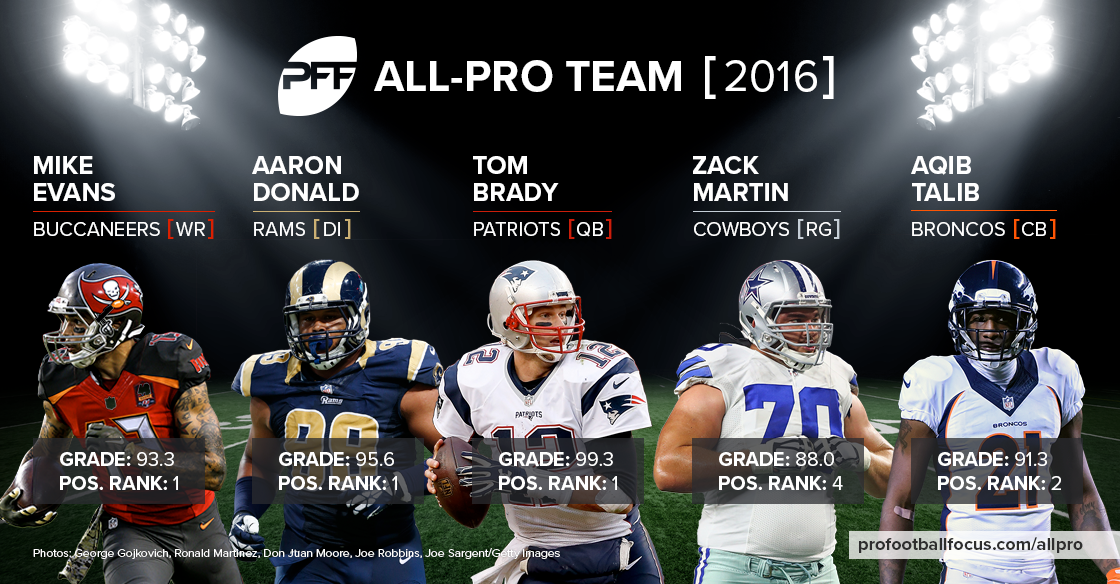 Quarterback
First team: Tom Brady, New England Patriots, 99.3 overall grade (No. 1 position rank)
Second team: Matt Ryan, Atlanta Falcons, 93.1 (No. 2)
With Tom Brady suspended for the first four games of the season, everyone expected him to return with a point to prove. The veteran QB has done exactly that, posting the highest-graded season of the past decade at PFF, and showing simply a staggering display of efficient passing. He threw just two interceptions during the regular season, and despite missing those four games, posted 28 touchdowns. Brady didn't record a bad game all season, and was the model for elite play. Falcons QB Matt Ryan can count himself unfortunate to slip to the second team, and in any other year, would likely be the first name here, but we couldn't look past the grade that Brady earned once he got back on the field.
Honorable mention: Aaron Rodgers, Green Bay Packers, 92.6 (No. 3)
Running back
First team: Ezekiel Elliott, Dallas Cowboys, 86.3 (No. 3)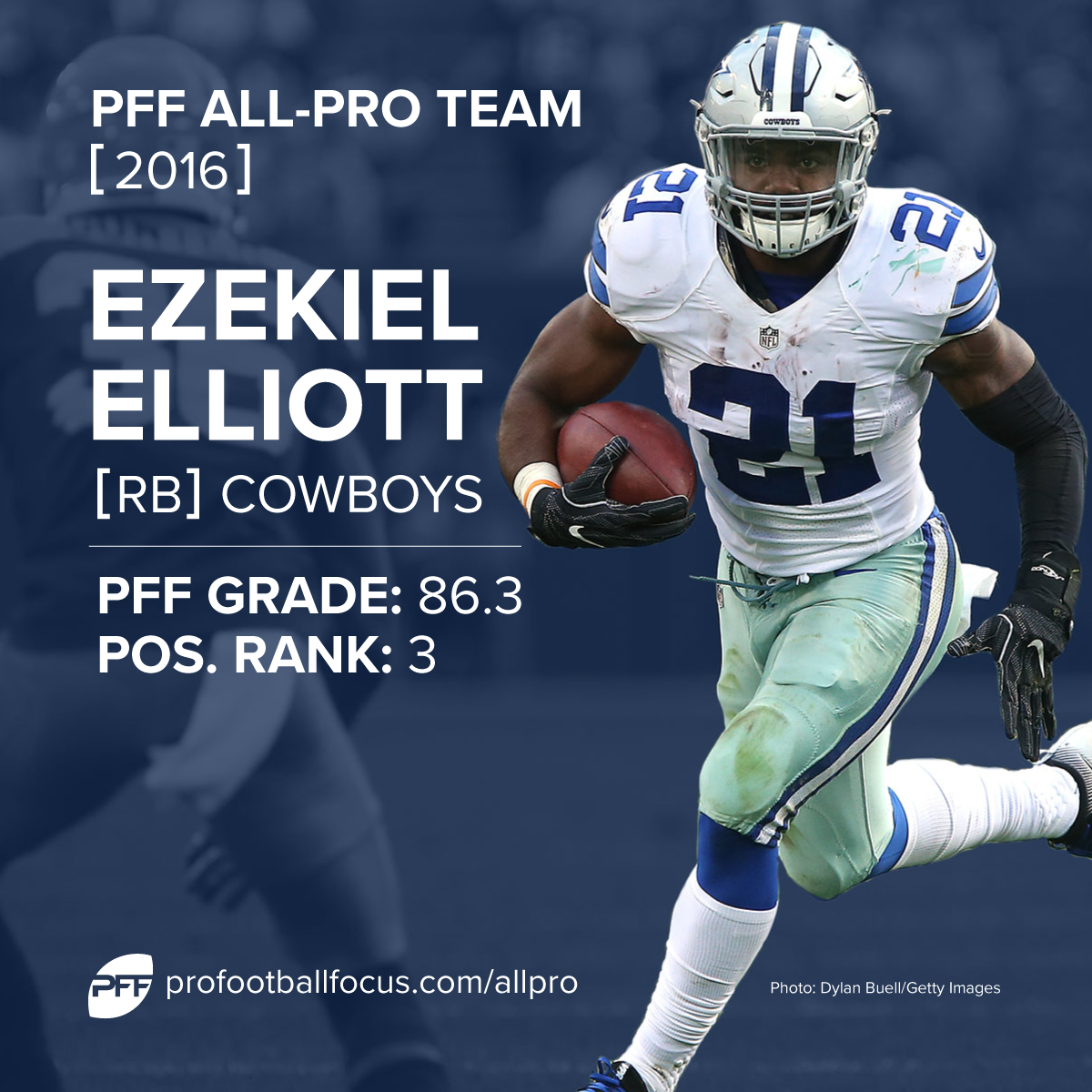 Second team: Jay Ajayi, Miami Dolphins, 86.8 (No. 1)
Even if we forget the fact that Ezekiel Elliott is a rookie, the season he has put together in Dallas has been spectacular. The Cowboys' offensive line certainly helps, but Elliott gained almost 1,000 rushing yards after contact (57.7 percent of his total yardage), averaging 2.9 yards per carry after being hit. He was also used in the passing game, both as a receiver (32 catches for 363 yards and a score) and blocker (58 snaps in pass protection with no sacks or hits surrendered), which is rare for a rookie. Jay Ajayi makes the second team after transforming the Miami offense and leading all running backs (minimum of 100 carries) in yards per carry after contact (3.5) and broken tackles (58)—11 more than any other runner on the ground. Ajayi and Bell earned slightly higher PFF grades, but Elliott's 2016 campaign was too exceptional to keep him out of the top spot.
Honorable mention: Le'Veon Bell, Pittsburgh Steelers, 86.6 (No. 2)
Fullback
First team: Kyle Juszczyk, Baltimore Ravens, 87.9 (No. 1)
Second team: James Develin, New England Patriots, 87.1 (No. 2)
Fullback may be a dying position in the NFL, but the league's most heavily-used FB this season has also been the best—Baltimore's Kyle Juszczyk. The Ravens use a fullback more than most teams in the league, and it's because Juszczyk has been excellent in all facets of the game. He has good grades as a lead blocker, pass protector, ball carrier, and even made plays as a receiver for Baltimore this year.
Wide receivers
First team: Mike Evans, Tampa Bay Buccaneers, 93.3 (No. 1); and Julio Jones, Atlanta Falcons, 92.6 (No. 2)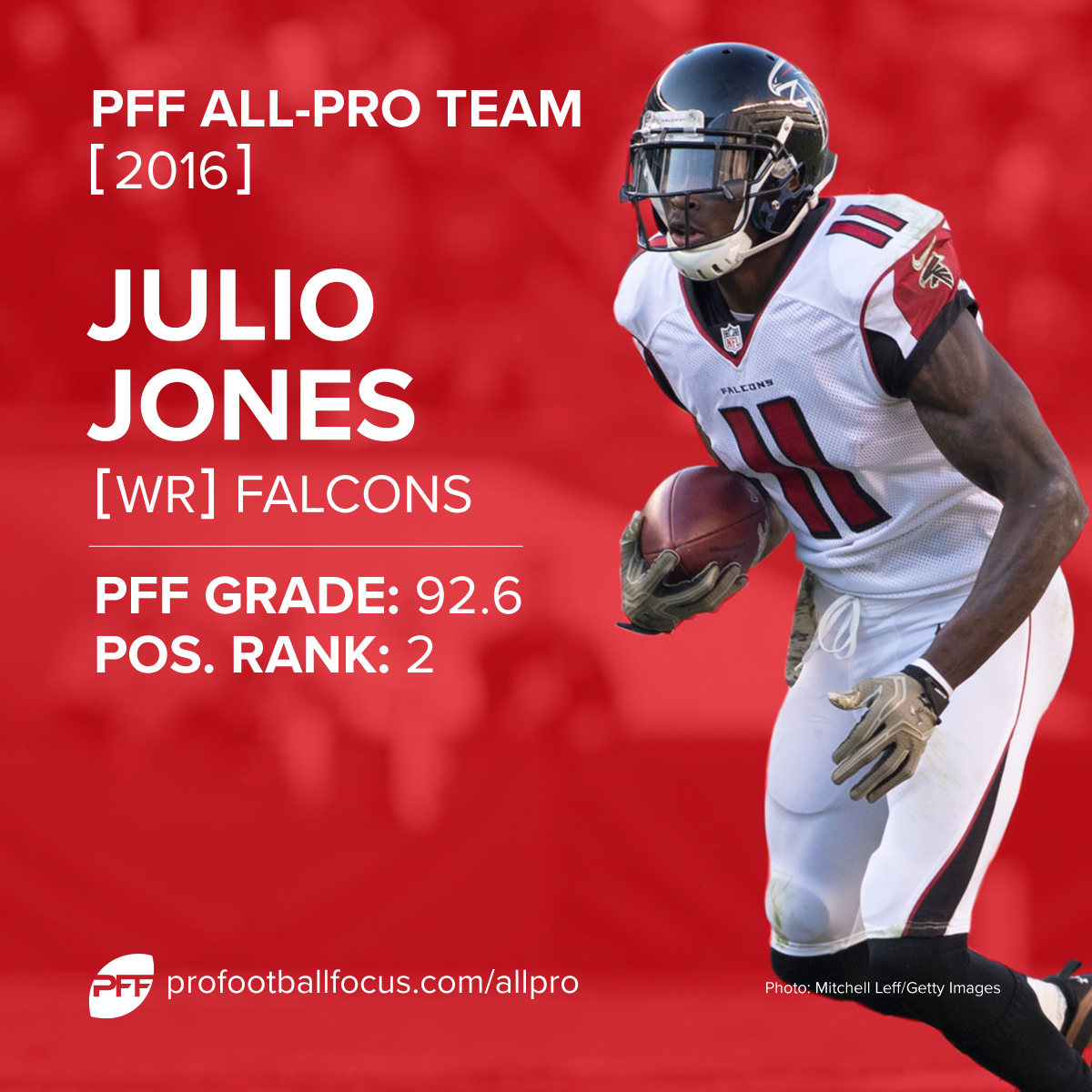 Second team: Antonio Brown, Pittsburgh Steelers, 89.7 (No. 3); and Odell Beckham Jr., New York Giants, 86.2 (No. 7)
The top two receivers in PFF's grades both came out of the NFC South. While Julio Jones missed some time, he was still able to rack up 1,409 yards, with 415 of them coming after the catch, and featured several dominant displays for the league's No. 1 offense. As Jameis Winston's go-to weapon, Buccaneers WR Mike Evans ended the season with seven more targets than any other receiver and really emerged as an elite force, making some spectacular catches and plays throughout the season. Other receivers may have put up better numbers, but none could match the highlight-reel plays Evans managed over the year.
Honorable mention: T.Y. Hilton, Indianapolis Colts, 87.3 (No. 5)
Tight end
First team: Travis Kelce, Kansas City Chiefs, 88.5 (No. 1)
Second team: Greg Olsen, Carolina Panthers, 87.5 (No. 3)
With no Rob Gronkowski for much of the season, the door was opened for somebody else to take the crown of the league's best TE—for at least a season—and Travis Kelce stepped right through it. Kelce finished the season with 1,125 receiving yards, with 652 of them (58.0 percent) coming after the catch. Kelce became even more of a weapon in the passing game, but dramatically improved his blocking from a year ago—something also true for second-team TE Greg Olsen, who remained Carolina's best weapon on offense.
Honorable mention: Jimmy Graham, Seattle Seahawks, 85.0 (No. 5)
Flex
First team: David Johnson, Arizona Cardinals, 83.2 (No. 4 RB)
Second team: T.Y. Hilton, Indianapolis Colts, 87.3 (No. 5 WR)
The ultimate flex player, David Johnson was a machine for the Cardinals this season when it came to yards from scrimmage, falling short in his quest to top 100 yards from scrimmage in every game of the season only due to injury in the final week. Johnson recorded over 1,200 rushing yards and notched 16 scores on the ground, but added 80 receptions, 879 receiving yards, and four more trips to pay-dirt as a receiver. The running back debate was fierce, and Johnson was firmly in the mix there, too.
Honorable mention: Doug Baldwin, Seattle Seahawks, 85.6 (No. 9 WR)
Left tackle
First team: Trent Williams, Washington Redskins, 92.8 (No. 1 OT)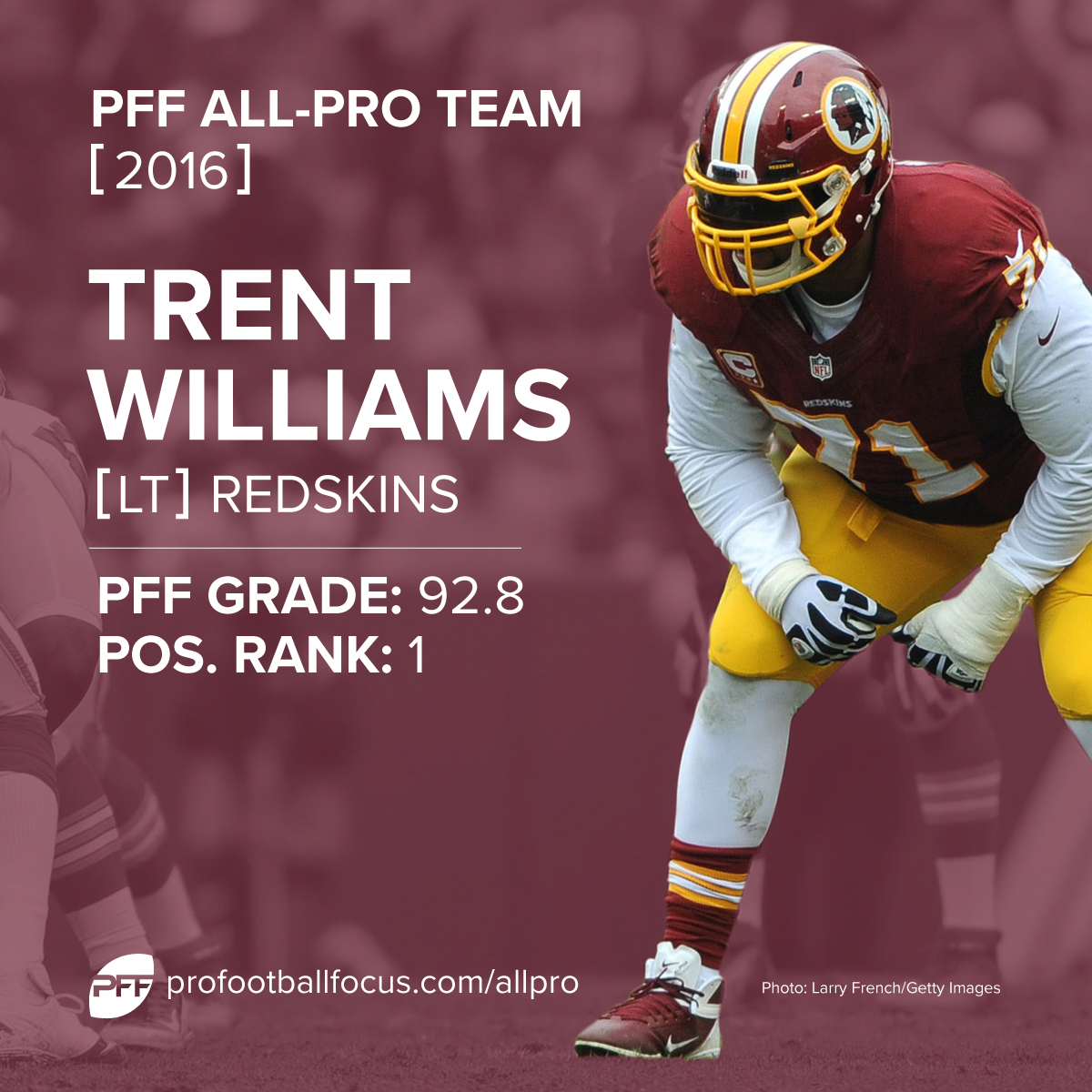 Second team: David Bakhtiari, Green Bay Packers, 90.8 (No. 3 OT)
Despite missing time due to suspension, Trent Williams still posted the best overall grade of any tackle in the game, and allowed a total of just 16 QB pressures across 12 starts. He was a dominant force both pass protecting and run blocking, and even moonlighted at guard when injuries forced a reshuffle along the Washington line during a game. This was the best play of Williams' career, and the first time we have seen him fulfill his potential since he was the league's best tackle back in the 2013 season. David Bakhtiari gets the second-team nod thanks to an outstanding season of pass blocking, taking a huge step forward in his play.
Honorable mention: Andrew Whitworth, Cincinnati Bengals, 91.3 (No. 2 OT)
Left guard
First team: Marshal Yanda, Baltimore Ravens, 92.0 (No. 1 G)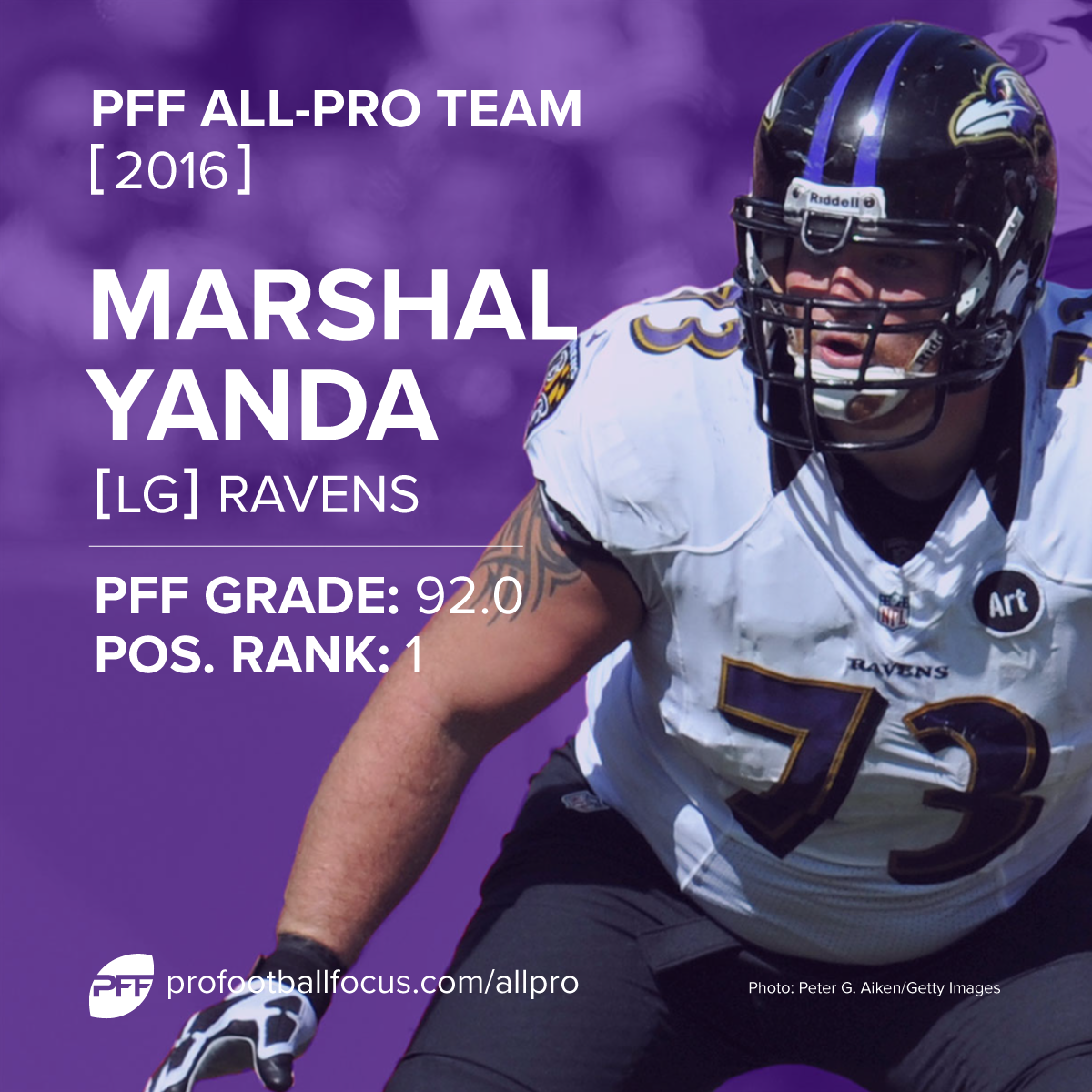 Second team: Kelechi Osemele, Oakland Raiders, 88.1 (No. 3 G)
Marshal Yanda ended the season with seven starts at left guard and six on the right side, with little discernible difference in his play on either side, executing a midseason switch seamlessly. He didn't surrender a single sack or hit on the QB all season, and in 899 snaps of action, surrendered just six hurries. Yanda remains the standard by which all NFL guards are measured, and despite missing time due to injury, he narrowly edges Oakland's Kelechi Osemele, his former teammate, for the No. 1 spot at left guard. Osemele, for his part, was also excellent, surrendering no sacks and 11 total pressures in his debut season for the Raiders.
Honorable mention: Josh Sitton, Chicago Bears, 86.2 (No. 8 G)
Center
First team: Travis Frederick, Dallas Cowboys, 90.0 (No. 3)
Second team: Alex Mack, Atlanta Falcons, 90.5 (No. 2)
Center was a three-way battle that was razor-thin between Travis Frederick, Alex Mack, and Matt Paradis, any of whom would have been deserving selections. In the end, we went with Frederick, whose diversity in skill set in the middle for Dallas trumped a very close decision. Frederick didn't surrender a sack all season and surrendered only nine total QB pressures while doing a number on some excellent nose tackles over the year in the run game. Alex Mack helped transform the Falcons' O-line, especially in the run game, getting back to his best form in his first year in Atlanta.
Honorable mention: Matt Paradis, Denver Broncos, 90.7 (No. 1)
Right guard
First team: Zack Martin, Dallas Cowboys, 88.0 (No. 4 G)
Second team: Kevin Zeitler, Cincinnati Bengals, 87.1 (No. 7 G)
Zack Martin was the best-graded right guard in the game this season—at least among those that played on the right side all year. He posted positive grades in every facet PFF measures, even in discipline, where he was flagged just twice across 16 games, and was a big part of the Cowboys' rushing success on the ground. Martin allowed a total of 16 QB pressures over the season. Kevin Zeitler makes the second team for the Bengals thanks to a solid season of well-balanced play.
Honorable mention: Brandon Brooks, Philadelphia Eagles, 88.2 (No. 2 G)
Right tackle
First team: Jack Conklin, Tennessee Titans, 88.9 (No. 5 OT)
Second team: Marcus Cannon, New England Patriots, 87.6 (No. 10 OT)
The second rookie to make the PFF All-Pro team this season, the performance of Jack Conklin has been remarkable at a position where rookies traditionally struggle. Conklin (and teammate Taylor Lewan on the other side) do get more help than most tackles in Tennessee's scheme, but in the end, the difference in production between Conklin and the next right tackle was too large to ignore. He surrendered only two sacks all season and was flagged only twice, while showing some powerful run blocking. He was the highest-ranked right tackle in PFF grades this season. Marcus Cannon came on huge during the season, and just jumps a close group of tackles for the second spot thanks to some dominant run blocking.
Honorable mention: Zach Strief, New Orleans Saints, 86.8 (No. 13 OT); Ryan Schraeder, Atlanta Falcons, 87.2 (No. 12); and Bryan Bulaga, Green Bay Packers, 85.6 (No. 17)
Edge defenders
First team: Khalil Mack, Oakland Raiders, 93.9 (No. 1); Brandon Graham, Philadelphia Eagles, 93.3 (No. 2)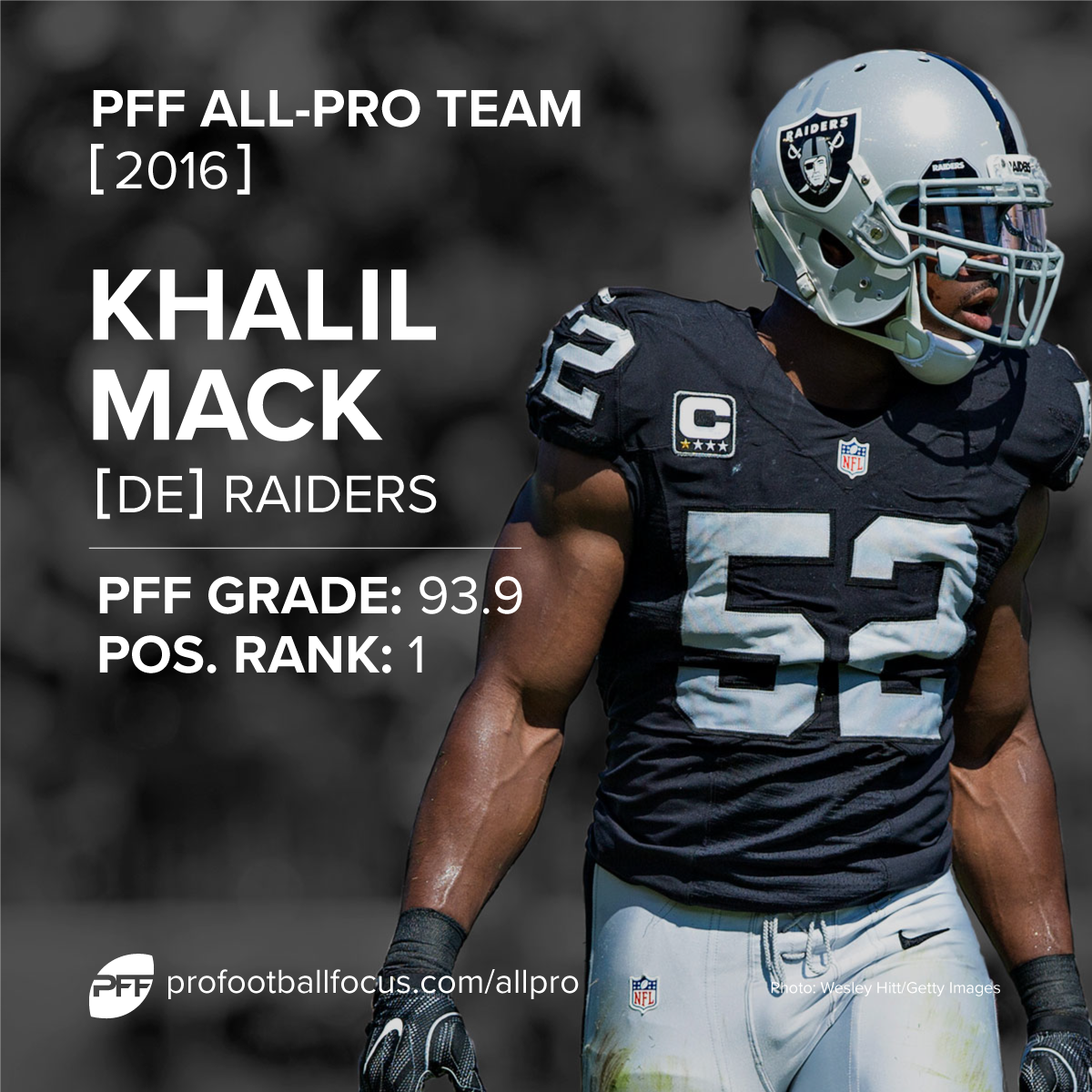 Second team: Cameron Jordan, New Orleans Saints, 92.1 (No. 3); and Von Miller, Denver Broncos, 91.1 (No. 4)
After a slow start to the year, Khalil Mack quickly reestablished himself as the dominant force he's proven he can be. Mack ended the season with double-digit sacks and a league-leading 96 total QB pressures. Only Denver's Von Miller notched more defensive stops than the 48 managed by Mack among edge defenders. Brandon Graham once again came up short on the sack total, but the sheer volume of pressure he consistently generated for the Eagles was too great to ignore. Graham notched 82 total QB pressures and 40 defensive stops. In a strong season for edge rushers, Cameron Jordan and Von Miller take the second-team spots with outstanding displays of their own.
Interior defenders
First team: Aaron Donald, Los Angeles Rams, 95.6 (No. 1); and Calais Campbell, Arizona Cardinals, 90.4 (No. 2)
Second team: Ndamukong Suh, Miami Dolphins, 88.4 (No. 3); and Damon Harrison, New York Giants, 86.0 (No. 7)
Aaron Donald's season was somehow quietly dominant. He posted 82 total QB pressures, a figure bettered by only three players in the entire league, despite playing inside and not on the edge, where pressure comes easier. He was a constant disruptive force against the run, as well, with his quickness and ability to penetrate into the backfield. Arizona's Calais Campbell put together the best season of his career, despite the Cardinals failing to live up to their standards of a year ago. Ndamukong Suh was again excellent for Miami on the second team, while Damon Harrison's performance in the run game is the stuff of legend. He posted 10 more run stops than any other defensive tackle; only six of his peers came within half of his total of 49.
Honorable mention: Fletcher Cox, Philadelphia Eagles, 87.1 (No. 5); and Kawann Short, Carolina Panthers, 87.7 (No. 4)
Linebackers
First team: Bobby Wagner, Seattle Seahawks, 91.6 (No. 3); Luke Kuechly, Carolina Panthers, 92.9 (No. 2); and Sean Lee, Dallas Cowboys, 88.6 (No. 4)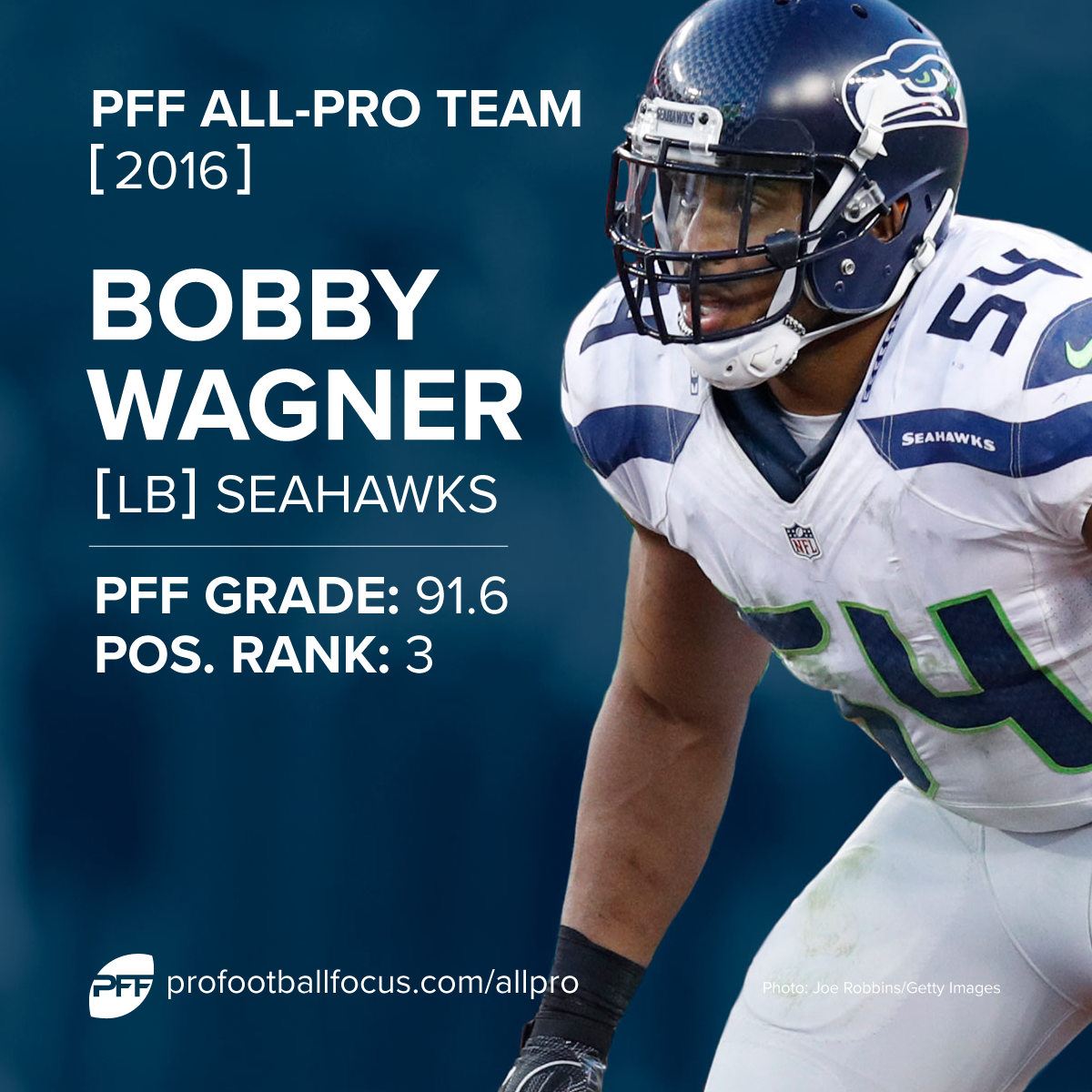 Second team: K.J. Wright, Seattle Seahawks, 86.9 (No. 8); Paul Posluszny, Jacksonville Jaguars, 88.4 (No. 5); and Dont'a Hightower, New England Patriots, 85.1 (No. 13)
With just one midseason hiccup against Buffalo, Bobby Wagner's year was an exercise in consistent excellence, as he earned solid grades every week, performing well in all facets of the game, but particularly in run defense. Unlike the two players ranked ahead of him in PFF grades (Chicago's Jerrell Freeman and Carolina's Luke Kuechly), he was able to stay healthy and on the field all season. makes the team despite missing significant time with a concussion—such was his dominance when he did play—and Sean Lee made it through another season uninjured, taking his place on the All-Pro first team, proving the quality he displays when healthy. The second team features a couple of consistent performers and a huge comeback story from Jacksonville's Paul Posluszny, who improved his overall grade from an average of 48.6 over the past four seasons to 88.4 in 2016.
Honorable mention: C.J. Mosley, Baltimore Ravens, 85.8 (No. 11); Vontaze Burfict, Cincinnati Bengals, 87.6 (No. 7); and Jordan Hicks, Philadelphia Eagles, 88.0 (No. 6)
Cornerback
First team: Aqib Talib, Denver Broncos, 91.3 (tied No. 2); and Malcolm Butler, New England Patriots, 90.8 (tied No. 5)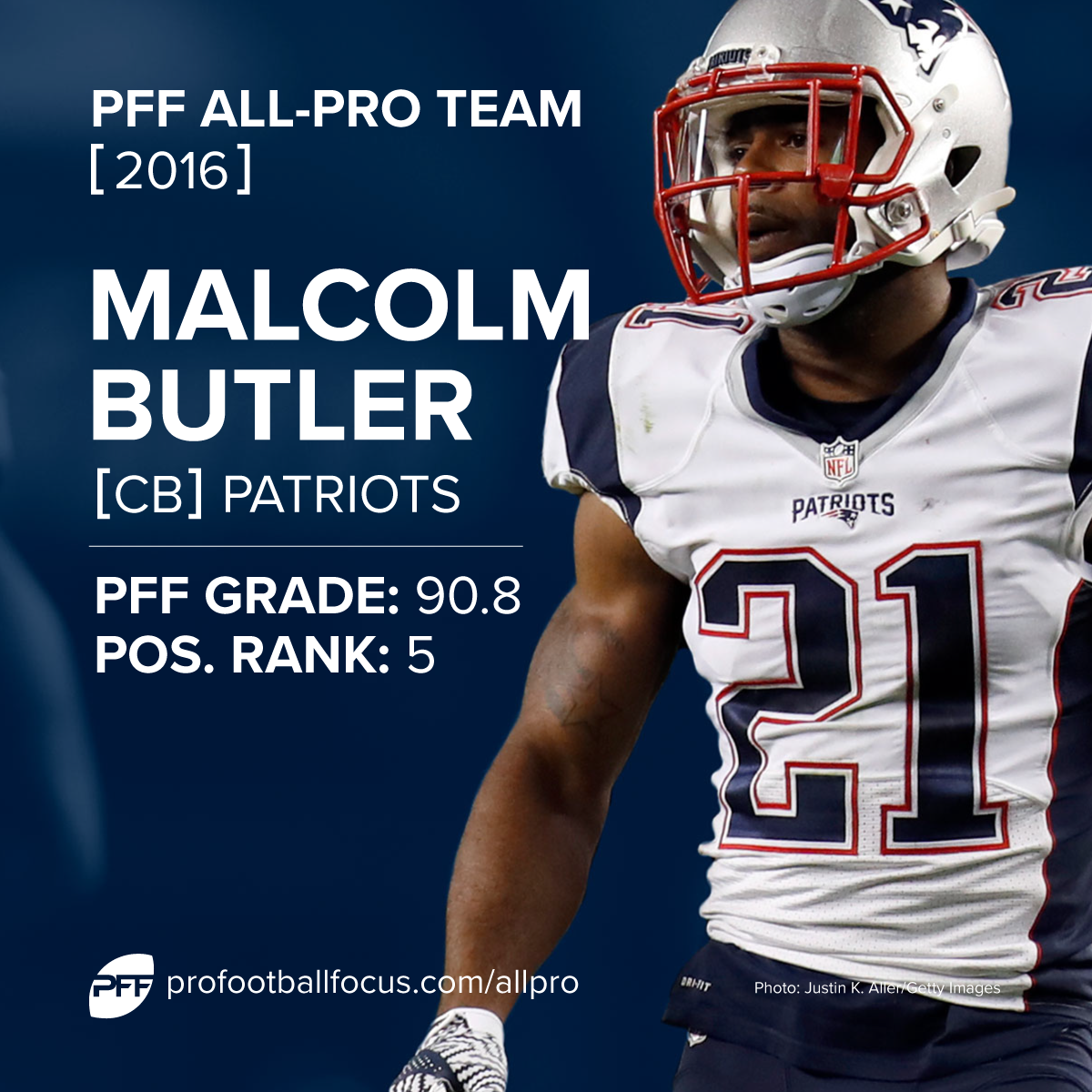 Second team: Casey Hayward, San Diego Chargers, 88.9 (No. 7); and Janoris Jenkins, New York Giants, 88.3 (No. 8)
Aqib Talib didn't allow a touchdown all season for Denver, surrendering just 351 receiving yards and giving up a passer rating of only 49.5 when targeted. He also played the run well and was a true shutdown force for much of the season, and no corner who played primarily on the outside (as opposed to playing in the slot) earned a higher PFF grade this season. New England's Malcolm Butler gave up more than Talib did, but also broke up a dozen passes and had four picks to his name while maintaining close coverage all year. On the second team, Casey Hayward stepped into a bigger role that became even bigger when the Chargers lost their No. 1 CB (Jason Verrett) to injury, and responded by leading the league in interceptions. Janoris Jenkins put together the best season of his career in New York after a big-money move in free agency.
Honorable mention: Brent Grimes, Tampa Bay Buccaneers, 90.8 (tied No. 5); and A.J. Bouye, Houston Texans, 90.9 (No. 4)
Safety
First team: Landon Collins, New York Giants 92.1 (No. 3); and Eric Weddle, Baltimore Ravens, 92.4 (No. 2)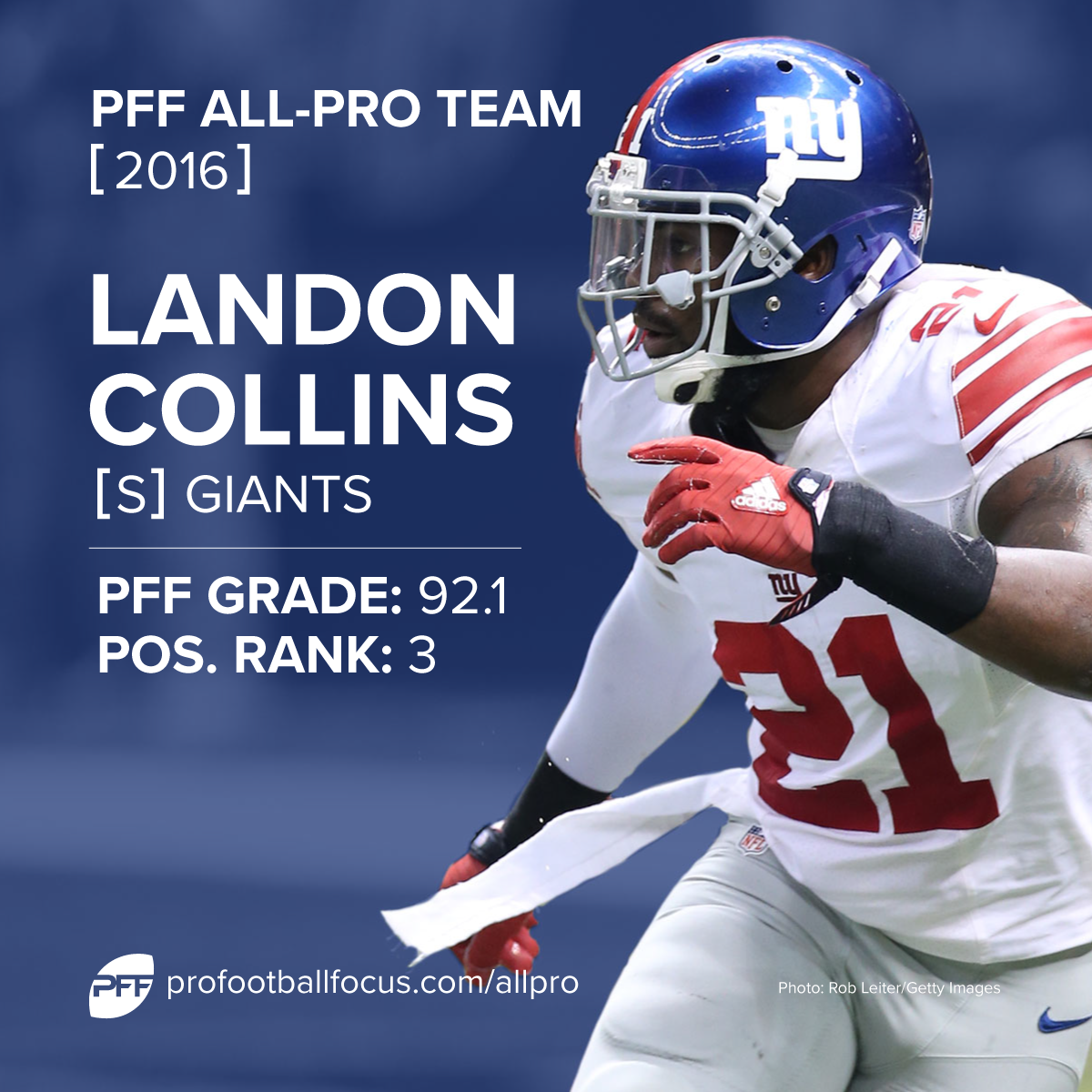 Second team: Devin McCourty, New England Patriots, 89.2 (No. 4); and Kam Chancellor, Seattle Seahawks, 92.6 (No. 1)
What a transformation for Landon Collins in year two. The move to strong safety closer to the line transformed him from a rookie second-round bust to a legitimate Defensive Player of the Year candidate. Collins was all over the field for the Giants this season, leading all safeties in defensive stops, with 46 (eight more than the next player), and recording five interceptions and five pass breakups. His all-around excellent and impact on an outstanding Giants' defense was too good to keep him from the top spot. Baltimore's Eric Weddle was again at the sharp end of the league's best safeties with his new team, while Devin McCourty and Kam Chancellor form a well-balanced and formidable second team.
Honorable mention: Eric Berry, Kansas City Chiefs, 87.8 (tied No. 7)
Defensive back
First team: Chris Harris Jr., Denver Broncos, 92.9 (No. 1 CB)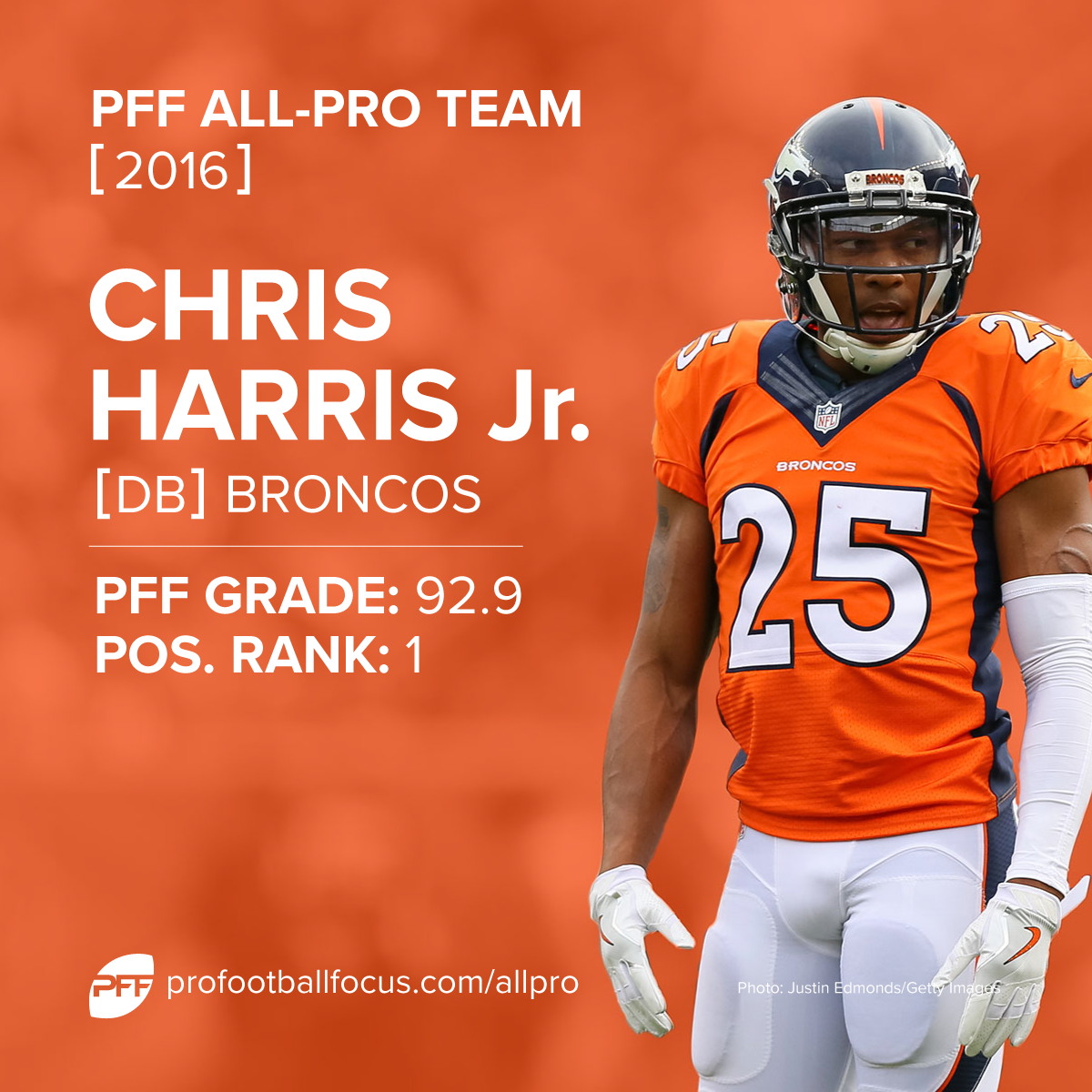 Second team: Dominique Rodgers-Cromartie, New York Giants, 91.3 (tied No. 2 CB)
The All-Pro's new "defensive back" designation allows us to recognize an extra defensive back to better reflect the changing nature of personnel throughout the league. That said, cornerback Chris Harris Jr. has once again been as good as anybody for the Broncos. Harris led all corners in defensive stops, with 28, and was beaten for just 8.9 yards per reception all season. Dominique Rodgers-Cromartie saw time in the slot this season for the Giants, and ended the year with six interceptions, including three over the final two games against division opponents.
Honorable mention: William Gay, Pittsburgh Steelers, 85.4 (No. 10 CB)
Kicker
First team: Justin Tucker, Baltimore Ravens
Second team: Matt Bryant, Atlanta Falcons
Justin Tucker was the best kicker in the game this season, and the gap between him and the rest of the field is significant. He made 38 of 39 attempts, with the one black mark on his season being a blocked kick against the Patriots where Shea McClellin hurdled the line to get in the way. Tucker had, in effect, the perfect season from an individual standpoint.
Punter
First team: Pat McAfee, Indianapolis Colts
Second team: Johnny Hekker, Los Angeles Rams
There are few punters that can rival Pat McAfee's control of the ball when punting. His ability to maximize hang time, distance, and still control the direction of the punt puts him at the top of our grades—and that's without factoring in his work as a kickoff specialist for the Colts.
Honorable mention: Thomas Morstead, New Orleans Saints
Kick returner
First team: Tyler Lockett, Seattle Seahawks
Second team: Alex Erickson, Cincinnati Bengals
The two best return men in the game this season both return kicks and punts, and Seattle's Tyler Lockett makes the team at kick returner. Though he didn't find his way into the end zone this season, he was consistently making moves to maximize return yardage and helping the Seahawks' field position. Cincinnati's Alex Erickson just edges his way onto the second team, averaging 27.9 yards per return.
Honorable mention: Andre Roberts, Detroit Lions
Punt returner
First team: Tyreek Hill, Kansas City Chiefs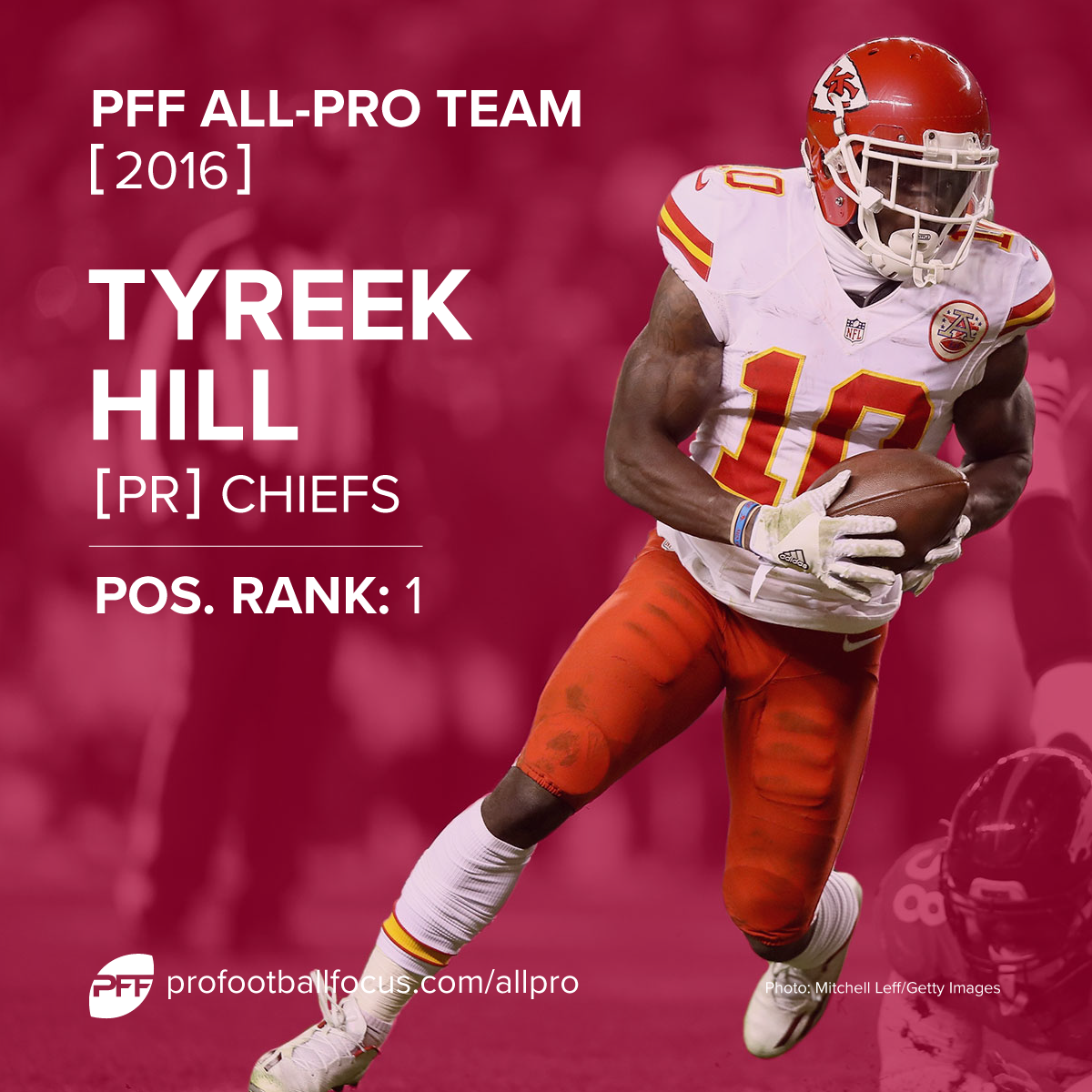 Second team: Jamison Crowder, Washington Redskins
Tyreek Hill has been an exceptional weapon for the Chiefs this season in all areas where he has been deployed, but he makes the All-Pro team at punt returner, where he has two touchdowns to his name, including a 95-yard return to the house. Only Will Blackmon, on one return, has a higher punt-return average than Hill's 15.6 yards.
Honorable mention: Jalen Richard, Oakland Raiders
Special teamer
First team: Eric Murray, Kansas City Chiefs
Second team: Cody Davis, Los Angeles Rams
The term "special teams ace" gets thrown around a lot, but we're looking to grade more than simply a tally of special teams tackles. Eric Murray was a key part of the Chiefs' kickoff, kick return, punt coverage, and punt return units. He routinely made impressive blocks in the return game, and was often found beating blockers to force returners to change direction. It's a similar story for Davis, who may have made only four tackles, but played a key role in blocking and beating blocks on special teams.
Honorable mention: Michael Thomas, Miami Dolphins