The major theme for the Los Angeles Rams this season is change. The city they play in, the team's future quarterback prospects, and their secondary all look entirely different than they did entering the 2015 season. It might take a year or two for the Rams' young nucleus of players to develop and make this a winning franchise, but there is a chance that the turnaround starts now.
The selection of first-overall pick Jared Goff was obviously the big roster move of the offseason, but for now, the Rams are opting to allow the former Cal QB develop behind veteran Case Keenum.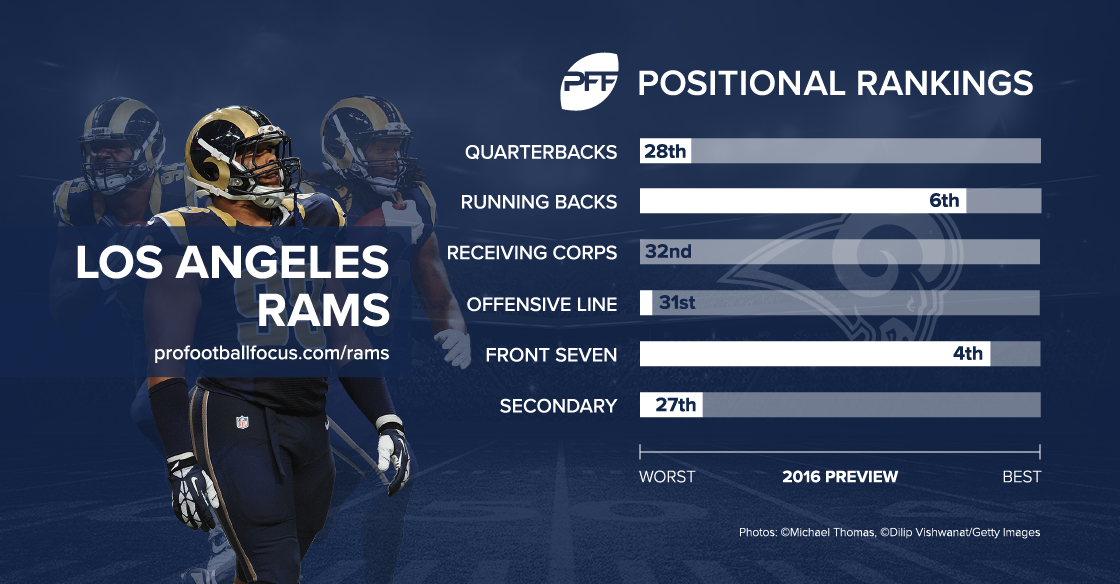 Three biggest things to know
1. RB Todd Gurley definitely a home-run hitter, but needs to improve consistency.
As a rookie, Todd Gurley was one of the most explosive backs in the NFL. He forced 42 missed tackles on his carries last season, tied for fifth-most in the league. 4.8 percent of his carries went for 20 or more yards, third-most in the NFL (just behind Le'Veon Bell and Doug Martin). While Gurley could break a lot of big runs, though, he wasn't as consistent on a play-by-play level as other backs. On 61.1 percent of runs, he gained 3 or fewer yards, 10th-worst of the 43 backs with 100 or more carries. If Gurley can improve his consistency, he can put himself among the NFL's elite.
2. O-line development a dire need.
The Rams invested heavily in the offensive line in recent years. Left tackle Greg Robinson was the second-overall pick of the 2014 draft. In the 2015 draft, the Rams selected five linemen (including the supplemental draft). So far the only O-lineman of that group to exceed expectations is 2015 second-round RT Rob Havenstein, who was the only NFL tackle last season with 200 or more snaps and no sacks allowed. If more of these offensive linemen can live up to expectations, that will go a long way to helping their young offensive stars develop.
3. Key losses in secondary providing opportunities.
Los Angeles had a lot of money to spend in free agency, but also had a fair amount of its own players hitting the market. While the Rams were able to bring back a number of their own guys, they obviously couldn't re-sign everyone, taking a notable hit in the secondary. CB Janoris Jenkins signed a lucrative deal with the Giants, and will likely be replaced by E.J. Gaines, a player who hasn't seen the field since 2014. That season, though, he recorded 10 pass defenses—fifth-most among NFL cornerbacks. At safety, Rodney McLeod departed for Philadelphia, and will be replaced by Maurice Alexander. In limited time as a starter, Alexander hasn't impressed. Los Angeles needs Gaines to play like he did pre-injury and for Alexander to improve if the Rams are to continue fielding one of the NFL's best defenses (largely due to the impressive front-seven).
Key arrivals and departures
Top three draft picks: QB Jared Goff (Round 1, pick No. 1 overall, Cal), TE Tyler Higbee (Round 4, pick No. 110 overall, Western Kentucky), WR Pharoh Cooper (Round 4, pick No. 117 overall, South Carolina) 
Signed in free agency: DT Dominique Easley (Patriots), CB Coty Sensabaugh (Titans), DE Quinton Coples (Dolphins)
Left via free agency: S Rodney McLeod (Eagles), CB Janoris Jenkins (Giants), DT Nick Fairley (Saints)
Cut: TE Jared Cook (Packers), DE Chris Long (Patriots), LB James Laurinaitis (Saints)
Rookie to watch
Pharoh Cooper, WR, South Carolina (Round 4, pick No. 117 overall)
Until Goff gets the first-string call-up, receiver Pharoh Cooper is the rookie to watch. In the Rams' three-WR sets in their first preseason game, Cooper was playing with the first-team in the slot. For South Carolina in 2015, he lined up in the slot on 85.6 percent of his routes, and on those snaps, posted a solid 2.06 yards per route run. Not many fourth-round picks will see significant playing time come Week 1, but Cooper should be one of those rookies.
Highest-graded player of 2015
Aaron Donald, DT, 99.9 overall grade
Not only was Donald the highest-graded player on his team last season, but the highest-graded player in the league. His 12.2 pass-rushing productivity was the best mark for defensive tackles with at least 250 pass-rushing snaps. His 10.9 run-stop percentage was also the best for a DT that doesn't primarily play NT. Donald is entering his third pro season, and it will be fun to see if he can top his league-best 2015 play.
Breakout player watch
Matt Longacre, DE
Year after year, the Rams have fielded a deep defensive-line rotation, and this season could be their best yet. With Chris Long no longer on the roster, there is an opportunity for Matt Longacre to earn more playing time. As an undrafted rookie, Longacre was PFF's third-highest-graded 4-3 DE last preseason, thanks in part to his five hits and five hurries. On just 67 pass-rushing snaps in the regular season, he earned a 7.8 pass-rushing productivity mark—higher than Chris Long, Robert Quinn, and Eugene Sims. Longacre had an excellent start to the 2016 preseason with two hits and three hurries on 22 pass rushes against the Cowboys. The Rams' pass rush was already scary enough with their starters, but being able to rotate a player like Longacre in makes the front-seven even more dangerous.
Projected lineups
Base defense (2015 season grades shown)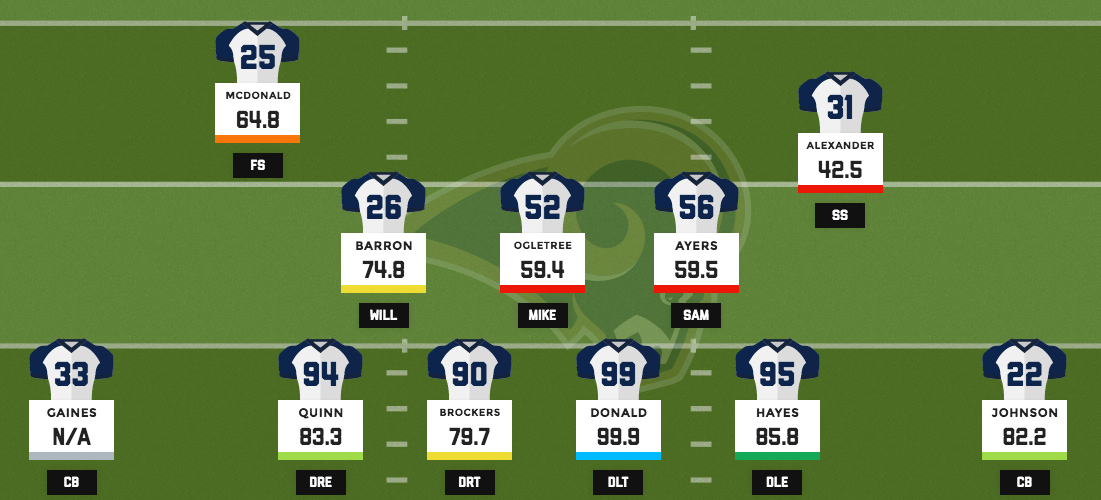 Base offense (2015 season grades shown)