PHILADELPHIA, PA - APRIL 27: (L-R) Jonathan Allen of Alabama poses with Commissioner of the National Football League Roger Goodell after being picked #17 overall by the Washington Redskins during the first round of the 2017 NFL Draft at the Philadelphia Museum of Art on April 27, 2017 in Philadelphia, Pennsylvania. (Photo by Elsa/Getty Images)
With such a deep draft class, it was always inevitable that teams would be able to find not just strong talents for the future throughout the draft, but players capable of starting immediately as well. While virtually every team was able to take advantage of this, a number of them scored particularly strong fits at positions that were significant holes on their rosters. Here are 10 of the biggest holes on individual rosters that were filled with draft talents capable of starting immediately this September.
Jonathan Allen, DI, Washington Redskins
The Redskins lost their top defensive lineman in Chris Baker to Tampa Bay in free agency this season. In the past two seasons In Washington, Baker accumulated 13 sacks, 85 total QB pressures, and 45 run stops, while the second-highest producing remaining Redskin (Ricky Jean-Francois) posted just three sacks and 24 total pressures in that same span (he is also no longer on the Redskins' roster).
Allen was college football's best player in 2016, as he amassed 13 sacks (the most among all FBS defensive interior players) and 36 total pressures, which earned him the highest pass-rushing grade in the country at his position (93.4) as well as the third-best overall grade. His burst at the snap and ability to dominate blockers at the line of scrimmage will be a welcome addition to Washington.
Garett Bolles, OT, Denver Broncos
Denver was long pegged as a team looking for a tackle, and as such the selection of Bolles in Round 1 was no surprise. The returning duo of Donald Stephenson and Ty Sambrailo were projected as the Broncos starters at offensive tackle before Thursday, and they combined to surrender 10 sacks and 70 total pressures on just 610 total pass blocks.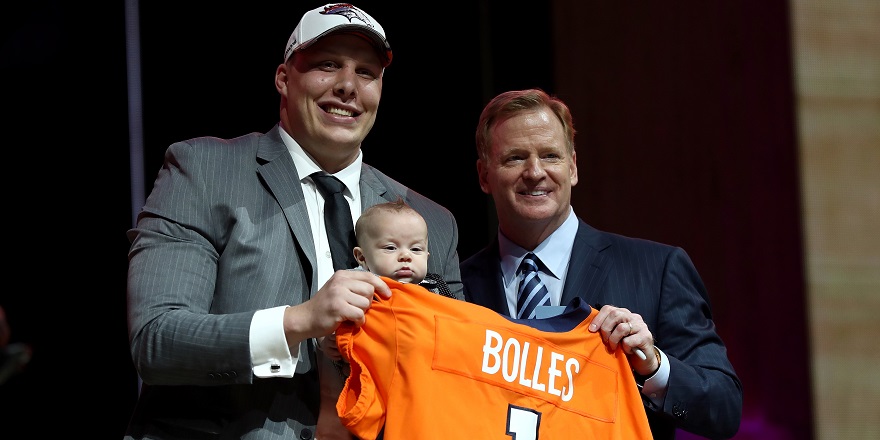 Bolles gave up just three sacks and one hit in 2016 for the Utes, and while he is likely to experience first-year struggles typical of most rookie tackles, putting him at left tackle and kicking Stephenson over to his more natural position on the right side should upgrade two positions for the Broncos.
Jarrad Davis, ILB, Detroit Lions
Inside linebacker was clearly Detroit's biggest need, as last year's mike linebacker, Tahir Whitehead, finished 2016 41st in tackling efficiency and gave up seven touchdowns in coverage to go with a QB rating against of 124.3. The Lions, like most of the league, passed on the perceived top off-ball linebacker in the class in Alabama's Reuben Foster, instead choosing the perceived-safer option in Davis from Florida.
Davis is an alpha dog who will instantly be the leader the Lions defense currently lacks. Davis had injury issues in 2016, but totaled 76 defensive stops in the last two years combined, and gave up just one touchdown in coverage on 66 career targets during his college career.
Tre'Davious White, CB, Buffalo Bills
The Bills could have selected Ohio State's Marshon Lattimore, the draft's clear top talent at cornerback at pick No. 10, but instead chose to move back 17 spots with Kansas City in order to accumulate critical extra picks. This decision worked brilliantly, as they were still able to draft our No. 2 player at the position in White.
White allowed a completion percentage of just 42.6 into his coverage last season, and broke up a total of 14 passes. His addition is critical to the Buffalo secondary, as Stephon Gilmore left for New England via free agency.
Zay Jones, WR, Buffalo Bills
10 picks after selecting White, the Bills took their second immediate starter in Jones from East Carolina. The Bills struggled to get production out of the WR corps last year when Sammy Watkins was out with injuries, and not only did they lose Robert Woods in free agency but the long-term viability of Watkins is now in question considering Buffalo decided to decline his fifth-year option. Jones' production last season was simply absurd; He led FBS in receptions and was second in both yards and forced missed tackles, and his 87.8 overall grade was third-best in the draft class.
Justin Evans, S, Tampa Bay Buccaneers
While Bucs fans are likely excited about the skill players Tampa Bay drafted in the first and third rounds, the selection of Evans in Round 2 may be the most important. The Bucs picked up J.J. Wilcox from Dallas in free agency, but without addressing the position again in the draft they were likely faced with starting either Chris Conte or 2016 fourth-round pick, Ryan Smith.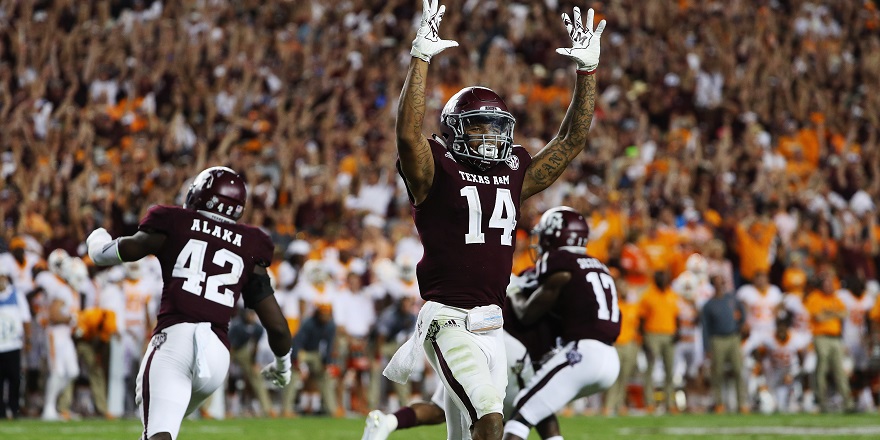 Evans' 38 missed tackles in two seasons as a starter at Texas A&M are certainly concerning, but if he can improve his technique and learn to play better under control, he has the athleticism and coverage skills to be an excellent next-level safety. Last year he picked off four passes while breaking up another eight, and opposing QBs had a rating of just 53.1 when throwing into his coverage.
Pat Elflein, C/RG, Minnesota Vikings
The Vikings have holes throughout their offensive line, and Elflein is capable of contributing at any of the three interior line positions. While he looks to be a more natural player at right guard, where he gave up just 10 total pressures in 2015, Vikings head coach Mike Zimmer has already projected him at center. This is the position he played for Ohio State in 2016, and while he was again strong on run blocks, his pass-blocking grade dropped to 46.5 and he took seven penalties after notching just six in the previous two years combined. 2016 Vikings center Berger is currently expected to transition to right guard, but don't be surprised to see him flip-flop with Elflein at some point during the season.
Forrest Lamp and Dan Feeney, OGs, Los Angeles Chargers
Center Matt Slauson was the only 2016 lineman to yield less than 30 pressures for the Chargers last season, thus it was critical for Los Angeles to address the unit early and often. With this in mind, Day 2 could not have played out more perfectly for them, as both of their picks are capable of starting immediately.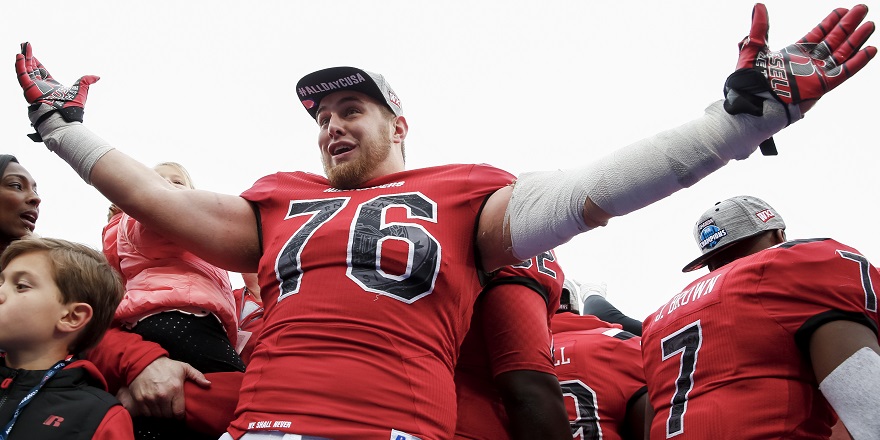 Lamp could start at either guard or tackle position, but is most likely to start his career at left guard. As Western Kentucky's left tackle last year he gave up no sacks, two hits and two hurries, and led all FBS tackles in pass-blocking efficiency. Feeney split time between right guard and right tackle in 2016, but as a full-time right guard in 2015, he gave up just six-total pressures (no sacks) and ranked first among all FBS guards in pass-blocking efficiency.
Xavier Woods, S, Dallas Cowboys
With so many highly-graded defensive backs, there was bound to be one who slipped through the cracks and fell to the later rounds. For whatever reason, that player was Louisiana Tech S Woods. Similar to Evans, Woods needs to play more under control in order to improve his tackling, but he is an excellent coverage defender capable of playing either safety position. In 2016, he picked off five passes and gave up a QB rating on throws into his coverage of just 58.4.
As previously mentioned, the Cowboys lost Wilcox, and while they added Robert Blanton in free agency, a long-term upgrade was certainly a need from this draft. Despite being a sixth-round selection, Woods has the athletic tools and coverage instincts to start immediately on what should be a much-improved all-around defense in Dallas.