With grades on every play on every NFL player since the 2006 season, the team at Pro Football Focus has seen some truly impressive quarterback performances over that span. On some occasions, the signal-caller for both teams will shine in the same game. In this list, we take a look at those outings that saw both quarterbacks play exceptionally well.
When I started gathering the information for this piece, I hypothesized one thing: a Peyton Manning vs. Tom Brady matchup. To my surprise, that didn't show in the data, and I was shocked at some of the names that did appear. I suspect many of you will feel the same. All players earn a PFF overall game grade every game based on individual performance. This list counts down the highest-combined QB grades in a given matchup over the past 11 years.
1. Tyrod Taylor, BUF (88.1 PFF game grade) vs. Russell Wilson, SEA (94.9)
Week 9 of 2016 season | SEA 31, BUF 25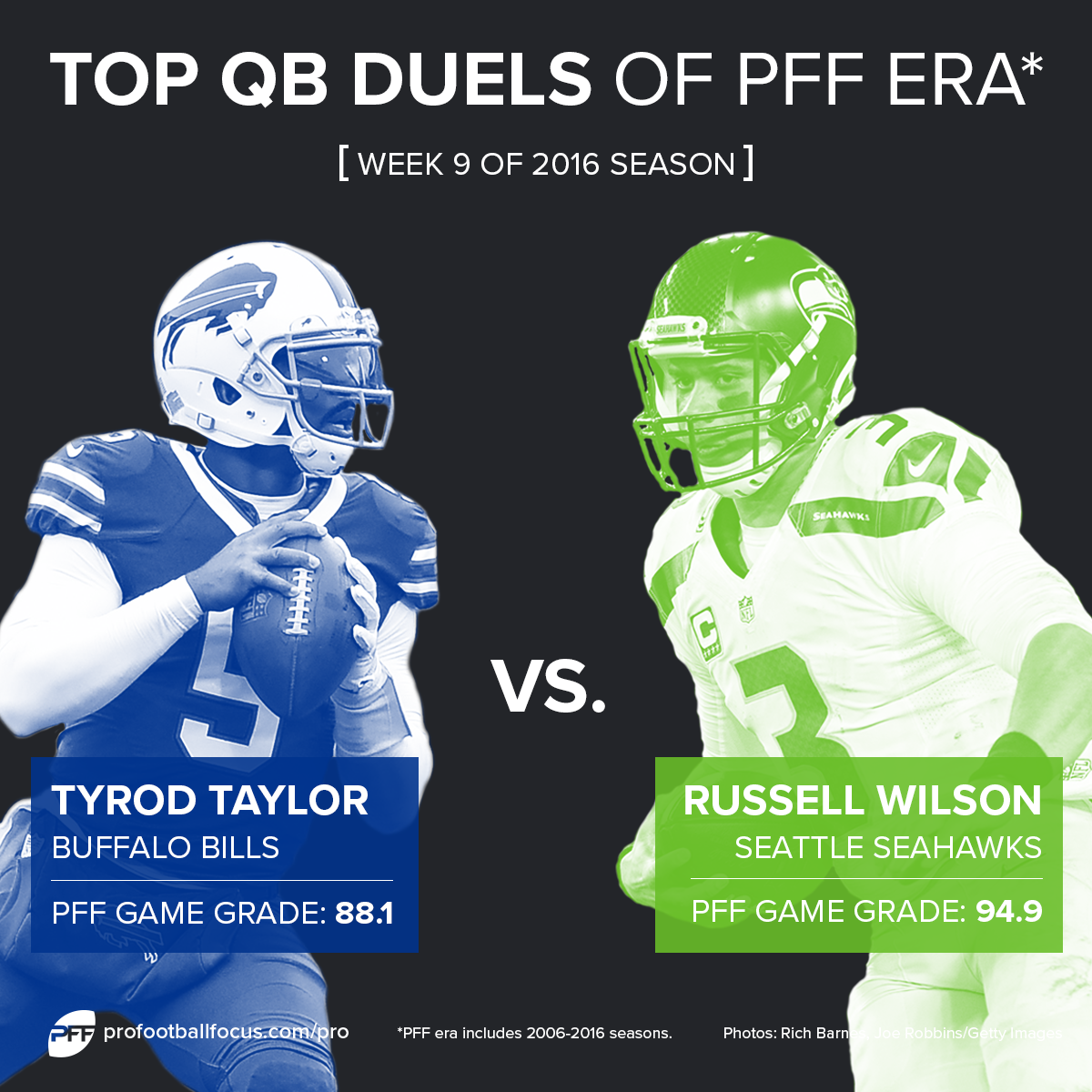 During a Monday Night Football showdown, the highest-graded quarterback matchup in the PFF era featured two of the league's most dangerous QBs running the football. In this back-and-forth contest, the signal-callers and their offenses exchanged blows throughout the course of the game. Taylor was excellent through the air and on the run, throwing for 289 yards and a TD, while gaining 41 yards on the ground with a rushing TD and two forced missed tackles. This wasn't enough to take down Seattle, though—Wilson played a near-perfect game, earning the seventh-highest single-game grade in the PFF era (since the 2006 season). He was accurate, effective with the deep ball, and even picked up a rushing TD. No QB matchup in the PFF era had a higher combined grade among QBs than this one.
2. Terrelle Pryor, OAK (88.1) vs. Peyton Manning, DEN (94.2) 
Week 3 of 2013 season | DEN 37, OAK 21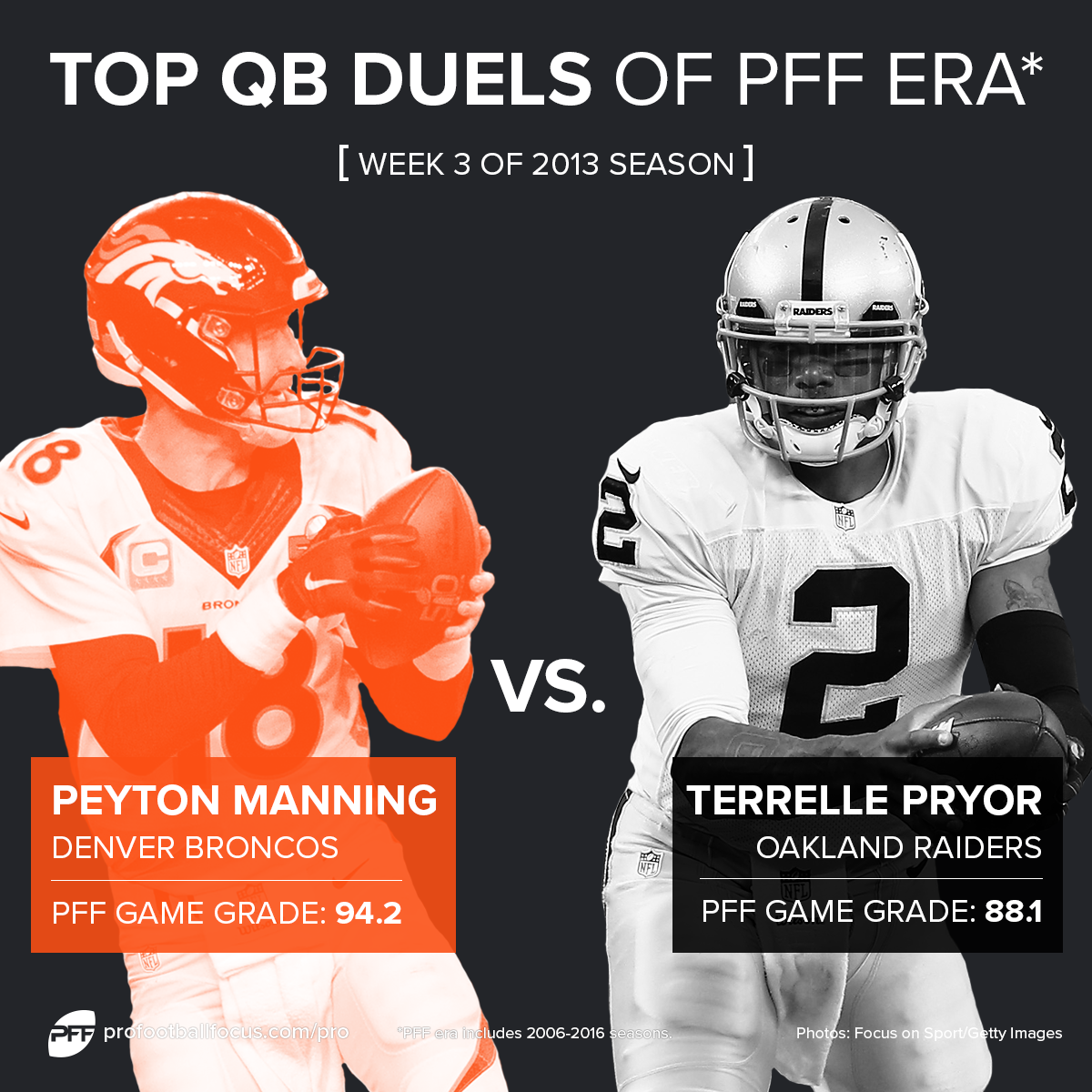 Remember when Terrelle Pryor was a quarterback? This easily came as my biggest surprise of the list. This contest saw Peyton Manning's highest single-game grade in the PFF era, as he put on a clinic on Monday Night Football. Manning was essentially flawless. He attempted 37 passes: four were dropped, 32 were completed for 374 yards, and three were hauled in for touchdowns. A 97.3 accuracy percentage is almost impossible to achieve given that many of attempts. Any QB would have been overshadowed by Manning's night, but Pryor held his own and recorded an exceptional performance as well. In addition to handling pressure with ease (129.9 passer rating under duress), he made clutch plays with his feet (including a 23-yard run and a missed tackle forced).
3. Russell Wilson, SEA (93.3) vs. Matt Ryan, ATL (88.3)
Divisional Round of 2012 season | ATL 30, SEA 28
With a trip to the NFC Championship game on the line, Wilson versus Ryan proved to be one of the most epic QB duels of the past 11 years. A barn burner in every sense of the term, the Falcons scored 20 unanswered before the Seahawks' comeback landed them two points short of a Conference Championship appearance. The dual-threat Wilson was just that, breaking two tackles on his way to 60 yards and a touchdown on seven carries. He also completed 83.3 percent of his passes when under pressure. Ryan snagged his first career playoff win in this contest, and it was well deserved. Play-action was his secret weapon in this one, throwing for 87 yards and three TDs while utilizing the run fake.
4. Tyrod Taylor, BUF (92.9) vs. Kirk Cousins, WAS (87.8)
Week 15 of 2015 season | WAS 35, BUF 25
In this QB duel, Cousins and the Redskins jumped out to 28-3 lead midway through the third quarter. Taylor did just about all he could to claw his way back, but fell short. Not only did he post a 129.5 passer rating on deep passes (94 yards and two TDs), but Taylor was electric running the football. He picked up 79 yards on nine attempts, breaking four tackles along the way. On the other side, Kirk Cousins ripped apart the Buffalo defense, throwing for 319 yards and four TDs. Subtracting throwaways, hits while throwing, and batted passes, Cousins earned a perfect passer rating.
5. Jay Cutler, CHI (92.2) vs. Matt Ryan, ATL (88.3)
Week 6 of 2014 season | CHI 27, ATL 13
There may just be something about Jay Cutler that brings out the best in opposing QBs. This game appropriately demonstrates how PFF's grading system focuses on each player's individual role, and how well that role was executed. One might ask, how did Ryan earn that high of a grade when his team only scored 13 points? Well, he suffered from six dropped passes on the night, and most of the Atlanta offensive line underwhelmed. Ryan made many great throws, managing a 117.4 passer rating when blitzed. Cutler impressed even more so in this duel, accumulating an efficient 381 yards on 34 attempts.
6. Jay Cutler, CHI (89.9) vs. Tony Romo, DAL (90.5)
Week 2 of 2010 season | CHI 27, DAL 20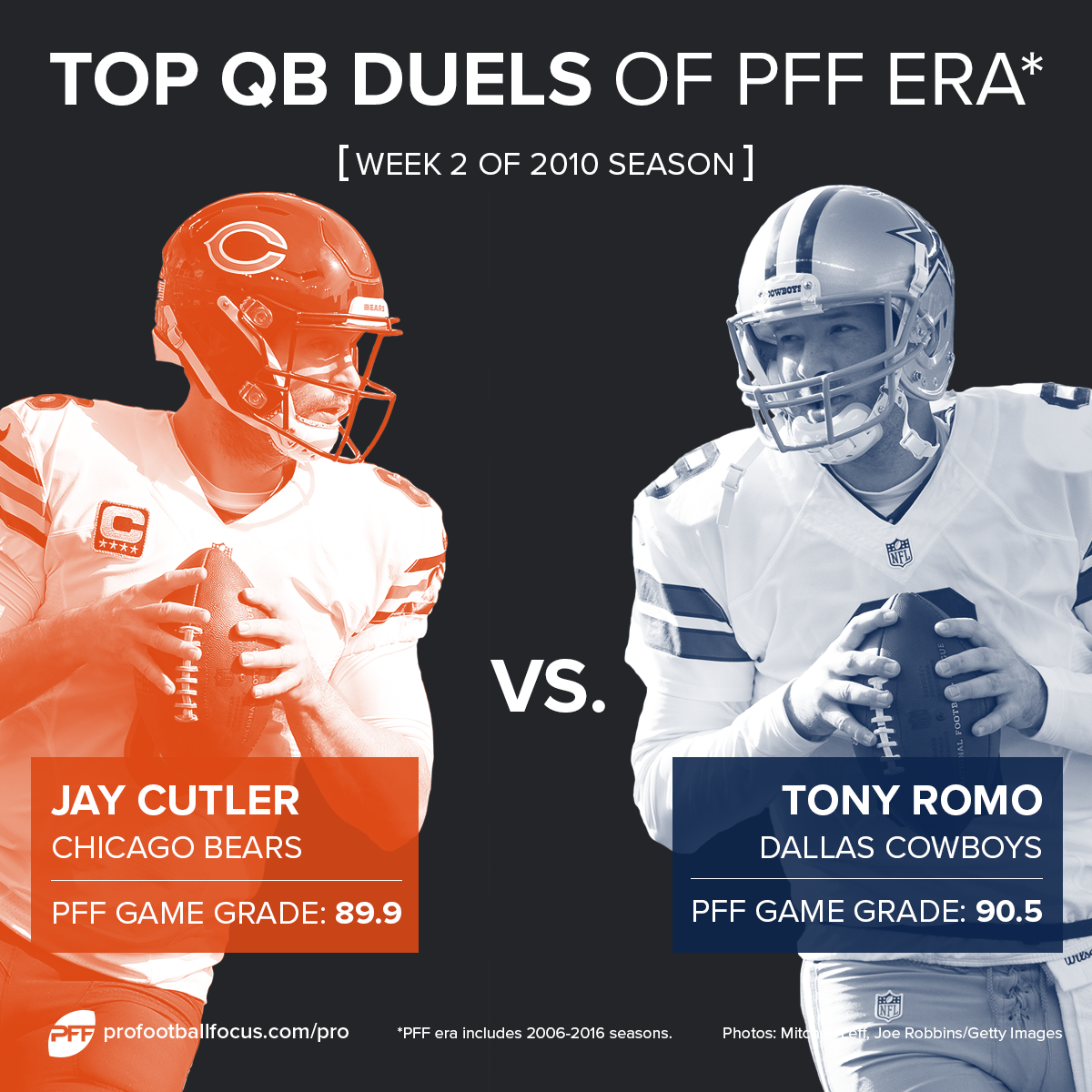 This early-season matchup in 2010 featured two QBs whose current futures are a bit unknown—both Cutler and Romo played at extremely high levels in this game. Putting on an accuracy clinic, Cutler threw catchable passes on 88 percent of his attempts (the 2010 season league average was 74.6 percent) while compiling 277 yards and throwing three TDs. Romo did most of his damage on passes that traveled between 0–19 yards in the air, gaining 314 of his 374 yards this way.
7. Philip Rivers, SD (87.1) vs. Joe Flacco, BAL (93.0)
Week 13 of 2014 season | SD 34, BAL 33
Elite? In this game, they certainly were. Rivers put together an impressive hurry-up drill leading to an Eddie Royal touchdown with 38 seconds left in the game to go up one—and ultimately win. On top of this, he handled the Baltimore pass rush (the top-ranked unit that season) with confidence; he completed 16 of 18 passes for 187 yards and two TDs on plays under pressure. Flacco did all he could by making big-time throws all over the field (top-ranked QB that week), but his WRs arguably let him down, combing for four dropped passes.
8. Ben Roethlisberger, PIT (88.0) vs. Tom Brady, NE (88.1)
Week 1 of 2015 season | NE 28, PIT 21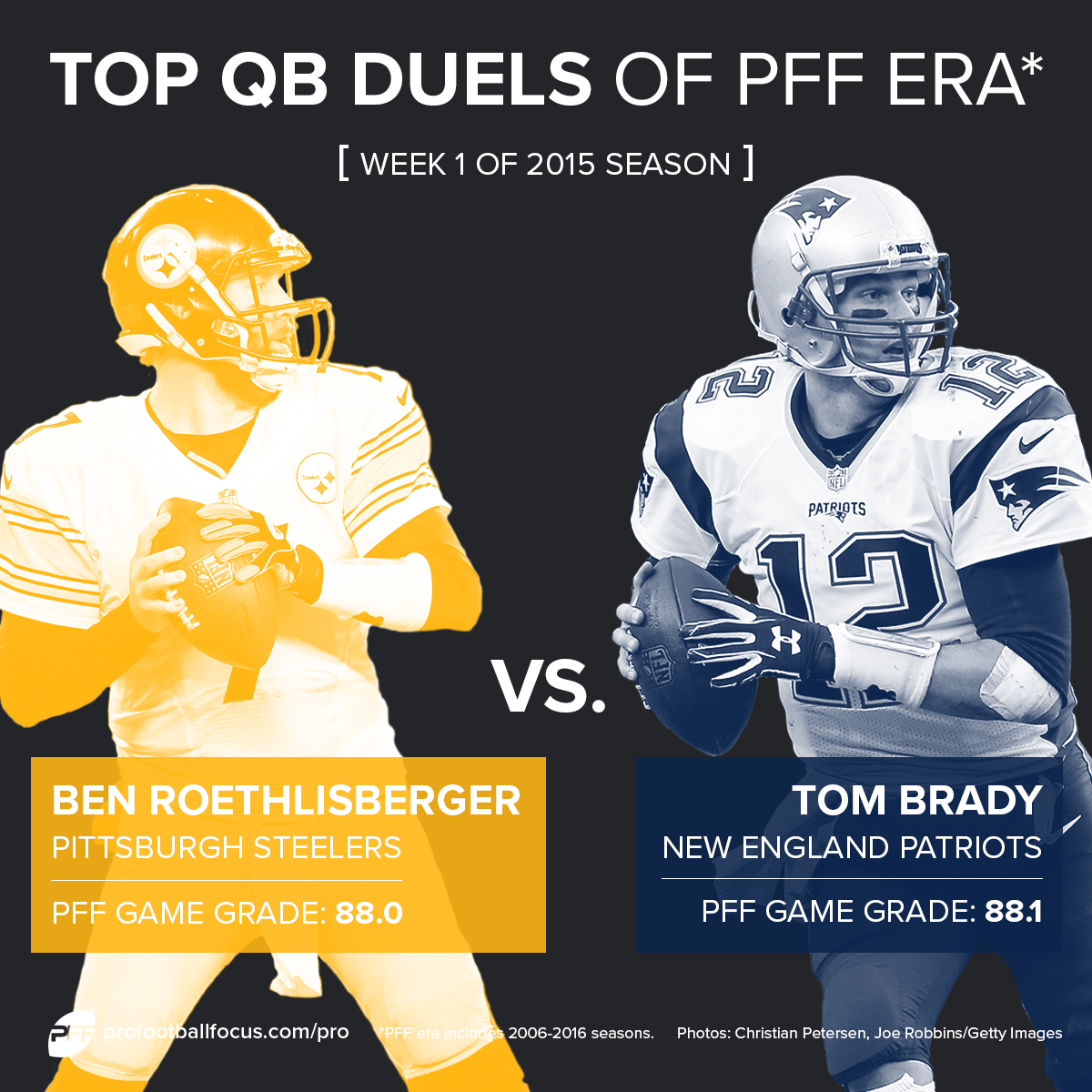 Coming off a Super Bowl victory, Tom Brady and the Patriots went toe-to-toe with the Pittsburgh Steelers, led by Ben Roethlisberger, in the NFL's first game of the 2015 season. New England jumped out to an 18-point lead with 10 minutes remaining in the third quarter. Roethlisberger's comeback fell short, but he still put on quite the show, posting a 62.5 adjusted completion percentage on deep passes (the 2015 season league average was 40.0). Brady was as poised as ever, finishing the game with a 145.4 passer rating under pressure.
9. Matthew Stafford, DET (87.1) vs. Drew Brees, NO (87.8)
Wild Card Round of 2011 season | NO 45, DET 28
In Matthew Stafford's first career playoff game, he was handed the heavy task of taking down one of the NFL's elite players, Drew Brees. Stafford had a field day targeting WR Calvin Johnson, who emerged with 211 yards and two touchdowns. This wasn't enough to keep pace with the explosive Saints' passing attack, however. Brees was incredible on deep passes in this game, accumulating a near-perfect 153.3 passer rating on throws 20-plus yards downfield.
10. Matt Ryan, ATL (87.8) vs. Aaron Rodgers, GB (86.8)
Week 14 of 2014 season | GB 43, ATL 37
This duel occurred during Rodgers' second MVP season, as both QBs lit up the stat sheet in this high-scoring affair. Ryan finished with 375 yards to go along with four TDs and an interception, while Rodgers gained 327 yards through the air with three touchdowns. Perhaps the most impressive statistic in this contest was Rodgers' line under pressure: six of nine for 132 yards, two TDs, and a 149.3 passer rating.