Every Tuesday, PFF will be releasing its Team of the Week, representing the highest-graded players at each NFL position for that week. But Senior Analyst Sam Monson gets a jump on that by picking out the 10 most impressive individual performances from Sunday's games.
Here are the 10 best players from Sunday's Week 10 action:
[Check out the 10 worst performances from Sunday of Week 10 right here, or access our Player Grades tool to see how every NFL player measures up through three weeks of the season.]
1. Cameron Jordan, DE, New Orleans Saints
For the second week in a row, somebody took Denver's right tackle Donald Stephenson to town, and this time it ultimately saw Stephenson sent to the bench. Jordan was just far too dominant in New Orleans' close loss for Stephenson to cope with in either the run or pass game. For the week, he had a sack, a hit and seven hurries, plus eight defensive stops to lead all edge defenders in both stops and total pressures. He played 78 total snaps and seemed to be destroying a play in some way or other in most of them. This was Jordan at his best, and marks the continuation of an impressive run of form for him.
2. Duane Brown, T, Houston Texans
You won't see a finer performance from the tackle spot than Brown's this week for the Texans. He was perfect in 33 pass-blocking snaps, allowing no pressure or penalties. If anything he was even better on his 30 run-blocking snaps, crushing the Jaguars' defensive front and paving the way for Lamar Miller to average 11.3 yards either side of his block over the course of the game. At his best, Brown is the best tackle in the league, and over the last three weeks we've seen him threaten to return to that level. This was the best game of his season and a big reason the Texans came out with a win.
3. Marcus Mariota, QB, Tennessee Titans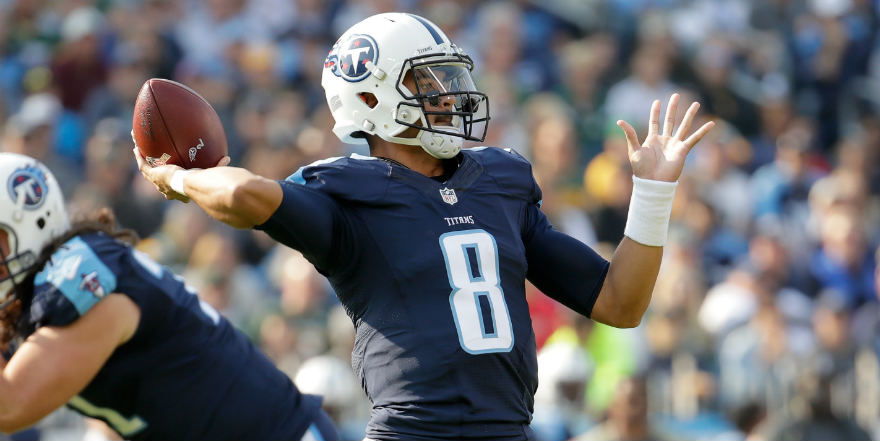 Mariota was the best QB on the field this Sunday in a game that also featured Aaron Rodgers. Aided by the Green Bay defense acting like it was the first time they had ever been asked to play that side of the ball, Mariota was at his efficient best, completing 73.1 percent of his passes and posting a passer rating of over 146 both when under pressure and kept clean. This marks another good grade from Mariota, who has seen his performance improve over the past six games, and stands now as the best performance of his 2016 season in Tennessee's blowout win.
4. Stefon Diggs, WR, Minnesota Vikings
Stefon Diggs saw 14 passes thrown his way in Minnesota's close loss to Washington, and he caught 12 of them for 158 yards, with 64 of them coming after the catch. He wasn't going up against Josh Norman, but beat five different defenders for catches and the majority of his damage was inflicted on rookie Kendall Fuller. Against Fuller alone he racked up 106 yards on six catches. Bradford's passer rating for the day was 113.7 when throwing at Diggs, and this was his third week running with at least a dozen targets.
5. Cameron Brate, TE, Tampa Bay Buccaneers
The first surprising name to have a big day this week, Brate was nearly flawless for the Bucs as they toppled Chicago. Brate was thrown at seven times, catching all seven of them for 84 yards and a touchdown. He also drew three separate penalties in coverage from Bears defenders trying to cover him, with two of them coming against safety Harold Jones-Quartey. Including the penalties, Brate moved the chains eight times over the course of the game by gaining a first down for his offense.
6. Korey Toomer, LB, San Diego Chargers
With multiple linebackers missing injured for the Chargers, the spot figured to be a real weakness for them heading into the game with Miami, but Toomer had other ideas. Racking up 10 solo tackles (third among LBs this week) and a monstrous 10 defensive stops (first in the league at any position), Toomer had a huge day, and also broke up the only pass thrown his way in coverage. This was an outstanding performance is a losing effort, and marks Toomer's second strong outing in three games, as he has found himself with plenty of playing time for the Chargers.
7. Eric Berry, S, Kansas City Chiefs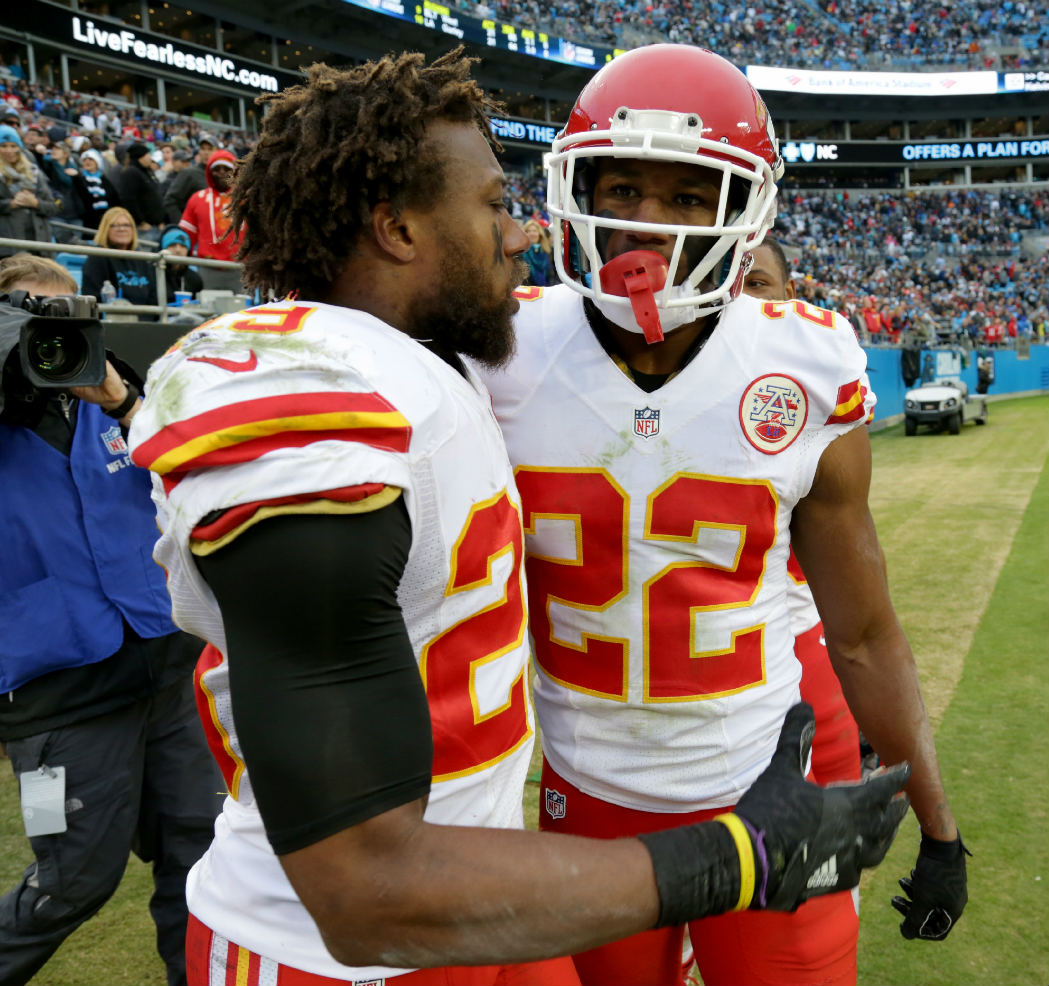 Berry's signature play was snagging an interception off Cam Newton and then carrying the football like LeSean McCoy, and running a little bit like him too, on the return all the way to the end zone, beating a diving Cam Newton at the pylon to score six defensive points. That was far from Berry's only contribution to the game, and he racked up five defensive stops too, the most among safeties this week, while doing a good job of containing Newton for much of the close win over Carolina.
8. Delanie Walker, TE, Tennessee Titans
If Mariota was the chief beneficiary of the ugly day from the Green Bay defense, Walker came a pretty close second. Walker was thrown at 10 times, catching nine of them for 124 yards and a touchdown, while also earning strong grades for his run-blocking. Walker broke a ridiculous six tackles after the catch, gaining 73 of his yards (which on its own would have been the fourth-best receiving total among TEs this week) after the catch as he destroyed the Packers defense in Tennessee's win.
9. Patrick Peterson, CB, Arizona Cardinals
OK, it came against the 49ers, but this week Patrick Peterson played 63 snaps, 41 of which were in coverage, and allowed just five receiving yards. He was thrown at twice in the game, allowing one catch, and otherwise effectively eradicated his man from the passing game and shut down his area of the field. His play wasn't strictly limited to coverage, as he made four tackles and two defensive stops, but this was a display of true shutdown cornerbacking from Peterson in the Cardinals' close win.
10. DeForest Buckner, DE, San Francisco 49ers
Buckner's college career was defined by an iron-man ability to play every down, no matter how many downs that was. He topped 100 snaps in a game more than once in his Oregon career, and this week was on the field against the Cardinals for 78 snaps, by far the most of any interior defender and tying Cameron Jordan and Whitney Mercilus for the most among even edge defenders this Sunday. Buckner responded with his best game of the year, recording a sack and six additional hurries, and showing up well in the run game after a season of struggling in that regard.